Uncategorized
November 12th, 2019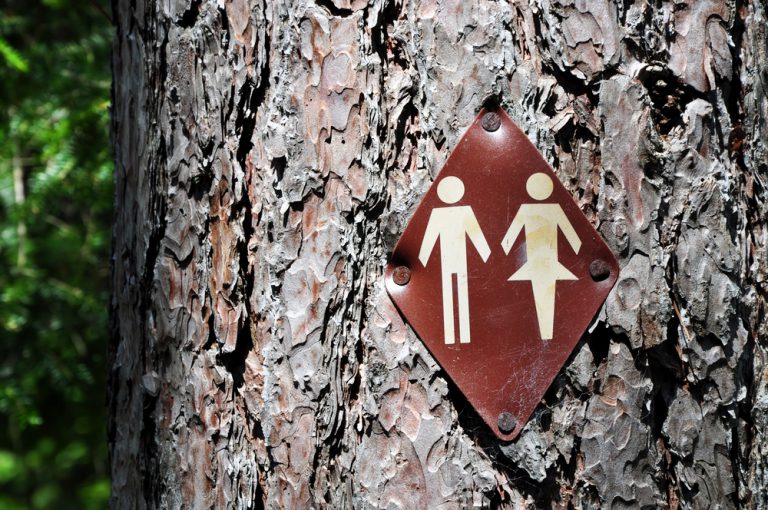 For many RVers, the opportunity to have your own bathroom facilities on the road is one of the biggest draws to the lifestyle. Whether you're skeeved out by gas station bathrooms or you just like the opportunity to take your time, when you've got your own private camping toilet, you don't have to worry about what else has, uh, gone down before you got there. Or hurrying to appease a growing line. (Well, unless you camp with a big family.)
But some smaller types of RVs actually don't come with their own onboard toilet facilities. For example, pop-up campers may not be "self contained," as they say, and the same is true of certain smaller vintage trailer models.
Plus, some of us still have a soft spot in our hearts for tent camping, even though we've been bitten by the RV bug. And as wonderful as it is to sleep outside, taking care of other business outside may or may not suit you.
Either way, if you're in the market for a portable camping toilet, you're in the right place! Here's a guide post to help you find the perfect camping toilet for your needs, including a discussion of how they work and a few specific models you might want to look into. (Well, not literally, but… you catch our meaning.)
Read on to learn everything you never thought you needed to know about "going" in the woods. 😉
How Does a Portable Camping Toilet Work?
Before we dive into some specific toilets to consider — again, not literally, don't worry — let's start with an overview. How, exactly, do portable toilets work? Is a portable toilet really anything more than a tricked-out chamber pot?
Well, in some cases, no. There is such a thing as a bucket toilet, which is just what it sounds like: a large bucket fitted with a toilet seat lid, in which you place a plastic liner to make for easier cleanup before you get down to business. (Heck, you can even find DIY portable toilets done in the bucket toilet style… by which we mean, they're just… buckets. That people use as toilets.)
But there are other options out there, which may feel more sanitary and less gross to you glampy types. For instance, you could consider a portable composting toilet, which uses natural processes to break down human waste, or portable flushing toilets to which chemicals are added to neutralize odors.
Whether you go super-simple or slightly fancy, all toilets work on the same basic principle: they separate you from your waste and keep it contained, sanitary, and, in the best-case scenario, as odor-free as possible. The best portable toilet is the one that fits your circumstances and your budget… and with that, let's start looking into some options!
Find the Best Portable Toilet for You
Here are some highly-rated camping toilets to consider.
1. Basicwise Portable Travel Toilet for Camping and Hiking
A portable toilet doesn't have to be complicated to be effective. And this affordable plastic camping toilet from Basicwise is, as its brand name suggests, pretty basic: it's just a familiar-looking seat situated over a sturdy, lidded bucket, with conveniently-placed carrying handles and an optional case to make carrying it along even easier. Since all the plastic is strong and opaque, you don't have to worry about an unintended mess, and the makers also suggest using waste liner bags to make the whole thing even more hassle-free. (We suggest these biodegradable, compostable versions, which will make your portable loo just a little bit greener.)
2. TripTips Portable Folding Toilet
RVers know that storage space is at a premium, even in the largest and most luxurious rigs on the market. When it comes to smaller travel trailers? There's even less room to waste.
Which is why your waste receptacle ideally needs to take up the smallest possible footprint. And that's why this TripTips bucket toilet is so great: not only is it small while it's set up, it folds down even smaller, and is easily linable with standard 6-8 gallon garbage bags to make doing your business on the road a breeze.
3. Camco Portable Travel Toilet
Camco is a camping industry standard for a reason, and its portable chemical toilet is no exception to its hard-won reputation for quality. This travel toilet is perfect for camping, whether you're in a small travel trailer or roughing it in a tent. It also works well for outdoorsy folks of the boating variety.
The Camco portable travel toilet may look a little bit more complex than some of the others on the list, but that's for good reason. This camping toilet is flushable, and features both a waste holding tank and a flush tank that you can easily fill with water from any standard hose. The top portion is attached to the bottom using sturdy side latches, and the sealing valve makes cleaning a breeze while protecting against odors and leakage. For best results, utilize a camping toilet chemical of the same type you would in your RV's facilities, such as Aqua-KEM or Eco Gel.
Even More of the Best Portable Toilets for Camping
Here are a few-more options if you're still searching for the best portable toilet for camping.
4. VINGLI Upgraded Portable 5.3 Gallon Flushing Camping Toilet
This is the Cadillac of camping toilets, in our estimation. Featuring a sturdy design and flush capability, the VINGLI portable camping toilet is a great way to answer nature's call. Like the Camco version listed above, the VINGLI toilet has separate flush and waste holding tanks, and is fillable via a regular water hose. Its piston-style flush makes for a cleaner bowl than other types of portable flush toilets, and its larger tank means you can go longer between having to do the dirty work of cleaning it out. Its construction of high density polyethylene means you don't have to worry about leaks or odors, though again, adding chemicals to the tank can really help freshen things up. Best of all, all this capability is super portable, with both a convenient carrying handle and a bag to keep your portable toilet compact, discreet, and ready to go.
5. Stansport 4B Portable Folding Camp or Travel Toilet
Sometimes, simple really is best. And if you agree, this portable folding travel toilet might be just the thing. It's about as simple as it gets, really: it's little more than a toilet seat attached to a waste bag. But still, it might beat going in the woods… and it's available for less than $20 on Amazon.
The setup comes with six bags, though replacements are also readily available. It folds up small for easy storage when you're not using it, and carries a one-year warranty against manufacturer defects.
Taking Care of Your Camping Toilet
No matter what kind of portable camping toilet you end up with, it's important to take care of it if you want to maintain a comfortable environment in your travel trailer (or on your boat, or nearby your tent, or whatever). For instance, if you leave your toilet for too long without cleaning it, the mess will be that much more gnarly when you finally get around to it. Similarly, if you fail to use toilet chemicals, you may find yourself with an unpleasant odor in your rig.
As with all other parts of RVing, the best practice is to keep up with maintenance on a regular basis, cleaning the toilet as often as possible and being thorough with scrubbing it in between trips. Even if you use liner bags, you'll want to do your due diligence with some bleach and a scrub brush!
Psst: want to experience an RV camping trip where the toilet is included? Even if you're not in the market to purchase a big rig of your own, you can get a glimpse of the lifestyle by renting a rig through the peer-to-peer market at RVshare. RVshare's fleet of well-maintained rental RVs are listed directly by their owners, which means they come in every shape, size, and footprint imaginable, including many that are self-contained and have full plumbing systems.
What's more, regular people don't have to foot the expensive overhead of running a business, which means you stand to save hundreds of dollars off what you would have paid at a traditional rental agency. Want to find out more and get started on planning your next vacation? Check out the RVshare vehicles available near you today.
This post may contain affiliate links.