Travel Inspiration
July 2nd, 2020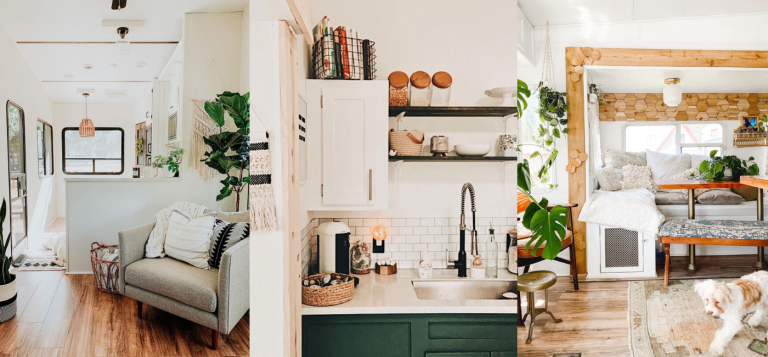 With RV living on the rise, there's no shortage of breathtakingly beautiful RVs on social media that are bound to blow your mind. As more than one million people live in RVs full-time, thousands of RV owners have turned their RVs into stunning homes that belong on the pages of Architectural Digest. 
From hardwood flooring to decorative light fixtures, these upgraded RVs have revolutionized public perception of RVs and have inspired an RV-remodel movement (fun fact: the hashtag #RVRemodel has been used over 50,000 times on Instagram alone!).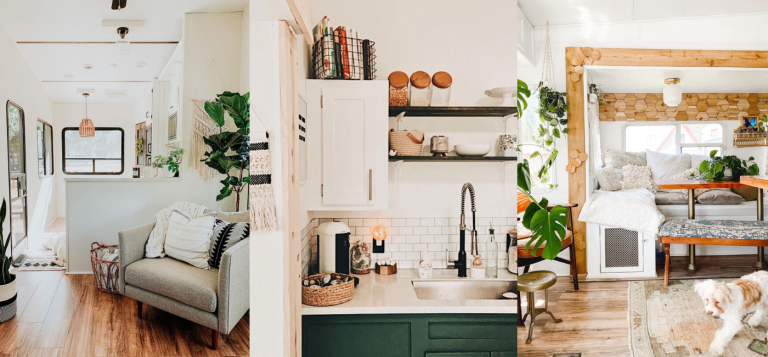 If you're itching to experience one of these luxurious RVs but aren't quite ready to go all-in, you're in luck. We've found 10 Instagram-worthy remodeled RVs and campers that are available for rent through RVshare today! 
Location: San Clemente, CA
$110 per night 
Sleeps 3
From its adorable retro exterior to its velvet-upholstered seats, this remodeled vintage camper is bound to fulfill your #RVliving fantasy. Equipped with a full kitchen, shower, and bathroom, this camper is equal parts functional and beautiful! 
Location: Seattle, WA
$225 per night 
Sleeps 2
Complete with fresh blue backsplash and warm interior lighting, this camper van is perfect for your next adventure. This compact vehicle comes with some pretty sizable amenities – including a spacious Italian Vitrifrigo fridge, a queen-size memory foam mattress, and ample built-in storage. Oh, and did we mention that all in-van power comes from the solar-paneled rooftop? So cool! 
Location: Orlando, FL 
$95 per night 
Sleeps 2
Finished with mahogany wood paneling and marble countertops, this TearDrop trailer is equal parts cute and cozy. This sleek camper is further elevated with modern kitchen appliances, a surround sound stereo, and a flatscreen TV. 
Location: Laguna Beach, CA
$215 per night
Sleeps 5
It's safe to say that we're obsessed with this camper. The wood-paneled ceiling, the white cabinetry, the decorative throw pillows…a beachy dream! In addition to its refined design, this camper maximizes space with a custom pull-out bed and a pop-up tent that can be attached to the roof for additional sleeping space. 
Location: Dripping Springs, TX
$119 per night 
Sleeps 2
Named "Louise" by its owners, this mod Teardrop camper is the perfect addition to your next adventure. This lightweight, compact camper has everything you need – air conditioning, a propane furnace, a kitchen, and storage space for all of your adventure gear. Our favorite part of this trailer is the gigantic window that allows you to sleep under the stars! 
Location: Sandy, UT
$225 per night
Sleeps 4
From its luxe interiors to its functional add-ons (did you see the pull-out table?), this stunning camper checks off all of the boxes on our remodeled RV must-haves list. This custom camper also comes with a 32-inch TV, dimmable lights, luxury bedding, and a fully-stocked kitchen. Now, can someone remind us why we ever chose to stay in a hotel? 
Location: La Mesa, CA
$150 per night
Sleeps 4
As if its classic exterior wasn't enough, this upgraded Airstream's charming interior will truly win you over! From the fully-stocked kitchen to the warm string lights and decorative plants, we're in love with this trailer. 
Location: Fruit Cove, FL
$125 per night 
Sleeps 5
This farmhouse chic travel trailer is so beautiful that you'll never want to leave! This lavish home on wheels comes with a fully-stocked kitchen, a spacious bathroom (it has both a shower and a tub!), and tasteful black and white decor that is bound to change your perception of RV living. 
9. Modern Adventure Camping Van  
Location: San Diego, CA
$139 per night
Sleeps 2
Packed with modern design elements, this fully-stocked camper van is as beautiful as it is functional. From its wood-paneled interiors to the marble countertop, this solar-powered camper is perfect for the design-savvy traveler. 
10. Beach-Ready Adventure Camper
Location: Portland, OR
$245 per night 
Sleeps 4
With custom leather seating and wood paneling, this cool camper is the perfect rental for your next beach adventure! Named "Lola" by its owners, this custom van comes with a surfboard rack, a solar-heated outdoor shower, and a giant under-the-bed garage. 
With your bedroom, bathroom and kitchen all in one place, these beautiful RV rentals serve as a safe, self-contained means of travel that are perfect for your next adventure. These awesome rentals are also backed by RVshare's Worry Free Rental Guarantee, so you can enjoy your trip stress-free. Now, who's ready to live out their #RVLiving fantasy?