Top RVs Nearby
The Most Fuel Efficient RV Rentals: Class A, B, and C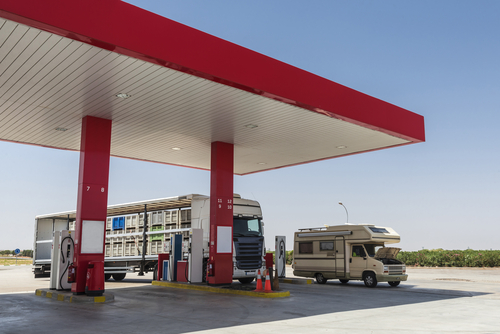 You've been wanting to go on a cross-country road trip for years. You want to feel the freedom of traveling on the open road, and the serenity of sleeping under the stars. You started planning your trip months ago.
You've decided where you want to go, and that you want to rent an RV to save costs. You've set a date to leave, you even requested the time off from work. You've done research on the best routes to take, and looked up all the best landmarks to see.
The only thing you have left to do is decide what type of RV you want to travel in. You've definitely got your heart set on seeing the country in an RV, but you don't want to spend a fortune on gas, especially since it seems like prices are always rising. What can you do?
Well, it helps to know what types of RVs are available. Some motorhomes are better on gas than others. Let's take a look at what the differences in RV classes are so that you can get the best gas mileage possible in your RV, as well as look at some other factors that may affect your decision.
RV Gas Mileage
There are few different classes of RV and three main motorized classes. These are class A, class B, and class C. The class of motorhome you choose determines what type of gas mileage you will have.
Class A is the largest of the motorhomes. These are the RVs that are built on a bus chassis. They have has a similar build to an 18-wheeler truck.
Because of their size, the class A tends to get the lowest gas mileage. They average around 10-12mpg.
Next up is the Class B motorhome. This is a much smaller RV that's commonly known as a campervan. This is the smallest type of motorized RV but is still equipped with a kitchen, shower, and toilet, so it might feel cramped to some. However, it's small size gives it much better gas mileage. It averages around 18-25 mpg, significantly more than the class A.
The last of the motorized RVs is the class C motorhome. Class C motorhomes sit somewhere in the middle when it comes to gas mileage. They average around 17-22 mpg.
Best Diesel Motorhome
Another option you can consider when looking into what RV you want to travel in is diesel vehicles. Diesel-powered engines can get up to 30% better gas mileage than their respective gas engines.
A great example of a class A motorhome with a Diesel engine is the Itasca Reyo 25R Sprinter. This RV gives you all the space and luxury of the typical class A model, but with much better fuel economy. It gives the average class C RV a run for its money, at around 15-18 mpg.
While choosing a Diesel engine can give you the best gas mileage available, they will usually cost much more up front than an RV with a gas engine. Diesel fuel can also be pretty expensive depending on your area.
How Much Does it Cost to Rent an RV?
If you've decided on which RV class is best for you, you might be wondering "How can I find fuel efficient RV rentals near me?" Well, the answer is simple. There are thousands of rentals online!
RVshare is the world's largest peer-to-peer marketplace with thousands of listings that will help you find exactly what you're looking for. With a team of people dedicated to customer satisfaction, secure payments, and 24/7 roadside assistance, it's the perfect place to find fuel efficient RV rentals listed directly by the owner.
How much will your rental cost? Well, that depends on what type of RV you decide you want. Larger RVs tend to cost more, while a small RV will have a cheaper rental cost. The average price of a class A motorhome is between $150-$200 per night, while classes B and C will be around $100-$175 per night. However, RVshare has rentals starting as low as $10 a night, so you can always shop around until you find a deal that you like!
The process of renting through RVshare is super simple. In fact, there are only a few steps to finding the RV of your dreams!
The first step is to search for an RV. All you have to do is enter the area you want to pick up your motorhome, and enter the class of RV that you want, and voila! Hundreds of results will appear for you to browse until you find the perfect match for you and your family. Whether you're looking for a class A or class C, diesel or gas engine, a luxurious RV rental or a compact RV rental, we've got you covered.
Then, Once you've found what you're looking for, you'll be able to book your RV. You'll pick up the keys and get a quick tutorial, and then you'll be off to have the vacation you've been dreaming for!
Fuel Efficient Motorhomes
There are many different options when it comes to looking for a fuel efficient RV rental. It really just comes down to your preferences. While fuel efficiency is certainly important, you may have other factors determining what is best for you, in addition to fuel economy. Let's review some of the option and their pros and cons one last time.
There's class A motorhomes, which are spacious but not good on gas.
Class B motorhomes get much better gas mileage but can feel cramped.
Right in the middle are Class C motorhomes, which could be a perfect compromise for some.
Diesel RVs are an option that gets good fuel economy but can cost more initially.
No matter what RV you choose to take on your trip, RVshare will have what you're looking for. And once you rent your motorhome, you're sure to have that amazing trip you've been dreaming of!