How Tos & Tips
November 16th, 2021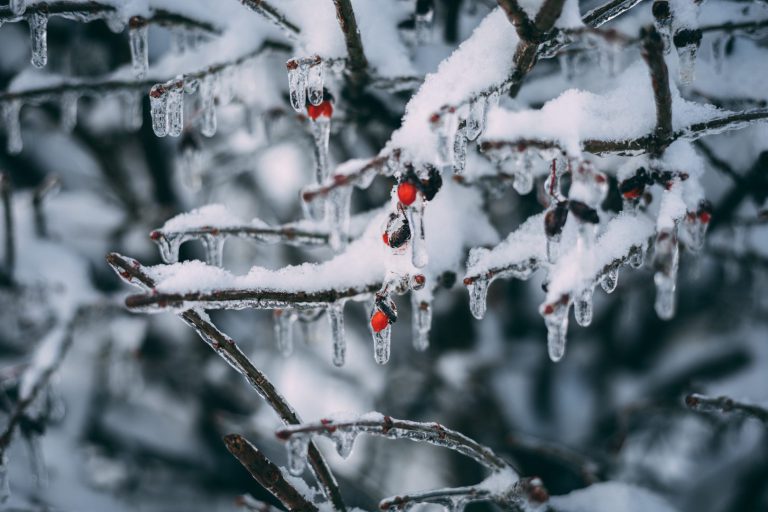 How our vacation was frozen
Picture this. You're RVing within 40 miles of the biggest sandbox that exists in Southern California and OH NO! The pipes have frozen and burst and the toilet's leaking and you are out in the middle of nowhere in an RV. Every time you flush the toilet water comes seeping around the toilet base and you have to keep drying the floors until you can get it fixed.
And…you only have so many towels to mop things up.
Sounds easy enough to fix, but what if ? The memory of camping at the dunes and having our pipes break on that fateful trip still sticks in my mind.
…And the reminder to winterize our RV if the temperature drops again is something I won't soon forget.
It was unpleasant and time-consuming. Who would think you'd need to winterize an RV in the desert? We weren't storing our RV or camping in a place like this.
We were right along Interstate 8 just east of Yuma, Arizona. On the south side of the freeway, the wall that divides Mexico and the USA crested out of the sand. We were at the largest, tallest sand dunes formed by windblown sands of ancient Lake Cahuilla. Standing in the middle of the dunes, ridges of razorbacks and sand went for miles, and I mean for miles and miles. An occasional sprig of a plant pops up here or there. The dunes really are alive with critters scurrying everywhere for shade or to bury and hide from predators.
It's known as a mecca for off-road vehicles, a place where families flock during holidays and weekends from October to March. Enthusiasts ride ATVs, motorcycles, and decked-out sand cars while racing up and down the 300-foot inclines, or drag race across the rippled sand. Motorhomes, trailers, and 5th wheels dot the open land. The landscape changes every day based on the direction and force of the wind.
People ride from early morning deep into the night, stopping to grab a bite to eat or hang out at their campsite. It gets bitter cold as the sun sets and the wind blows. It reminds me of the movies where a wall of sand comes at you. The howling begins, then you wake up in the morning ready for the next day of excitement.
Unfortunately, a leaky toilet meant it wasn't going to be the excitement I had in mind. It literally froze our fun on that trip. Stuck between two towns, we had to decide which one would have the parts that we needed. That took time out of our much-needed vacation to drive into town, find parts, and return to fix it. And to top things off, we had to go back into town for more parts.
Boy, did I learn to be more cognizant of temperatures and the effects on our RV. If only we had drained the tanks after our last trip.
Back home in Tucson a few days before, a cold front blew through the desert and dumped a foot of snow on the mountains. The news reporters told us to prepare for snow in lower elevations and to wrap our pipes.
Of course, I thought about wrapping the home pipes, but we forgot about wrapping the RV pipes or draining the tanks. Funny but I bet they don't have to tell you to do this in the midwest or northern states. People already do it.
Now our pipes didn't quite look like this, but it doesn't have to look this way to cause some damage.
Anything below 32 degrees Fahrenheit can cause cracks or leaks. We just didn't think about it in the RV until we heard other horror stories and had this catastrophe.
Can you use your RV in the winter months?
People often wonder if you can use your RV in the winter, especially if there is a chance that your tanks could freeze or pipes could expand with any water in them. The answer is yes, as long as you follow some precautions, which we didn't.
We had just used our RV a couple of weeks before. The water was still sitting in the low spots of the holding tank, even the toilet. We never thought to add antifreeze to our tanks or use space heaters.
So surprise surprise, we were doing this…
Instead of this…
That's why it's so important to be ready for temperature changes. If you are still renting your RV during the winter months, ask them where they plan on going or plan your own trips to warm destinations if you haven't prepped your RV for the cold weather.
Here in Arizona, it's the perfect time to use your RV. You don't have sweltering heat like the summer months but you can still feel a chill in the air.
Just remember that when something freezes and you take it to a warmer area…it will thaw out. That thawing can cause serious issues as we experienced. Our pipes had frozen in Tucson, expanded, and then thawed at the dunes on that one fateful trip. I honestly never thought about preparing the RV for winterization before that.
Now I know better.
How we prep our RV for cold days
Today we keep a good eye on the weather forecast. If a cold front is expected, we discuss if we emptied the tanks and head to the storage facility for an overall check.
I've stocked up on that funny pink antifreeze that's different from your usual antifreeze. We've invested in space heaters specifically for the RV and if necessary we wrap the pipes in the underbelly of our unit.
Even though we've had RVs with winterized packages, it's a good idea to be ready for those days when you really need to winterize it.
If you just want to stay away from the cold weather, we've got a list of the 10 most popular cities you can visit in the winter.
I never want to replace our RV's plumbing system again. It takes up time that we can cherish with our families, including our pets.
So go out and enjoy your RV lifestyle whether it's winter or summer. What stories do you have when it comes to winterizing your RV?