RV Owners
Last updated on June 27th, 2023. Originally published on March 10th, 2020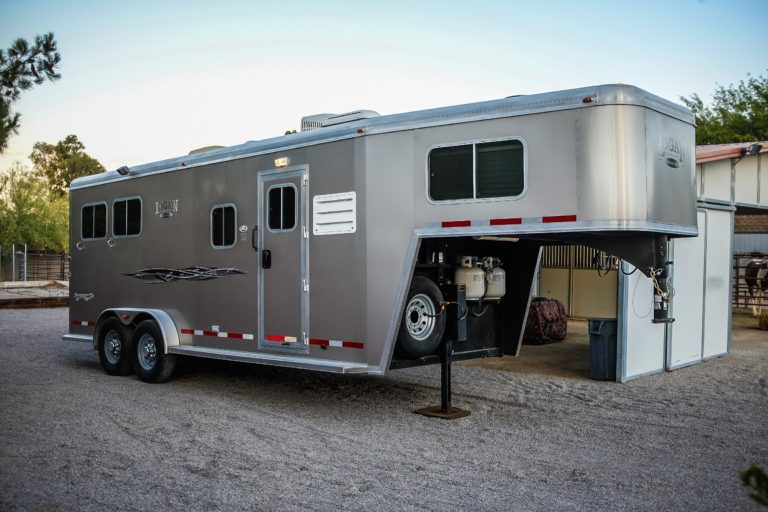 Want to camp in a large, luxurious RV — the biggest, in fact, available on the market?
Would you like to access to plenty of room and comfy amenities without the Miami-penthouse prices commanded by some Class A motorhomes?
If so, a fifth wheel trailer might just be the perfect option for you and your family. Fifth wheels, or 5th wheels, are one of the most common types of RVs you see on the road, and for good reason. They offer a great balance of luxury, affordability, and space. Whether you're traveling with a large family looking for as much legroom as possible, or you're a solo adventurer (or cozy couple), this article is for you. We're going to walk you through everything you need to know about fifth wheel trailers.
What is a fifth wheel?
A fifth wheel travel trailer is a large trailer that requires a fifth wheel hitch to tow. Fifth wheels are heavy, and thus require a full-size, one-ton truck to tow them. Their unique hitch requires the coupling to be in the bed of the truck.
Fifth wheels are a very popular RV, and for good reason. Given their super-duty hitches, they can safely be a lot heavier. This means they have a lot more available room and allowable weight for luxury amenities and sleeping space. Most fifth wheels today also come with multiple slide-outs. This means the space can be expanded even further once you've set up camp.
Let's take a closer look at the "5th wheel" part of the fifth wheel trailer. Why is it called that and how, exactly, does a fifth wheel work?
Why is it called a fifth wheel?
Old horse-drawn carriages in the 1800s actually had a fifth wheel, which sat horizontally and allowed the front axle to pivot. Although the present fifth wheel setup is very dissimilar to this old use of the term, the name stuck around.
Today's fifth wheels operate using a sturdy fifth wheel hitch. This kind of hitch is heavy-duty enough to allow weightier loads to be pulled. The hitch is a U-shaped fitting, which sits in the bed of a pickup truck, and is connected via the trailer's "king pin."
Fifth wheel hitches tend to feel much stabler than traditional ball hitches, from the tower's perspective, and also help cut back on trailer sway. These U-shaped hitches are required for fifth wheel travel trailers, so let's cover how to install one into your tow vehicle.
How to Install a 5th Wheel Hitch
In order to install a 5th wheel hitch, you must first have a vehicle that's capable of towing the weight of the fifth wheel trailer and accepting the hitch. In just about every case, this means a full-size, one-ton truck, like a Ford F350. However, it's always important to review the tow capacity figures of your tow vehicle as well as the weight ratings (like the GVWR) of your rig before you commit to either purchase.
Once you're sure you've got the right set of vehicles — and a high-quality fifth wheel hitch — installation isn't too difficult.
Here are the basic steps
Remove the spare tire, which likely sits under the bed of the truck.
Position the front base rail of the fifth wheel hitch. Mark the first drill location, and drill a pilot hole to help guide you through the rest of the installation. Be sure to check the positioning of the pilot hole under the bed of the truck before continuing to drill the rest of the holes. You may need to enlarge the bolt holes already present.
Bolt in the under-bed brackets to start securing the fifth wheel hitch to the truck bed.
Bolt down the front of the fifth wheel rail.
Measure the 5th wheel hitch height, attach the 5th wheel legs, and position the 5th wheel rear rail. Repeat the drilling and bolting process for the rear rail and install any remaining bolts.
Torque all hardware and ensure the bolts are secure and tight before using the hitch to tow a trailer.
Is a fifth wheel right for you?
Now that we've covered some basics about how fifth wheels work and even how to install the hitch in your truck, let's backtrack just a bit. Is a fifth wheel the right option for you? How can you tell?
A fifth wheel hitch is definitely a necessity if you plan to tow a fifth wheel trailer. Conveniently, fifth wheel hitches can also allow you to tow other large, heavy loads. If you tend to tow heavy loads, it may make sense for you to go with a 5th wheel travel trailer. You will most likely use the hitch for other things anyway. But let's take a moment to review what's so awesome about fifth wheel travel trailers in particular.
What can you do with a fifth wheel trailer?
Fifth wheel travel trailers are great because they offer both the flexibility of a towable vehicle, as well as the comfort and luxury of super-sized RVs. These trailers often have multiple slideouts and extremely large interiors. They can offer up to a whopping 500 square feet of living space. (We've definitely been in urban apartments with less room than that!)
These fifth wheel trailers are perfect options for campers looking to travel full-time. They frequently come with above-and-beyond amenities like full-sized kitchens (with islands!), bathtubs, washing machines, and more. Even if you're only a weekend warrior, a fifth wheel gives you lots of extra legroom so you'll feel comfortable anywhere the road may lead. If you have a family with children, a fifth wheel can give you a little privacy as well.
We recommend renting a few different types of RVs to really experience what they're like to camp in before making a final decision. One easy way to do so? Using the peer-to-peer market at RVshare! Check out the RVs available in your area today.
Fifth Wheel Manufacturers to Know and Watch For
One of the most common questions from prospective buyers is, "What are the best 5th wheel camper brands to consider?"
Obviously, even an affordable travel trailer is a pretty serious investment for most of us, costing tens of thousands of dollars. It makes sense that buyers want to ensure they're getting the very best product for their money.
While some brands are better known than others, it's hard to say there's such a thing as the "best" fifth wheel camper. Rather, there is a huge range of vehicles available at different amenity levels and price points. Which one's right for you and your family will depend on your needs and intended usage. For example, if you're looking to spend just a few days in the woods each year, a lower-cost fifth wheel is a great way to take advantage of your downtime. If it's just you and your spouse, or if you're a solo traveler, a smaller rig might make more sense than a great big 40-footer.
But no matter which end of the spectrum you and your camping party fall into, there are a few specific, well-known manufacturers to keep an eye out for.
Coachmen
Coachmen is one of the best-known RV manufacturers on the market. They offer vehicles across a range of types and styles, including towables and self-driving models. Despite their low cost, these RVs offer impressive quality. This makes them reliable rigs accessible even to campers buying their first RV. Their fifth wheel brand names include the Chaparral and the Brookstone. They come in a variety of different floor plans and sizes. Click here to explore their products and customize your own Coachmen fifth wheel trailer directly from the manufacturer.
Forest River RV
Forest River RV is another manufacturer which crafts rigs across a wide range of different styles. This includes a large number of brand names and a promise of products fit for every type of camping experience. Their fifth wheels in particular are acclaimed for their diversity of size and setup. The vehicles also represent a large spectrum of price points, making them accessible to shoppers no matter their budgets. Check out the full range of Forest River RV fifth wheels by clicking here.
Highland Ridge RV
Open Range fifth wheel trailers are a line made by Highland Ridge RV and are particularly well-known and sought after. These towable rigs combine spacious interiors with surprisingly low tow weights. They feature wide-body construction, which means you've already got more room to roam, as well as outsized slide-outs of a whopping 42 inches. Their amenities are chosen for both form and function, offering style as well as reliability in the kitchen, bathroom, bedroom, and elsewhere.
This is just a small sample of the huge number of fifth wheel trailers available on the market from a number of manufacturers. Click here for a more comprehensive list of RV manufacturers creating fifth wheels and other types of towable and self-driving rigs.
Online research can certainly help you narrow down your choices. However, the very best way to figure out which type of travel trailer is right for you… is to travel in one.
Driving a Large Trailer Isn't as Scary as You Might Think
To be certain, it can feel like a lot to take on to drive such a large vehicle. Especially when you have to deal with that pesky brake in the middle, thanks to the tow hitch. As many benefits as towable rigs bring to the table, there's definitely a learning curve when it comes to figuring out how to drive them. Even if you're already comfortable with other types of large vehicles like moving vans and motorhomes.
But although it might take some practice to master, fifth wheel towing isn't really any more difficult or dangerous than other types of driving once you get the hang of it. You've just got to develop a keen awareness of your size and pay attention to the other drivers and road obstacles around you. And, of course, deal with the regular challenges of towing, like learning which way to turn the wheel when it's time to back up.
Fifth Wheel Maintenance
All RVs require general maintenance and upkeep, and fifth wheels are no exception. They also have some specific requirements in order to ensure the hitch stays in proper working order.
One of the most pressing examples is that the fifth wheel hitch must be lubricated regularly. This should be done with a specifically designed 5th wheel slider lubricant like this one.
While you're lubing up your fifth wheel, it's a good opportunity to check it over for any rust or other damage. Keep in mind that the hitch is the only thing securing your rig to your truck, so you really want to be sure it's in proper working order!
You'll want to wipe away any old or existing grease that can build up on the fifth wheel fittings. It can attract dirt and debris that can shorten the lifespan of the hitch. It's especially important to ensure all that grease is wiped from the lock jaw, throat, and pivot points before winter comes. This can cause it to freeze and keep the mechanisms from operating properly.
Why choose a fifth wheel trailer over a motorhome?
We've talked a lot in this post about the specific benefits a fifth wheel can offer. Is it really a better option than a motorhome?
Class A motorhomes also come with lots of leg room, luxuries, and amenities. But here are some of the main reasons you might want to choose a fifth wheel instead.
With a fifth wheel, you don't have to worry about towing a vehicle behind a motorhome, which can be tricky. You'll automatically have an auxiliary vehicle with which to see the sights around town since you need that vehicle to tow the rig in the first place!
Fifth wheels are the actual largest RVs available on the market. They give you the best bang for your buck as far as living space is concerned.
If you already have a tow-capable truck, a fifth wheel is a lot cheaper than investing in a Class A motorhome.
Fifth wheels do take a little bit longer to set up than their motorhome cousins… but that works out well if you don't move sites often or are mostly looking for a full-time home. Once you have it leveled and the slide-outs out, your RV is a nice enough home you might even forget it's on wheels!
Fifth Wheel FAQs
Let's finish out this post about fifth wheel trailers with answers to some of your most frequently asked questions about them!
How does a fifth wheel hitch work?
As mentioned above, a fifth wheel hitch is a U-shaped hitch that fits in the bed of a truck. It works to allow you to tow large, heavy loads by connecting to the travel trailer's king pin.
Can fifth wheels be converted to gooseneck?
If you have a gooseneck trailer hitch in your truck, you can convert it to fifth wheel. There are several different types of adapters available to make it relatively easy.
Are fifth wheels easier to tow?
Fifth wheels are definitely large and can be intimidating for those who are new to towing. They are also well-known for being stabler and having less sway than trailers pulled on other types of hitches, like the traditional 2-inch ball hitch. And fifth wheel hitches make towing very large, heavy loads possible!
What do fifth wheels weigh and how are they measured?
Fifth wheels can vary widely in weight. The smallest start at around 2,400 pounds and they go up to 24,000 at the largest. That's why it's so important that you have a seriously heavy-duty truck — and a fifth wheel hitch — to tow them.
Like other trailers, fifth wheels are measured by their overall length as well as their various weight rating figures, like GVWR and dry weight.
This post may contain affiliate links.