Travel Inspiration
July 9th, 2019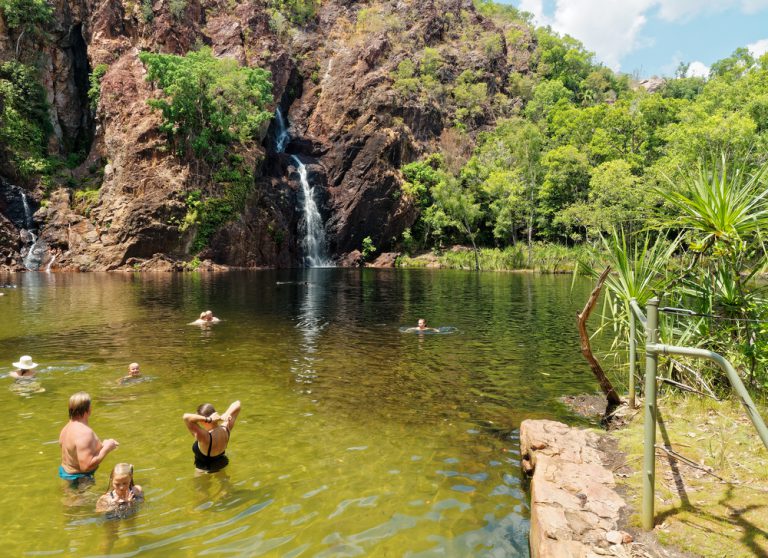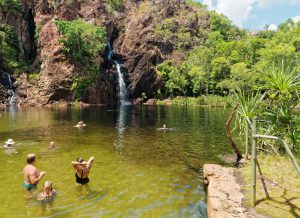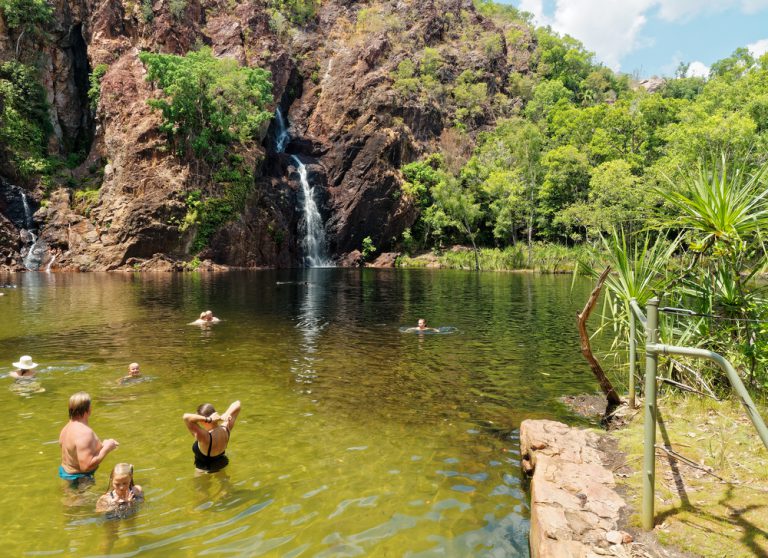 There's nothing quite like a refreshing dip to ditch the oppressive summer heat. And as awesome as the campground pool may be, it's a total game changer to go au naturale… and no, we don't (necessarily) mean in the nude!
If you're looking for beautiful places to get wet and wild out in the wilderness, you may think you're out of luck unless you live in the land of a thousand lakes. But nothing could be further from the truth! America's water system is vast and all-encompassing, and even in the middle of the desert, you might be surprised to learn that there are natural swimming options to consider.
So, if you're wondering, "Where are the best water holes near me?" — wonder no longer. Here they are!
Swimming Spots Near Me
Ready to learn about the best swimming spots in your area? Read on!
1. Sliding Rock, Asheville, North Carolina
Chances are, if you live near Asheville, you don't often find yourself wondering, "Are there any good places to swim near me?"
Because the answer, as you doubtless know, is: yes. Many. But we'd be remiss not to point out this one-of-a-kind swimming hole, which is located just an hour from the downtown Asheville area.
Unlike some of the more off-grid waterfalls and water holes in the forests of North Carolina, Sliding Rock is manned by on-duty lifeguards and also offers changing rooms and shower facilities. Despite these developments, the fee to enter is only $3… and you can still go during off-hours if you want to avoid it. Better yet, the dive to Sliding Rock will take you the quaint Asheville suburb of Brevard, which has its own dining, shopping, and exploration options to offer. It's definitely a trip that's worth your time!
Click here to see RVshare rentals near Asheville, North Carolina.
2. Falling Water Falls, Jasper, Arkansas
We've said it before and chances are good we'll say it again: the Ozarks are a total hidden gem if you're looking for a wealth of outdoor recreation opportunity in the southeastern-ish region of the country. There's the famed shoreline of the eponymous lake, of course, as well as tons of beautiful, hikable mountains… and tucked right alongside the highway, one of the most stunning waterfalls in the region.
Although many people pass right by Falling Water Falls, merely observing it from their car windows, you can also stop and take a quick dip or while away the afternoon. Either way, it certainly doesn't have to be your only stop of the day; the falls are located just south of the Richland Creek Wilderness Area, which as a wide array of hiking, biking, swimming, and all other manner of adventure opportunities to get into.
Click here to see RVshare rentals near Jasper, Arkansas.
3. Devil's Den, Gainesville, Florida
You may think swimming in Florida is all about the white sand beaches — and to be sure, there's plenty of fun to be had along the coasts. But if you skip a trip towards the state's center, you'll be missing out, thanks in no small part to this one-of-a-kind natural spring that offers a truly unique swimming experience.
Due to the popularity of Devil's Den, access is limited to those who are SCUBA diving or snorkeling, so be sure to bring your mask and fins! But don't worry; if you arrive and it's too crowded, there's no shortage of other springs to explore in central Florida… not to mention lazy rivers to float down.
Click here to see RVshare rentals near Gainesville, Florida.
Hidden Swimming Holes Near Me
Some of the best swimming holes are the ones you have to do a little bit of exploring to get to. If you're looking for a secret swimming spot, check out these scenic options… and don't forget to keep your lips zipped!
4. Siouxon Creek, Portland, Oregon
Okay, you caught us: technically, this swimming hole is in Washington State, not Oregon. But it's located centrally between the two states in the Gifford Pinchot National Forest, and it's only a little over an hour and a half from the downtown area of the City of Roses.
You'll meander about seven miles along the creek as you explore the trail, and there are no end of scenic swimming spots to consider. Feel free to take a dip whenever you find yourself getting tired or overheated — and then get out to continue hiking in some of the most beautiful forestry in the nation. Win-win!
Click here to see RVshare rentals near Portland, Oregon.
5. Seven Falls Trail, Tucson, Arizona
With Saguaro National Park just minutes from the downtown area, there's no shortage of hiking opportunities in Tucson. But there's a reason this trail is one of the most popular. Spanning a total of 8.5 miles in and back (and with an optional shuttle that can cut it a bit shorter), this moderate hike ends in one of the most picturesque swimming holes in the country — not to mention a great place to cool off if Arizona's superheated summers have you sweating.
You'll start the Seven Falls hike at the well-developed and amenity-filled Sabino Canyon Recreational Area parking lot, which also offers an air-conditioned visitor center as well as flush toilets, water filling stations, and a gift shop. Even with the oasis waiting to cool you off at the end, we highly recommend you get started early… that desert sun is no joke!
Click here to see RVshare rentals near Tucson, Arizona.
6. The Grotto, Tobermory, Ontario
Got your passport ready? If so, it's worth heading north of the border to check out this beautiful swimming hole, tucked away inside Bruce Peninsula National Park in Ontario, Canada. Carved out over eons by the waves of the Georgian Bay, The Grotto is an exceptionally popular destination for hikers and campers… so much so that the park has put a four-hour parking reservation system into place so you can be sure you'll get a spot! The fee is $11.70 (Canadian) per vehicle, plus whichever reservation fee –$6.00 online or $8.50 by phone. Click here to learn more or reserve your spot today.
Psst: even though we don't offer RV rentals in Canada (yet!), it would be super easy to pick up a rental in one of the many relatively nearby U.S. cities, like Detroit or Buffalo, and make the drive up.
Best Swimming Lakes
Here are just a few more good swimming holes to check out across the country.
7. Hamilton Pool, Austin, Texas
If you live in Austin, chances are you've taken a dip or three in Lady Bird Lake — but if you venture just a little bit further afield, you'll be rewarded. Located just 30 miles west of the city and accessible by a well-marked, very doable trail less than a mile long, Hamilton Pool is a gorgeous grotto tucked into a canyon beneath a 50-foot waterfall. (Sorry, Lady Bird, but that's a hard act to follow.)
Click here to see RVshare rentals near Austin, Texas.
8. Dorset Quarry, Dorset, Vermont
Looking for a unique swimming opportunity in the northeast? How about taking a dip in one of the oldest marble quarries in the world — and the oldest in the country?
That's what you'll find nestled nearby the quaint town of Dorset, Vermont. What's more, the quarry is within a stone's throw of tons of other adventure opportunities, including even more swimming at the scenic nearby Emerald Lake State Park.
Click here to see RVshare rentals near Dorset, Vermont.
9. Abiquiu Lake, Abiquiu, New Mexico
If you ask any northern New Mexican, the very best words you can see in a text message on a summer morning are simple: "Meet at the lake?"
And as a northern New Mexican, you'll know for sure which lake your friend is talking about: Abiquiu, the beautiful pool tucked alongside the little town where Georgia O'Keeffe famously made her home. Surrounded by the surreal red rock landscape of the desert, this popular spot is a great place to cool off if you're feeling beaten down by the desert heat… but be warned. Even if your skin feels cool, it's still affected by those UV rays. Be sure to wear your sunscreen!
Click here to see RVshare rentals near Abiquiu, New Mexico.
Cool Places to Swim Near Me
Still looking for the answer to your original query: "Which are the best places to swim near me?"
We recommend checking out the local state parks in your area, or checking with the BLM. Who knows? There might be an amazing hidden water hole just minutes from your door.
Stay cool out there, campers!
This post may contain affiliate links.