Waterfalls
October 29th, 2021
Football, fishing, forestry — and yes, falls should definitely be added to the list of things the great state of Michigan is known for! All along the many waterways of this beautiful landscape, waterfalls dance, stream, and tumble. Trust us when we say you're going to want to see it for yourself.
Top 10 Waterfalls in Michigan
1. Great Conglomerate Falls
2. Hungarian Falls
3. Bond Falls
4. Munising Falls
5. Horseshoe Falls
6. Miners Falls
7. Spray Falls
8. Sable Falls
9. Tahquamenon Falls
10. Ocqueoc Falls
Visiting Waterfalls in Michigan
Without further ado, here are the top 10 most beautiful waterfalls in Michigan and the details you need to get up close and see them for yourself!
1. Great Conglomerate Falls
One of the westernmost waterfalls in Michigan, tucked into the densely forested expanse of Porcupine Mountains Wilderness State Park, Great Conglomerate Falls is a slide-style waterfall measuring some 20 feet tall and cresting at 30 feet. It's large enough that it's difficult to see the whole thing at once — you'll have to do some careful footwork to get to all the best viewpoints — but that makes sense, given its unique geology. (The fall is named after the giant boulder of conglomerate rock that divides it into two sections.) Even better knews for waterfall-chasers: this stunning cascade is located near several other waterfalls, including Gorge Falls and Potawatomi Falls. Several hiking options exist allowing you to loop together several of these must-sees at once, or you can take the short and relatively easy trek to the Great Conglomerate Falls on its own.
Things to do near Great Conglomerate Falls: Porcupine Mountains Wilderness State Park stands apart as the largest state park in Michigan, and it's absolutely chock full of fun outdoor to-dos for the whole family. From beach-side agate hunting to hiking, biking, fishing and more, odds are you're going to want to stay a while. Good thing it has its own on-site campground — and there are some excellent RVshare vehicles to rent in the area!
2. Hungarian Falls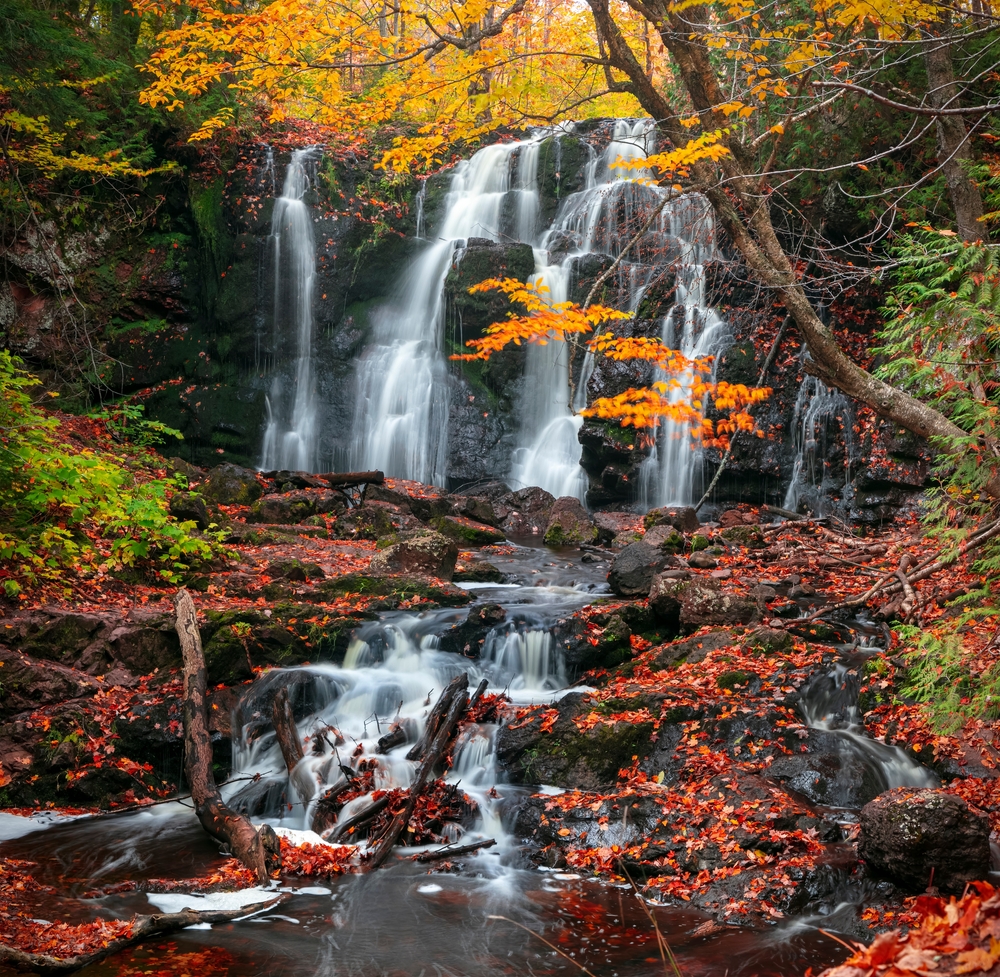 Nestled about midway up the Keweenaw Peninsula, Hungarian Falls is actually a series of three cascades: visitors will find an Upper, Middle, and Lower section. Each have their own modes of access, and some are more challenging than others. All have their own unique beauty. For starters, the Upper Falls are a short but powerful 20-foot flow of water that drops powerfully over the beautifully carved rock ledge behind them, while the Middle Falls, which are located just downstream of the Upper Falls, offer another 20-foot drop just below the dam, and are the easiest to access. Finally, the Lower Falls stuns with a jaw-dropping 50-foot plunge, but requires the most footwork to get to. Make a whole day of it by visiting all three, or pick and choose which sections seem most interesting to you. Either way, you're sure to be satisfied by the view(s).
Things to do near Hungarian Falls: Preserved by the small but beautiful Hungarian Falls Nature Area just outside of the town of Hubbell (which sits alongside Torch Lake), Hungarian Falls is surrounded by both outdoor and urban beauty to explore and admire. Plus, there are some great RVshare rentals to choose from in the area.
3. Bond Falls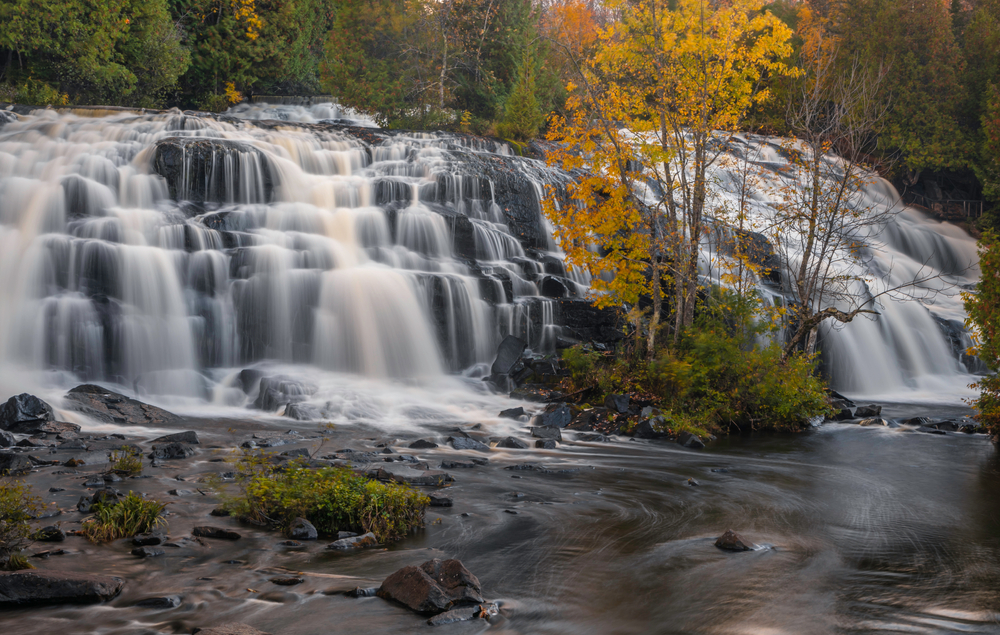 Back in the main body of the Upper Peninsula, close to the place where it borders on Wisconsin, one of the most beautiful falls in the entire state lies along the Middle Branch of the Ontonagon River: Bond Falls. Rather than offering one single, dramatic drop into a swirling pool below, Bond Falls offers a dancing and shimmering series of cascades down a tiered rock face, with a total gradual descent of about 50 feet. This is easily one of the most popular waterfalls in the entire state of Michigan, and while its beauty is one important reason, another its its accessibility: rather than requiring a long and arduous hike, it's just a short jaunt from the parking area to see this beautiful waterfall, and there are even picnic tables, walking paths, and other amenities in the area.
Things to do near Bond Falls: The large expanse of the Bond Falls Flowage creates an incredible lake-like body of water on which to fish, camp, and boat (and in which to swim, when it's warm enough). Also, this area is within the greater vicinity of Ottawa National Forest, which offers just about every outdoor recreation opportunity you can dream up. Here are some local RVshare rentals so you can stay and play as long as you like.
4. Munising Falls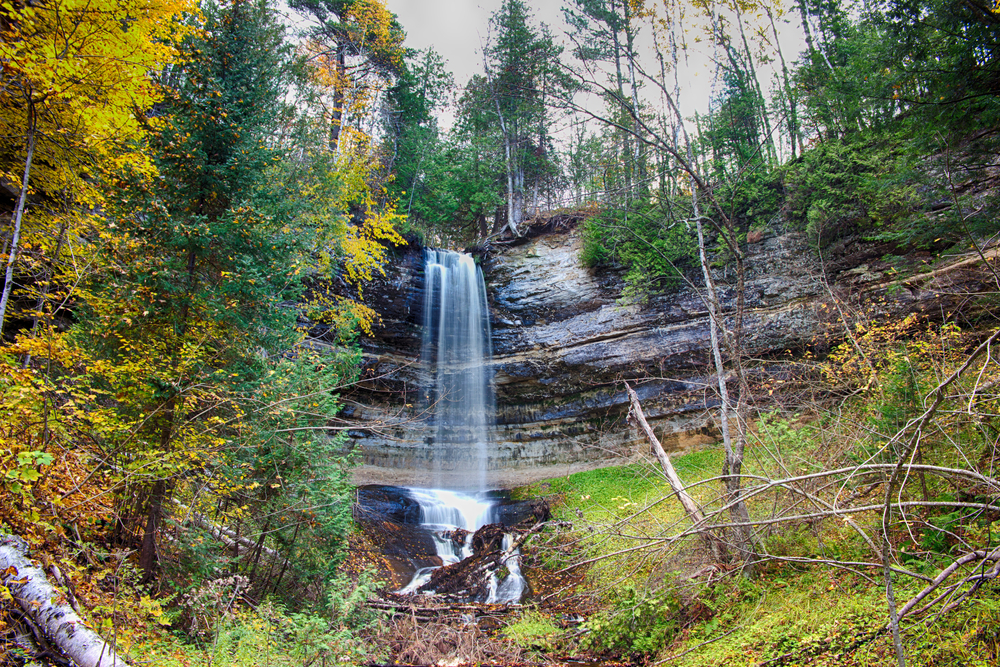 The small, Superior-lakeside town of Munising is known for its proximity to Pictured Rocks National Lakeshore, among other things — but it's also home to several beautiful waterfalls, the best known-of which is the eponymous Munising Falls. Uniquely scenic, Munising Falls drops elegantly down in a dainty plunge over the carved rock wall behind it, emptying into a small pool that flows into a creek with moss-covered stones, downed tree limb, and ample surrounding foliage. This is another popular waterfall that stands out for its ease of access: a short trail leads explorers from the Visitor Center to a series of developed viewpoints along an elevated boardwalk. In fact, it's even easy to visit in the wintertime, when Jack Frost transforms its flow into a beautiful icy column!
Things to do near Munising Falls: It would be a shame to come this close to Pictured Rocks National Lakeshore and miss it, and fortunately, there are plenty of Munising tour companies happy to show it to you by water, land, or even air. Grand Island is another adventure well worth taking — which means you're probably going to need an RVshare vehicle to call home base for a while while you explore. Here are some of the best campgrounds near Pictured Rocks and Munising, too!
5. Horseshoe Falls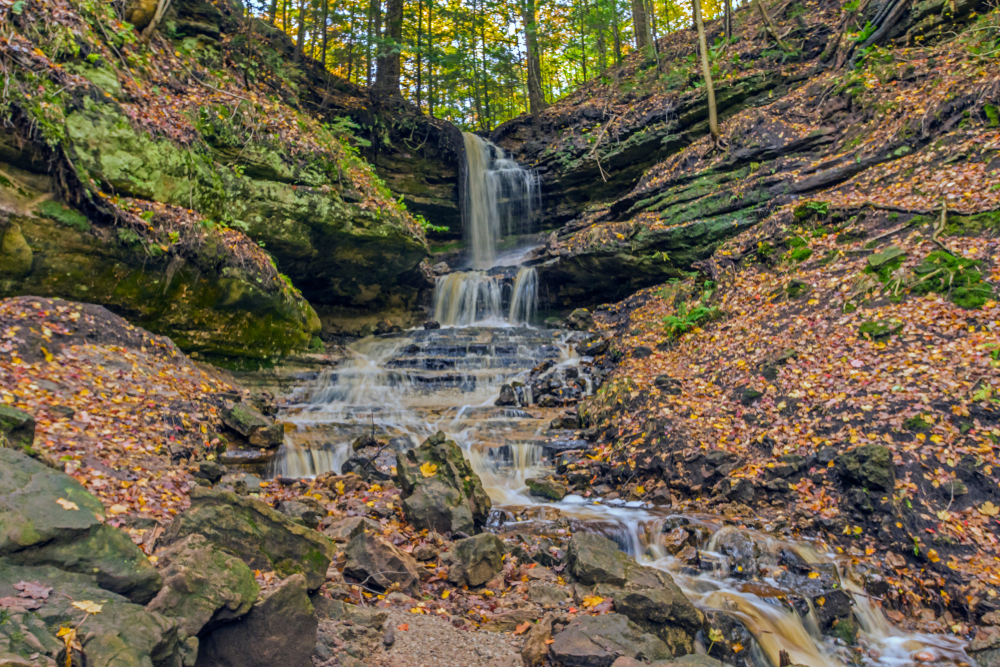 Another beautiful waterfall in Munising, Horseshoe Falls truly looks like a scene out of a fairy tale: the water drapes itself beautifully down a stepwise series of rock ledges, all surrounded by strong, tall trees and green Northern Michigan ground cover. Although it stands a mere 20 feet tall altogether, it's certainly worth visiting — though do be aware that this waterfall, unlike most others in Michigan (and all the others on this list), is privately owned, which means there's an admission fee to see it. The good news: there's a trout pond on the property and the kids can feed the fish!
Things to do near Horseshoe Falls: There are so many incredible waterfalls to explore in Michigan, we couldn't possibly name them all on this list proper — which is to say, consider this tip a freebie: Wagner Falls Scenic Site is just south of Horseshoe Falls and well worth visiting, especially since there's no entry fee required. And, again, the town of Munising has all its own charm to explore, not to mention the lakeshore. Here are those local RVshare rentals and campgrounds, again.
6. Miners Falls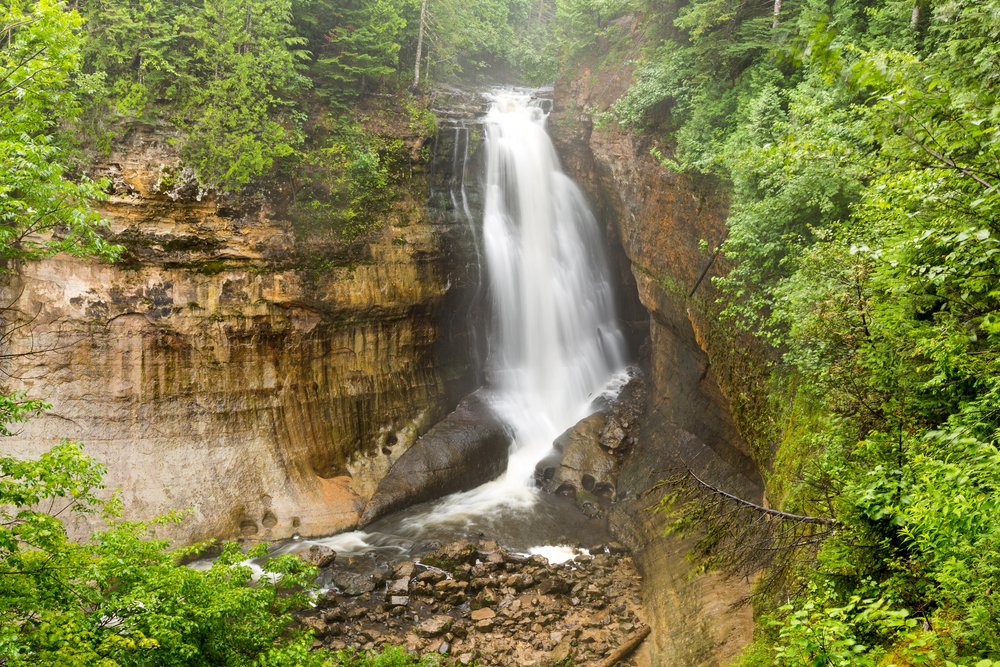 Technically within the bounds of Pictured Rocks National Lakeshore, Miners Falls is easily one of the most stunning waterfalls in Michigan — and definitely one of the most beautiful that's relatively easy to access. The hike along Miners Falls Trail runs a little more than half a mile one way (making for a 1.2-mile round-trip hike) and sees about 150 feet in elevation gain, giving you just enough time to stretch your legs and feel like you're wandering through the deep and mystical woods without requiring you to get seriously dirty and sweaty. Stairs make ascending the small steep sections relatively straightforward, and the falls themselves plunge some 40 feet over the sandstone cliff behind them. Bonus: this trail is also open to well-behaved dogs, so long as they remain on-leash for the entirety of the journey.
Things to do near Miners Falls: Obviously, there's all of Pictured Rocks National Lakeshore to explore — including the glorious neary Miners Beach, whose soft sands and endless expanse of water will make you feel you've traveled much further afield than Upper Peninsula Michigan. It would be easy to spend a week getting to know this stunning landscape… which is why it's a good thing there are so many excellent RVshare rentals and RV campgrounds nearby.
7. Spray Falls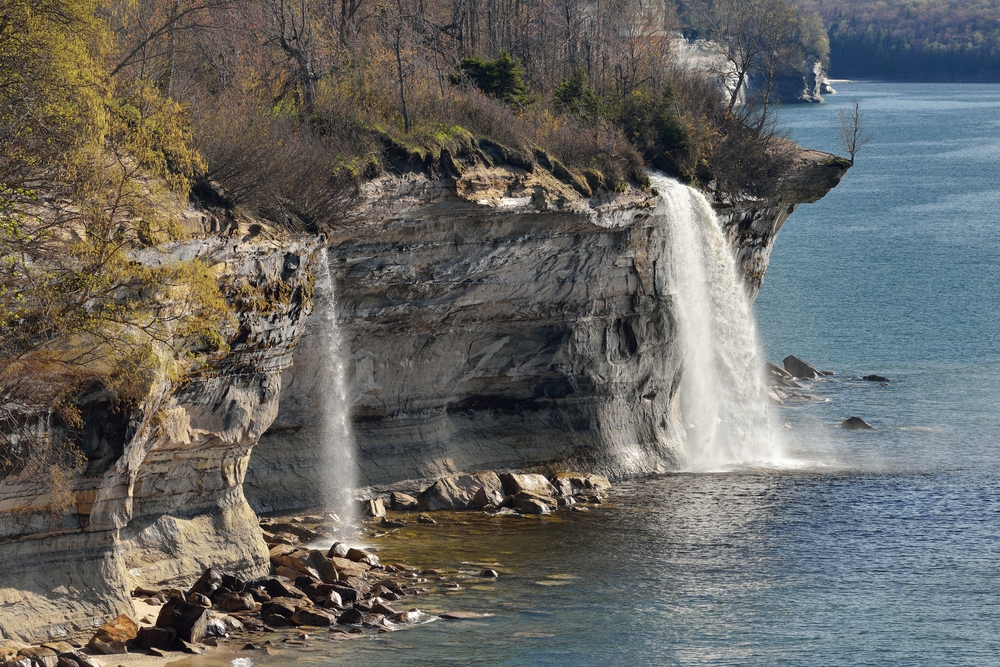 Talk about dramatic! With a 70-foot plunge directly into the waters of Lake Michigan below, Spray Falls looks like it's straight out of a movie. It's definitely so much more than the "spray" of its namesake creek: it's a deluge, and easily one of the most stunning sights (and sites) in the midwest, if not all of America. Another cascade tucked into the landscape of Pictured Rocks National Lakeshore, Spray Falls can be reached along a relatively lengthy (but also relatively doable) hike starting at Little Beaver Lake, which runs about 7.5 miles altogether and sees just shy of 500 feet of elevation change. Along with its truly once-in-a-lifetime destination, this hike is well-known for the beautiful wildflowers that bloom here during the spring and summer.
Things to do near Spray Falls: We're going to offer one last plug for Pictured Rocks National Lakeshore, which has, after all, been set aside for posterity for a reason. It's gorgeous, that's all there is to it.If you're looking for even more beauty to discover in this part of the country, keep reading — or head south to Hiawatha National Forest. Here are some local RVshare rentals and campgrounds to choose from.
8. Sable Falls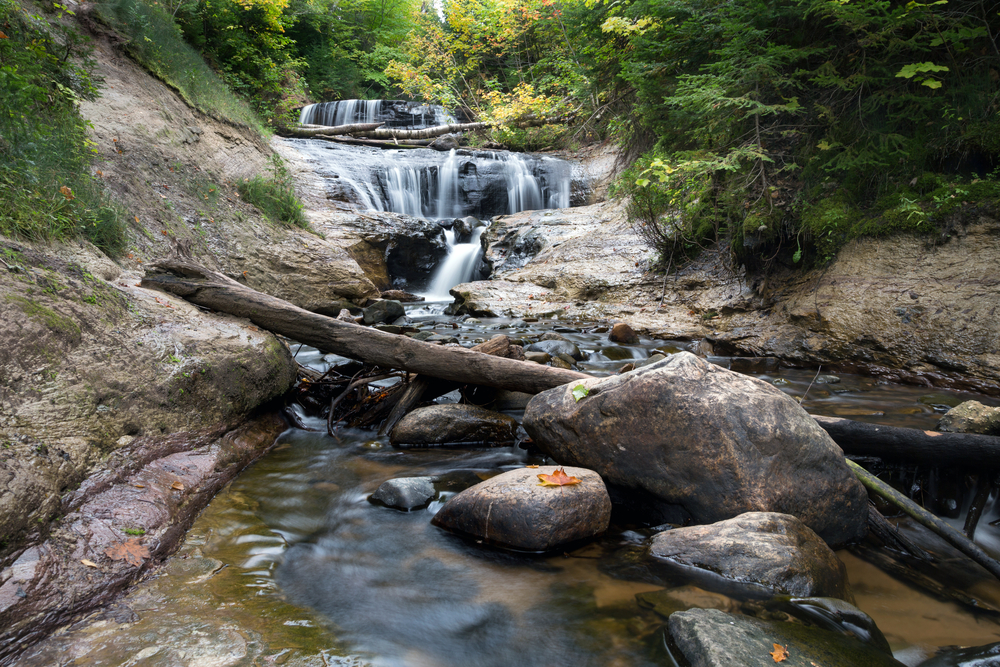 The last of the falls on our list that's part of the Pictured Rocks National Lakeshore — and which is tucked about as far east as you can go before leaving the park's boundaries — Sable Falls offers visitors all the rugged beauty of a deep backwoods waterfall without the hike or hassle. Tumbling some 75 feet in a gentle, tiered flow backed up by magnificently carved rock faces, Sable Falls is only a short walk from the nearby parking area — and if you walk a little further than that, you'll find yourself amidst the Sable Beach sand dunes! If you're looking for a longer, more arduous adventure, you can always loop together your Sable Falls hike with one of the other trails in the vast network. The area is certainly beautiful enough to devote a day to… or several.
Things to do near Sable Falls: Rather than Munising, Sable Falls is closest to the lakeside town of Grand Marais, which is known for its Woodland Park and Light Keeper's House Museum, among other attractions. Plenty of other forested backwoods await just a smidge further east.. though of course, you might just decide to hang out on the beach for eternity. Here are some local RVshare rentals to consider.
9. Tahquamenon Falls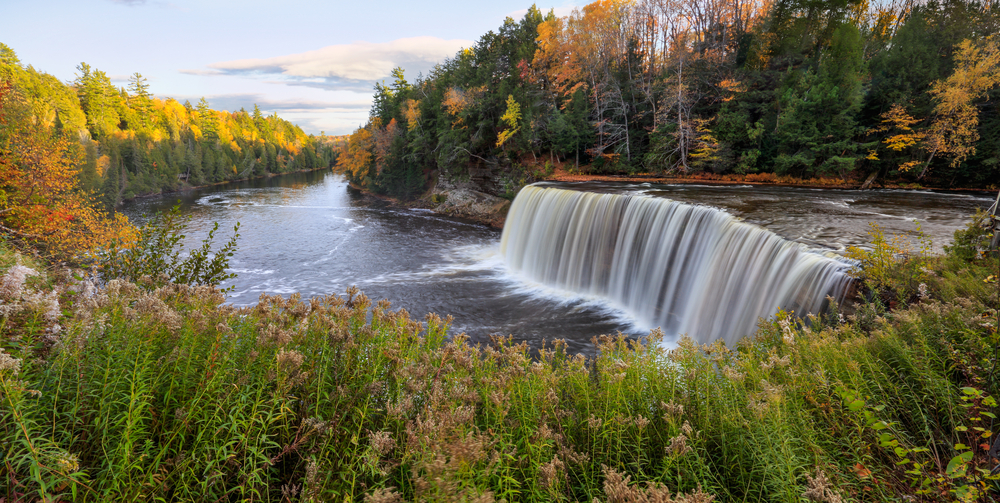 Hey non-Michiganders: if there's one waterfall on this list you've heard of before, it's probably this one. Well, we're here to tell you its reputation is well-founded. Preserved and showcased by Tahquamenon Falls State Park, this broad, classic, and powerful cascade is Michigan's largest, at a whopping 200 feet across and 50 feet tall. You can think of it as a mini-Niagara — and, in fact, when it comes to North American waterfalls east of Mississippi, Niagara is the only one that beats it out for size. Although the falls are the crown jewel, the park is large and meandering, offering many hiking trails, viewpoints, and cross-country skiing opportunities in the winter. Since it boasts both Tahquamenon River and Lake Superior access, it's also a great place for fishing, and boat rentals are available right on-site.
Things to do near Tahquamenon Falls: Although this is truly some of the most beautiful and rugged wilderness you'll ever visit, it's also only about an hour outside of Sault Ste Marie, a beautiful mid-sized town straddling the U.S.-Canadian border. And, as always, there are some excellent RVshare rentals in the area if you're looking for a cozy place to stay on the road.
10. Ocqueoc Falls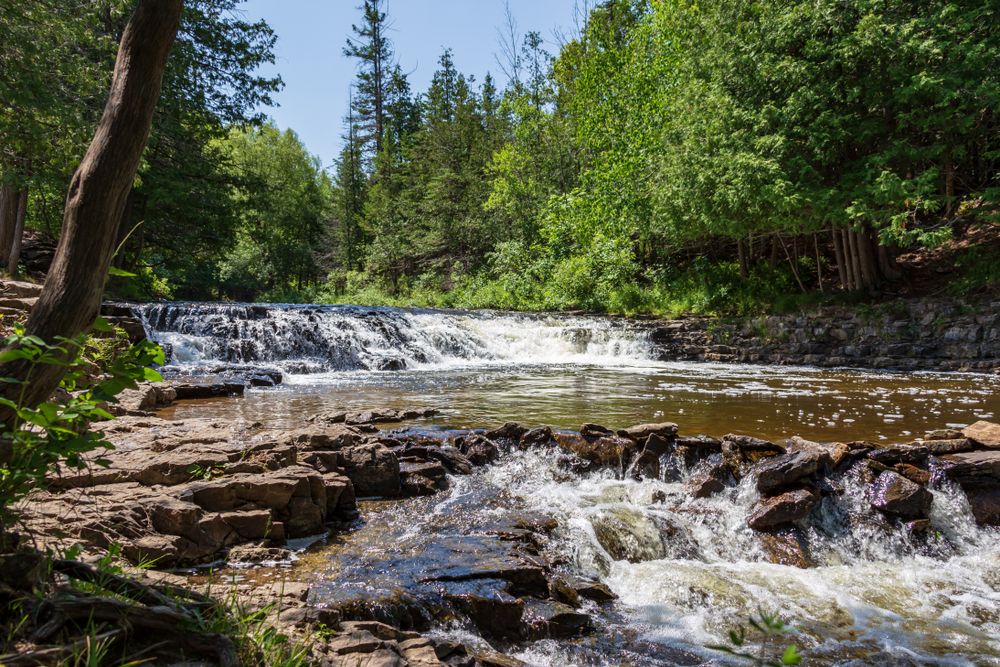 It's true: all of our waterfalls thus far have been in the Upper Peninsula. But worry not, Lower Peninsula dwellers: you have some worthwhile cascades tos ee, too! Ocqueoc Falls is part of the broad expanse of the Atlanta State Forest Area, a shimmering set of rapids along the Ocqueoc River. This is another waterfall prized for its ease of access, as the cascade itself is located only a short walk from the parking area. In the summertime, when the weather is hot, some hikers take to swimming in the babbling waters at the foot of the falls, but be careful: the current can be quite strong here!
Things to do near Ocqueoc Falls: A network of hiking and biking trails surrounds this waterfall, and the area is accessible all year round (though come winter, you may need skis or snowshoes). And if you're looking to enjoy more Michigan waterfalls, the area is only about an hour from Mackinaw City and its gorgeous bridge, the entry-way to the Upper Peninsula. Here are some local RVshare rentals to take for the ride!
Planning an RV Trip to Michigan
This list may have some of the most beautiful, but Michigan has more than 300 waterfalls to explore — which is to say, you're probably going to want to take your time. We've got the very best peer-to-peer RV rentals available in the Water Winter Wonderland — and that's just the start.
We've also written guides to the best state parks in Michigan, along with its best campgrounds, including a separate list for the top 10 campgrounds in the Upper Peninsula, where the bulk of the waterfalls are. We've covered Pictured Rocks National Lakeshore and even many of Michigan's major cities, for those of you after an urban adventure.
The rest is up to you, friends — so get out there and chase some waterfalls! Michigan is truly the perfect place to do it.