Waterfalls
November 8th, 2021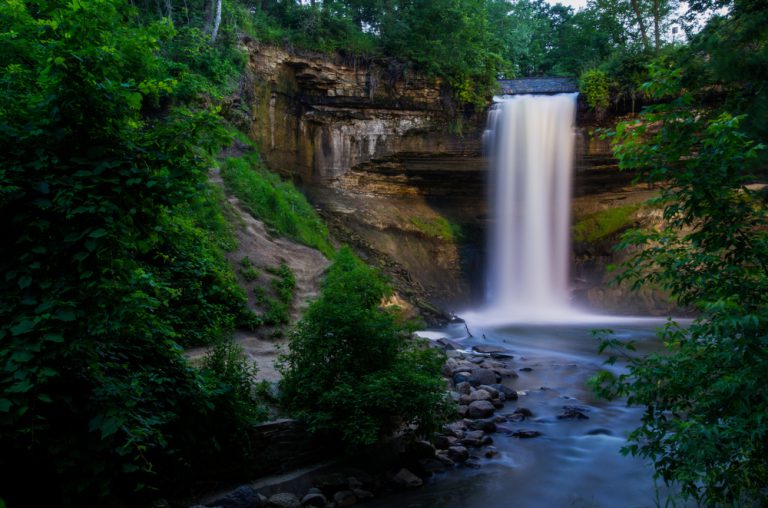 It may be known as the Land of 10,000 Lakes — but make no mistake about it, Minnesota has some incredible waterfalls to discover, too! From the northerly Superior shoreline to easily accessible, urban falls tucked into the state's biggest cities, here are the Minnesota waterfalls you don't want to miss… and all the details you need to see them up close and personal for yourself.
Top 10 Waterfalls in Minnesota
1. Devil's Kettle
2. Beaver River Falls
3. Gooseberry Falls
4. Wolf Creek Falls
5. Minnehaha Falls
6. Hidden Falls
7. Hidden Falls, Round Two
8. Ramsey Falls
9. Minneopa Falls
10. Winnewissa Falls
Visiting Waterfalls in Minnesota
Without further ado: Minnesota's very best waterfalls for you!
1. Devil's Kettle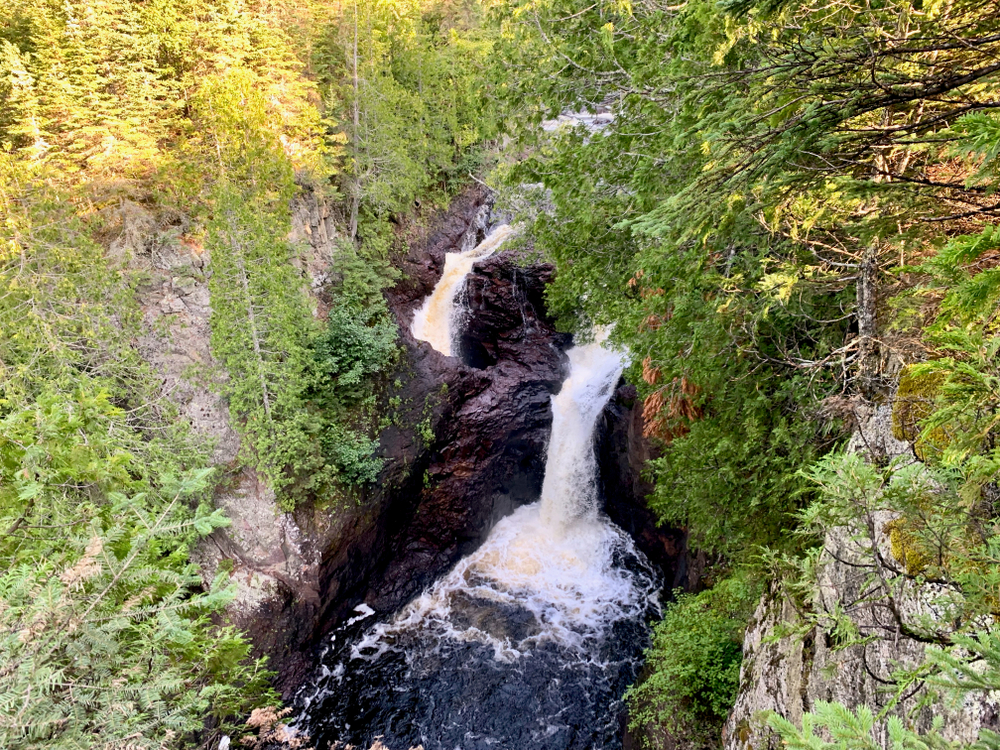 Tucked along the Brule River close to where it pours into Lake Superior, Devil's Kettle is actually something of a mystery: while part of the waterfall straightforwardly cascades down from the volcanic rock ledge above, continuing along the river, another section of it seems to disappear into the ground entirely. (Spoiler alert: according to geologists, the flow simply dives underground for a spell before rejoining the river a few hundred feet later, but it still creates an incredible illusion you have to see to believe.) Devil's Kettle is accessible along a two-mile round-trip trail that climbs some 400 undulating feet, and is ranked as moderate — so there will certainly be some steep and rocky portions along the way. Wear solid hiking boots and bring trekking poles, but take heart: this unique waterfall destination is more than worth the effort.
Things to do near Devil's Kettle: This unique formation is part of the larger landscape of Judge C.R. Magney State Park, which is itself situated within the larger context of the vast Superior National Forest. Suffice to say: if there's any sort of outdoor adventure opportunity you've been craving, chances are good you'll find it here. Plus, there are some excellent local RVshare rentals to call home for your stay.
2. Beaver River Falls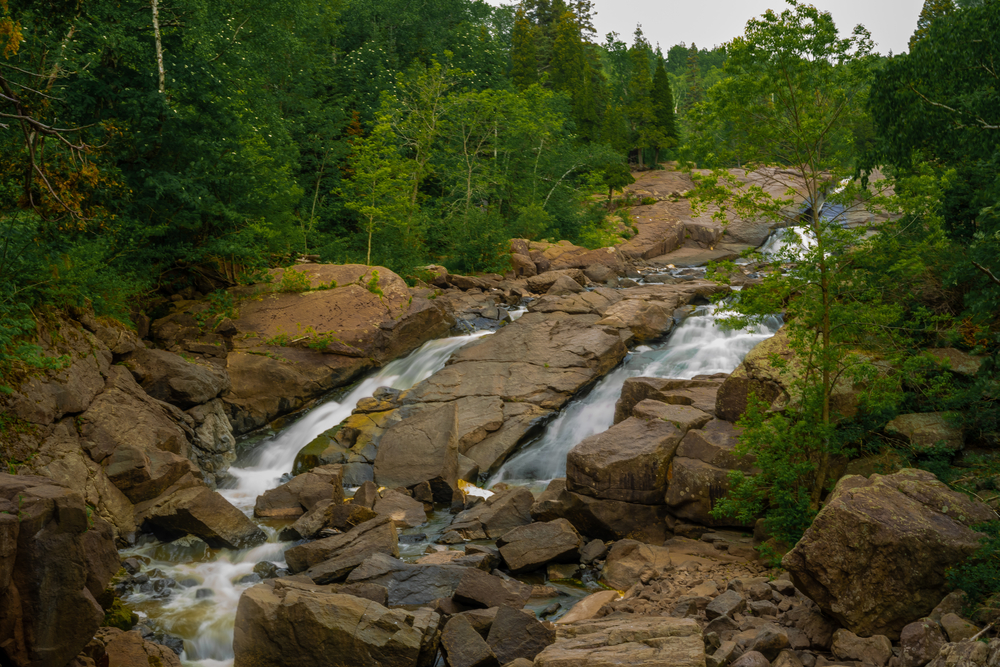 Just a bit further south along the Superior shoreline, tucked along — you guessed it — Beaver River, Beaver River Falls is a flowing set of cascades that drop some 300 cumulative feet in a gradual set of rapids, flowing down from the river into Beaver Bay below. One of the best things about this waterfall is how easy it is to access; the falls are visible from Highway 61 above, and if you want a better viewpoint, it's only a short walk from the dedicated parking area.
Things to do near Beaver River Falls: In case the falls themselves weren't incentive enough, know that Beaver Bay, the town named for the body of water these cascades flow to, is considered one of the best small towns in Minnesota by locals and visitors alike. Small but quaint and filled with shops, eateries, and unbeatable waterfront views, it's a great place to hang out while you're exploring the local wilderness. Here are some local RVshare vehicles to make it even cozier!
3. Gooseberry Falls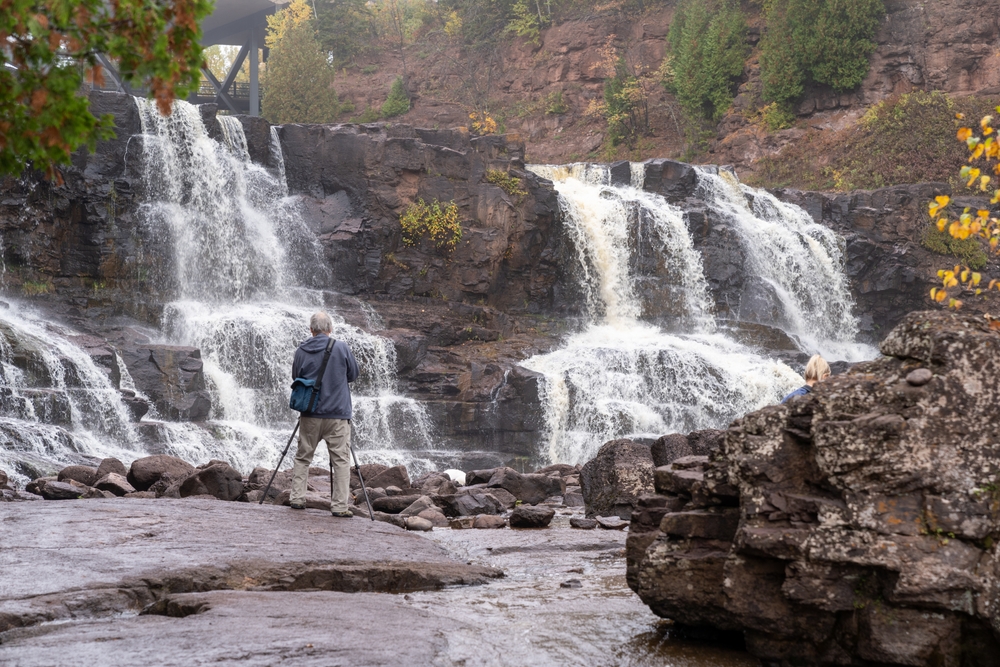 Preserved in its very own namesake Gooseberry Falls State Park, Gooseberry Falls has long had destination status amongst Minnesotans and those from further afield alike — and for good reason. The falls crash over a broad series of tiered rock ledges, creating a kind of thunderous waterfall amphitheatre; visitors can even sit back and relax on a rock island that separates out their three sections — upper, middle, and lower falls, all with their own hiking opportunities. As if that weren't enough, this 1,600+ acre park also features two more waterfalls that aren't connected to Gooseberry Falls at all. In short, if chasing waterfalls is your jam and you're in Minnesota, you absolutely can't miss Gooseberry Falls State Park.
Things to do near Gooseberry Falls: Along with waterfalls, Gooseberry Falls State Park offers many other attractions that make it a worthwhile destination: scenic agate beach offers incredible waterfront, and the park is populated by a variety of buildings constructed by the CCC. It also has its own on-site campground, including RV-friendly spots, so grab a local RVshare rental and get ready to enjoy your vacation the easy way!
4. Wolf Creek Falls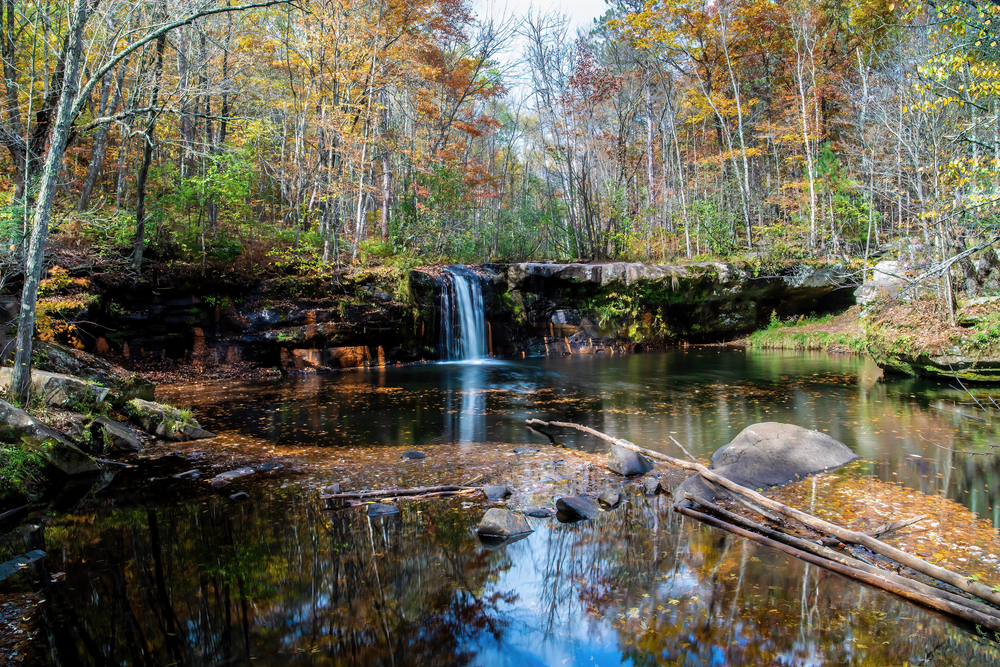 Moving away from the shoreline into the heart of Minnesota, you'll find yourself at Banning State Park, which draws its visitors for a wide variety of reasons: the skiing, canoeing, and hiking opportunities are all golden, as is the chance to check out the historic Sandstone Quarry that's preserved here. However, Banning State Park is also home to Wolf Creek Falls, which run along the Kettle River and are situated along red-colored sandstone, offering a glorious view thanks to the juxtaposition of bright colors. Better still, the hike to see these falls up close and personal is a relatively friendly one, traveling only about a mile and a half altogether and seeing about 121 feet of elevation gain. This one's a great opportunity for those traveling with kids or well-behaved dogs on leashes!
Things to do near Wolf Creek Falls: Another draw to Banning State Park is its on-site campground, which generously offers both water/electric hookups and even some full hookup sites for very affordable nightly prices. Make the trip even more complete and cozy with a local RVshare rental!
5. Minnehaha Falls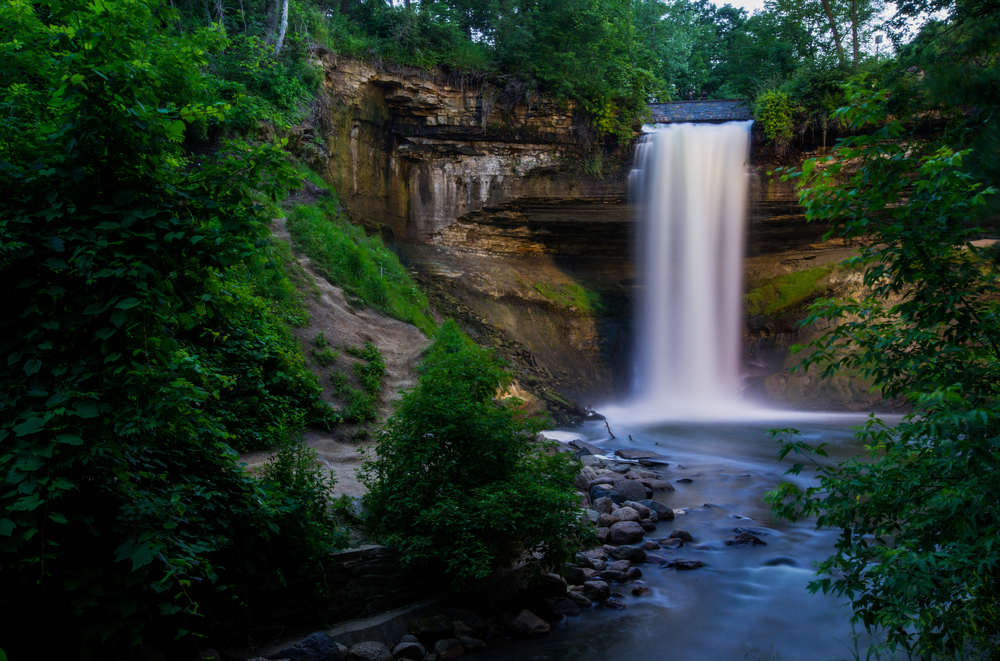 Not every state is lucky enough to have stellar waterfall access even in some of its most densely populated areas — but Minnesota isn't every state. (We've already established that!) Case in point, the beautiful vista created by the 53-foot-tall Minnehaha Falls, which is preserved and exhibited by a regional park right in the heart of Minneapolis. The park also features more than 160 acres of additional attractions, including hiking and biking trails, picnic areas, the well-manicured Longfellow Gardens, and more.
Things to do near Minnehaha Falls: Minneapolis is well known as one of the coolest cities in the midwest; it's got a rich literary culture as well as excellent dining, art museums, and more. And fear not — although Minneapolis is about as urban as it gets, there are still some excellent RVshare rentals in the vicinity, not to mention some first-class RV parks and campgrounds.
6. Hidden Falls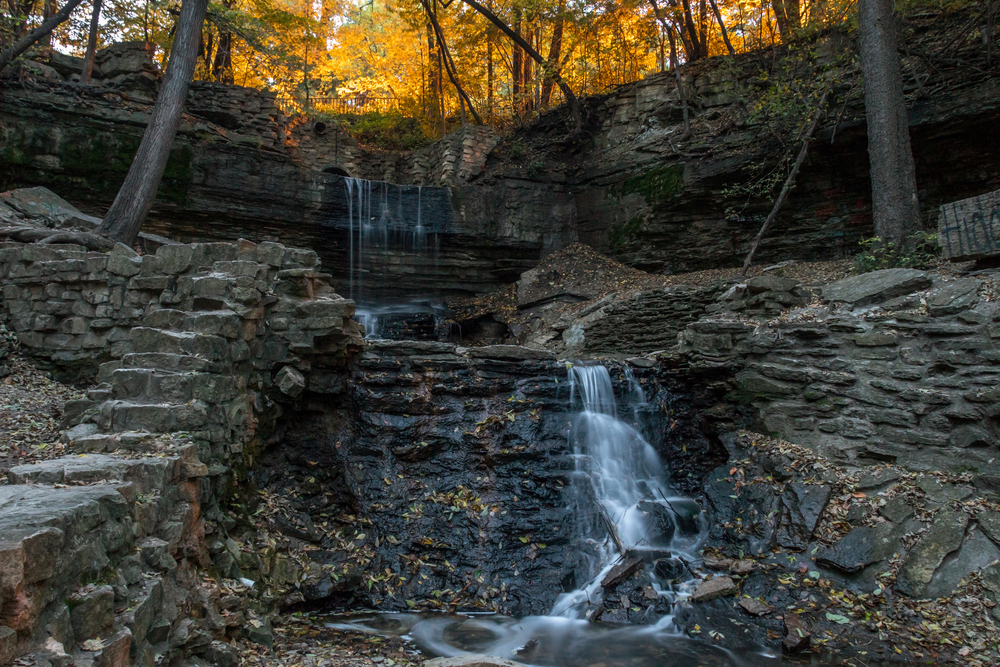 Another one-of-a-kind urban waterfall only a few miles away from Minnehaha (but this time technically in the municipality of St. Paul, Minnesota's capital), Hidden Falls is tucked inside — you guessed it — Hidden Falls Regional Park, another glorious green space set aside by the Twin Cities planners. (In fact, Hidden Falls Regional Park was one of the original four parks set aside in St. Paul.) These falls lie along none other than the  mighty Mississippi River, and is another easy-to-access option with a hike of only a little more than a single round-trip mile and almost no elevation gain. Seasonally, visitors also wade in nearby pools to beat the surprisingly hot Minnesota summer sun, not to mention the bike paths and other attractions to take advantage of.
Things to do near Hidden Falls: Once again, not every state is lucky enough to offer this kind of outdoor experience so close to a major city — let alone its capital — but Minnesota is. St. Paul, not to mention nearby Minneapolis, have so much to offer visitors and residents alike, including some excellent RVshare rentals and campgrounds!
7. Hidden Falls, Round Two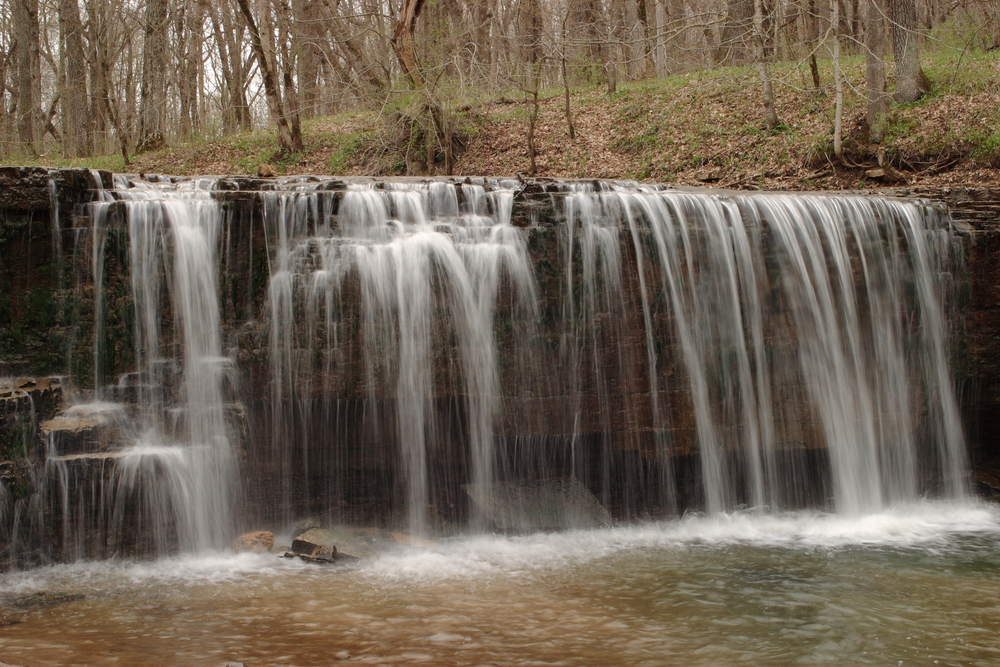 That's right — your eyes do not deceive you! There's not one, but two Hidden Falls on our list of top-10 Minnesota waterfalls, and this second one is located not in St. Paul, but the wilds of Nerstrand Big Woods State Park. Located about an hour south of Minneapolis, Nerstrand Big Woods State Park's crowning jewel is these Hidden Falls, which are quite stunning despite their relatively short stature, standing only about 20 feet tall. The park also offers about 11 miles of wilderness hiking trails, and it's also home to some rare and endangered Minnesota foliage.
Things to do near Hidden Falls: Just east of the smaller town of Faribault — though, again, only about an hour from Minneapolis — Hidden Falls offers city dwellers a great opportunity to get away from it all and feel like they're truly off the beaten path without actually requiring too much driving. While you're in the area, you could also check out the nearby River Bend Nature Center. Here are some local RVshare rentals to accomodate you for the trip!
8. Ramsey Falls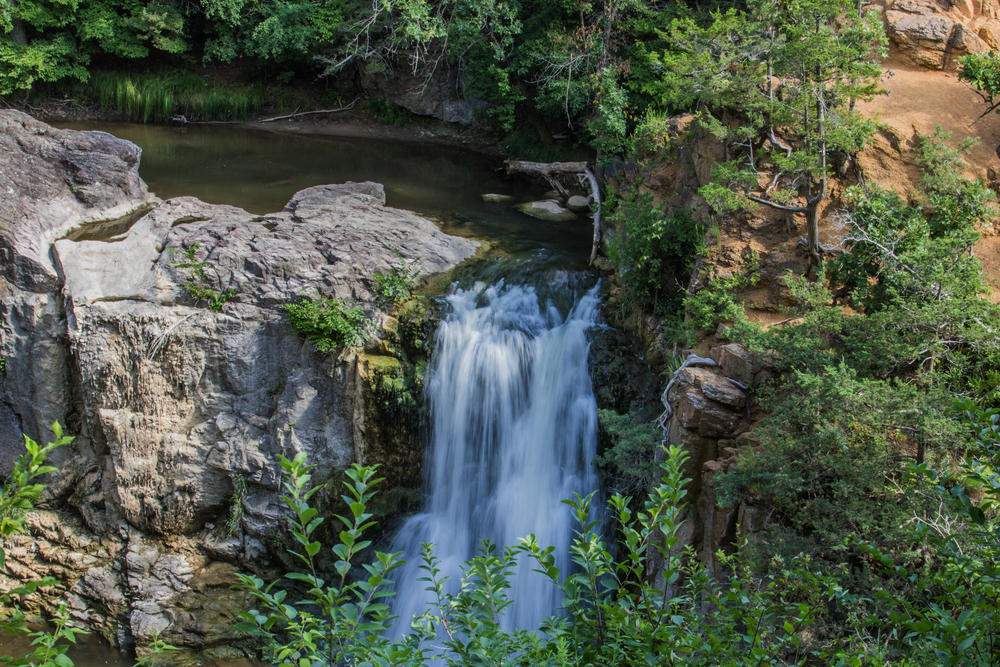 Although located in the town of Redwood Falls, Ramsey Falls are really one of the biggest draws to this part of south-central Minnesota; cascading scenically out of the surrounding rock gorge that's sometimes known as the Little Yellowstone of Minnesota, it's no wonder this one-of-a-kind waterfall is preserved by the biggest municipal park in the state, Ramsey Park. Along with the falls themselves, which are accessible by a variety of hiking paths (including paved options), the 250-acre park offers playgrounds, a golf course, and even an on-site zoo including a petting zoo for the little ones. And yes, there's a campground, too — your vacation basically plans itself.
Things to do near Ramsey Falls: The town of Redwood Falls offers all the basic amenities you need to enjoy a great vacation, as well as some one-of-a-kind extras like the Redwood County Museum. It's all set in the vast rural landscape of Minnesota, a land of enchanting beauty and plenty of friendly, small towns; an RVshare rental is a great way to get around and see it all.
9. Minneopa Falls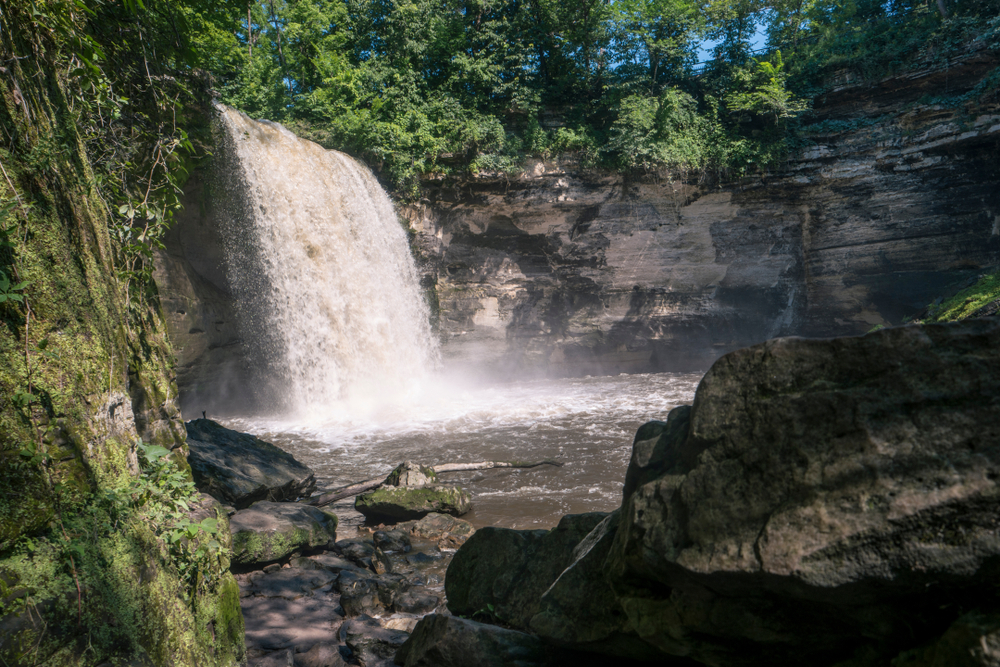 Just outside the town of Mankato, preserved by the small but scenic Minneopa State Park, Minneopa Falls stands just shy of 40 feet tall and cascades beautifully down the magnificently carved rock face behind it, streaming along the Minneopa Creek as it runs to feed into the Minnesota River. This waterfall features a stunning bridge over top, giving many visitors the opportunity to get a beautiful, unobstructed view without having to take on a big hiking project. It's a great spot to get wedding photos or portraits taken, as well as to simply relax and enjoy the one-of-a-kind scenery.
Things to do near Minneopa Falls: Along with the falls themselves, Minneopa State Park offers 300 acres of outdoor adventure attractions, including hiking and biking trails as well as campgrounds, picnic facilities, and more. There's even a herd of wild bison that live on-site in the state park, which you can enjoy from the safety of your car as they feast idyllically on the grasses. Plus, the nearby city of Mankato, a college town, has its own bevy of unique cultural attractions to check out! Here are some RVshare rentals in the area.
10. Winnewissa Falls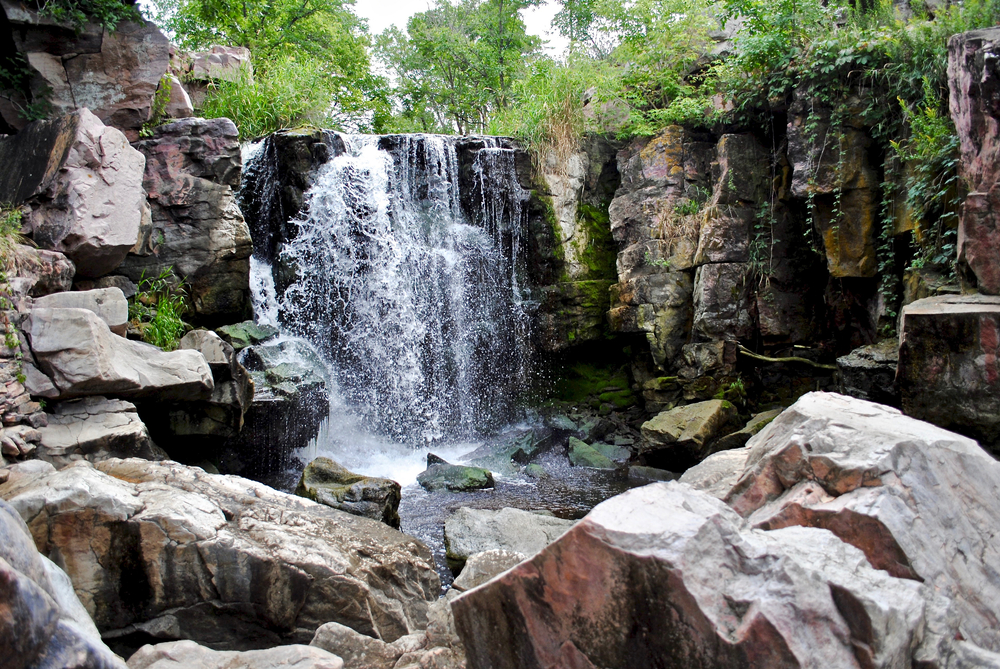 Tucked into the expanse of Pipestone National Monument just north of the Minnesota city of Pipestone — which is itself just minutes from the South Dakota border — Winnewissa Falls tumbles beautifully among the rocks that characterize this area, which has long been held sacred by the Indigenous Peoples who called it home long before settlers even knew it existed. Along with the falls, this national monument is also known for its gorgeous and unique pink quartzite rock formations, and is a state wildlife management area offering refuge to many local plants and animals that have been displaced over the years. All things considered, it's well worth the journey towards Minnesota's western border — not least because it might be one of the least crowded hikes we've listed here.
Things to do near Winnewissa Falls: After taking in all of what Pipestone National Monument has to offer, be sure to check out the town of Pipestone itself, which offers basics like stores and watering holes as well as landmarks and educational opportunities like the Pipestone County Museum. As you may have guessed, there are also some excellent RVshare rentals around these parts, and more wildernesses to explore, like Split Rock Creek State Park.
Planning an RV Trip to Minnesota
As bountiful and beautiful as its waterfalls may be, the cascades are far from the only reason to visit Minnesota! This gorgeous midwestern state beckons visitors with a wide variety of attractions — and in all cases, your very own rental RV is a great way to see it.
We've got the best peer-to-peer RV rentals in Minnesota available, but that's not all. We've also written guides to the best state parks and campgrounds in the state to see and stay in, not to mention its major urban centers, Minneapolis and St. Paul.
And, of course, we're always standing by to help every step along the way with your rental and adventure. So what are you waiting for? Get out there and get exploring!