Top 7 Waterfalls in Mississippi
Waterfalls
November 18th, 2021
Named for one of the mightiest flows of water in the United States, it's not that surprising that Mississippi has some incredible waterfalls to its name, when you think about it. Of course, you do have to know where you're looking to find them.
Fortunately, we've done the footwork to gather eight of the very best and most beautiful waterfalls in Mississippi — along with all the details you need to go and see them for yourself!
Top 7 Waterfalls in Mississippi
1. Tishomingo State Park Waterfalls
2. Dunn's Falls
3. Owens Creek Waterfall
4. Scutchalo Falls
5. Rocky Falls
6. Seminary Falls
7. Clark Creek Falls
Visiting Waterfalls in Mississippi
Without further ado, here are our top picks for the most beautiful waterfalls in Mississippi, and how to get to them.
1. Tishomingo State Park Waterfalls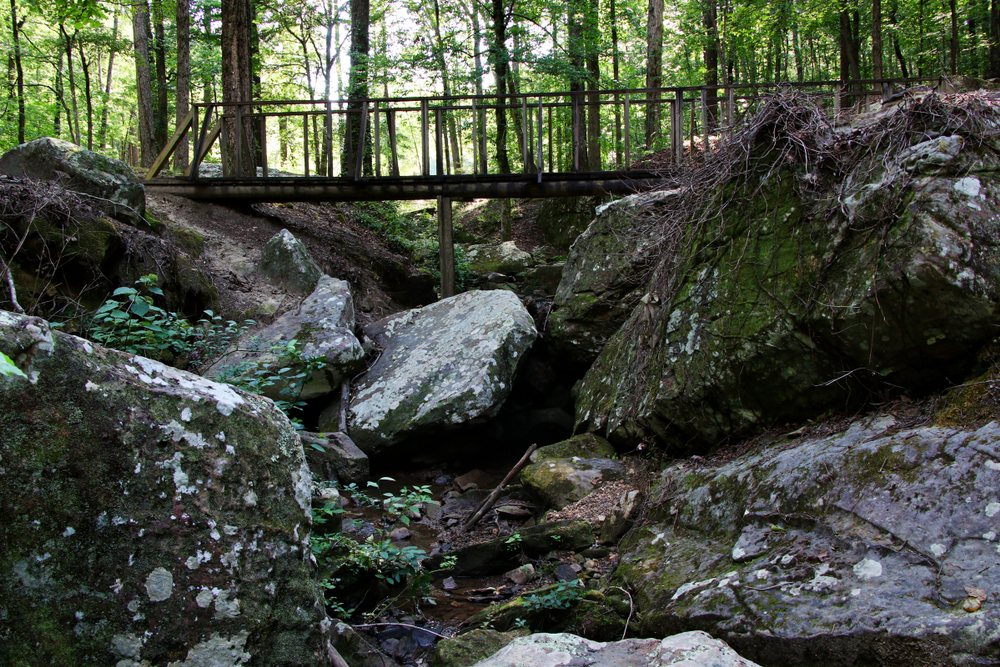 Tucked into the extreme northeastern corner of the state, Tishomingo State Park is already an incredible attraction for Mississippi residents and visitors alike — and that's before you factor in the beautiful waterfalls that are spread throughout the park's 1,530 acres. Small waterfalls adorn many of the trails that network their way through this greenscape, and are visible most readily in the springtime, when rain and snowmelt amplify their flow. Hikers also get to experience ancient rock formations, unique Mississippi flora, and a lake stocked to the gills — pun intended — with delicious fish to reel up for dinner.
Things to do near the Tishomingo State Park Waterfalls: Given its location in the Appalachian foothills, Tishomingo State Park is truly a unique destination for any visitor, having been home to Indigenous peoples for thousands of years — and today offering its very own on-site campground with generous, wooded spaces. It's also just an hour or so out of the major metropolitan area of Tupelo, where you can find all the resources you need to make for a stellar vacation — including some incredible RVshare rentals!
2. Dunn's Falls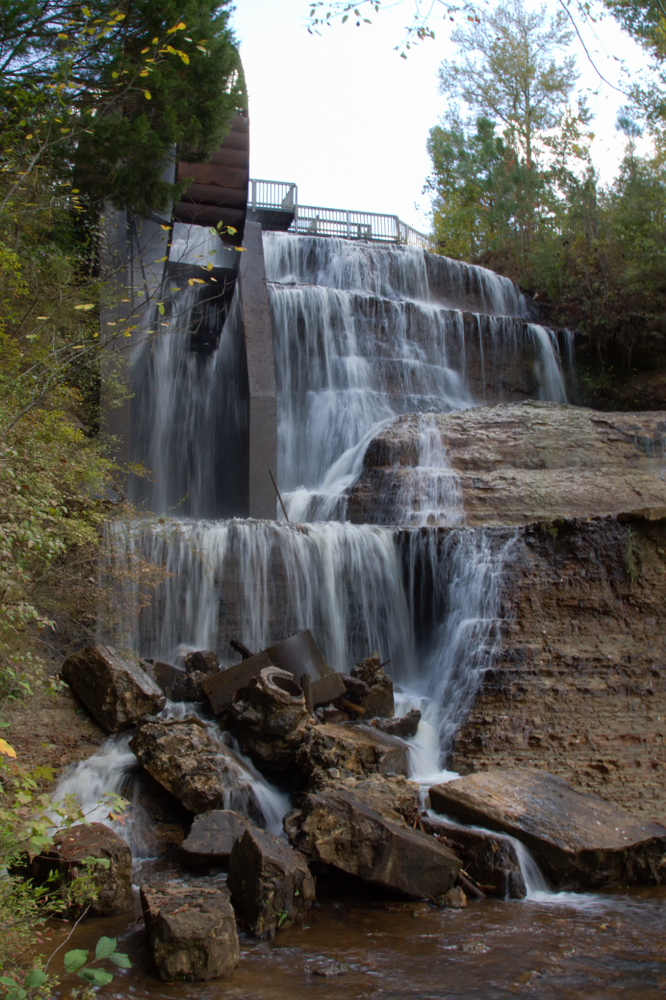 Tucked away in and protected by the small wilderness of Dunn's Falls Park, this beautiful, tiered waterfall cascades beautifully down the rock wall behind it, and visitors regularly take to wading in the gentle waters the lap at its foot. Standing 65 feet high, it's the tallest waterfall in the state of Mississippi; while the cliffs behind them are natural, the falls themselves are a result of the stream being redirected in the mid-1800s to power a grist mill. No matter for today's visitors, who either way get to experience an absolutely stunning sight in the context of a beautiful, southern wilderness backdrop.
Things to do near Dunn's Falls: Dunn's Falls Park also offers a picnic area, walking trails, and dedicated swimming areas, and primitive camping and cabin rentals are available. The mid-sized city of Meridian isn't too far afield, offering plenty of vacation resources and attractions of its own, and there are also some wonderful RVshare vehicles available in this area.
3. Owens Creek Waterfall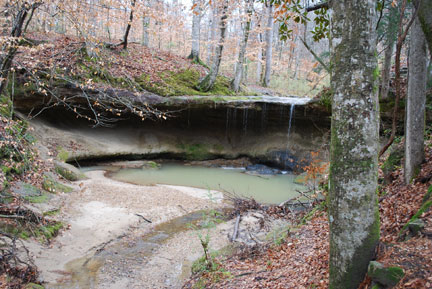 Conveniently located directly along the Natchez Trace Parkway, Owens Creek Trail is a very popular Mississippi destination — though the falls themselves have been evolving as time goes on. Erosion and other natural forces have led to parts of this waterfall ledge caving in on itself, and the spring that fed them originally runs far drier than it used to, which means the falls only, well, fall when conditions are just right. For best results, visit right after a good, heavy rain; the fall is located at milepost 52.4, only about 15 minutes northeast of the town of Port Gibson.
Things to do near the Owens Creek Waterfall: Another attraction visitors to this area often add to their lists is Sunken Trace, a beautiful, green-framed hiking trail that's been used for both leisure and actual hard travel for centuries. The leaves here in the fall are also glorious in their color-changing splendor, and Port Gibson offers some excellent RVshare rentals from which to see it all.
4. Scutchalo Falls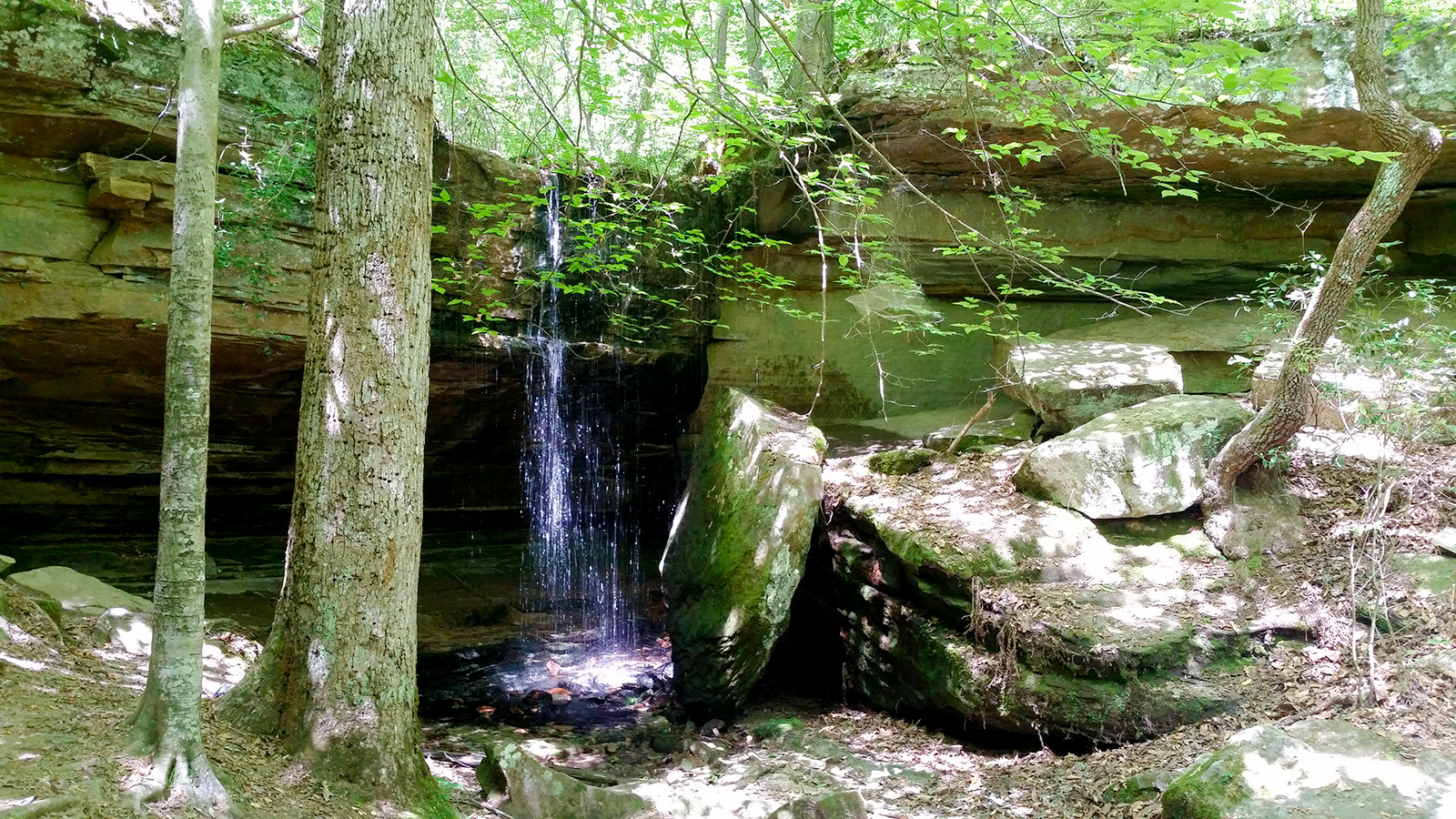 Nestled along an unnamed tributary to Scutchalo Creek, these waterfalls stream gloriously over a well-eroded rock ledge, though, again, their strength is a little dependent on season and precipitation. Although they only plummet three or four feet, there are several places along the ledge where the waterfalls tumble over, and the greenish tint to the water below offers a uniquely southern serene scene.
Things to do near Scutchalo Falls: Approximately halfway between Utica and Hermanville and closer to the smaller towns of Carpenter and Carlisle, Scutchalo Falls is, in a manner of speaking, in the middle of nowhere — but it's well worth the trek into the great unknown. Plus, even though it's in quite a rugged location, it's all only a short drive from the town of Port Gibson, and just a little ways beyond that, the Mississippi River itself. Here are some area RVshare rentals to call your home away from home while you explore the area.
5. Rocky Falls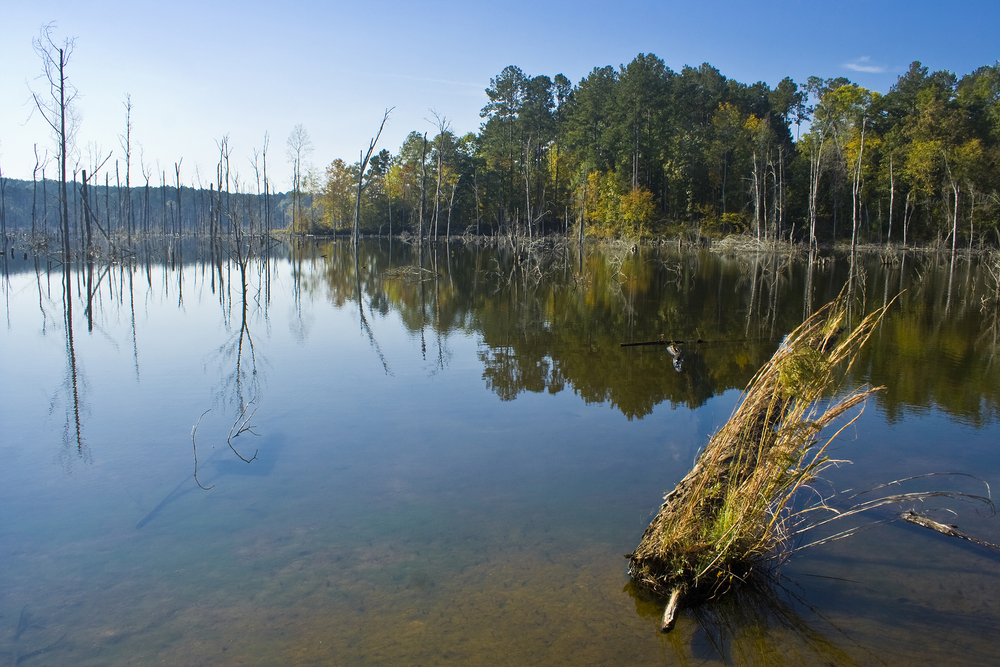 Tucked along Turkey Creek, just southwest of the small town of Crystal Springs, Rocky Falls is a beautiful set of cascades, short but broad, and located deep in the lush, southern woods. Calling Panther Lake is only a short distance away, and features a developed campground that's fit for trailers and RVs as well as primitive campers, and the hiking opportunities in this part of the state are endless.
Things to do near Rocky Falls: Along with checking out Calling Panther Lake, we recommend heading to the town of Crystal Springs, which features some beautiful greenspaces of its own, such as Chautauqua Park. Plus, it's all only about a half an hour away from Jackson, which offers an unparalleled Mississippi experience of culture, dining, shopping, and more — not to mention some excellent area campgrounds and RVshare rentals to take to them.
6. Seminary Falls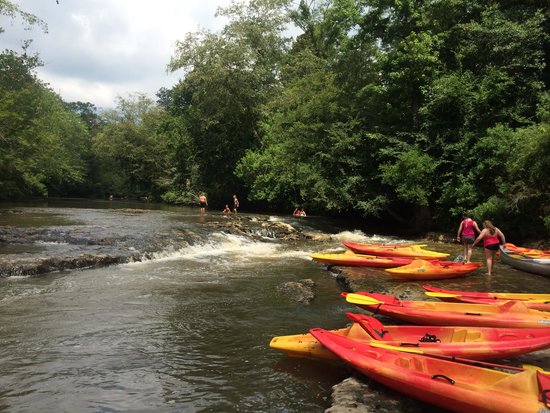 Less a waterfall proper than a set of beautiful rapids — perfect for whitewater rafting, canoeing, and kayaking on, by the way — Seminary Falls is known by the locals as the Falls on Okatoma, which is, as you may have guessed, the river they run along. Even the largest of the drops along this route falls only a few inches, but still, if you're planning to take to the rapids, you'll want to go with an experienced guide. It's also an excellent river to walk along and see from the land side, if you're not too keen on getting wet during your visit!
Things to do near Seminary Falls: The nearby town of Seminary has all the basics you need for your vacation, along with a heaping helping of southern charm to wash it down with. And if you're looking for a slightly larger community to hang out in, we highly recommend making the half-hour drive to Hattiesburg, where you'll find all manner of restaurants, shops, museums, and an excellent zoo. Here are some local RVshare rentals to consider.
7. Clark Creek Falls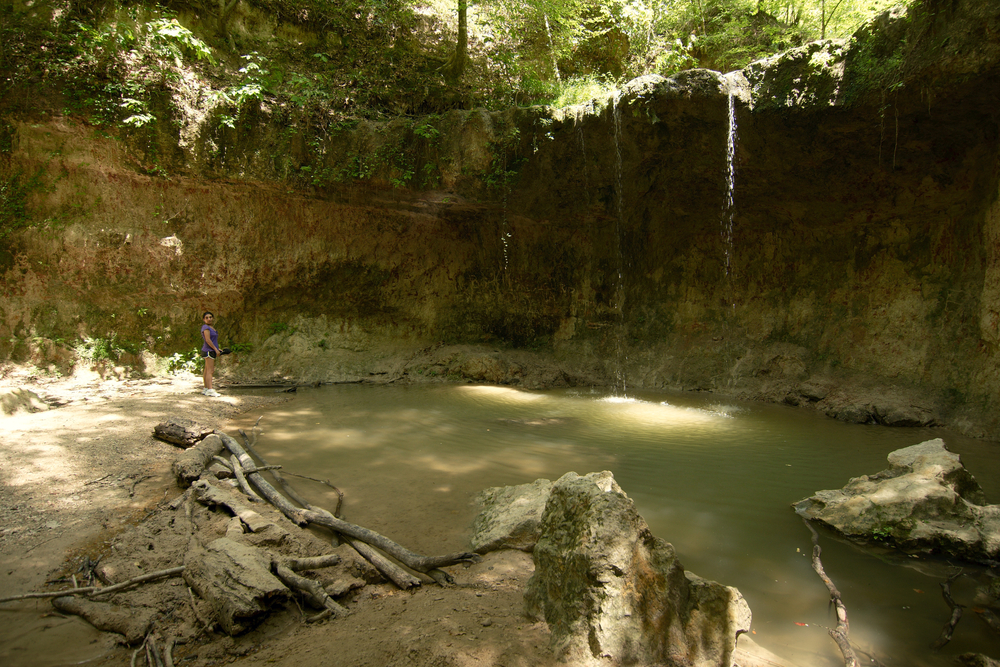 The Clark Creek Natural Area spans more than 700 acres of southwestern Mississippi, and honestly, if you're chasing waterfalls, you might consider this your one-stop shop: the park is home to not one or two but fifty different cascades of varying shapes, heights, sizes and flow rates, not to mention a great diversity of trees, understory, and fauna to explore along the way. Although even the tallest fall here only stands about 30 feet tall, these cascades meander, trickle, and generally delight onlookers, and are accessed along a variety of beautiful trails. Long story short: if you're in Mississippi and looking for waterfalls, don't miss it!
Things to do near the Clark Creek Falls: This part of the country is awash in outdoor recreation opportunities; just over the border (by which we mean the Mississippi River), in Louisiana, you could explore the Red River State Wildlife Management Area, the Three Rivers Wildlife Management Area, or the Grassy Lake State Wildlife Management Area, just for starters. Plus, it's all only about an hour south of the city of Natchez, Mississippi; here are some great RVshare rentals to check out around there.
Planning an RV Trip to Mississippi
Whether it's the waterfalls or one of Mississippi's many other attractions (history? food? culture? check, check, check), an RV trip is the perfect way to see the Magnolia State. Even better news? We've got everything you need to plan the trip of a lifetime, right from the comfort of your computer!
For starters, of course, we've amassed the best network of peer-to-peer RV rentals in Mississippi (and across the states, for that matter), and we've also written guides to the best state parks and campgrounds in Mississippi so you know where to stay and what to see. Finally, we've written guides to Jackson and Vicksburg for you city slickers.
The rest is up to you — so get out there! We can't wait to hear all about your adventure.