Top 10 Landmarks in New Hampshire
Landmarks
April 23rd, 2021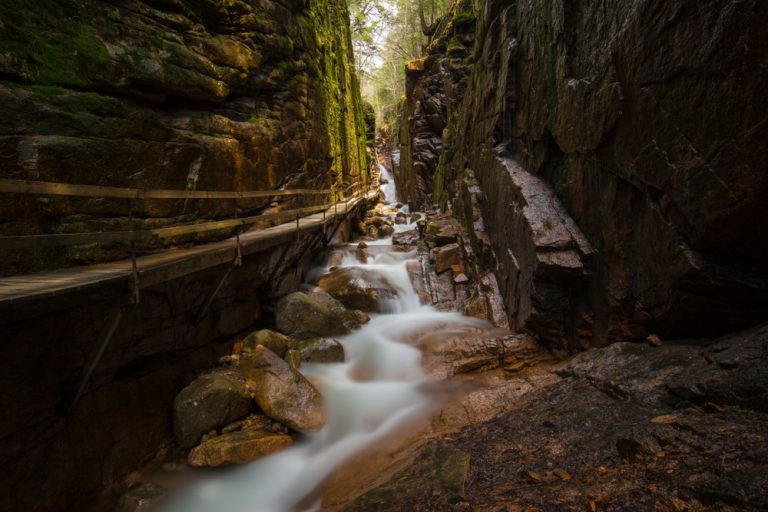 What is a Landmark?
From towering mountains to gorges carved out over eons by the passage of water and time — and with many more human-made structures to boot — landmarks are any sort of destination feature that lets you know you're undeniably where you are and nowhere else. They're those recognizable must-sees with historical or cultural significance… and New Hampshire has tons of them.
What are Some Famous Landmarks in New Hampshire?
1. Mount Washington
2. Mount Washington Hotel
3. Flume Gorge
4. Joy Farm
5. Saint-Gaudens National Historical Park
6. Franklin Pierce Homestead
7. Harrisville Historic District
8. New Hampshire State House
9. Robert Frost Farm
10. USS Albacore
New Hampshire Landmarks
Here are some of the top landmarks to put on New Hampshire must-see list!
1. Mount Washington
Originally called Agiocochook by the Native Amercans who called this place home long before any white men did, the peak we now know as Mount Washington has had a special place in human hearts since time immemorial. The tallest peak not only in New Hampshire, but in the entire northeastern quadrant of the United States, the mountain stands a full 6,288.2 above sea level at its summit — but fortunately, you can get there even if you're not an advanced mountaineer. Follow the 7.6 miles of Mount Washington Auto Road to arrive at the scenic destination sweat-free — it's well worth the small tolls you'll pay for the privilege. Of course, if you do want to hike, that's always an option if you're prepared for it; the route via Tuckerman Ravine and Lion Head Trail is quite challenging at an elevation gain of more than 4,000 feet in less than four miles, and should only be attempted by very experienced outdoorspeople, especially since this mountain is known for its dramatic and sudden shifts in weather.
Things to do near Mount Washington: Located about an hour and a half north of the town of Conway in the heart of White Mountain National Forest, Mount Washington is fairly remote — but a camper's paradise. Along with Mount Washington State Park, of course, there are other nearby wildernesses to stop at like Crawford Notch State Park, Moose Brook State Park, and dozens more. Here are some nearby RVshare rentals to explore with!
2. Mount Washington Hotel
Known today as the Omni Mount Washington Resort, this stately and historic hotel has drawn visitors for over a hundred years — and for good reason. Given its luxurious interior and vast footprint, the structure cost an estimated $1.7 million to construct back at the turn of the 20th century, equivalent to more than $52 million in today's dollars. The hotel is both a National Historic Landmark and on the National Register of Historic Places — and has also been featured on Ghost Hunters, so if you're easily spooked, be forewarned. Room prices shift throughout the season and depending on how fancy you go, but make no mistake about it — this place is pretty fancy.
Things to do near the Mount Washington Hotel: Obviously, if you're visiting the Mount Washington Hotel, you're in the shadow of none other than Mount Washington itself (and the state park that preserves it), so we highly recommend giving that a visit. There are plenty of other incredible wildernesses in the area, too; here are some nearby RVshare rentals if you're looking for a ghost-free stay. 😉
3. Flume Gorge
Easily one of the most incredible natural landmarks not just in the state of New Hampshire but along the entire east coast, Flume Gorge is a unique and picturesque rock pathway covered over with foliage and run through with waterfalls. And thanks to the elevated wooden walkway that runs along its rim, these beautiful views can be seen by even those who are hiking beginners! The two-mile loop trail takes most people about an hour and a half to finish, especially when you take time to stop and enjoy the scenery (which you certainly should). Picnic areas and restroom facilities are also available, and this area is popular amongst snowshoers in the winter!
Things to do near Flume Gorge: Located just off I-93 amidst peaks like Mount Liberty and Mount Flume, Flume Gorge is situated in the heart of an outdoor lover's paradise, with the Lost Mountain Resort ski area waiting just south and Franconia Notch State Park to the north. Here are some local RVshare rentals to consider for your journey!
4. Joy Farm
Leave it to a poet to have a home with a name like Joy Farm — and a poet is exactly what E. E. Cummings was, after all, and quite a famous one at that. Tucked into the Silver Lake section of the small New Hampshire town of Madison, Joy Farm was originally purchased by Cummings's parents in 1899 — from a man named Ephraim Joy, which is where the estate got its name. It wasn't Cummings's invention! Cummings took over the deed to the farm in 1929 and spent summers there throughout his life, and was actually on the property when he suffered the stroke whose after-effects would kill him a day later in the hospital in North Conway. The property was named a National Historic Monument in 1971.
Things to do near Joy Farm: Madison and the surrounding small villages in the area offer basic amenities, but the main draw to this part of the state is its beautiful natural landscapes. White Lake State Park and Echo Lake State Park are beautiful year round, and there are also numerous ski areas along this corridor in the winter. Here are some nearby RVshare rentals to consider.
5. Saint-Gaudens National Historical Park
Follow I-91 south from Hanover, the home of Dartmouth College, and you'll find yourself at Saint-Gaudens National Historical Park — the historic home of, and monument to, the well-known sculptor Augustus Saint-Gaudens. Originally made into a memorial in 1919, the property was donated to the National Park Service in 1964, and is today open to the public for tours as well as the events and programs that are held here, including concerts, fellowships, exhibitions and more.
Things to do near Saint-Gaudens National Historical Park: This park is situated amongst several cute New Hampshire towns worth exploring, such as Hanover (named above), Lebanon, and Cornish. It's also right on the border between Vermont and New Hampshire, opening up many more destinations in its sister state. Here are some nearby RVshare rentals to consider!
6. Franklin Pierce Homestead
He might not have quite the same amount of fame as, say, a George Washington or Abraham Lincoln, but Franklin Pierce was the fourteenth President of the United States — and you can visit his childhood home in the south-central New Hampshire town of Hillsboro. Officially christened the Franklin Pierce Homestead State Historic Site, the historic home has today been transformed into a museum and is open for public visitation. It was designated a National Historic Landmark in 196 and added to the National Register of Historic Places in 1966.
Things to do near the Franklin Pierce Homestead: Like so many places in New Hampshire, the city of Hillsboro is tucked between a variety of beautiful wild areas, such as Fox State Forest to the north, Hedgehog Mountain Forest to the south, and Vincent State Forest to the east. Given how ripe it is with camping opportunities, it's a good thing there are so many great local RVshare rentals to consider!
7. Harrisville Historic District
If you could turn back time a couple hundred years, you'd find New Hampshire dotted with adorable mill villages that grew up around the timber industry that kept the state going. And today, thanks to the preservation efforts of the people who call it home, you can still see what life was like during that time when you visit the Harrisville Historic District in the south central New Hampshire town of Harrisville. This spot is so awash in important landmarks and historic sites that an entire neighborhood has been set aside as a National Historic Landmark District, filled with original homes, cottages, churches, a general store, and a cemetary.
Things to do near the Harrisville Historic District: The perfect marriage of cultural and natural landmarks, Harrisville is within an easy drive of scenic spots like Greenfield State Park, Monadnock State Park and the aptly named Miller State Park. Plus, there are plenty of local RVshare rentals to get around in!
8. New Hampshire State House
A shining jewel in the skyline of Concord, New Hampshire, the New Hampshire State House has served as the capitol building since 1819 — making it the oldest state house in the nation — and is open for public tours even while the wheels of legislation continue to roll forward here. Although its most iconic feature might be its beautiful gold dome, there is plenty of architectural wonder to captivate visitors to this site, as well as the cultural importance of all that has been discussed and brought to pass here. Along with private tours for the public, larger group tours, especially for school groups, are also available.
Things to do near the New Hampshire State House: Check out the rest of what the city of Concord has to offer or head a bit further south to towns like Manchester and Nashua. Meanwhile wildernesses like Bear Brook State Park are only a short drive away; here are some local RVshare vehicles to help you see and do it all!
9. Robert Frost Farm
If there's one thing they're good at churning out in New Hampshire, it's great writers — because you can visit another incredible literary landmark within its borders. The Robert Frost Farm State Historic Site preserves an 1880s New England farmhouse and accompanying orchard that poet Robert Frost called home between 1900 and 1911. Along with giving visitors the opportunity to see what life was like for the famed writer, the property also serves as a literary gathering place, hosting various events and readings throughout the year.
Things to do near Robert Frost Farm: The city of Derry, which likes just east of and equidistant from both Nashua and Manchester, is full of other worthy attractions, such as the Derry Museum of History and the East Derry Historic District. Many of the best state parks in New Hampshire are only a short drive away, too — here are some local RVshare rentals to consider for the journey!
10. USS Albacore
An important and oft-overlooked part of American history, the USS Albacore is a research submarine that exhibited a cutting-edge design at the time it was designed and created in the 1950s, with a hull strong enough to withstand pressures of up to 80,000 PSI. For comparison, much of the deep ocean exhibits a pressure of about 9,000 PSI, and the human body can only take up to 50 PSI in an instant or 400 PSI if weight is added over time without catastrophic effects. Today, you and your family have the opportunity to climb aboard the Albacore and learn more about life would be like aboard this unique ship. Explore the control room, peer through the periscope, and more!
Things to do near the USS Albacore: Located not in, but close to the waters that characterize Portsmouth, the USS Albacore is situated in a worthy New Hampshire destination in its own right; be sure to check out the Moffatt-Ladd House & Garden and Prescott Park. As always, there are some great RVshare vehicles in the area to keep you moving!
Planning an RV Trip to New Hampshire
An RV trip is the perfect way to explore all of New Hampshire's many landmarks, and we've got all the details and resources you need to make it a great one. For starters, check out our fleet of New Hampshire RV rentals, as well as our coverage of the best RV campgrounds in the state. We've also penned guides to New Hampshire's many incredible state parks, as well as cities like Manchester and Nashua.
Enjoy your journey — and take lots of pics to tag us in on social media!