Top 10 Landmarks in Maine
Landmarks
March 18th, 2021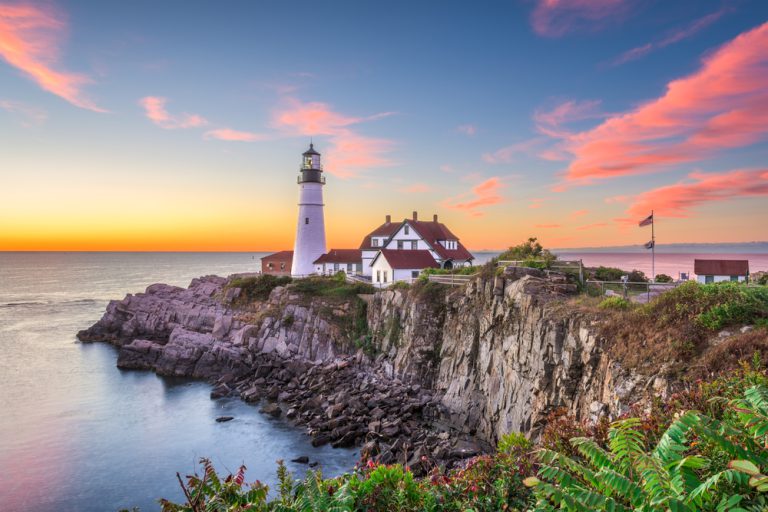 What is a Landmark?
Epic mountains. Ancient buildings. National parks you don't want to miss. When it comes to landmarks, Maine has plenty: historically and culturally rich destinations that just can't be found anywhere else. Along with buildings that have survived to tell tales from bygone areas and beautiful landscapes waiting to be explored, Maine's variety of lighthouses and its maritime history make it a particularly interesting state for landmark hunters. Here are just a few of the landmarks you won't want to miss in maine.
What are Some Famous Landmarks in Maine?
1. Acadia National Park
2. Portland Head Light
3. Portland Observatory
4. Victoria Mansion
5. Ogunquit Beach
6. Cape Neddick Nubble Light
7. Old York Gaol
8. McIntire Garrison House
9. Mount Katahdin
10. Fort Halifax
Maine Landmarks
Let's dive into these incredible Maine landmarks!
1. Acadia National Park
If one place tops the list of your Maine to-dos, it's probably Acadia National Park — and for good reason. A hidden gem in every sense of the word, this national park receives fewer visitors each year than other NPS-operated wildernesses, but its dynamic views and one-of-a-kind scenery mean it's certainly worth the drive. Along with the granite peak Cadillac Mountain, the highest in the park and also the highest on the entire eastern seaboard, this wilderness also boasts a variety of backcountry camping options, hiking trails, beaches, and more; you can even catch a horse-drawn tour along the network of old carriage roads that crisscross the park.
Things to do near Acadia National Park: The nearby gateway town of Bar Harbor is a worthy destination on its own accord, filled with cute yet elegant dining options, boutiques, and spas. Here are the best campgrounds and RV rentals in the area.
2. Portland Head Light
As you may have already garnered, lighthouses are kind of a big deal in Maine. In fact, the state boasts more than 60 of them altogether. But the Portland Head Light bears a unique distinction: it's the oldest in the state, first constructed back in the late 1780s. At first, the tower stood 72 feet tall and its bright lights were lit with whale oil, but throughout the years, a variety of changes took place; Keeper's Quarters were added in 1790, an upgraded Fresnel lens and cast iron staircase were installed in 1864, and in 1865 20 feet and yet another Fresnel update were added. Today, although the tower itself is closed to visitors, this unique lighthouse makes for an excellent photo opp — and the views around its surrounding park are unmissable, especially at sunrise.
Things to do near the Portland Head Light: Located along the epic shoreline just outside of the town of Portland proper, the Portland Head Light is close to plenty of restaurants, shops, and other urban to-dos while also a world away as far as serene scenery goes. Here are some nearby RVshare rentals to consider for the trip.
3. Portland Observatory
Construction on the Portland Observatory was first ordered by Captain Lemuel Moody, who saw in the early 1800s that a communication station was needed for Portland's ever-busier harbor. The tower was finished in 1807, and is the only remaining historic maritime signal tower of its type in the United States. Unlike the classic light beacon known from other lighthouses, the Observatory also utilized telescope and signal flags to allow for important communication between ship captains and folks ashore, even when the vessel was still hours from reaching land. In 2006, the Observatory was designated both a National Historic Landmark and a National Historic Civil Engineering Landmark, and has now been converted to a museum that is open to public visitation.
Things to do near the Portland Observatory: Located in Portland's East End, the Observatory is close to many other major tourist destinations in town, such as the Maine Narrow Gauge Railroad and a variety of breweries. Here are some RVshare rentals in the area to browse if you're looking for a getaway vehicle!
4. Victoria Mansion
An absolutely stunning example of 19th century architecture otherwise known as the Morse-Libby House, the Victoria Mansion offers visitors a unique opportunity to step back in time — and up into high society, too. A National Historic Landmark since 1971, this opulently decorated edifice was originally constructed in 1860, and was built as a summer home for the hotel magnate Ruggles Sylvester Morse. Because the house has been carefully preserved and restored throughout the years it's stood, a full 97% of its original contents are still surviving today, including everything from furnishings to artwork to gas lighting fixtures. Both docent-led and self-guided tours are available, and the mansion also dresses up for Christmas — as you'd expect.
Things to do near Victoria Mansion: As always, the town of Portland offers an endless array of restaurants, shops, museums and more, and it's just a short drive from untouched spaces like Mackworth Island State Park, Ferry Beach State Park and others. Here are some nearby RVshare rentals to consider for your adventure.
5. Ogunquit Beach
One of the most famed stretches of coastline in the state of Maine, Ogunquit Beach is also known by some as Footbridge Beach, since it's accessed via a footbridge suspended over the Ogunquit River from the town of Ogunquit itself. An especially popular destination in the summertime, this beach offers a great place to swim, sunbathe and otherwise relax, not to mention an epic sunrise view. Although frigid in the winter, the waterfront is no less compelling, with the cold ocean splashing against the shore dramatically.
Things to do near Ogunquit Beach: The small town of Ogunquit is a beach vacationer's paradise filled with quaint eateries, shops, and attractions, and just a short way north the beach gives way to the Wells National Estuarine Research Reserve which teems with wildlife. Click here to check out some RVshare rentals in the area.
6. Cape Neddick Nubble Light
Also known simply as the Nubble Lighthouse, this Cape Neddick landmark is encased in a small but beautiful park which is perfect for picnicking, fishing, and simply enjoying the seaside view — though the sea itself is also a popular site for SCUBA divers in this area. First constructed in 1879, this lighthouse has been a tourist attraction essentially since its inception; the very first keeper here, Nathaniel H. Otterson, welcomed visitors every day from 10 a.m. to 6 p.m. (His son was recruited to row them from the shore to the island for the fare of a dime.) Today, however, no such ferry exists, so you'll have to make do with the view from the shoreline… which is in and of itself unmissable.
Things to do near the Nubble Light: Close to the historic town of York, the Cape Neddick Nubble Light is situated in a perfectly beachy location filled with that unique New England coastline charm. Here are some local RVshare rentals to consider.
7. Old York Gaol
The historic town of York, Maine is just a short way south of Ogunquit, a few miles up the shore from the New Hampshire border. And while there are many historical buildings and landmarks in the town worth visiting — many of which are managed by the Old York Historical Society — the Old Gaol is one you won't want to miss. Gaol is a Middle English term for "jail," and indeed, the Old Gaol was a colonial prison used in the 18th century, with the oldest surviving portions of the structure dating to 1720. This makes it both the oldest prison in the United States as a whole and also one of the oldest buildings in the state of Maine more generally. It's been a National Historic Landmark since 1968.
Things to do near the Old York Gaol: Other historical buildings in York to add to your itinerary include Jefferds Tavern and the York Corner Schoolhouse; you can find out much more at the Old York Historical Society which manages the properties. Here are some nearby RVshare rentals to consider.
8. McIntire Garrison House
Another beloved York-area landmark is the McIntire Garrison House, which was built circa 1707. Given its surprising age and wooden construction, it's remarkably well preserved, and extremely rare: it's one of the last remaining examples of a England colonial log garrison house, which were designed by the settlers to fend against attacks from the Native Americans whose lands they'd invaded. Designated a National Historic Landmark in 1968, this building is thought to be the oldest house in the state of Maine, and indeed is one of the oldest in the United States as a whole. The walls are made out of sawn logs that are 7.5 inches thick, and dovetailed at the corners just like a Lincoln Logs construction.
Things to do near the McIntire Garrison House: York offers a variety of contemporary shops and attractions as well as its historical features. Plus, you're not far from some of the best state parks in all of Maine. Here are some RVshare rentals in the area to create your adventure with!
9. Mount Katahdin
Claiming several superlatives, Mount Katahdin is both the tallest peak in the state of Maine, standing an impressive 5,269 feet above sea level, and doubles as the northern terminus of the Appalachian Trail. For many brave and rugged thru hikers, Mount Katahdin represents a once-in-a-lifetime achievement… but the trail to the top is short enough that an experienced hiker could tackle it in a day. (Make no mistake about it, though, it's challenging, at more than 10 miles in length and almost 4,500 feet of elevation gain.) Mount Katahdin means "The Greatest Mountain," and it was named such by the Penobscot Native Americans who have lived in these lands for centuries. The mountain is located within the boundaries of Baxter State Park, which has plenty of other worthy hiking trails and outdoor adventure opportunities.
Things to do near Mount Katahdin: Located in the untouched wilderness in the central portion of the state, Mount Katahdin is surrounded by other green spaces worth exploring, such as the Debsconeag Lakes Wilderness Area, the Nahmakanta Public Reserved Land and Lily Bay State Park. Here are some RVshare rentals in the area worth checking out.
10. Fort Halifax
Located in the small and historic town of Winslow, Fort Halifax was once a British colonial outpost constructed all the way back in the 1750s. Although time and history mean that only a small part of the original blockhouse is still surviving, that blockhouse is the oldest in the United States and is open to visitors during the warmer summer months. (It's known as the Fort Halifax Historic Site, and is also a registered National Historic Landmark.) Located on the north shore of the Sebasticook River, this fort figured prominently in the French and Indian War, and also hosted troops during the American Revolution. For several decades in the 1900s, the blockhouse was owned by the Daughters of the American Revolution before later becoming the property of the Town of Winslow.
Things to do near Fort Halifax: Just a short way northeast of Augusta, Fort Halifax is near both urban and wilderness destinations worth adding onto your trip. Check out nearby Lake St. George State Park or Mt. Blue State Park, and check out these RVshare rentals to help you get around.
Planning an RV Trip to Maine
An RV trip is the perfect way to string together Maine's many landmarks into an adventure — and we've got all the resources you need to make the trip a great one. For starters, we've got you covered on RV rental needs (obviously), but we've also detailed the best campgrounds in the state, the best state parks, and written a detailed guide to Acadia National Park, one of Maine's main attractions. (Pun totally intended.)
Enjoy the journey!