Landmarks
February 20th, 2021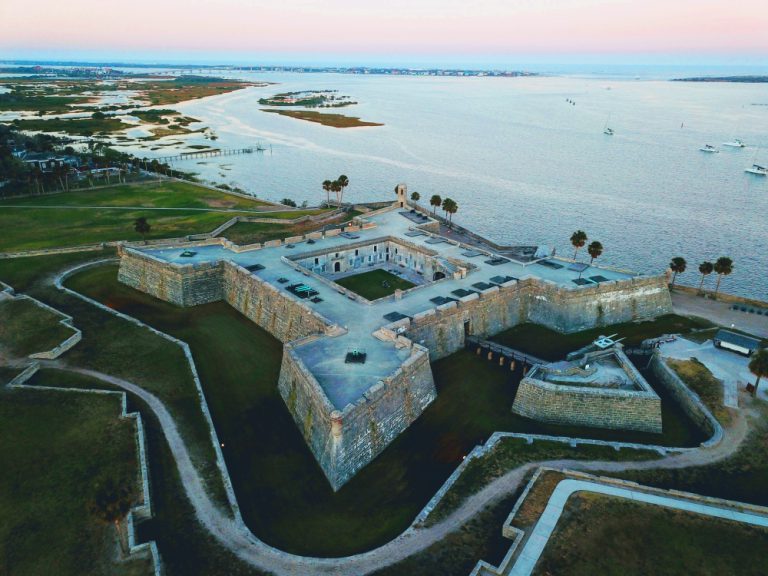 What is a Landmark?
The sunshine state is well known for its tourist attractions, from theme parks with wild rides to serene beaches and everything in between. But which landmarks across the state should be put on your not-to-be-missed list? From famous buildings and significant U.S. sites to the most classic vacation-drivers, like Disney World, here are some of the best landmarks to add to your trip when you're traveling in Florida.
What are Some Famous Landmarks in Florida?
1. The Southernmost Point
2. Coral Castle
3. Everglades National Park
4. Kennedy Space Center
5. Walt Disney World
6. Tampa Zoo
7. The Dali
8. Castillo de San Marcos National Monument
9. Kingsley Plantation
10. Pensacola Lighthouse and Maritime Museum
Florida Landmarks
From the fabulous Florida keys all the way to the panhandle, here are the 10 top Florida landmarks to make sure you visit during your lifetime.
1. The Southernmost Point
Far down at the tip of Key West, visitors will find themselves standing next to a larger-than-life buoy, a simple monument to an incredible fact: this is the southernmost point in the continental United States of America, with only 90 miles of water separating those who stand here from the island of Cuba. Established back in 1983 as a tourist attraction, this concrete buoy has withstood the tests of several hurricanes, and before it was erected, a sign marked the spot for its southernmost superlative.
Things to do near the Southernmost Point: Key West is a well-known tourist town for a reason, offering both staid historical attractions like the Ernest Hemingway Home and a rolicking party scene to those who like to get down after hours. Plus, if you want to cross one of the least-visited national parks off your list, this is the launching place for the ferry boat that will take you to the Dry Tortugas. Here are some RVshare rentals in the area to consider.
2. Coral Castle
Originally conceived back in the 1920s by a man by the name of Edward Leedskalnin, Coral Castle is a uniquely Florida attraction located in the outskirts of the city of Homestead. Ed, convinced he understood the secrets of the Pyramids, single-handedly carved out over 1,100 tons of coral rock to construct the castle you can visit today, assembling it under the cover of night over the course of more than a decade. He began offering tours for a 10 cent admission fee in the 1940s, and the castle has been legendary ever since. Today, admission prices are a bit higher, though still reasonable, and the one-of-a-kind experience of this landmark is well worth it.
Things to do near Coral Castle: Considered the gateway city to Everglades National Park, Homestead is also home to Fruit & Spice Park, a 37-acre botanical garden focused specifically on fruits, vegetables, herbs, and spices. Here are some RVshare rentals in the area to consider.
3. Everglades National Park
The largest wilderness of any sort east of the Mississippi River, Everglades National Park truly is a sight to behold: an otherworldly swamp where ancient reptiles and insects dwell and the sun drifts down in warm beams over the mangroves. Along with giving visitors the opportunity to ride an airboat or hike along the coastal prairie, Everglades National Park is also known for its immaculately dark skies, making it one of the best places in the entire state of Florida for stargazing.
Things to do near Everglades National Park: Comprising such a broad expanse of the southern tip of Florida, Everglades National park is "near" a variety of attractions, from the thrumming streets of Miami to the stunning communities of San Marco Island and Naples. Click here for RVshare rentals in the area so you can check it all out.
4. Kennedy Space Center
You may have seen live footage of a rocket launch from Cape Canaveral, but there's no imitation for visiting the site yourself. The Kennedy Space Center Visitor Complex offers guests the opportunity to learn more about the human history of space exploration and adventure, featuring exhibits as well as an astronaut training circuit that will help you understand first hand just how difficult these scientists' jobs are. Camps and educational programs are also available for those looking to deepen their space knowledge even further.
Things to do near Kennedy Space Center: Located on the barrier islands directly east of Orlando, Kennedy Space Center is only an hour or so away from a whole host of other important Florida destinations, including the famed central Florida theme parks. There are also some incredible natural areas here to check out, such as the Canaveral National Seashore and Lake Louisa State Park. Here are some RVshare rentals and campgrounds in the area to consider.
5. Walt Disney World
Walt Disney World might not be the first Disney theme park in America, but it's by far the largest — and it's certainly earned its reputation as a vacation destination par excellence. Actually a complex of four theme parks and two water parks, it would be easy to spend a whole week at Disney World and not have seen or experienced it all, and many of the attractions, like Magic Kingdom's Splash Mountain or Epcot's Spaceship Earth, are nothing short of iconic. There are also literally hundreds of restaurants and eateries to try, as well as shops to peruse… and that's all before you even step foot into the wider world of greater Orlando.
Things to do near Walt Disney World: If you can bear to spend any time away from the parks themselves, Orlando is chock-full of incredible cultural attractions, and central Florida is home to beautiful cold springs and other natural areas. Wekiwa Springs State Park and Lake Griffin State Park are both popular options. Browse RVshare rentals and campgrounds in the area.
6. Tampa Zoo
Florida has many zoos, but few share the reputation of ZooTampa at Lowry Park. Home to more than 1,300 animals on over 60 acres, this zoo has been named one of the top 25 in America per TripAdvisor and has an AZA membership. Along with giving visitors the opportunity to, well, visit with the animals, this zoo is also dedicated to conservation and education efforts, offering special programs, camps, and sleepovers to get kids more thoroughly involved.
Things to do near the Tampa Zoo: Tampa is a sprawling city filled with dining, shopping, and to-dos; for those looking for nightlife, we highly recommend checking out historic Ybor City. Here are some RVshare rentals and campgrounds in the area.
7. The Dalí
Although Dalí himself was from Spain, and that country holds many of his works, the largest single collection of his paintings and sculptures can be found at The Dalí in none other than St. Petersburg, Florida. Along with its breathtaking collection, the building itself is a sight to behold, and the museum also offers a variety of community programs including yoga, lectures, live music and more.
Things to do near The Dalí: St. Petersburg is so much more than the beachy little sister of nearby Tampa. This seaside burn is known for its incredible seafood and thriving art community; this museum should be only the first of many on your itinerary. Check out these nearby RVshare rentals, too.
8. Castillo de San Marcos National Monument
As you travel north up the Atlantic Coast, you'll eventually find yourself in a city that looks surprisingly different than many of the other seaside towns that mark the way. That's because St. Augustine, Florida was originally laid out back in 1565, when it was founded… and yes, that makes it the oldest continually-run European settlement in the nation, older even than Plymouth or Jamestown. Although there are many worthy attractions to stop and see in St. Augustine, if you only have the chance to visit one, make it the Castillo de San Marcos. This national monument is an ancient defensive fort and truly significant U.S. historical landmark, and part of the reason it's survived so long is because it's literally made of seashells (among other things).
Things to do near Castillo de San Marcos National Monument: Be sure to wander down St. George Street for some shopping opportunities and many places to grab a bite to eat. The St. Augustine Lighthouse is also well worth adding to your to-do list, and Anastasia State Park makes for a great place to camp. Here are some RVshare rentals in the area.
9. Kingsley Plantation
Named for an early owner — whose first name, Zephaniah, was certainly a mouthful — the Kingsley Plantation is an important historical site and landmark, offering a glimpse into the way life used to be in this area not just for the white slave-owners, but for the Black slaves themselves. Tucked into the larger Timucuan Ecological & Historical Preserve, this plantation allows visitors to take self-guided tours using the ample interpretive signage and an audio guide, and many events and reenactments are also scheduled.
Things to do near Kingsley Plantation: Located on the north side of Jacksonville, which is marked by a variety of beaches and rivers, Kingsley Plantation is surrounded by natural beauty to discover… not to mention the many attractions of the city itself. Swing by Little Talbot Island State Park or head north to Amelia Island. Here are some RVshare rentals in the area to consider.
10. Pensacola Lighthouse and Maritime Museum
The Florida panhandle is home to both some of the coolest cities in the state as well as some of the most stunning beaches, and the Pensacola Lighthouse and Maritime Museum offers you the opportunity to experience both at once. A historic lighthouse whose origins date back to the 1850s, today, this attraction offers visitors insight into what life was like for both sailors and lighthouse keepers back in the day, all in the context of the greater Pensacola community.
Things to do near Pensacola Lighthouse and Maritime Museum: When you're in this part of the state, the Gulf beaches are everything, and Fort Pickens Aquatic Reserve is an incredible place for snorkelers and SCUBA divers to explore. Here are some RVshare rentals in the area to consider for your home-away-from-home for the topside journey.
Planning an RV Trip to Florida
From its unbeatable beaches to its authentic Cuban cuisine to its rushing roller coasters and everywhere in between, Florida is certainly a worthy destination for any adventurer… and we've got you set up to experience it in style!
Check out the best state parks in Florida, as well as our guides to many of its large cities. We've also detailed the best campgrounds in Florida and, of course, have rental RVs available across the state. Happy trails!