Landmarks
February 21st, 2021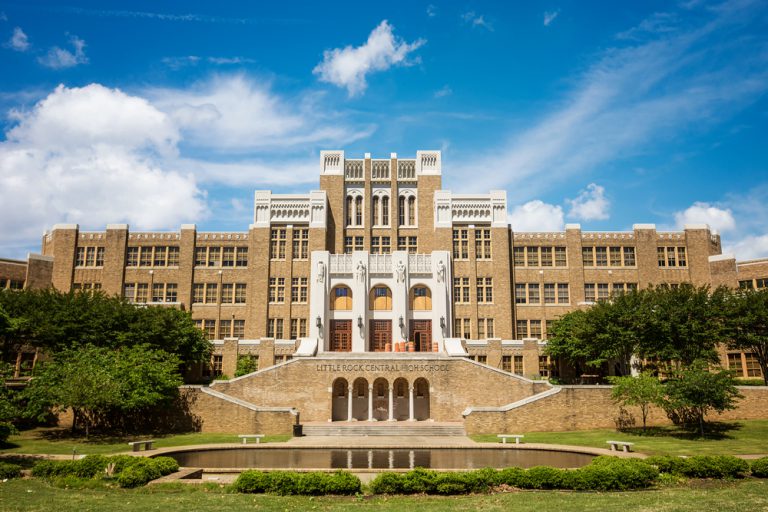 What is a Landmark?
From shimmering natural hot springs to towering mountains and everything in between, Arkansas is filled with some incredible natural scenery — as well as delightful manmade attractions to boot. In this post, we'll highlight some of the coolest famous and historical landmarks in The Land of Opportunity, as it's known to those in the know. Let's dive in!
What are Some Famous Landmarks in Arkansas?
1. Hot Springs National Park
2. Crater of Diamonds State Park
3. Thorncrown Chapel
5. Christ of the Ozarks
5. Blanchard Springs Caverns
6. Magic Springs
7. Cosmic Cavern
8. Turpentine Creek Wildlife Refuge
9. Little Rock Central High School
10. Mount Magazine
Arkansas Landmarks
Here are some must-hits to add to your Arkansas itinerary.
1. Hot Springs National Park
Not every state can boast a national park in the middle of a city — but you know what? Arkansas isn't every state. Hot Springs National Park is a one-of-a-kind natural phenomenon located in central Garland County, Arkansas, immediately adjacent to a town called, you guessed it, Hot Springs. Along with the relaxing, steaming mineral waters that visitors flock to the area to bathe in, this national park also offers a few hiking opportunities and a campground, but it's a pretty urban affair. Fortunately, there are a number of wildernesses right outside of town. Lake Ouachita and Lake Catherine are each within an hour, for example, and there are also many private RV campgrounds to consider.
Things to do near Hot Springs National Park: As mentioned above, nearby Lake Ouachita State Park and Lake Catherine State Park offer plenty more outdoor recreation opportunities, and the town of Hot Springs itself is lovely and full of fun shopping and dining ventures. Here are some RVshare rentals in the area to browse.
2. Crater of Diamonds State Park
While Arkansas is home to many beautiful and diverse state parks, perhaps non shimmers with as much promise and excitement as Crater of Diamonds State Park does. Located just about an hour southwest of Hot Springs, this unique state park offers visitors the opportunity to search for their very own diamonds right at their natural volcanic source — and is, in fact, the only place on earth where that activity is available to the public. Additionally, there are some nature walks available as well as a swimming pool and other developments… which is a good thing, since an average of only two diamonds per day are found in the park's 37-acre expanse. Hey, what can we say: it's not every day you find a diamond in the wild, no matter where you are. But the search is what matters!
Things to do near Crater of Diamonds State Park: While this state park is the main draw in the area, there's also a cool local spot in nearby Murfreesboro called Dino Dig, in case your kids just haven't gotten enough digging. Also be sure to swing by Hot Springs, and check out these nearby RVshare rental options.
3. Thorncrown Chapel
Designed by the visionary E. Fay Jones and located in the bustling town of Eureka Springs, Thorncrown Chapel is truly a sight to behold, no matter your religious affiliations (or lack thereof). Jones, an apprentice of Frank Lloyd Wright, constructed this incredible chapel as a commission to a retired schoolteacher by the name of Jim Reed, who wanted the structure to serve as a non-denominational sacred space for meditation. This chapel has landed on the National Register of Historic Places as well as many other superlative lists, and it's easy to see why once you enter.
Things to do near Thorncrown Chapel: Eureka Springs offers plenty of fun to-dos, from a historical museum to zipline adventure tours and plenty of shopping and dining. It's also just a short drive to Lake Leatherwood State Park. Here are some RVshare rentals in the area to consider.
4. Christ of the Ozarks
Just a hop, skip, and jump away from Thorncrown Chapel, continue (and complete) your spiritual tour of northern Arkansas by paying a visit to Christ of the Ozarks. Erected in the 1960s by political organizer Gerald L. K. Smith, this likeness of Christ rises just over 65 feet into the blue Arkansas sky, cutting an iconic profile among the rolling green hills and dense forests. While viewing the sculpture is free, it's part of the larger Great Passion Play outdoor drama, which is well worth stopping by and spending a few bucks on.
Things to do near the Christ of the Ozarks: Once you've partaken in the Great Passion Play, head back to Eureka Springs for a bite to eat and to find a place to stay for the evening… unless you're renting an RV, of course!
5. Blanchard Springs Caverns
While people may best knownthe Ozarks for the mountains and lakes, a lot of the excitement is actually underground. Blanchard Springs Caverns allows visitors the opportunity to see what life is like in this area under the surface, winding through well-decorated caverns led by knowledgeable guides who will inspire and delight you with tales both cultural and historical. There's even a special headlamp tour for those brave enough to take it all on in the dark. Up top, a lake and campground make this into an all-inclusive place to get way from it all.
Things to do near Blanchard Springs Caverns: While the closest semi-major town is Mountain View, AR, Blanchard Springs Cavern is located pretty thoroughly in the middle of nowhere… which is its charm. Just relax and forget the hustle-bustle of city life. There are, however, some great RVshare rentals to choose from!
6. Magic Springs
And now, for a totally different kind of "springs" destination! Arkansas' premier theme and water park and a great place for family fun, Magic Springs draws visitors from across the state, the south, and the country for days filled with wet and wild adventures. Affordable season passes make it easy to play all year long, and a wide variety of rides for every comfort and interest level mean there truly is something to do here for everyone in the family. Best of all, tucked just outside the town of Hot Springs, Magic Springs is within easy reach of Hot Springs National Park and all the other fun the best resort city in Arkansas has to offer.
Things to do near Magic Springs: Head down the road to Hot Springs National Park and all the restaurants, shops, and museums that make up the bustling burg of Hot Springs. Also be sure to check out these local RVshare rentals!
7. Cosmic Cavern
The largest privately owned cave in Arkansas, Cosmic Cavern truly is out of this world… and a landmark any visitor to the area will want to add to their itinerary. Many visitors have claimed it's the most beautifully decorated cave in the state, with its vast array of stalactites, stalagmites and other cave formations, and with its high humidity holding the temperature constant at almost 65 degrees Fahrenheit year-round, it's easily one of the warmest caves not only in Arkansas, but anywhere. A variety of tour types are available to help you and your family get up, close and personal with these unique caves.
Things to do near Cosmic Cavern: Located in the northern wilds of Arkansas close to its border with Missouri, Cosmic Cavern is closest to the towns of Eureka Springs and Berryville, which are great spots to grab a bite or do some shopping. Berryville is also home to a range of cultural attractions, such as the Saunders Museum and the Heritage Center Museum. Here are some great RVshare rentals in the area to consider!
8. Turpentine Creek Wildlife Refuge
Yet another great landmark near Eureka Springs, Turpentine Creek Wildlife Refuge is a well-known oasis for abused, neglected, and abandoned big cats, housing 100 animals on more than 450 acres. Along with lions and tigers — and ligers! — some bears call this place home as well, and along with providing an entertaining walk on the wild side for visitors, this place is also devoted to ensuring conservation and education efforts continue to keep our world a bright and habitable place for all of our animal friends as well as us. The cost of your ticket helps support these critters, so you can feel good about what you spend here!
Things to do near Turpentine Creek Wildlife Refuge: You guessed it: spend an afternoon at Eureka Springs and maybe check out Lake Leatherwood while you're at it. Here are some great local RVshare rentals to call your home away from home.
9. Little Rock Central High School
The famous site of forced desegregation back in 1957, Little Rock Central High School is an important U.S. landmark located in Little Rock, Arkansas. While it's still an operating and accredited school today, it's also a National Historic Site and a worthy pilgrimage to remember our nation's long-divided history and how much work we still have to do. Visitors can enjoy a guided, ranger-led tour or a self-guided stroll around the Commemorative Garden. The on-site Visitor Center is also filled with information about the Little Rock Nine, as well as offering an interpretive film and more.
Things to do near Little Rock Central High School: Both Arkansas' capital and its most populous city, Little Rock is filled to the brim with fun things to do, eat, see, and experience — and fortunately, we've covered all the best in our comprehensive guide to the city. If you're looking for a better experience than a hotel can offer, check out these local campgrounds and RVshare RV rentals!
10. Mount Magazine
The tallest peak in Arkansas, Mount Magazine stands 2,753 feet above sea level… and offer those who make their way to its peak an incredible view of the surrounding landscape. A flat-topped mountain, or "mesa," this peak, encompassed inside Mount Magazine State Park, has been highly developed and offers scenic overlooks, hiking trails, picnic areas, and even a state-of-the-art lodge with an indoor swimming pool and more. In other words, you don't have to be a serious outdoorsperson to enjoy the incredible panoramic views here. You can do it in comfort and style!
Things to do near Mount Magazine: Located just south of Ozark National Forest and just north of Ouachita National Forest, the views and outdoor recreation opportunities near Mount Magazine are absolutely unbeatable. Here are some RVshare rentals in the area to add to your "maybe" list.
Planning an RV Trip to Arkansas
An RV trip is the perfect way to experience all the splendor Arkansas has to offer, including its incredible natural and historic landmarks. We've put together some great resources to help you do it!
Check out the best state parks in Arkansas, as well as the top 10 campgrounds in the state. And don't forget: we're available for all your Arkansas RV rental needs, too!