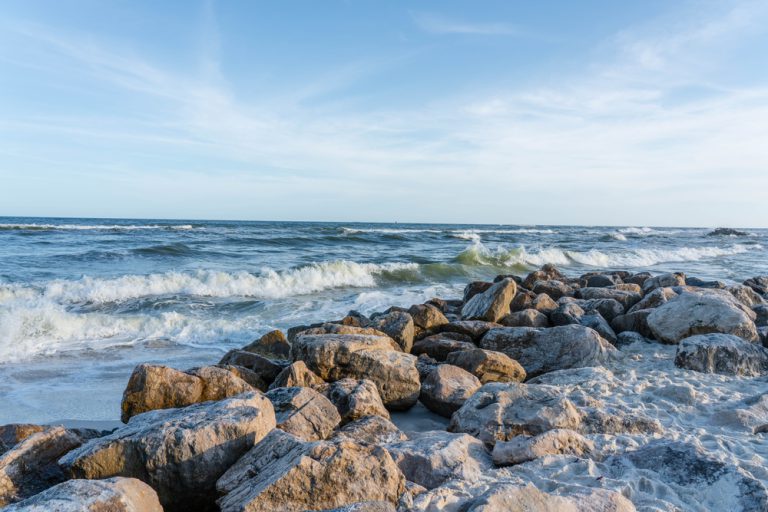 National What are the Most Popular Beaches in Alabama?
The incredible Gulf shore beaches are at least a third of why they call it "sweet home, Alabama" — but there are also some stunning lake beaches in the state's interior well worth visiting. From soft sands and gentle surf to freshwater oases in the midst of forestlands, here are a few beaches in Alabama not to miss.
Top Beaches in Alabama
1. Gulf Shores Beach
2. West Beach
3. Cotton Bayou
4. Orange Beach
5. Alabama Point East Beach
6. Romar Beach
7. Fort Morgan Beach
8. Dauphin Island
9. Lake Martin Beach
10. Lake Lurleen State Park
Alabama Beaches
Whether you're looking for a sunset or a full-noon tanning opportunity, here are some of the best beaches in the state of Alabama.
1. Gulf Shores Beach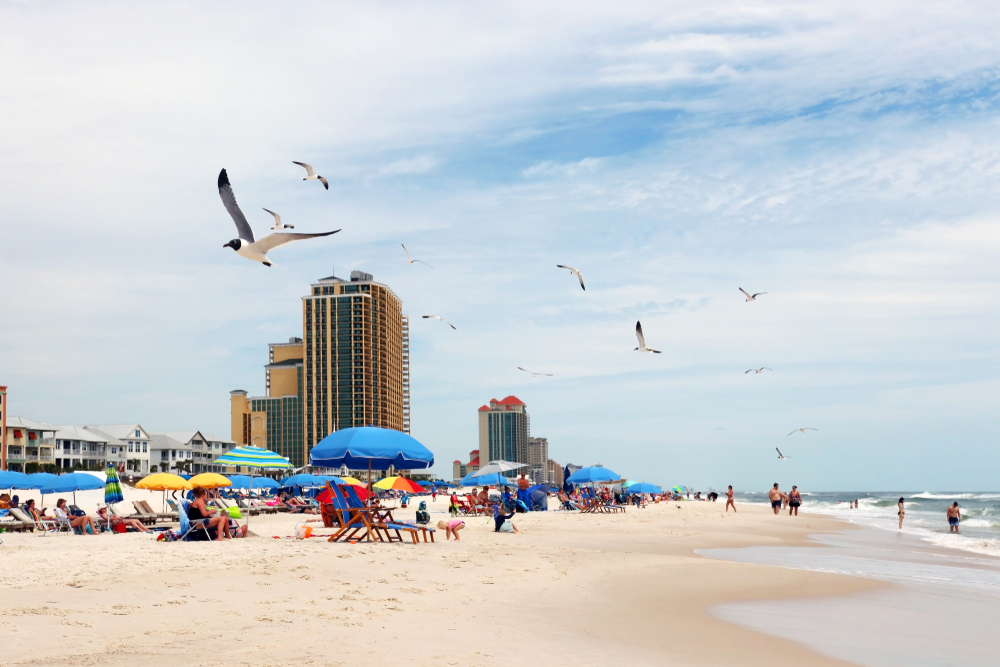 Easily one of the most famous beaches not just in Alabama, but in the entire American South, Gulf Shores Beach is always teeming with activity — thanks to its year-round temperate climate and 32-mile stretch of white sands unlike you'd ever imagined. Because it's so popular, this beach also offers the convenience of ample amenities, such as restrooms, benches, shaded areas to sit, and more. It's perfect for sunbathing, swimming, or even just meandering along the surf line with you beach cruiser.
Things to do near Gulf Shores Beach: As its name implies, the Gulf Shores Beach is located along the city line of Gulf Shores, Alabama, a beloved tourist destination and residential area alike. Some family-friendly local to-dos include the Alabama Gulf Coast Zoo and Waterville USA, a 20-acre water park that gives you even more opportunities for splish-splashing fun. Here are some local RVshare rentals and campgrounds!
2. West Beach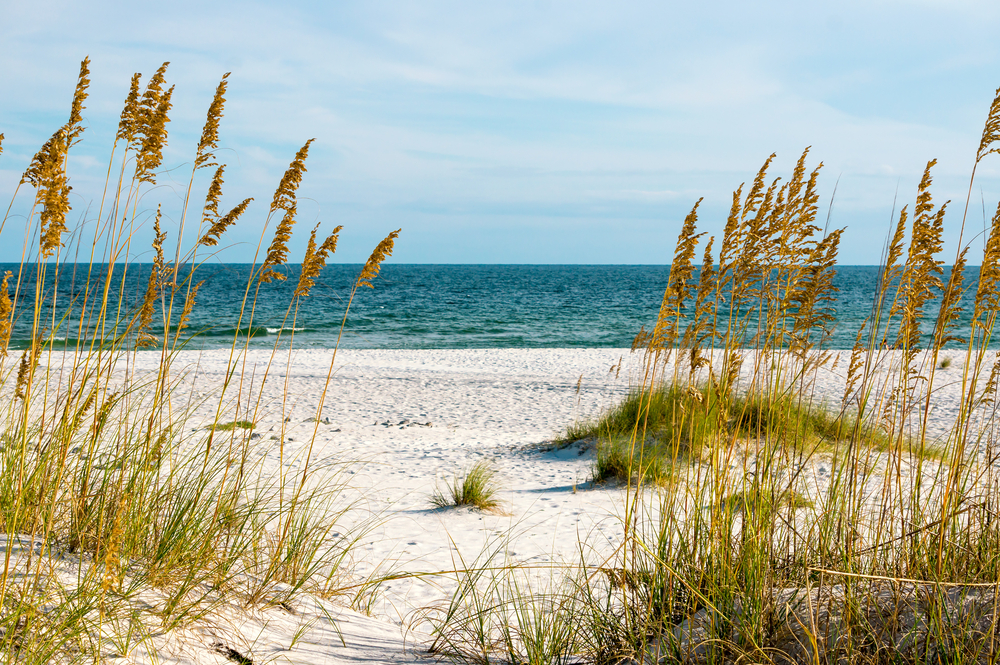 Close to the main public Gulf Shores Beach, West Beach offers a slightly less touristy but no less attractive beach area, which subtracts the amusement park rides and nightlife in favor of serene sandy stretches and epic sunset opportunities. The backdrop to this beach is, instead, a line of luxury homes that will have you considering taking out a second mortgage — though who needs to when you can just stay nearby in your vacation home on wheels?
Things to do near West Beach: All the goodness of Gulf Shores is still within easy reach of this beautiful beach,  as is the Bon Secour National Wildlife Refuge, which provides habitat for migratory birds, sea turtles, and Alabama beach mice in its 7,000+ acres of untouched wilderness. Here are some nearby campgrounds to consider — and RVshare rentals to take to them!
3. Cotton Bayou Beach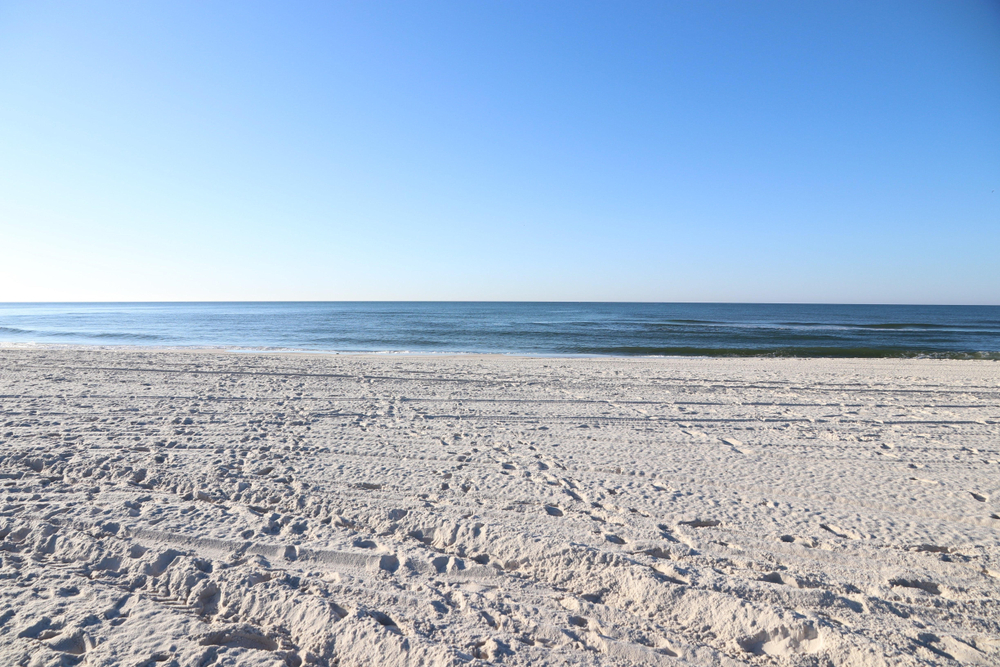 Smaller than Gulf Shores but no less magnificent, the Cotton Bayou Beach stretches 3.5 miles long and is a smaller portion of the larger Gulf State Park, which offers camping accommodations and access to the Shelby Lakes along with its Nature Center and other amenities. The beach itself is equipped with showers, boardwalks and — best of all — free parking, and there are also fishing charters available from this location that can take you out into the Gulf to try your hand at reeling in a little bit of dinner!
Things to do near Cotton Bayou Beach: Explore the rest of Gulf State Park, which has so much to offer for the entire family, including a specific Dog Pond for those traveling with pups who love to get wet! The nearby city of Orange Beach offers plenty of seafood restaurants, shops, and a general quaint southern beach city feel. Here are some local RVshare rentals to consider.
4. Orange Beach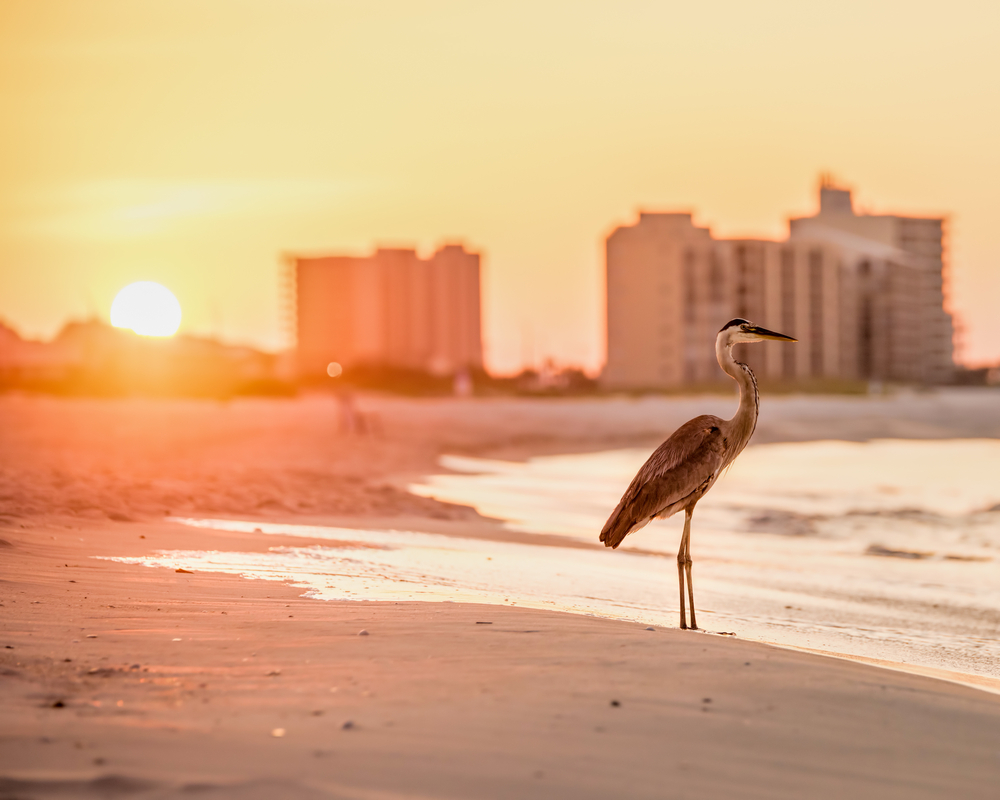 A smaller city on Alabama's Gulf coast, Orange Beach is known as a base camp for those lkoing to get into some serious water sports, and there are also numerous beach access point including a fishing pier and picnic areas at Waterfront Park. Along with the oceanfront views and access available on the south side of the community, the north side enjoys a second waterfront along Wolf Bay and Portage Creek, including The Wharf, a waterfront amusement area with shops, restaurants, carnival rides including a Ferris Wheel, a marina, an amphitheatre and more.
Things to do near Orange Beach: While you're in town, we highly recommend you check out the Orange Beach Indian & Sea Museum, which is situated inside an authentic century-old schoolhouse and pays homage to the rich Native American heritage of this place, as well as the seafaring industries that made the community what it is today. Plus, Gulf State Park is immediately adjacent to town; here are some local RVshare rentals to consider for the adventure.
5. Alabama Point East Beach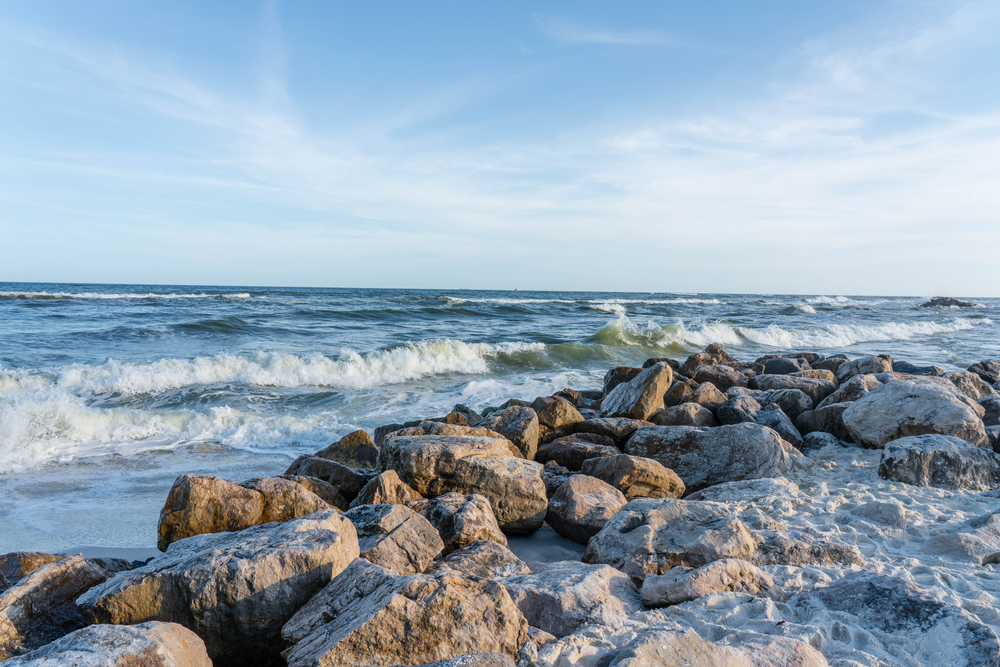 Another gorgeous Gulf State Park beach area, Alabama Point East Beach is located just a hop, skip and a jump east of Perdido Pass Bridge, and features more than a mile of beautiful, wide, sandy shoreline including both flat, sun-bathable areas and dunes. Boardwalks, restrooms, outdoor showers and picnic areas make this beach an easy place to while away a sunny afternoon, and TripAdvisor users advise it's an excellent place to dabble in some beach photography. The calm waters are lovely for swimming in, but do keep in mind that jellyfish can sometimes be found in these waters!
Things to do near Alabama Point East Beach: Again, this beach is also a property of Gulf State Park, which has plenty of other amenities and areas (including campgrounds!) worth checking out. Plus, this is about as far east as you can get in Alabama without hitting the Florida state line — and the Sunshine State's panhandle in particular is known for its incredible emerald-watered beaches as well as a proliferation of fresh seafood. Here are some local RVshare rentals to check out!
6. Romar Beach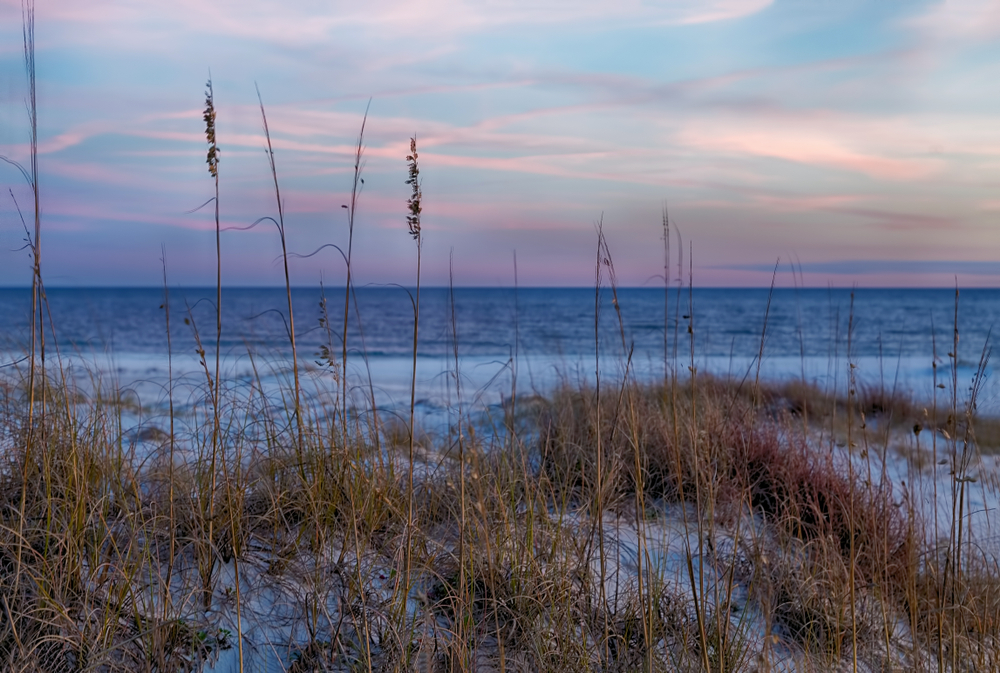 Okay, we promise not every single beach on this list is going to be an Orange-Beach area access — but Romar Beach is the kind of hidden gem you'll thank us for including. Although it as yet doesn't have amenities like outdoor showers or on-site restrooms (though there are plans for them in the future), Romar Beach offers untouched white sands and an endless blue sea and sky along the horizon, all only a few miles east of Highway 59. Despite the ease with which this beach can be accessed, it tends to be one of the less crowded options, making it a great destination for those looking for a quiet sunset or a romantic day with their sweetheart. It's also very close to the Hugh S. Branyon Backcountry Trail – Rosemary Dunes Trailhead for those who want to add some hiking to their shoreline adventure.
Things to do near Romar Beach: Yet again, this stunning stretch of oceanside is located close to the community of Orange Beach and within the greater Gulf State Park area. If you're in need of a bigger city's resources, Mobile is only an hour and change away. Here are some local RVshare rentals for your consideration!
7. Fort Morgan Beach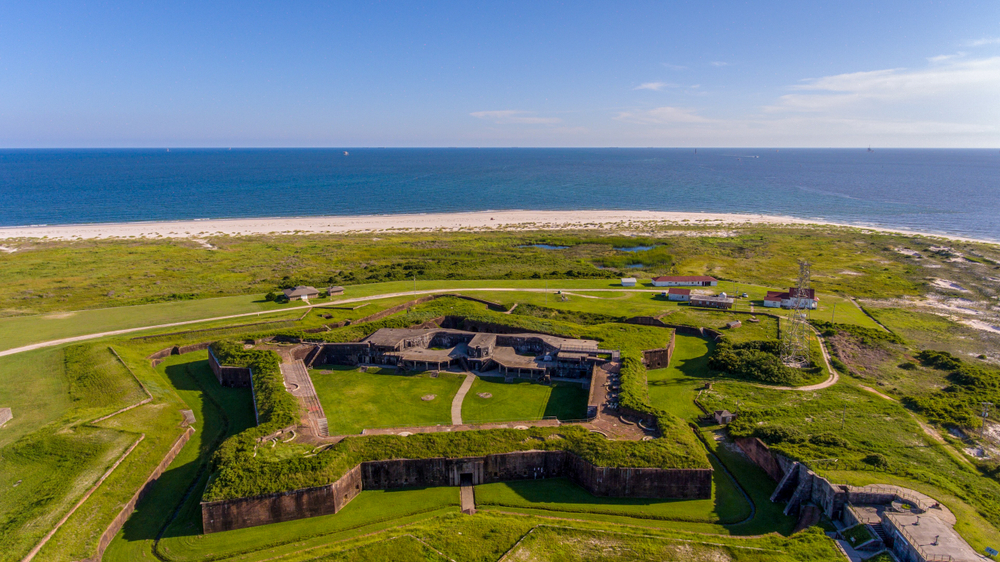 Located at the tip of the peninsula of Mobile Point, a narrow spat of land that extend west out of Gulf Shores, Fort Morgan Beach is a beautiful stretch of sealine located in the shadow of the historic fort of the same name — an old defensive military masonry fort first built between 1819 and 1833. Because of its strategic location, this fort was important in the Battle of Mobile Bay in August 1864, and also played a part in World Wars I and II as well as the Spanish American War. Today, however, it's a sleepy seaside community that also happens to boast some incredibly beautiful beaches!
Things to do near Fort Morgan Beach: It's worth taking a break from sunbathing to check out the Fort Morgan Historic Site, where you can learn more about this structure's role in our nation's military history. The community is also connected to the next spot on our list, Dauphin Island, by way of ferry. Here are some local RVshare rentals and RV-friendly area campgrounds to consider!
8. Dauphin Island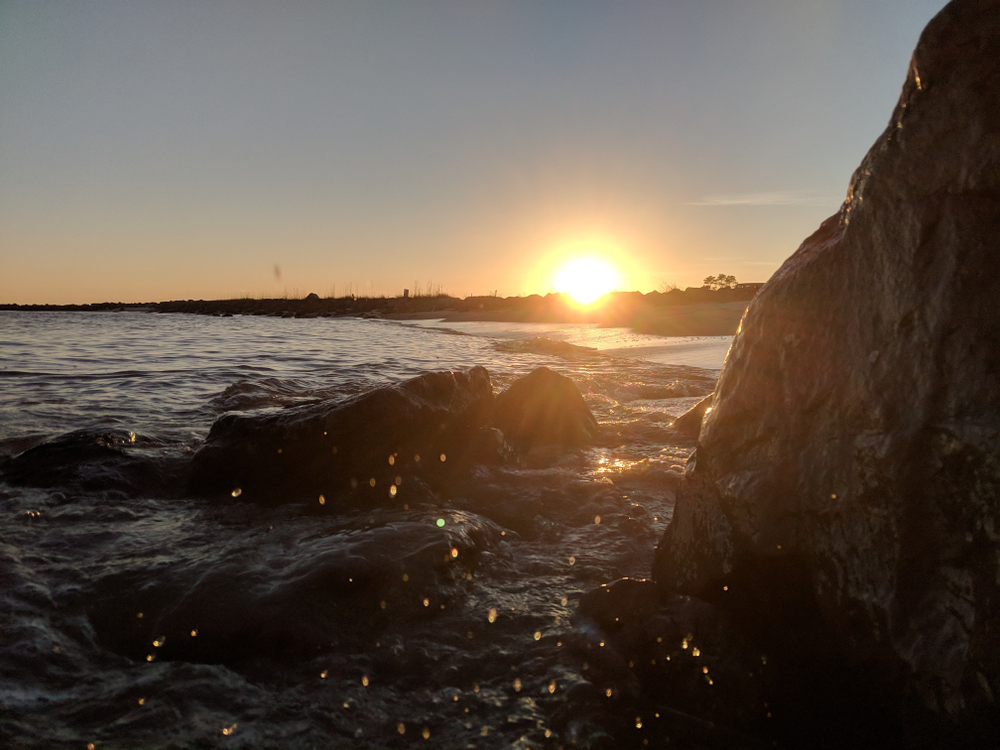 A unique island destination that doesn't require venturing that far from home (for many Alabama residents, anyway), Dauphin Island is another narrow spit of land sitting in the Gulf just off the shore of Alabama proper — and much of its oceanfront is blessedly undeveloped, offering an au naturale escape from the hustle-bustle of mainland cities. The town is also home to an old defensive structure, 19th-century Fort Gaines, which features original cannons and a blacksmith shop among other attractions. Along with its opportunities for sunbathing and simply enjoy the sand and surf, this island and its beaches are known among birders thanks to its Audubon Bird Sanctuary, where migratory birds gather their strength between journeys. The Dauphin Island Sea Lab's Estuarium also offers an incredible living marsh boardwalk and multiple aquariums to check out. Long story short: there's no way you're going to get board here, even if you've had your fill of beach days!
Things to do near Dauphin Island: A community unto itself, Dauphin Island is connected to Fort Morgan by way of a ferry ride, and is also less than an hour's drive from Mobile. It offers a rugged getaway opportunity within easy reach of larger Alabama communities, making it the perfect place for an RV trip; here are some local RVshare rentals to consider!
9. Lake Martin Beach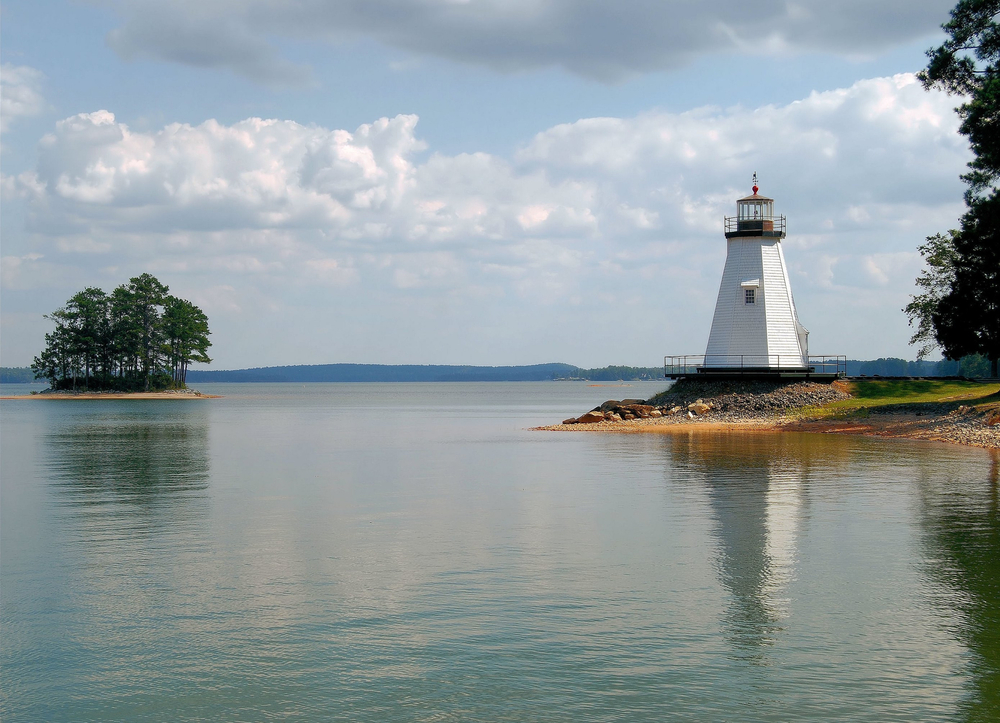 As epic as Alabama's Gulf coast beaches may be, they're not the only option in the state for those in need of a beautiful waterside getaway! Central Alabama's Lake Martin is surrounded on many sides by access points and wildernesses, including the nearly-1,500-acre preserve and campground that is Wind Creek State Park. However, one of the best-known beaches along this lake's miles of shoreline is the D.A.R.E. Park Beach, also colloquially known simply as Lake Martin Beach, located at the end of Youngs Ferry Road just west of Dadeville. Soft white sands and green treetops in the background make for a stunning array of natural scenery.
Things to do near Lake Martin Beach: Only a short way from this beach, hikers can access the Smith Mountain Fire Tower, which offers both an opportunity to stretch your legs and get a sweat up as well as some breathtaking views of the countryside. It's all located less than two hours away from Birmingham; here are some local RVshare rentals to consider.
10. Lake Lurleen State Park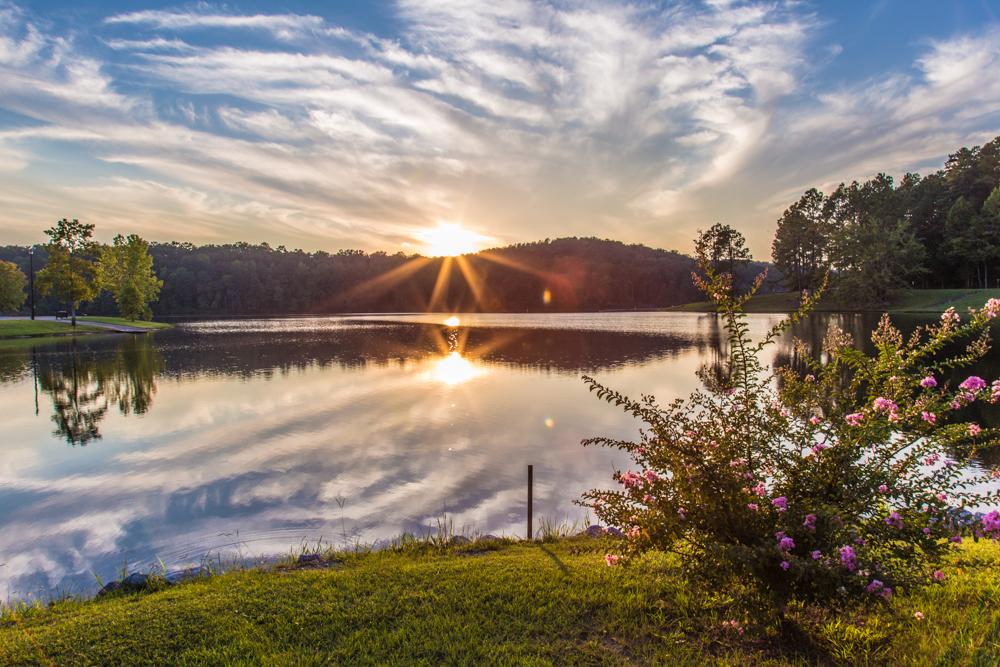 Although not a beach in the traditional, sandy sense, the many shorelines inside Lake Lurleen State Park are an attractive place to while away some time waterside — and its 23 miles of multi-use hiking trails at a variety of difficulty levels make it a great option for landlubbers, too. Paddling is a popular option on the lake itself, and paddle boats are available to rent on-site, which makes it that much easier!
Things to do near Lake Lurleen State Park: Lake Lurleen is located in the east-central part of Alabama, only an hour and change out of Birmingham and very nearby to Tuscaloosa. This part of the state is ripe with other things to see, do, and explore; here are some local RVshare rentals and campgrounds to consider for the journey!
Planning an RV Trip to Alabama
This summer is a great time to plan a beachy RV road trip to Alabama — and we've got all the deets you need to make it happen in style. For starters, we've got you covered on the best Alabama RV rentals, and we've also covered the best state parks and campgrounds the state has to offer. Also, be sure to check out our guides to Birmingham, Mobile, and Tuscaloosa — though there are plenty of other great cities to stop and enjoy along the way.
Enjoy your trip!