Travel Inspiration
February 2nd, 2021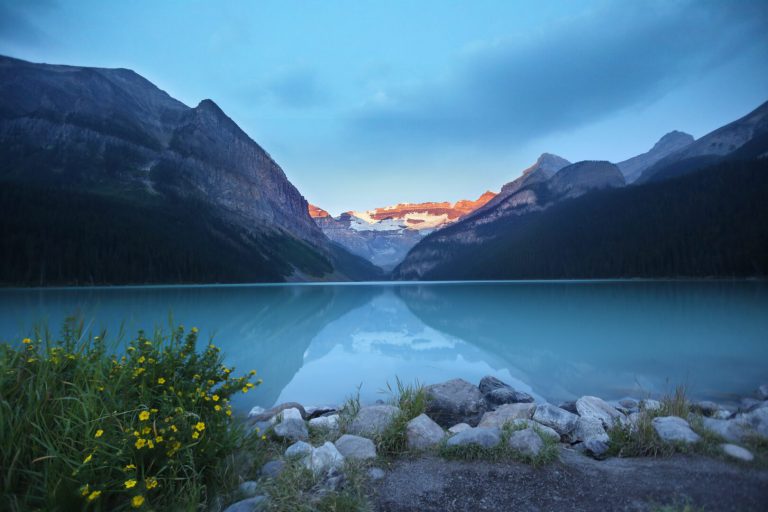 Traveling in an RV can be an incredibly exciting adventure. That said, "exciting" is not always what one wants from a getaway. Sometimes, peace and relaxation are the goals. After all, an escape from the hustle and bustle of everyday life is never a bad thing, and if you're in need of a break, therapeutic destinations might be just where you need to go. Fortunately, an RV vacation can be whatever you make it, including relaxing. 
Wanting to plan a peaceful getaway for yourself? The options below are some of the most relaxing, rejuvenating, therapeutic destinations around, and are sure to leave you feeling refreshed and ready to tackle the world upon your return. 
Therapeutic Hot Springs
First, let's talk about hot springs.
In our opinion, hot springs are among the most therapeutic destinations available. Therefore, we highly recommend choosing one of these as your destination if you are in desperate need of a wonderfully rejuvenating experience that will surely improve your energy levels and more. 
While nearly any hot springs would provide an awesome and relaxing experience, the options below are our absolute favorites.
Hot Springs National Park, AR
Perhaps the most obvious hot springs destination, Hot Springs National Park in Arkansas is a fantastic option. Here, you can learn a bit of history, enjoy some hiking in the peace offered by nature, and most importantly of all, soak in some seriously amazing hot springs in the two incredible bathhouses.
We love that this park is nestled right in the middle of town, meaning dining and shopping are nearby. Additionally, we appreciate that there is a campground onsite, making bringing an RV a breeze.
Chena Hot Springs, AK
Another amazing hot springs destination is Chena Hot Springs, located way up north in Alaska. Yes, getting there will require quite a trek. However, because Alaska is such an amazing place and these springs provide such an incredible experience, we find the trek to be well worthwhile.
Besides the hot springs—which are 100% relaxing and therapeutic—this resort also features the world's largest ice museum, a Chena kennel, and a number of opportunities for outdoor activities.
All that said, one of the best things about this particular location is the opportunity to see the Northern Lights during the winter months!
Glenwood Hot Springs, CO
Our final pick is located in Colorado near some of the most well known and well loved ski resorts in the country. We love that it is so near these resorts because it allows visitors to enjoy a day on the slopes before slipping into a relaxing pool of hot mineral water.
This spectacular resort is home to the world's largest hot springs pool, meaning it rarely feels crowded. And since the resort has been around for over 130 years, they definitely know what they're doing. 
Relaxing Beaches
Almost as relaxing as hot springs is a secluded and quiet beach. There, you can lay out on the sand or get comfy in a hammock and clear your mind as you listen to the sound of the waves.
Unfortunately, many amazing US beaches get quite crowded, resulting in a less-than-therapeutic experience. For this reason, we recommend one of the more secluded beaches listed below as therapeutic destinations.
Cumberland Island, GA
This lovely Georgia beach is so calm and quiet that you'll likely see more animals than people during your visit. Wild horses frequent the place, and armadillos and deer are not uncommon sights on this protected island.
Riding the ferry is the only way to see this gorgeous beach, so you will need to park the RV on the mainland. Still, you'll likely want to ride over to the island on a daily basis throughout your trip.
Assateague Island, MD
Another incredible eastern US barrier island, Assateague is absolutely stunning. Kayaking, biking, and hiking are some of the most popular things to do at this national seashore. However, those looking for a completely relaxing experience will likely prefer fishing or laying out on the beach and watching the wild horses go by.
We love that RV camping is available on this island. While there are no hookups available, we highly recommend stocking up on water and having the Assateague dry-camping experience.
Second Beach, WA
Looking for a western beach destination? Look no further than Second Beach in Olympic National Park in Washington State. Like most west coast beaches, Second Beach features dramatic cliffs, tide pools full of life, and gorgeous crashing waves. This is the ideal beach for a stroll along the coast.
All that said, it should be noted that getting to Second Beach does require a short hike. Fortunately, this hike is easy enough, and most would consider it nothing more than a lovely walk through the woods. 
Nature Retreats
Hot springs and seaside beaches are lovely, but for some, the forest, lakes, and hiking in the solitude offered by Mother Nature herself are the things that bring the most peace. If this describes you, you might consider one of the nature retreats below as your therapeutic destinations of choice.
Banff National Park, Canada
Canada's Banff National Park is, without a doubt, one of the most beautiful places on earth. This park boasts a number of hikes that could easily be considered peaceful and therapeutic, and we highly recommend checking them out when you visit.
All that said, the most peaceful, relaxing, and therapeutic place in all of Banff is Lake Louise. This gorgeous body of water is an almost magical blue color, and it's so still that one would almost think they could walk on it. Many like this lake for kayaking, but we think a meditation session by the water's edge is about as therapeutic as it gets.
Blue Ridge Parkway
The Blue Ridge Parkway is a long stretch of highway that takes drivers through the mountains and deep green forests of Virginia, Tennessee, and North Carolina. The drive is a beautiful and relaxing one that could be considered a sort of therapy if you love long drives.
The drive is great, but out of everything the Blue Ridge Parkway has to offer, our favorite things are its hikes. Trail after trail can be found hidden away in the dense forests running alongside the parkway. These are the kinds of trails that truly allow you to get lost in solitude and reconnect with nature—a therapeutic experience that can be hard to top.
Yosemite National Park, CA
Those in search of a nature retreat on the west side of the country have a huge selection of incredibly beautiful parks to choose from. In our opinion, the best of these is Yosemite National Park.
Featuring towering mountains, forests of giant sequoias, and cascading waterfalls, there is always something gorgeous to admire. As you enjoy these views, clear your mind of the stresses of everyday life and breathe in fresh air. You might be surprised how immersing yourself in the beauty of nature can put things into perspective and put your very busy mind at ease.
RV Parks with Spas
Yet another wonderful therapeutic travel destination is a spa. Of course, you could likely go almost anywhere and find a high quality spa, but for a truly relaxing experience, we recommend an RV resort with a spa. Better yet, find a resort that has a spa, a restaurant, and everything else you need to enjoy your stay so you never have to leave. What could be more relaxing than that?
Below are some of our top picks for these kinds of RV resorts.
Lake George RV Park, NY
Located in the beautiful Adirondack Mountains of New York, Lake George RV Park is surrounded by beautiful views. Additionally, this park features absolutely everything anyone could ever want from a vacation. Live entertainment is free and offered on a regular basis, the pool is enormous and features slides, a cafe serves up delicious food, and the spa is fantastic.
The Springs at Borrego RV Resort, CA
On the other side of the country, you can visit The Springs at Borrego RV Resort. The resort is near Palm Springs and San Diego, meaning you have any access to local attractions. That said, you may not want to leave at all. Amenities include a championship 9-hole golf course, mineral baths, yoga classes, massage therapy, and much more!
Ready to visit one of these therapeutic destinations? Grab an RV and get ready for the most relaxing vacation you've ever experienced!