Travel Inspiration
February 7th, 2021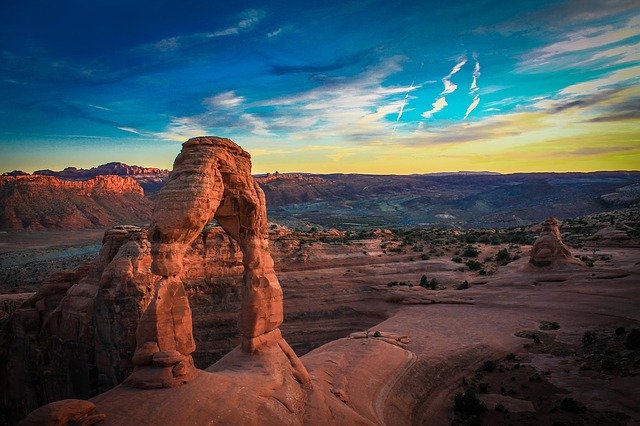 From fun in the sun to excitement on the track, the RVshare community has varied interests when it comes to spring break!
After conducting research on the most popular spring break destinations among RVshare readers, here are the top ten most popular spring break destinations:
Grand Canyon National Park, AZ
Zion National Park, UT
Big Bend National Park, TX
Disney's Fort Wilderness Resort, FL
Moab, UT
Seabring, FL (raceway)
Yellowstone National Park, WY
Bristol, TN (raceway)
Great Smoky Mountains National Park, TN
Arches National Park, UT
But which destination is right for you? We've broken these places down by personality-type in an effort to help you decide the perfect spot for taking an RV this spring break.
Do you dream of weekends outside? Get a little itchy being cooped up indoors for too long? Dream of open spaces and mountains to climb or rivers to paddle? If you're looking for thrills but want them to be all-natural, these destinations are for you!
Whether you're bringing the family to introduce the kids to a love of the outdoors, or you're wanting a more intense adventure on your own, the Grand Canyon won't disappoint. Kids and adults who need a little less strenuous activity can walk along the Rim Trail at the top of the canyon and stop at various outlooks to admire the scenery. Of course, there's always the option to backpack down to the bottom of the canyon, do some exploring, and then make the trek back out of the canyon. There is also a place to rent bicycles in Grand Canyon Village for a different kind of outdoor adventure.
Zion offers plenty of outdoor adventure, from hiking to climbing to swimming or tubing, there's something for everyone! The Narrows hike involves wading through the river at the bottom of the canyon, and there are plenty of hikes for all levels. Outdoor enthusiasts can also go mountain biking or paddleboarding in the area.
Big Bend is named after a bend in the Rio Grande river where this park is situated. So there are, of course, water adventures like kayaking and paddleboarding. But the park also includes mountains, canyons, deserts, and hot springs so outdoor lovers can hike, climb, bicycle, and much more. Also, be sure not to wear yourself out too much because at night the sky has the least amount of light pollution of any national park in the continental U.S. and you'll want to spend some time stargazing.
Moab is a popular destination for mountain bikers, who come from across the country to ride the rocky terrain. The high desert also has plenty of spots for hiking, rock climbing, 4-wheel driving, and horseback riding and the nearby Colorado River provides opportunities for white water rafting and other water sports. The town of Moab has several outdoor outfitters and adventure centers that can help you plan your trip.
Arches is nearby Moab, and you could easily hit both of these destinations in the same trip, or even set up camp at Moab and drive back and forth to Arches. Like Moab, Arches offers plenty of spots for hiking, mountain biking, climbing, horseback riding, and other outdoor adventures.
If you love fast cars and fast rides, these destinations are for you!
Did you know you can camp right at Disney World? Disney's Fort Wilderness Resort offers free transportation around the property, as well as the other amenities that guests staying on Disney properties enjoy. Those perks include MagicBands, advance FastPass reservations, and free parking. Fort Wilderness also has a group campfire each night with s'mores, live entertainment, and appearances by Chip and Dale. There are nightly movies, pony and horseback rides, archery lessons and more. And, of course, you can spend the day on the thrilling rides and other adventures at the Disney World parks!
Sebring, Florida
The Sebring Raceway makes this a popular destination among spring breakers…and Florida's gorgeous spring weather doesn't hurt, either! Take in a thrilling race at the track, and spend an extra day or two so you can drive to a beach and enjoy the sun. There are also state parks and other closer areas if you just want to spend some time outdoors!
Bristol, Tennessee
The Bristol Motor Speedway is another great option for watching an exciting race over spring break! Tennessee's beautiful weather at that time of year means you can also head out to fish or boat on South Holston Lake, or visit the fascinating Bristol Caverns to see the stalactites and stalagmites and other impressive cave formations.
Photographers
If you plan shots and search for the perfect lighting for a shot, we've got you covered! Lighting and framing is important, but these breathtaking locations do some of the heavy lifting for you, helping you to take gorgeous photos.
Grand Canyon National Park
The ever-changing colors of the canyon as the light shifts and changes mean that no two shots of the Grand Canyon are quite the same. You could even try taking the same photo in the same spot throughout the day and you'll find that your photos are as different as, well, night and day.
Zion National Park
Zion's majestic rock formations, with the river at the bottom, and the light that changes as it seeps through the canyon or shines over the peaks means you'll find no shortage of places to take pictures at this park.
The fog that gives the park its name can also lead to some ethereal, haunting shots of the landscape. The park also has covered bridges and other historic buildings that are fun to shoot, either on their own or with the people you love posed nearby. The park also has spring wildflowers, forests, trees, and mountains that make beautiful subjects of photographs.
Arches National Park
Arches may be one of the most well-photographed areas of the country. The striking red rocks and stark desert provide a wonderful spot to play with light and color and composition and it's almost impossible to take a bad picture.
Yellowstone has unique geysers, hot springs, and other thermal features. It's also next to the Rocky Mountains and is home to bison and other exciting wildlife. All of this means that you won't lack for subject matter while you're taking pictures. Whether you're getting a grazing bison or a panoramic mountain photo, you can't go wrong!
Disney's Fort Wilderness Resort
Disney makes family fun their bread and butter, so of course this resort is a great place to plan a family-centered spring break! Whether you spend the day at the fun pool or doing archery at the campground or you head to one of the many rides at Disney World, family together time here is a given.
Yellowstone National Park
The exciting animals, fanciful geysers and other odd thermal features, and majestic mountains mean this is a spot the entire family will enjoy! There are plenty of walks and shorter hikes that smaller kids can do with their parents as well – just make sure to keep them close by since you're in bear country!
Great Smoky Mountains National Park
The bridges and other historic buildings are a great opportunity to teach kids more about the history of the area. The Mountain Farm Museum and Mingus Mill are fun spots to explore with children as well. Finally, there is a lot to see from your van or car, so if the kids need some time to nap, you can take a scenic drive and still enjoy the park.