RV Owners
December 9th, 2020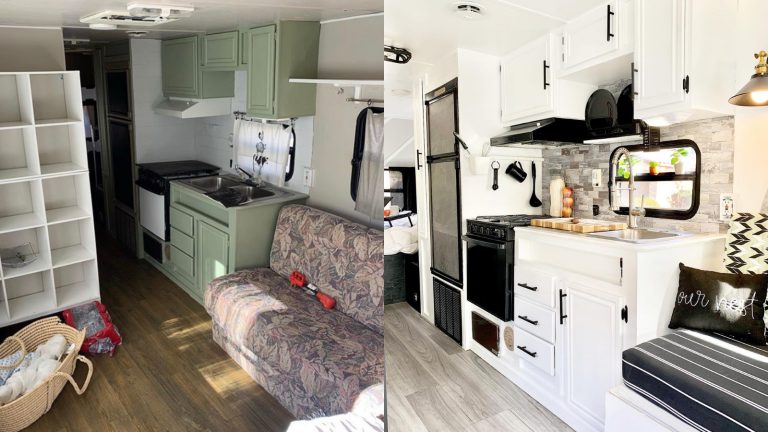 An RV Renovation Story
Ever dream of buying an RV and remodeling it like a home? Or maybe you already have one locked away in storage, waiting for the right time to give it a facelift. The RV industry and Tiny Home living has surged in popularity like never before. Nowadays, if you're on social media, it's a guarantee that you'll find a tiny living post or RV renovation Before & After photo. Even reality TV has scooped it up and embraced the Tiny Home movement. I had all of this in mind before I met 'EVA'.
Who's EVA? Well, let's back up a bit before Shi (that's me) met EVA (a travel trailer). Before we met, I was still on Cloud 9 with JOEY. (If you haven't read my previous blog, JOEY is my pride and joy and the first RV that I remodeled. He has his own separate story.) Riding high on the feedback and exposure I received from JOEY's remodel, I did something drastic. I quit my corporate job as a manager and decided this was something I wanted to do full time. Remodel & Rent out RVs. It couldn't be that difficult, right? The first one was so easy, another remodel would be just as quick and seamless. Or so I thought. 
I scoured every online marketplace, searching day and night for trailers with minimal damage and low prices. Finally, I came across a 1969 Airstream Sovereign with a killer price tag. The price was so good, I thought it was another online scam. By the way, there's a ton of those out there so beware. Scammers love using RVs as bait. The Airstream listing was indeed real and we put a deposit down with no hesitation. Long story short, the seller backed out & we were left empty handed. That was not a good day.
The search continued for my next remodel project. Then I found it. It was a listing for a 1998 KIT Sportsmaster 31ft Travel Trailer. The photos looked promising so my husband and I went out to take a look. The seller was sweet and gave off good vibes. I'd done a lot of research and knew exactly what to look for. How's the undercarriage? Good. How's the frame? Good. The roof? Looks ok to me. Everything on my checklist looked good. The viewing took place on a storage lot in the middle of a Las Vegas summer. There was nowhere to plug it in and test out the electric systems, so we had to take the seller's word that everything was in working condition. No biggie. It was a bonus that it already had a name. The sellers named her after their favorite Disney movie, WALL-E. After negotiations, EVA was ours.
We immediately got to work. The interior space was confusing. It looked like most of the original furniture and layout was taken out and rebuilt. The front area had a Queen size bed that was entirely way too high with dead space underneath, and 6 bunk beds were built in the back bedroom. It all had to go. I had a vision in mind and EVA was speaking to me. She told me that she needed to breathe and that she wanted a modern makeover. Sounds silly, right? Who thinks of RVs as living beings? Apparently I do. I should note that each unit I've viewed has its own unique personality and style. Each one speaks to me. Or maybe I just need more friends?
The vision I had in mind for EVA was simple. I wanted her to become a hybrid between a Tiny Home & an RV. What's the difference between the two, you may ask. A Tiny Home is just that. It's a stationary space meant to be lived in full time, usually made with similar materials you would find in a "sticks and bricks" house. Tiny Homes tend to be much heavier than RVs. They're beautiful and so versatile, but most aren't built for frequent travel. Whereas RVs are made to be on the road. They're built with lighter materials and an aerodynamic frame. But most RVs all look the same with lack of personal style. I wanted to marry the two to create the rebirth of EVA.
Open floorplans have gained a ton of popularity in the last decade. We see it everywhere. On TV and social media, it seems like everyone is tearing down walls nowadays. Literally speaking. The same had to be done for EVA. The front wall dividing the old jack knife sofa and Queen bed was removed. All of the woodwork from the old "custom" beds was removed. The sofa was removed. Basically, anything we could take out was removed, with the exception of the kitchen sink area. I didn't want to get too ahead of myself. Two days later and demolition was complete. I saved every piece of wood and hardware from EVA's demolition. Almost everything that was taken out, was saved, including the screws. This was a great way to save money, while being kind to Mother Earth.
Remember when I mentioned EVA was purchased in the middle of a Las Vegas summer? Well, the AC unit couldn't keep up with demands. It ran its last course within the first week and had to be replaced. It's a good thing I saved all of the old materials, because a new AC unit took up quite a bit of my estimated budget. Luckily, my contacts at a local dealership gave us an awesome deal which included installation. Side note: If you're planning your own renovation, budgeting ahead of time is key.
When EVA came back from the shop, it was time to work. My goal was to complete the interior in sections. The first section was the back and it was now a blank canvas. A warm and cozy bed is crucial with life on the road so I wanted to build a Master bedroom, complete with a lift up headboard, and undercarriage storage. The first step was planning. It's only now that I'm grateful for choosing the Drafting class my freshman year in High School. I seriously thought Drafting was a freestyle art class where I could doodle for an easy 'A'. Boy, was I wrong. But it totally pays off now! I'm a visual person, so I have to draw and view it on paper. The repair and paint came next.
The demo revealed a lot about EVA's condition. The walls were in desperate need of repair and sanding. There was a lot of prep work to be done before the fun part of design could begin. We discovered water damage behind the backsplash in the kitchen so that had to be redone, which meant sealing parts of the roof as well. With renovations, it seems that the more you complete, the more unplanned projects arise. It's just part of the process. Patience and understanding is crucial for your sanity.
After repair, paint, and flooring installation, the build outs could finally begin. The first build was the Master bed in the back. That was a fairly simple task and I had all of the lumber on hand from the demolition. With the exception of a few new pieces, it was mainly constructed with recycled materials. The base of the bed cost a mere $30 to complete. My frugality did a happy dance with the savings.
This is the part where life thrust itself upon us with a pregnancy. Surprise! Our chances of conceiving were low so this was a shock to say the least. We'll say pleasantly surprised. Our new blessing brought some obstacles with EVA's renovation. I was considered a high risk pregnancy, so the build had to slow down. I was unable to inhale chemical fumes or lift heavy items. EVA was worked on when I had enough energy to tackle small tasks. Those times weren't very often. Thankfully, my husband was there to help when I needed him.
During the pregnancy, I worked on the the kitchen & foyer. The backsplash is my favorite part of the area. It's made with beautiful PVC material and was ordered on Amazon. By the way, do you like something you see in my remodels? It's easy to find & purchase in my Amazon store (www.amazon.com/shop/lifewithjoey_rv). All items used in this remodel are listed under "EVA".
Towards the end of my pregnancy, COVID hit full force and Las Vegas shut down. This was actually a blessing in disguise. Our baby, Donatello, was born in March. Since then, we've been able to spend the first crucial months with him. After his birth and my recovery, it was time to get back to work.
Build out for the Living/Dining areas took quite a bit of time. The stretch of the long portion is over 12ft, which includes a custom Queen size fold over bed and a full size pull out bed. Both are conversion pieces that flip and slide back into sofas when not in use. Fun Fact: EVA is TikTok famous (@shidelgrosso). My most popular video has over 2 million views and featured the Queen size fold over bed. Crazy, right? I told you this stuff is awesome on social media. Comments on the videos sparked a lot of interest as to where the mattresses would be stored. There was little imagination from those unfamiliar with the bedding systems in RVs.
For the cushions, I used 5 inch memory gel foam mattresses and cut them down to size with an electric turkey carver. The plans for the cushions gave me an opportunity to take up a new hobby; sewing. After some research, it was on to the sewing machine to create the covers. I chose a modern design and they came out way better than expected.
I saved the bathroom remodel for last. The original shower panel was torn out. It was fairly simple to do. I wanted to keep costs minimal but most new shower panels are expensive. The solution came in the form of corrugated PVC roofing. They came in 12ft panels for only $25 each. Score! The finished product resulted in a bright white, beautiful bathroom. The vanity mirror was a free bonus. I already had it hidden away in my garage. A little spray paint and it fit the spot perfectly.
When the interior was complete, the final project was the exterior. I'd been putting it off because honestly, the entire process was intimidating. I knew what had to be done and it seemed like a lot of work. In all reality, I was my own worst enemy. It started with scraping away all of the old sealants in every exterior nook and cranny. A few lights also had to be replaced. Learning how to properly seal the trimming was interesting, and messy. After a few tries, I finally got it down. Many shirts and shorts were sacrificed in the making of EVA.
Last, but certainly not least, was the exterior paint. We were on the hunt for someone else to do it, but decided to tackle it ourselves. There are so many opinions out there on which paints to use. I chose Rustoleum High Performance gloss paint, unsure of what the outcome would be. An electric spray gun was used for the white. With both my husband and I, the entire process took about 4 hours. Most of it was prep work with taping and plastic. The results were beautiful! The new paint job transformed EVA from old and tired, to fresh and modern. It was exactly what she needed.
With the pregnancy and pandemic, it took a full year to complete. Longer than originally planned. I kicked myself quite a few times for taking so much time to finish EVA. We tend to be hard on ourselves when goals are not met. But it was all worth it in the end. EVA's rebirth turned into a beautiful RV, and life lessons learned for me. The attention on social media also resulted in more projects lined up. It provided wonderful opportunities for me to create awareness on the possibilities for others. Through my tribulations during the process, I'm able to help others with their own RV remodels. I'm always happy to help.
If you're thinking about starting your own RV remodel, you can find great tips on my Instagram (@lifewithjoey_rv) and TikTok (shidelgrosso). Until next time, Happy Trails!