RV Owners
November 30th, 2020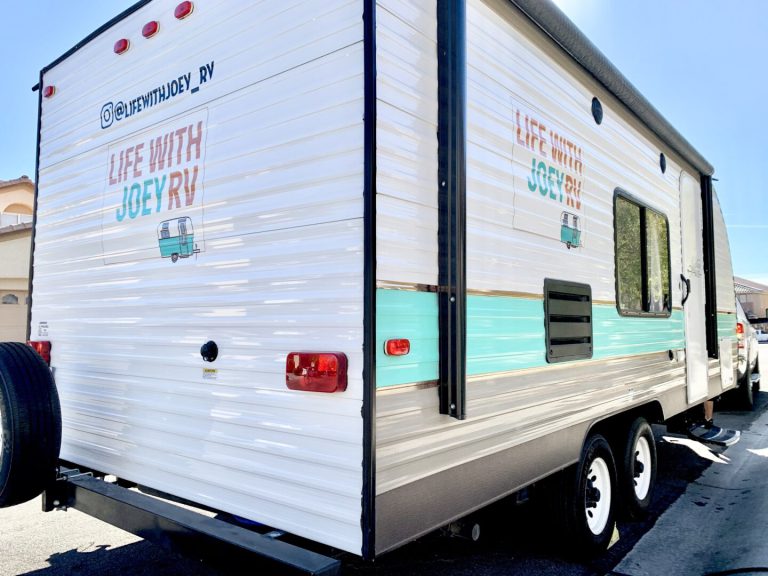 RVshare is so excited to introduce you to our new resident RV owner expert, Shi Delgrosso! Once a week she will contribute to our blog sharing her experience with renovations, listing on RVshare, branding, and more. Learn more about her and the RV that started it all, Joey, now!
Hello! I'm Shi. Pronounced shy, though I am anything but. I remodel and rent out RVs as both a living and a hobby. This lifestyle isn't something I've always dreamed of doing. It just fell into my lap! And I happily embraced it.
Let me start at the semi-beginning. My husband, Robert, and I share 6 amazing children. Two are his, two are mine, and we have two little ones together. Call us the modern day Brady Bunch. Robert works in a popular casino on the Las Vegas Strip, and I used to be a manager in the hospitality industry.
I loved my job as a manager. It fit well with my meticulous & outgoing personality. And I loved the people I worked with. But the hours were long and I was away from the family more than I'd like to admit. I missed my husband and I missed my babies. We both knew something needed to change. The idea of purchasing an RV came to mind. This would give us the freedom to travel the road during my time off, and spend more time with the kids. While also saving money on hotels & dining. Having so many kids gets expensive, especially on vacations. Neither Robert nor I had experience with RVs, but how difficult could it be? We've always been optimistic about new experiences, so we jumped full force into the world of RVs.
Our first RV was a 2017 Forest River travel trailer. We decided to name it, Joey. Before I go into the depths of our RV life, let me back up and tell you a story. Why did we name a travel trailer Joey?
Remember when I told you we have 6 kids together? Well, at the time of our wedding, we had my two and his two, all the same ages. Robert and I knew we wanted a baby together, so we were blessed with a beautiful baby girl named, Athena. Before we knew we were having a girl, we chose the name, Joey, for a boy. As parents often do, we developed a persona for the name. Joey would be a lively and adventurous boy with his daddy's eyes and his mommy's hair. That was before I entered into the professional world of management. Life got busy & a few years passed by. Robert & I felt that Athena would be our last. Five kids was more than a blessing. So, the fantasy of naming our baby boy, Joey, was retired. It was a bittersweet end for us when we realized no more children were in our plans. But not to worry, I promise this story has a happy ending.
This was the point that we ventured out and bought an RV, naming it Joey, as we knew it would become a large part of our family adventures. The interior was brown and bland, as most RVs are, and didn't quite feel like home yet. I knew exactly what I wanted it to look like, and so the remodeling adventures started.
On my two days off a week, I would spend time painting, sewing, researching, and completing Joey's design. The further along I got, the more Joey began to take on his own persona. Our travel trailer was taking on a life of its own. I recorded the process and posted it on social media outlets, most of it on Instagram. It took almost 3 months of remodeling and Joey felt complete.
The photos posted received quite a bit of recognition. People began asking how they could rent Joey for their own adventures. At that point, renting out wasn't really a thought for us. We had become so attached to Joey. It was scary to think someone else may be responsible for taking care of him. What if something happened? What if his parts broke? What if he was stolen? There's no way strangers would take care of him quite as well as we did. Or so we thought.
A friend reached out to me and explained that an acquaintance of hers needed a trailer for a video shoot and he needed it ASAP. I had a strong feeling that I shouldn't say no right away. After discussing it with Robert, we agreed that we should at least try it out. Let me tell you, I was a nervous wreck when we delivered Joey to a stranger for the first time. It was in a non-secure industrial area, in a shady neighborhood, late at night. The pit of my stomach kept turning all evening. If I were to compare it, I would say it felt like sending your only child off to a daycare that had less than stellar reviews. A parent just knows when something isn't right.
Turns out, I had nothing to worry about! The renter was honest in his claims and Joey's very first rental was for a video shoot with a famous Latin pop star. She absolutely loved him. My uneasiness was lifted, and I started research on how to become an RV rental owner.
RVshare was the first rental platform that popped up in my search feed. We've used home rental platforms before, on our own vacations, but I didn't realize that there were websites specifically for RV rentals. These creators are pure genius if you ask me. The more research I did, the more it became clear. We have to do this! RVshare's program put me at ease. The insurance options & 24/7 roadside assistance would be there if anything happened to Joey. It didn't take long for Joey to gain exposure and we received a few reservations. It was going well and we loved the experience of meeting new like-minded people.
Through this experience, a large part of me kept leaning towards full time RV life. I fell in love. In love with travel, in love with the road, in love with the RV community, in love with the people, and most importantly, I fell in love with my family all over again. There was a whole new world out there and we needed to explore it.
I was still working as a full time professional. The more time I spent at work, it became more of a chore and less fun than it used to be. I often found myself daydreaming of life on the road with the family. I became unhappy with my job. Robert started to notice, as did the kids. I became short-tempered and impatient. It wasn't fair to those around me. Something had to change.
After long discussions, and weighing our options, I received full support from my husband. It was time for a major change. We had no idea where it would lead us, and our finances were now up in the air. But we bit down and I quit my beloved job as a leader for a large successful corporation. Our optimism kicked into high gear again. My heart knew exactly where I needed to be. I needed to be at home with my family, doing what I love.
I love being a mother and a wife. I love taking charge of new projects. I love meeting new people. And I love getting my hands dirty to create beautiful pieces. Remodeling and renting out RVs put all of that together. It also gives us the freedom to travel.
Learning new trades has always been a passion for me. Boredom sets in easily when I feel unchallenged. This new venture doesn't get boring. I'm constantly learning new things. Systems and designs can be updated. I can move from one project to the next. And apparently, I'm good at it. Who would've thunk? Now, it's what I do full time. All of the new tricks I learn is shared with others through my social media. I'm so passionate about this lifestyle, and that passion needs to be shared with others. Through my own mistakes, others can learn from it and find new ways to do it better. You can find these tips & project photos on TikTok (@shidelgrosso) & Instagram (@lifewithjoey_rv).
To end this personal introduction, I leave you with our happy story. During the start of a new remodel, we received the news that we became pregnant. It was quite a surprise, as our chances were extremely low. And wouldn't you know it, it was a Boy! We couldn't name him Joey anymore, since Joey had become quite a popular brand. Now, we have a bouncy, and super squishy baby named, Donatello. It fits him well and we couldn't be happier.
This new venture has created so many new opportunities. Robert and I continue to explore our options while diving into this tremendous world of RV life. Currently, we live in a 'sticks n bricks' house. It's the most ideal living quarters with 4 larger than life teenagers, a strong-willed 6yo, and a new squishy baby. But once the older kids graduate high school, the plan is to live on the road full time, creating new amazing memories with the little ones. We can't wait to see what the road has in store for us. Until then, I'll keep doing what I love while sharing new tips and tricks to enhance your own RV. To learn more about renting out your own RV, visit www.RVshare.com. If you find yourself in the Las Vegas area and want to rent JOEY for yourself, you can do so here. Happy Trails!