Industry News
Last updated on May 5th, 2023. Originally published on March 18th, 2022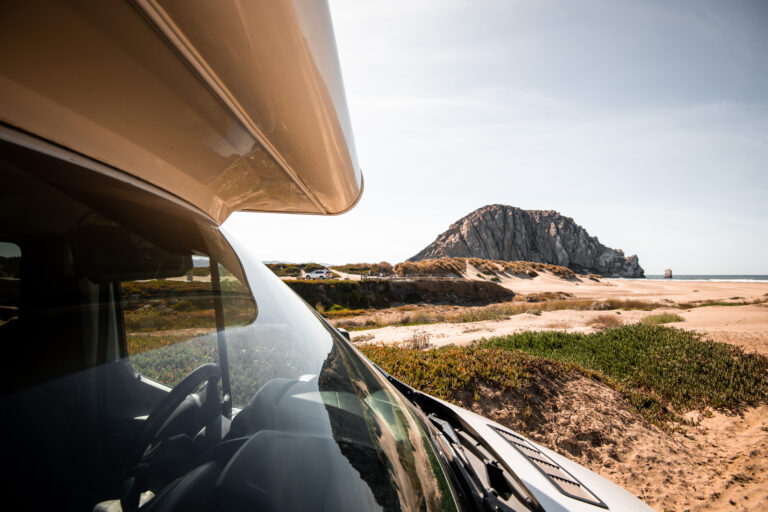 You are getting ready for your next adventure and with high gas prices you are tempted to think flying might be the best option… but is that really the case? What about the cost of RV travel?
When it comes down to costs, what is really the difference between Air and RV travel?
We all want to spend more time adventuring and once we've picked our destination the next question we think to ourselves is, "What is the best way to get there?" For a lot of us, the best way is also the most cost-effective way. We want to spend more time having fun, and not stressing out about finances.
The cost comparison will be influenced by a few key questions:
How many people are you traveling with?
For how long is the trip?
How many miles away is the destination from your location?
By answering these questions you will start to find direction toward what option will be the most cost-effective. If you are a solo traveler with only a three-day window for an adventure across the country, RVing may not be the best choice. But in so many other instances like larger parties, longer trips and further destinations, deciding what option is best can seem like a daunting task. We created this comparison guide to help you make the most informed decision so your adventures will be more fun and less financially stressful.
Let's get started!
FLIGHTS vs. COST OF RV RENTAL
The first category up for comparison is the actual travel price of the adventure.
The average US flight cost is $260 dollars. That, multiplied by the number of people in your party and this can quickly add up to thousands.
Add baggage fees, at $30 a piece per person on almost every airline.
Add rideshare/transportation to and from the airport at an average of $35 each way.
Add airport meals for about $25 per person
Here at RVshare you can find rentals starting as low as $50 a night for tow behinds and $75 for drivable RVs. If you go for something more middle of the range or even feel like going larger with a $200 + a day RV rental you are still looking at dividing this number by the amount of people in your party, not multiplying, which already brings about great savings. Plus with RV delivery you can save even more by eliminating rideshares from the pick-up process. That cost effectively goes down to zero if you own the RV yourself.
TRANSPORTATION vs. GAS
With the average nationwide car rental rate of $109 a day you are looking at another big budget category: transportation. Some locations like National Parks and small cities pretty much require you to rent a car in order to get to and from the attractions. Choosing to skip the rental car and using rideshare apps won't save you that much money with average rides across the country at $25 one way. Public transportation would be the most cost effective way to get around but depending on your destination this can be more complicated and time consuming than helpful.
Now, let's talk about gas prices. In 2022 we saw a rise in gas and diesel prices that made thinking of a going on a roadtrip difficult. However, as we kick off 2023 we are seeing average prices around the country go down. Gasbuddy predicts the average cost of gas for 2023 to be $3.49 much better than the $5 mark we saw last year. The cost of gas will vary depending on the miles of travel it takes to reach your destination and the location. The most standard RV, a class C, typically holds a 40 gallon gas tank and has an average of 10 mpg. Filling up the tank at an average current price of $4.00 a gallon would cost $160. That $160 fill up will be able to take you about 400 miles, which is about 6.5 hours of travel time. Last year this formula came up to $200 for a fill up, with gas prices decreasing we are already looking at significant savings when it comes to RV travel.
For the exact cost of traveling to your destination apply this formula with: Miles X Price of Gas.
To find more information on gas mileage and RVs check out our detailed guide here.
For tips on taking an RV road trip as affordably as possible, visit this article.
HOTEL vs. CAMPGROUND
Hotel averages per night nationwide are around $186 a night, which might need to be increased if your party is too big for a standard room. Remember that other factors like location, rooms with kitchens, breakfast included and amenities will influence your cost in this category greatly. Sometimes saving on hotel prices can end up adding more to other budget categories.
Campgrounds come with all types of price tags from $0 for public lands to $40 for a spot in an established campground with water and electric hook-ups. Boondocking allows you to park for free on public land but keep in mind the limitations. You'll have to use water and electricity from your own supply and most often you will be further away from attractions.
Pro tip: Utilizing BookOutdoors or Campspot makes it easy to find and book the perfect spot at RV parks across the country. And look no further than RVshare to discover and book your RV to take full advantage of the outdoor, road trip experience.
DINING vs. GROCERIES
Dining is part of any travel adventure but when you are limited to a microwave in the hotel room you are going to find yourself with another unexpected high budget point. You will be multiplying cost per person of your party and before you know it you will be wanting to do the dishes.
In an RV not only can you store groceries and pack the fridge with everyone's favorites, but you have the option to cook meals together. You could even have the family lasagna recipe on the dinner menu. RVs are equipped with full kitchens and although doing the dishes while on vacation is not everyone's dream, having the space and appliances to cook a meal will save hundreds.
Let's apply this theory and have a comparison with real numbers to see which really comes to be the most cost effective travel. For our case study let's look at a family of four from Cleveland, Ohio looking to take a four day vacation in The Great Smoky Mountains of Tennessee, one of the most visited national parks in the country! Keep in mind that the costs in this comparison are averages, and every situation is different.
With flights at $266 per person and hotel nights at $200, the air travel option quickly added up. Not only do you have the rideshare to and from the airport, but you need to rent a car if you are traveling to places like National Parks. This adds about $480 of a rental car budget and we are facing some big expenses.
Although the gas cost is high for traveling a 1080-mile round trip, you can save big with access to a kitchen and a bed to sleep in! If you are an RV owner you are looking at only $680 total for this adventure!
Final Thoughts
The convenience factor for RVing comes in when your ideal destination is the Great Outdoors. Camping in a national park or visiting a beautiful RV park or resort gives you unrivaled, immediate, 24-hour access to the majesties of all that the outdoors has to offer. Hotels separate you from the starry night skies and rustling trees with their lobbies, elevators, and barely-opening windows. You can rarely walk directly from your hotel room to a trailhead, beach or river bank.
Many assume hotels are more comfortable with their fluffy beds, bathtubs and flat-screen TVs. But with an RV, you can bring along the comforts of home, such as your own favorite bedding. What if you want to bring a wide selection of hardback books, your cast iron Dutch oven, and your weaving loom? You can store your possessions in cabinets and closets instead of a suitcase. And you won't have to pre-read menus for your picky eater.
RVing takes a bit of work, though. There's no housekeeping or room service. Those home-cooked meals create dishes to wash. Setting up camp, emptying tanks, and maintaining the vehicle are work.
Every travel situation is different, but we hope this comparison shined light onto what questions to ask, hidden costs to consider and gave you a roadmap to follow for planning your next adventure. After all, it's about getting you out and experiencing travel in a way that is best for you and your family.
Hope to see you out on the open road!