RV Owners
November 15th, 2019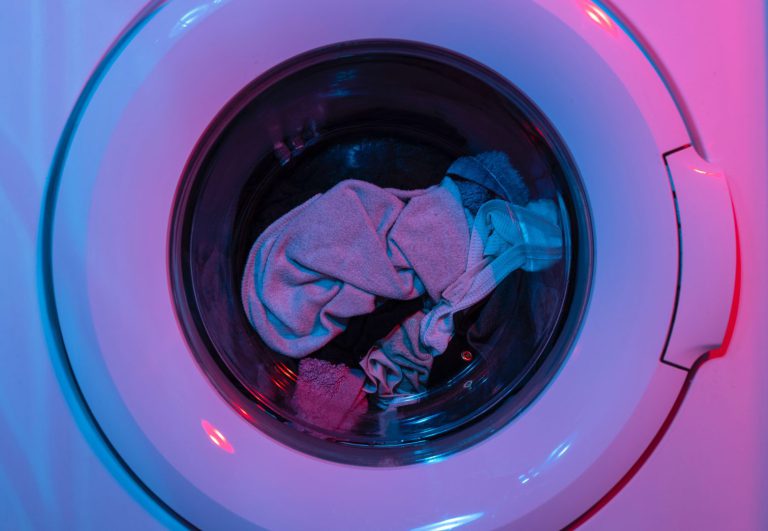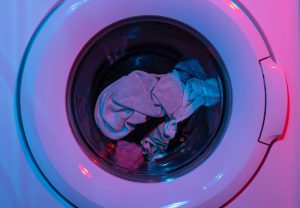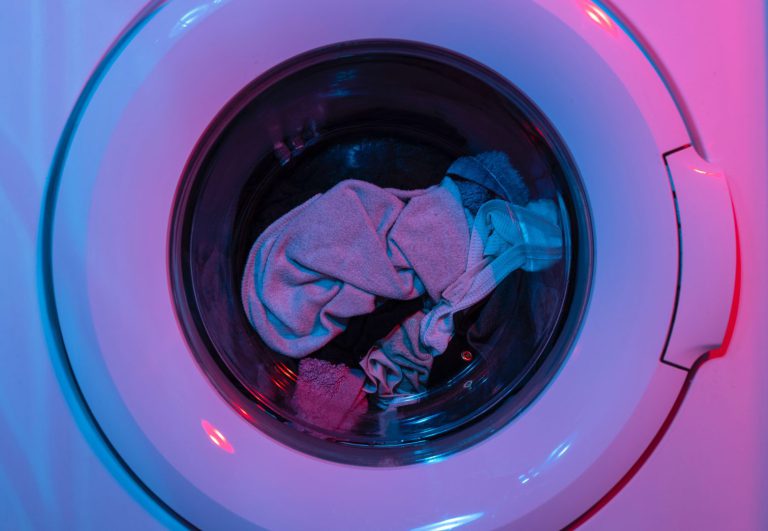 Is there really such a thing as an RV or travel trailer with a washer and dryer?
The answer is yes! And although regular household chores aren't exactly at the top of anyone's vacation to-do list, the ability to wash your clothes can make living the RV life a whole lot easier, especially if you're going on a longer trip or living in your RV full time.
And whether you're looking for a rental with a pre-installed washer and dryer or considering upgrading your own RV to include these conveniences, there are plenty of different types of camper washer and dryers to choose from.
In the following guide, we discuss the benefits of a reliable washer and dryer for RVers.
Types of RV Washers and Dryers
There are three main types of RV washers and dryers:
Stackable washer/dryers for RVs
RV washer and dryer combo
Portable RV washer and dryer
To make matters just a little bit more complex, there are also two variations across the three types:
Vented: These machines utilize the air in the room to dry your clothes. To accommodate these types of RV washers and dryers, you will have to make a hole for the exhaust vent.
Non-vented: During the drying process, these units heat the air inside the drum to dry the clothes. Although they do their job fairly well, some RVers generally stay away from these types of RV washers and dryers. They tend to use a lot of water, and drying clothes can take a long time (and therefore a lot of electricity!). However, if these are the kind that fit in your type of RV, go for it.
But with all these different types on the market, how do you decide which is the best RV washer/dryer combo for you? Let's dive into the specifics.
What is the Best RV Washer and Dryer?
Well, the answer to which RV washer and dryer is best will depend on the individual camper and their needs. But as far as "most popular" goes, the RV washer/dryer combo is pretty far up there. Here's why.
RV Washer and Dryer Combo

By far, this is the most popular choice of RVers who are looking for effective, and efficient, RV washers and dryers; a single drum is used for both washing and drying. In addition, most units are able to switch between the two operations without any input from you.
Pros
Easy to use
Designed for small spaces
Lets you set it and forget it
Available in both vented and non-vented models
Uses a relatively low amount of amperage on average
Cons
Small loads (up to 15 pounds)
It can take up to three hours to do one load, and if overloaded, will take even longer
Can use a lot of electricity due to length of time needed to work, as well as a lot of water
What about a Stackable Washer/Dryer?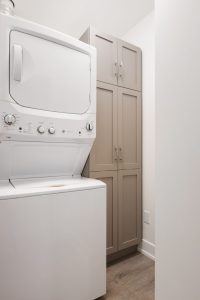 Another option for RVers is a stackable washer and dryer, which works pretty much like the ones in most homes, but they are lighter and smaller. These stackable machines can handle loads of about 13 pounds, depending on the manufacturer, and the washer and the dryer can be used at the same time. Many are also outfitted with special water-saving technology to keep them green and efficient. If you have the space, and will be doing multiple laundry loads while on the road, they may be the preferable option.
Pros
Ability to wash clothes and dry a load at the same time
Vented, so they don't use water to dry the clothes
Dries clothes more quickly
Cons
Take up more space and may not fit in smaller RVs
They may use more water than RV-specific units
 How Does a Ventless RV Dryer Work?
Some RVers are hesitant to drill through the exterior of their rigs to install a vented dryer, and for good reason. Whenever you're adding more holes to your RV, you're inviting water damage, which is the boogeyman that comes for most motorhomes and travel trailers in the end.
Thus, a ventless RV dryer may be preferable. But without the ability to expel exhaust, how does it work?
A ventless dryer works by heating the air inside the drum rather than pulling outside air and blowing it over the clothes, making it possible to dry your clothing without necessitating an exhaust vent. However, they can sometimes be more expensive than vented units, and may also take a lot of time and electricity to dry your clothes.
Portable RV Washers and Dryers
Another option for RVers on the go who dn't want to have to rely on outside laundry facilities or install a washer and dryer in their own rig is to purchase a portable washer and dryer.
Portable washers: These allow you to do laundry anywhere that there is access to an electrical outlet, sink, and a drain. Some models don't even need electricity to work; simple elbow grease is used to power these bad boys. They are perfect RV washers and dryers for those who don't have anywhere else to do their laundry, plus loads can be done in under 20 minutes.
Portable dryers: Most of these dryers are non-vented. Some models come with sensors that keep track of how damp your clothes are, and apply heat as needed. Most models also come with multiple heat and drying cycle options.
Pros
Water efficient
Compact
Require little, if any, electricity
Affordable
Easy storage
Loads are done quickly, especially the washer
Cons
Many units are quite heavy, about 100 pounds
Manual operation
Lower quality than other types of washers and dryers
Not the best option for RVers who are looking for units that are permanently mounted
Do Fifth Wheels and Travel Trailers Have Washers and Dryers?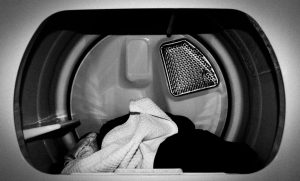 Major luxury extras like washer/dryers are generally the domain of big Class A motorhomes. But you might be surprised to learn that yes, in fact, some large travel trailers (like fifth wheels) do have washers and dryers these days!
In fact, since large travel trailers don't have to devote any of their internal space to a driving area or engine, they can afford more room for large appliances like washer/dryer combos — and you may find it easier to install a set aftermarket, as well.
Can You Install a Washer and Dryer in an RV?
If you've got your heart set on an RV that doesn't come with a washer and dryer pre-loaded, good news: you can install one yourself! (Or, you know, hire a professional.) Many campers end up making this upgrade to a rig that didn't originally have laundry facilities, particularly if they're planning on long-term traveling or full-timing.
As mentioned above, depending on the washer/dryer unit you choose, installing it into your RV can be a major renovation that may necessitate creating a hole in the side of your RV. In short, it's a job you may not feel comfortable doing on your own, in which case we recommend seeking out a qualified and trustworth RV professional… though it's amazing what people can teach themselves these days using YouTube. For instance, check out this family's DIY upgrade.
RV Washer and Dryer Alternatives
Sometimes, you simply aren't going to have the ability to wash and dry your clothes inside your RV  or camper — whether it's a rental or a rig you own but just aren't ready to upgrade so substantially quite yet. And yet, the laundry doesn't stop just because you're on vacation. (In fact, let's face it: it pretty much never stops once you reach adulthood, does it?)
Fortunately, there are plenty of alternative options to get your duds clean and ready for your next adventure. Such as:
Truck stop plazas: Many of these (Flying J, Pilot, etc.) have amenities set up for truckers that would be of benefit for RVers
RV Parks and Campgrounds: Washers and dryers are usually readily available at these sites
Local laundromats: Gets the job done in a pinch
Hand-washing: If things are really tight, a 5-gallon bucket works just fine for laundry purposes. All you need is a little bit of elbow grease and determination!
As you can see, there are many options available for getting your laundry done on the road. With this chore out of the way, you can turn your focus to more enjoyable pursuits on your RV vacation!
*This post contains affiliate links. RVshare may receive compensation if you make a purchase after clicking on a product link.