RV Owners
Last updated on April 4th, 2023. Originally published on July 2nd, 2015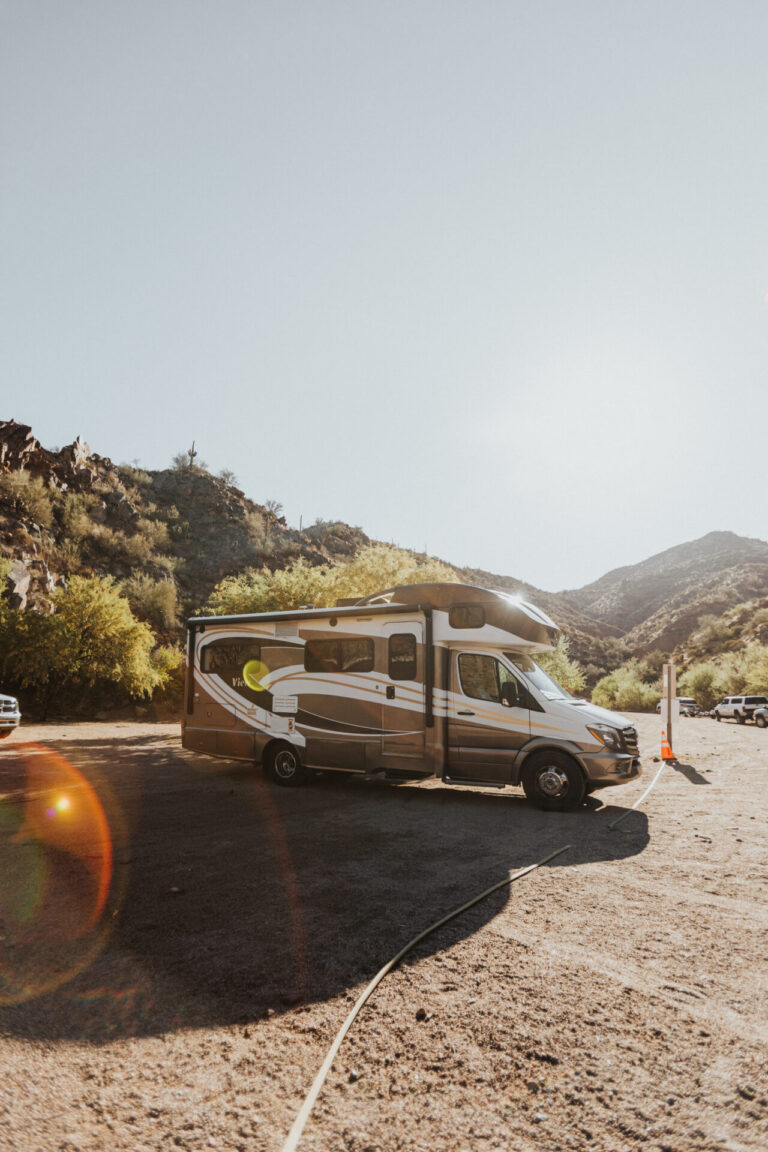 As much fun as it is to go on a relaxing and adventure-filled RV trip with friends or family, there really is no place like home. After a few days, or a few weeks, of travel, it feels great to get back to your non-mobile home, sleep in your own bed, use your own bathroom, and cook in your own kitchen. You rest well, get back to your routine, and lock up your RV until the next road trip.
Before you hang up the keys and return to regular life though, there are a few things you'll want to do around your RV to keep it in good shape and ready for your next RV trip. Here are five cleanup and maintenance steps to ensure that your RV is kept in top condition.
1. Wash, Vacuum, Disinfect
It's always discouraging to come home to a dirty house, and it's equally discouraging to get into your vehicle for an RV trip, only to find that it's a mess. When you return from your excursion, take a few hours to wipe down surfaces, clean and disinfect the bathroom, launder bed linens and towels, wash and put away dishes, and vacuum everything (don't forget the corners!). When the laundry's done, you can either make up the beds again or store the linens until you need them. Then, wash off the exterior of your RV: use soap, hose off any mud, and check the undercarriage for any debris. If you've got an RV cover, use it to protect your newly cleaned RV.
2. Check Out the Inside
Now is the time to do any small interior repairs and check to make sure everything looks as it should. Clean out your refrigerator, and check your pantry for any shelf items that could potentially spoil before your next RV trip. Finally, crack windows to allow for some air circulation and prevent excess moisture from accumulating, or use a moisture absorber if you prefer to keep the windows shut.
3. Check Out the Outside
You especially want to look at the seals on the roof and around the windows. If anything looks like it needs to be treated or resealed, take the time to do it now. Also look for cracks, dents, rust, or anything else that isn't as it should be.
4. Take Care of Battery Maintenance
To avoid batteries going bad at the least convenient time, make battery maintenance part of your post-RV trip routine. Check all battery connections and clean them if necessary. Then, hook them up to a trickle charger to keep them juiced. This not only keeps them ready to go whenever you are, but keeping a battery charged (rather than letting it sit dead) actually prolongs its life.
5. Empty Out the Water System
Once your RV trip is complete, you no longer need water in your tanks. In fact, leaving the water system partially full can lead to extra sanitization steps before you head out on your next adventure. To completely empty out your system, turn off and drain your water heater, open the water line drains, and empty out your water tanks. Once you've got all of those tasks complete, turn on your water pump to empty out all of the water lines all the way. Finally, close up all of your drains.
Ready For the Next RV Trip!
If your next road trip is coming up soon, you'll probably want to start getting ready right away. But if you're planning to store your RV for a few months or longer, it's a good idea to start up the engine and run the generator once a month to prevent any stalls or start-up issues when you do take it out again.
We know — cleaning up and performing maintenance isn't much fun. Still, doing these things is an important part of any RV trip. It keeps your vehicle in great working condition, and it keeps it fresh and clean. Most importantly, it means that the next time you're ready to head out on the open road, you can hop in, start it up, and get going.