RV Owners
Last updated on December 20th, 2022. Originally published on March 21st, 2018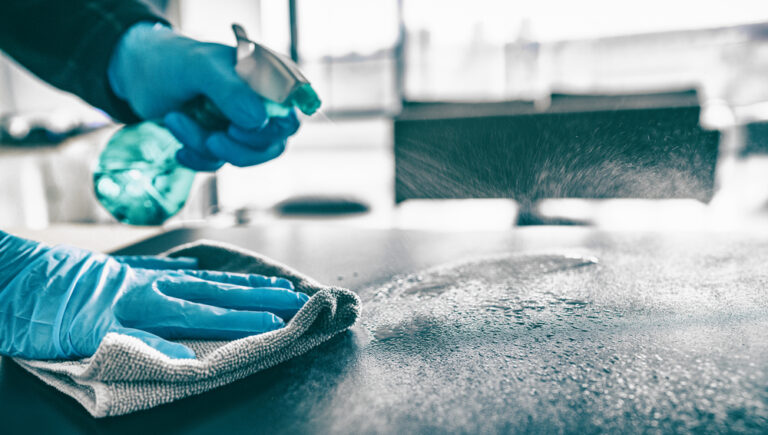 Getting ready for a spring cleaning extravaganza? Don't forget about your RV!
When it comes to RV spring cleaning, there's more to it than grabbing some Clorox wipes and Windex and making sure your interior surfaces are disinfected and fresh. Since it only comes around once a year, take advantage of this spring cleaning opportunity to do a really deep, thorough job on your rig, taking care of both the interior and exterior and catching up with any minor maintenance issues you may have been letting slide for a while.
It may sound like a lot of work, but you'll be thanking yourself when your RV is in proper, working order for many more springs to come — not to mention nice and clean next time you're ready to head out on vacation.
So, ready to get started? Here's how to tackle RV spring cleaning like a pro.
NOTE: In light of COVD-19 it's important to clean your RV in accordance with CDC guidelines if you will be renting it out to others. Additionally, RVshare has named an official cleaning partner, TaskRabbit. TaskRabbit will help match RV owners with local cleaning pros – individual contractors called Taskers – to effectively clean their RVs pre- and post-rental. The partnership comes at a time where disinfecting vehicles by following CDC guidelines is more important than ever in the midst of the Coronavirus pandemic.
Spring Cleaning Tips
Like any big project, you'll have better luck with your RV spring cleaning if you go in with a plan. After all, a motorhome is just that — a home on wheels. There's a lot to tackle!
Although your rig's exterior and motor maintenance are on the docket, it might be easiest to start with the most straightforward task: doing a deep cleaning of your RV's interiors. At a minimum, that means doing a thorough disinfecting job on your RV's kitchen and bathroom, as well as vacuuming the carpet, mopping the floor, and dusting down other surfaces. But if you live in your rig full time or camp often, you may also want to go through all your drawers and cabinets to get rid of old, outdated items crowding up your storage space.
From cleaning RV toilets to keeping your interior furniture looking nice and new, there are a few products that can help you do the job with ease and efficiency. For example, instead of opting for a full-on mop and bucket, many RV owners take care of their floors using a dry mop such as a Swiffer. It's especially important not to soak an RV's floor, considering there are important mechanical systems just underneath it, and using one of these mop alternatives is also quicker and easier. Just make sure whatever product or cleaning pad you use is the correct one for the type of floor your RV has, whether it's real tile, wood, or laminate!
If you're wondering how to clean your RV's plastic sink or shower, the answer is that you need the right kind of product — and a little bit of patience, too. Sometimes the white plastic used in RVs has a tendency to stain, and using a quality RV bathroom cleaner can really help make the difference!
Don't forget about your plumbing system, either. Spring cleaning is a great time to drain your tanks and use bleach to give them a thorough cleaning, and also to clean your holding tank sensors. Here's our guide on how to do it.
Cleaning the Outside of Your RV
Once your coach is spic and span, it's time to move on to the part of your RV that might not usually get as much attention — the exterior. Especially if your rig isn't kept under cover while it's not in use, it's important to incorporate a thorough wash and roof check when spring cleaning your RV!
You can use a commercial auto cleaning product for most of your RV's exterior, since these are formulated to be safe on the paint used in the automotive industry — including on motorhomes. Some people opt to use a regular household cleanser, like dish soap, but these can sometimes strip wax and other finishes. You'll also need a brush with an extendable handle in order to reach all of your rig. It's a lot taller than your toad or around-town vehicle!
While you're at it, get up on the roof to check your RV's air conditioning casing for cracks, and also to do a check for any leaky seals which can lead to interior water damage. You should also clean up your RV's canopy and awnings — here's our guide on how to do it. (It's easier than you think!)
Auto Interior Cleaning Products
Whether you drive a towed style of RV like a fifth wheel trailer or you tow a smaller auxiliary vehicle behind a large Class A motorhome, spring is the right time to give those vehicles some TLC of their own. From washing their exteriors to moisturizing the leather seats and dashboard — and, yes, even going through that scarily-packed glove box — performing regular maintenance on all of your vehicles and equipment helps keep them working better for longer.
There are many different automotive cleaning products available on the market depending on which tasks you're taking on. For example, exterior car wash and wax are great for safely removing dirt and debris from vehicles' exteriors and keeping them nice and shiny, and the right interior cleaner will help keep all your leather surfaces clean and nourished.
Sick of spring cleaning already? Don't forget, you can always take a shortcut… and drive your car through a car wash!
RV Spring Cleaning Checklist
As we've discovered, there's lots to keep in mind when getting ready for your RV spring cleaning extravaganza. Here's a spring cleaning checklist to help you ensure your rig is clean as a whistle and all ready for your summer trip.
1. Clean and dust all interior RV surfaces, including cabinets, drawers, and countertops.
2. Consider going through all of your RV's cabinets and drawers, and checking for any out of date food items in your fridge and freezer.
3. Thoroughly clean and disinfect the bathroom and kitchen, including toilet, shower, and sinks.
4. Clean your RV's exterior, washing both the sides and the roof. While you're up there, check for any leaky seals or air conditioning unit damage.
5. Don't forget about your holding tanks and awning!
6. Perform regular preventative maintenance, checking out the engine and the tires.
7. If you have a towing or towed vehicle, give it a thorough cleaning, too.
Ahhh, all fresh and clean… doesn't that feel better?
This post may contain affiliate links.