RV Parts & Accessories
Last updated on July 27th, 2022. Originally published on September 4th, 2020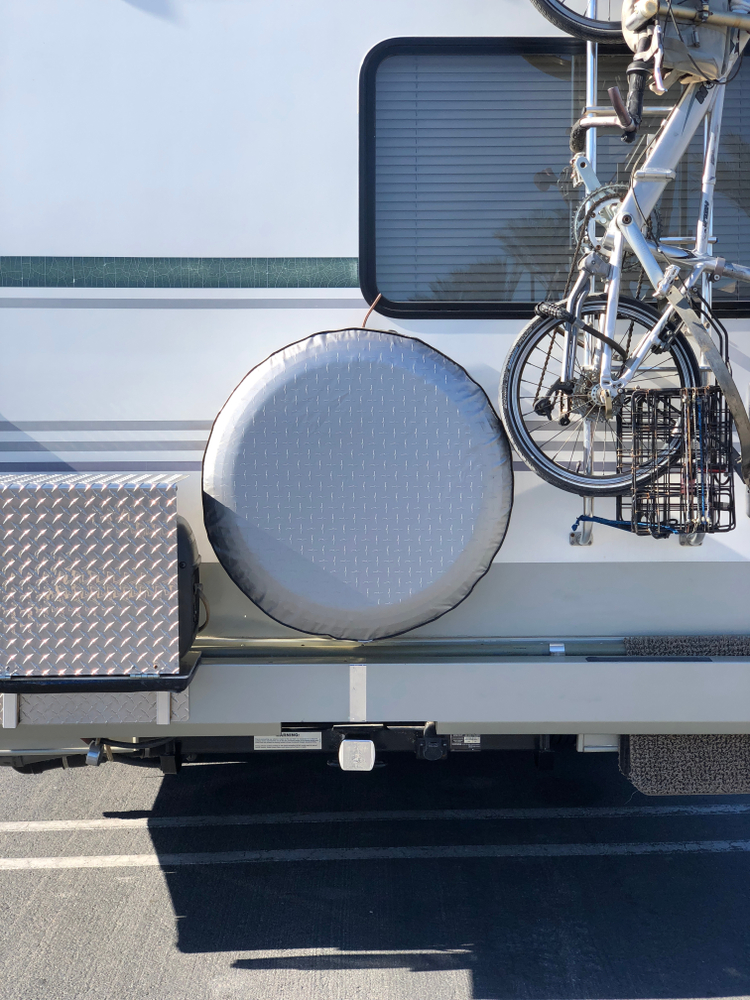 Your motorhome's wheels are what get you from A to B, but unless they're damaged, you may find yourself not thinking much about them. Unlike other features, often the wheels get overlooked when it comes to storing and protecting them. However, you spent a lot on those wheels and tires! You want to make sure they stay protected when they're not in use, so they're ready to take you on the road at any time.
Choosing an RV spare tire cover is easy once you've considered the various options. We'll go over the basics here so you can make the best choice for your motorhome.
Motorhome Spare Tire Covers
Your typical RV spare tire cover comes in a vinyl or cloth-like material. Many are UV resistant to prevent staining and fading of the coloring. Typically, these covers are universally fit and may appear baggy or tight depending on the size of your tire. Most RV spare tire covers zip and unzip for access to the spare. Others have a cinch-closure and some simply slip on and off. Ideally, you won't have to worry too much about putting these covers on or taking them off because you shouldn't have to use your spare too often, but it's a consideration to make.
Be sure when ordering your RV spare tire cover, that you've properly sized your tire. Many of these covers come in various sizes for a perfect fit.
Hard Spare Tire Covers for RV
Whether you're looking for increased protection for your spare tire or worried about nicks and dings from rocky roads, choosing a hard RV spare tire cover might be the right choice for you. Hardcovers are typically made out of plastic vs. cloth, but improved versions are made of metal. Some combine materials for a sleek look, marrying function with beauty. These rigid spare tire covers for RVs ensure that no damage will come to your spare while not in use.
Size is especially important in hard spare tire covers, so be sure to select from your standard 27 to 40-inch models.
Best RV Tire Covers
There are a few different types of RV tire covers to choose from, so how do you know which are the best for you? We'll look at some of the best RV tire covers and help you decide which ones might suit you and your rig. Here are a few great options:
These white tire covers come as a 4-pack and fit RVs and trailers with 24-27 inch diameter tires that are up to 8.5 inches wide. The elastic back panel gives the covers stretch so you're sure of a snug fit, and the vinyl wipes clean and has a soft, non-scratch backing. The covers come with a three-year warranty and the set also includes a storage bag.
This set of two protectors gets great reviews from customers. They fit tires from 30-32 inches, and protect from sun, dirt, weather, and more. The tire covers have a buckle and strap design so they're easy to put on and take off and you can adjust them to fit your tires. The protectors are also weatherproof.
Another set of RV tire covers with rave reviews from customers. These guards are made from heavy-duty flannel-backed vinyl that repels liquid. They offer UV protection and help prevent cracking on your sidewalls. The tire guards have a velcro rear fastening system so they fit snugly. They also come with a 3-year warranty.
These covers fit tires up to 28 inches. A wire-embedded rod sewn into the cover can be bent so it fits well over the tire. The covers protect your wheels from sun damage, rust, dirt, and more and are made of breathable canvas. They fit up to 6-inch deep-wide tires.
These RV tire covers are easy to install and remove when you want to pack up. They're also easy to clean. They are made of thick, aluminum material that is waterproof and has a thick cotton wool lining. The hook fasteners keep the covers securely on your wheels and they fit tires that are 27-29 inches in diameter.
These tire covers are made of very durable, heavy-duty waterproof vinyl with a soft, non-scratch backing. They fit tires from 29-31.75 inches in diameter. To clean, you just need to wipe the covers with clean water. An elasticized back hem and eyelet with a cord ensure your covers fit snugly and won't get blown off your tires. They also come with a three-year warranty.
These fit tires from 26-28.75 inches in diameter. The covers protect your tires from sun damage, rust, dirt, and more. They are easy to clean with just clean water. They're also water-resistant and durable, and they have a soft, non-scratch backing. An elastic cord means the covers fit snugly around each tire and they stay on in high winds. They also come with a three-year warranty.
If you're looking for dual axle RV covers, these are a great choice! They slip on and off easily, and are made of waterproof, wipe-clean vinyl with a soft, non-scratch backing. They're UV and mildew resistant. They have two rear eyelets to secure the bottom flaps so the covers look neat and are nicely tucked in.
These covers fit 27-29 inch diameter wheels. They have a waterproof oxford and cotton wool lining. They prevent sun damage, tire oxidation, corrosion, and damage due to frost. The hook design makes them easy to install and ensures the covers stay on in windy conditions. They come with a one-year warranty.
This fits a 27-inch diameter tire. Heavy nylon thread ensures the cover is weatherproof, even at the seams. This cover protects your spare tire from dirt, rain, sun damage, and more. The vinyl material is durable, cleans easily, and looks classic.
This tire cover is waterproof and durable. It's made from thick vinyl that wipes clean easily and has a soft, non-scratch backing. The cover will protect your spare tire from sun damage, rain, mud, and rust. The cover is easy to install and remove when you need it. An elasticized back hem and quick-connect clips mean it will fit your tire snugly.
How are RV tire covers measured?
RV tire covers come in both single and double axle sizes. Since RV tires are different sizes, you'll want to make sure you have covers that fit your particular type and size of tire. If you need to know how to measure for RV tire covers, look for the tire code on the sidewall of your RV tire and match it with the tire covers you want to purchase.
You can also measure your tire from tread to tread across the rim if you can't find the tire code and use that to purchase your tire covers. If you can't find tire covers to fit your wheels, it is also possible to have custom RV tire covers made to fit.
Are RV Tire Covers Necessary?
You spent a lot of time and money on your RV wheels and tires. It makes sense to spend a little bit more on a product that will protect your investment and ensure those wheels and tires are able to get you around for a good long time. Tire covers for your RV will protect your tires from a lot of wear and tear. They guard against the harmful UV rays constantly bombarding your tires that come from sunlight. Those rays can break down your tires and damage the rubber, causing your tires to harden and crack. RV tire covers can also prevent the cracking that can happen on the sidewalls of your tires.
One experiment using RV Tire covers demonstrates the following:
Tire in shade: 85.1 degrees
Tire in full sun: 107.9 degrees
With white cover in sun: 98.6 degrees
Black tire in sun: 136.1 degrees
This experiment clearly shows that RV tire covers do provide protection from the sun. The rate of damage to sun and heat exposure doubles for each 16 degrees F increase in temperature. Once the damage is done it can not be reversed.
RV tire covers also prevent dirt and grime, which can coat your tires if they're unprotected, and can contribute to the overall wear on your wheels and tires.
What to look for when buying
As with most RV purchases, you'll want to do a little research before you buy RV spare tire covers. Your choice will depend on the size of your motorhome, how often and where you plan to use it, and how much you are able to spend on your tire covers.
Tire Cover Styles & Colors
Shield-style covers protect just the front side of the tire, while bag-style covers go over the entire tire. They usually come in both black and white, and both colors are helpful for reducing UV exposure. Black may be the more practical choice since dirt and grime won't show up as easily, however, black does heat up more and if you're going to be in very hot areas a lot of the time you may want white after all.
Tire Cover Materials
Motorhome tire covers are available in a variety of materials. Vinyl covers are the most common, but you can also find covers made from heavy canvas, or hard-shell aluminum cases. When you're looking at various materials, make sure the covers you choose are made from a UV-resistant material. You'll also want to consider how easily the covers pack up and store while you're actually driving your RV.
Tire Cover Fastenings
How do you keep your tire covers actually on your tires? Well, that depends. Some motorhome tire covers zip closed around the wheel, and others are just draped over the wheel. Covers can also be fastened with a cinch, or with bungees or grommets. Hard-shell covers will snap or lock into place. If you're going to be putting on and taking off the covers yourself, make sure whatever closure you choose is one you can easily operate.
Add some personality: Custom Tire Covers
If you've ever seen an RV or motorhome with a cool, unique spare tire cover, then you've probably wondered where you can also get one. Thankfully, finding custom RV spare tire covers isn't difficult. In fact, you can find them on online marketplaces such as Amazon, eBay, and Etsy, as well as through a number of companies specializing in personalized RV spare tire covers – either online or in-store. We've found some fun designs here.
When it comes to custom spare tire covers for RVs, there is no limit to your creativity. Got a favorite band or sports team that you want to celebrate? Or perhaps you'd love to get some extra promotion for your company? Many companies offering custom RV spare tire covers let you choose your own design to place on your cover. If you're stuck for ideas but still want a personalized RV spare tire cover that's eye-catching and on-trend, then feel free to sort through the wide range of covers which are already designed. Of course, choosing a spare tire cover for your RV is another way to express your personality. Custom RV spare tire covers featuring sports logos or funny sayings can personalize your RV and make it stand out. Plus, you'll never have a problem spotting your motorhome at the campgrounds.
Best RV Tire Cover Brands
As you're shopping for tire covers for your RV, you'll notice some familiar brands for RV accessories. Camco and ADCO are both great, trusted brands that make quality RV tire covers. Classic Accessories also offer sturdy covers that fit a variety of vehicle wheels. TCP Global also makes tire covers that hold up well and offer great protection for your wheels.
Are RV Tire Covers Waterproof?
Along with UV protection, most RV tire covers are also waterproof. If you're going to be parked, with the covers on, for any length of time you'll want to check the packaging or manufacturer's description to make sure yours are waterproof so they don't get destroyed during a rainstorm or other weather event.
We hope that covers all your doubts! Happy RVing!
This post contains affiliate links. RVshare may receive compensation if you make a purchase after clicking on a product link.