RV Owners
August 13th, 2020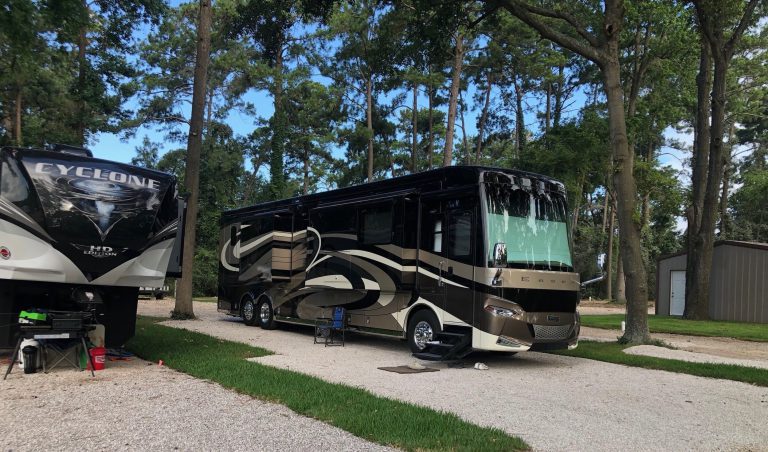 Recently we had the opportunity to chat with Phil, the owner of Triple-B RV Parks in Texas. He was willing to answer our questions about finding the best campground for your RV trip, plus common mistakes he sees newbie RVers make when it comes time to set up at the campsite. Read his expert tips below!
What are some common mistakes you see newbie RVers make?
Newbie RVers tend to make mistakes, due to lack of experience and patience.
Learn to maneuver your RV – RVs have large turning radiuses. They require significantly more room to turn around, backup, and reposition. They also have back-ends that can swing quickly. Before hitting the open road, practice parking your RV in difficult areas, backing up your RV, or turning it around. Undoubtedly all RVers will eventually get themselves into a tough situation where driving skills will determine success or failure.
Plan your entry – Many RV parks have multiple entries and bi-directional traffic. This is common because RV spots are angled and require an RV to travel the correct direction down a road to be able to park in the site correctly oriented. Make sure to look at a park map (usually available online) to identify the correct entry for your spot.  Sometimes a road might lead you to your correct spot, but from the wrong direction, making it impossible to park the RV. 
Drinking water and sewage don't mix! – Hook up your RV's water first, then sewer. When leaving, pack up the water first, then the sewer. Wear gloves when handling the sewer lines and make sure you take every precaution not to accidentally contaminate the drinking water inside your RV. Use a separate hose to rinse your septic line to prevent contamination. Too many times we witness RVers hook up their sewer first without gloves, then work on handling their water hoses. For a safe and clean camping trip, learn to methodically handle your utilities in the correct order.
What do you wish your guests knew?
10-year Rule – Plain and simple, if your RV is older than 10 years, you can be denied a reservation in many RV parks. The rule is certainly controversial, and often not applied universally without exception. Some RV parks are too busy to discuss details and get photos of your RV before they allow entry. Some just outright reject older RVs, regardless of the quality. So, if you are thinking of purchasing a classy Airstream or a quirky Canned-Ham, you may reconsider!
WiFi vs. MiFi – Many campgrounds offer free WiFi as an amenity. WiFi strength and speed is highly dependent on the speed of the wired connection, amount of users, distance from an access point, and obstructions (such as trees, buildings, or other RVs). If the RV Park starts out with a slow subscription connection, has a lot of users, and positions access points too far apart, WiFi signal can be diminished. We find that complaints about WiFi signal are some of the most common and are difficult to contend with. We recommend that RVers purchase a MiFi device, which is a stand-alone access point to internet. These devices can range from $20 to $100 per month, but provide fast internet connection that is reliable and independent of the Park's subscription. Some parks that offer high-speed fiberoptic will have much better WiFi performance.
What should RVers look for when booking a campground?
RV campgrounds can be hit or miss. High-class private RV parks that are run ethically and professionally usually show the signs of a quality business prior to your arrival. If the website looks professional and the staff answers the phone when you call, that's the first sign that the business is healthy and responsibly managed. Look closely at photos of the park to make sure they are accurately representing the current conditions of the park. If the RV Park has full-time guests, ask if they do background checks on their tenants.  
What's the most popular RV you see at your campground?
We see a wide variety of different RVs at our RV Park. Generally, we see that RVers traveling greater distances and who move around more often are owners of Class-A RVs. Permanent tenants are more likely to have 5th wheels because they are usually roomier.
What amenities are most important to your guests?
Electricity – Most RV parks will provide guests with a 50-amp, 30-amp, and 20-amp electric option for hookup. Most RVs use either 50-amps or 30-amps, and use the 20-amp plug for external use or lighting. You will want to make sure that you know which version of the electrical system your RV has so you can confirm the RV Park can support your connection. Some RV parks only offer a 30-amp hookup, which will mean that a 50-amp RV will require a converter and could overload the electrical pedestal if too much power is consumed. Larger RVs that have two air conditioners on the top are typically 50-amp.
Water – Almost all RV parks will provide guests with running water. Some RV parks have higher than typical water pressures. Water pressure can be a culprit in the leaking or breaking of internal pipes. Most RVers carry a pressure reducer they put on the water spigot to regulate the water pressure entering their RV to a maximum of 40 or 50 psi. The pressure reducer should be installed at the water spigot to protect the hose. Additionally, some RV parks provide users with city water (regulated, sampled, and chlorinated) and some smaller parks simply provide well water. It's important for RVers to ask where the RV park's water is coming from so that they can make sure they are comfortable with consuming it.
Sewer – Not all RV parks provide sewer hookup. Some RV parks will offer spaces with sewer and others without. RV parks that do not have full sewer hookup will often have a "dump station" that will allow users to dump their gray and black water tanks. If you are staying at an RV park that does not have a sewer hookup at the site, make sure you arrive with empty tanks and that your use of water throughout your camping trip is limited.
Laundry – RV Laundry machines are often compact in size. Most RV parks offer coin-operated laundry machines for washing larger loads. If this is important to you, make sure and confirm they have a laundry machine.
The basic amenities are always the most important, but other amenities are also essential, just more RVer-specific. These often include:
Beachside / Lakeside / Riverside / Creekside
Swimming Pool
Restrooms / Showers Facilities
Workout Facilities / Common Areas
Propane Refill Station
Pet Friendly / Dog Run
Rentable Equipment (Tubes, Kayaks, etc.)
Security / Gated Entrance
Walking Trails / Hiking / Extra Property for Exploration
Dirt Bikes and/or 4-Wheelers Allowed
Hunting / Fishing Access
Boating Access / Boat Storage / Mooring
Picnic Tables / Outdoor Grills
Gravel or Paved Pads and/or Roads
Tree Cover
Internet/WiFi and Cable Access
What's the best way to find the right campground?
Website searches over the internet have already become the go-to for finding quality RV parks. Great websites like RVshare.com and their competition websites allow users to easily find parks that fit their criteria and see reviews that are important in decision making. We recommend finding a site or two that you like, and start searching for the best park for your trip.
What is the difference between types of campgrounds (state parks/national parks/public/private)?
Anyone traveling in an RV will learn quickly the difference between a national/state park and a private park. The differences are significant. Private camping grounds, like ours, are becoming more difficult to get accepted at because of background checks, required applications, and site-service agreement. Private parks are more at risk, so it's common to request more information into the background of campers.
Learn even more about public vs private campgrounds.
Please share some tips for camping during the off-season.
The off-season for our park starts around November and ends around February. We have less weekly and daily guests; we have a lot of our permanent guests bunker down for the wintertime.  It's certainly a slower time for all RV parks.  
Check out these off- season summer destinations that'll save you money.
What if you are traveling with pets?
Pet-friendly campgrounds are usually easy to find for the right pet owner. Many of our RVers have pets, and we encourage them to join in the fun! We have had a lot of fun meeting all of the RV pets we bring to our park. Please be mindful of excessive barking and picking up after your pet.
With that said, most RV parks, however, will not allow aggressive pets in the park and will not allow you to tie up your pet outside of your RV unattended. Don't blame the rules on the RV park; most business liability insurance policies require RV parks to have a leash-rule, reject aggressive pets, and proof of vaccinations. Laws stipulate that RV parks are required to allow support animals, support animal will usually require further documentation that can be a hassle to obtain. Liability insurance policies will often require a letter from a doctor for an aggressive pet acting as a support animal.
Anything else our readers should know?
Consider window tint. Sounds minor, but depending on the RV make and model, some RVs don't come with tinted windows. Residential ceramic window tint is the highest quality and can often be used in RVs because the windows are flat. Window tint will drastically change the energy efficiency and the comfort of your RV. It can eliminate hot and cold spots that form, especially toward the front of the RV (on a Class-A). If you don't have quality window tinting, consider getting it.