Mattress
Last updated on May 6th, 2023. Originally published on September 16th, 2019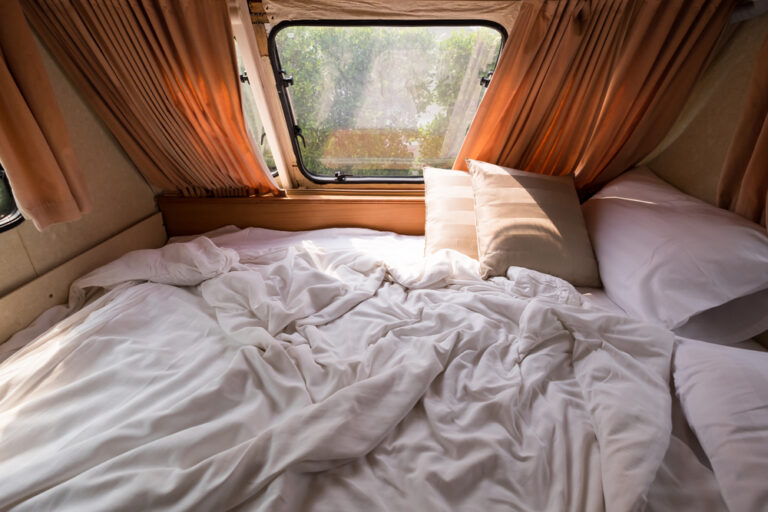 You may have noticed a lot of clever engineering and design in your RV. When your living space is that small, RV designers do everything they can to make every space, and every bit of weight work as hard as it can.
Which means they changed the sizes of the beds.
Difference Between RV Mattress vs. Regular Mattress
RV mattresses differ from regular mattresses in several important ways.
If you've ever tried replacing your RV mattress with a standard-sized one, you already know they aren't the same size. RV mattress sizes are different than standard mattress sizes. Manufacturers shave a few inches off the length and sometimes width of mattresses to eke out as much space as they can in your motorhome.
If you're driving a trailer with a gross trailer weight rating, or GTWR, of, say, 2800 pounds, a 100-pound queen-sized mattress is a significant fraction of your total load. (Don't forget, that number has to encompass everything in your trailer, from fuels and fluids to food.)
Also, RV mattresses tend to be a few inches shorter or narrower than standard twins, queens, or kings. They also sometimes have curved edges or other custom shapes to help them fit into the space. And in some rigs, mattresses have to be thin and flexible enough to bend when the bedroom slide-out comes in.
None of this means you can't put a standard mattress in your RV. You just need to check your total weight and find one that will fit into your bedroom.
If you're in the market to replace an RV mattress, you should know the different RV mattress dimensions to get the right fit. Here's the breakdown:
RV mattress sizes
Twin mattresses
Often, thanks to those space-saving measures, RV twin beds are disguised as seating. Perhaps your dinette turns into a twin bed, or your chair or couch converts into a bed. They may also be arranged side by side or as bunk beds. Twin mattresses do, actually, measure the same as a single bed at home – 39"x75". Twins generally accommodate one adult sleeper, though taller adults may have trouble. They can also accommodate one child…or perhaps two if they're small (just line 'em up in there like crayons in a box!)
Full mattresses
The RV mattress size for full beds is the same as a double bed. An RV full measures 54"x75", while a domestic full mattress is 53"x75", one inch narrower.
Queen mattresses
Oddly enough, there are three different possible queen mattress sizes.
A standard queen measures 60" x 80". In an RV, this is also called a regular queen.
A three-quarter queen mattress measures 48" x 75"
A short queen measures 60" x 75"
If you're shopping for a queen-size RV mattress, be sure you know which of these sizes you need!
King mattresses
A king RV mattress is as long as a standard king (good news for tall sleepers!), but it's narrower. Standard king mattresses measure 76"x80", while an RV king measures 72"x80". If you're sharing a bed, this gives each person the space equivalent of an extra-long twin bed.
How to Measure an RV Mattress
RVs come in so many unique configurations that it's a good idea to measure the mattress ahead of time before you start shopping. That way, you'll know exactly what you need, no matter what the manufacturer decides to call it.
To measure for an RV mattress, follow these steps:
Measure your bed from one side to the other. This will determine the width of the mattress you're going to need
Measure your bed from top to bottom. This will determine the length of the mattress you'll need.
Measure from the top of the mattress area, vertically downward to the frame, or whatever your mattress will be laying on. This will determine the height (or depth) of the mattress. If there are no drawers, swiveling chairs, or other items in the way, and you don't need to worry about a top bunk being too close, you may not need to worry about the height of your mattress.
How to choose the best RV mattress
Once you know the kind of mattress you need, it's time to start looking for the perfect mattress. Camping supply stores like Camping World often sell RV mattresses, and you can find them online at Amazon and Overstock.com as well.
You can also look into having a custom RV mattress made. This is going to be a more expensive option, but it will ensure that your mattress fits exactly.
As with anything you purchase, read about your mattress first and look at reviews on websites or forums. Nothing can replace talking to actual people who have used the product, and you can learn a lot by reading what they have to say. Also, find out the return policy of the store you're purchasing from. Many, but not all, will allow you to return the mattress if you try it out and find it to be uncomfortable or not what you wanted.
Memory Foam RV Mattress
A memory foam mattress for RV-sized beds is often the best option. They are inexpensive, lightweight, and occupy very little space. Another appealing feature of a memory foam mattress in an RV is that the material allows for some alteration to size. Many standard-size mattresses hang over the edges of short sleeping spaces in RVs. With some measuring, a bit of precision, and ideally an electric carving knife, any owner can make any memory foam mattress fit the specific needs of their vehicle's bed platform. It isn't really necessary to spend extra cash on a harder-to-find foam mattress made specifically for an RV when it's easy enough to alter a memory foam mattress.
There are a number of options when it comes to memory foam RV mattresses.
One option is to buy a memory foam mattress topper instead of an entire mattress. They are more cost-effective than a proper memory foam RV mattress and they often add just as much in the way of comfort with far less material.
Types of replacement RV mattress
When looking for a replacement mattress for RV, think about the type of mattress you want. There are many to choose from, but here are some of the most popular.
Foam mattress: These are the most common because they're inexpensive. Standard foam RV mattresses are usually between 5-6 inches in thickness. When you're looking at foam mattresses, you'll want to pay attention to the density of the foam, which ranges from 1-2 lbs per cubic foot. The higher the density, the more capable the mattress will be of handling body weight and the higher quality it will be. If eco-friendliness is important to you, you can also look for soy-based foam mattresses.
Memory foam RV mattress: These are a great option if you're going to be using your RV more often, or if you live in it. Prices for memory foam mattresses are more expensive – from about $399-799. The thickness of memory foam mattresses is around 8", and usually the memory foam is layered on top of a high-density urethane base. As with foam RV mattresses, you want to check the density – on memory foam mattresses it can be anywhere from 2.5-5.3 lbs. Again, the higher the density, the better the mattress quality. Memory foam mattresses can also come with removable covers that you can wash and return to the mattress. Memory foam mattresses can be soy-based or petroleum-based. If you're interested in eco-friendly mattresses, you'll want to go with soy.
Latex RV mattress: Latex mattresses are another good option for people who spend a lot of time using their RV. It's also one of the most eco-friendly RV mattresses available. They're usually between $599-999. They have a layer of latex over urethane foam. You'll want to know whether the latex being used is natural, synthetic, or a blend – with natural being the most desirable. Synthetic and blended mattresses tend to break down quicker. Latex is naturally hypo-allergenic, dust-mite resistant, and anti-bacterial. Some people who suffer from latex allergies, so you'll want to make sure anyone using this bed does not have that issue.
RV air mattress: Air mattresses have come a long way since the leaky, easily popped camping mattresses! They're generally made of a thicker material that holds up much better. Some of them also come with two chambers, so two people sleeping on the same bed can adjust the firmness of their air mattresses to suit each of them. The mattress has layers of urethane, memory foam, or latex on top of the air to provide more comfort and less chance of popping. RV air mattresses can start at $1100 and go up from there. While they are much better quality than the air mattresses of yesteryear, they can still leak. There are generally better mattress options at lower price points than this option.
Benefits of an RV foam mattress
There are several reasons you may want to consider a foam RV mattress. They're usually less expensive than standard mattresses and are lightweight. They're also quite compact and occupy very little space. They can also cool your body temperature, so if you tend to heat up at night, they're a comfortable solution. Gel memory foam mattresses are even better at cooling you off while you sleep, though you may not be able to size those down on your own.
RV memory foam mattress brands
Tempur–Pedic – if you prefer to buy name-brand, this is the memory foam mattress for you! Owners love this brand that made foam mattresses popular. Most of their mattresses fit only in queen-sized beds, and they can cost $2,000 and up. If your RV is your primary residence and you'll be using your bed a lot, it may be worth the investment. You can also look into cheaper mattress toppers – those cost around $300 and get great reviews as well.
Discount Brands – For those who want to spend less, there are plenty of other memory foam mattresses on the market. Big stores like Sam's Club, Costco, and Walmart will sometimes offer RV memory foam mattresses at discount prices. As these are cheaper, and probably lesser quality, check the store's return policy in case you don't like the mattress. You can find a Walmart Spa Sensations full foam mattress starting around $150 – a much lower price point than Tempur-Pedic mattresses.
Memory Foam Solutions is another brand that gets great reviews, and the more expensive Sleep Master makes some products specifically for RVs.
Pay attention to the thickness of your mattress – some of the cheaper mattresses on the market are not as thick. If you have trouble sleeping, you likely want a mattress that's at least three to four inches thick. You can try a thinner mattress, just check with the store to make sure you can return it if you're uncomfortable.
You'll also want to check out the memory foam density – how much "give" your mattress has. Experts recommend mattresses and toppers with at least a four-pound density, especially for mattresses that aren't as thick.
RV mattresses to consider
This mattress has two inches of memory foam and six inches of high-density base foam and comes with a cover to protect it. The open-cell construction evenly distributes weight and keeps air flowing, giving you a cooler sleep. Serenia also compresses and rolls their mattresses to ship, so they're easy to get into your RV. Because of this, keep in mind that you'll want about 72 hours for the mattress to re-fluff and be ready for sleeping after you unpack it. Thanks to the memory foam, the Serenia also doesn't transfer motion. If you share a bed with a restless sleeper you shouldn't be able to feel them tossing. Customers rave about the back support they get from this mattress.
This mattress gets great reviews for the green tea extract and castor seed oil the mattress is treated with, designed to expel bacteria and smells. The foam is good at not absorbing body heat and provides a comfortable rest. It's low-maintenance and should last years. You can also trim the mattress if there isn't a size to fit your bed, which is much cheaper than ordering a custom mattress. Simply order the next size up, and trim the mattress with a sharp knife. The mattress takes about 72 hours to resume its original shape after shipping.

This CoolBreeze gel memory mattress will keep you nice and cool as you sleep. There are four layers, including three pounds of gel-infused memory foam. The mattress also comes with a removable, washable cover. The mattress also offers a 120-day trial and a limited 30-year warranty.

This mattress has two inches of gel-infused memory foam and six inches of high-density base foam under that. The gel foam provides cooling while you sleep. The memory foam is also hypoallergenic and bacteria-resistant. Many reviewers love this mattress for kids' rooms and bunk beds also.

This mattress has a 2 1/2-inch layer of air-infused foam on top of a high-density support base. The mattress is breathable and designed to keep you cool as you sleep. It also comes with a free memory foam pillow. It's also eco-friendly because the manufacturer uses pressure instead of chemicals to keep the foam's physical properties regulated. It's praised for being medium-firm and it doesn't transfer motion, meaning you won't be woken up by a partner rolling over.
Comfortable RV Mattress
Wondering how to make any RV mattress more comfortable?
Well, it's the same secret you probably followed while you were away at college: If you can't change the mattress, then add to it. A deluxe-quality, luxury RV mattress can cost thousands of dollars. But you don't have to shop for the best RV mattresses on the market to ensure you'll get your rest. You can easily purchase memory foam toppers and other additional bedding to make even a so-so RV mattress into a plush oasis. It could even be as simple as buying an egg crate mattress pad… just like you did in the dorm!
Even better, these bedding softeners are widely available at easily-accessed commercial outlets, like Walmart and Target. And even if they're not built specifically for RVs, many of them are easily customizable: Just buy a size up and cut and fit until you have the perfect mattress topper.
Finally, never underestimate the value of high-quality sheets and great pillows. The comfort of your mattress will improve tenfold if you pick sheets with a high thread count and make sure to buy the right kind of pillows for your sleeping style. For instance, those who sleep on their backs tend to do better with softer, thinner pillows so they don't throw their neck out of alignment, whereas those who sleep on their sides need a firmer pillow to fill the space between their shoulder and their ear.
By customizing your bed and making sure you've got the right accessories, your RV mattress can go from so-so to serene.
(And don't forget: if you're really in a pinch, you can always try the fold-out dinette or couch! You'd be surprised at how comfortable some of those sleeping surfaces are.)
What to look for in a queen RV mattress
The first piece of advice from many people to those searching for a queen mattress for an RV is to go for comfort. Whether you're using your RV queen short mattress only on weekend trips, or whether you live in your RV and sleep on your queen short RV mattress every night, comfort is key. Try out your queen RV mattress ahead of time, or if you're custom-ordering, see what the return policy is if you don't like the mattress you ordered.
Breathable mattresses are also important – you don't want to overheat at night while you're sleeping!
Where to buy a short queen mattress for RV
Because these mattresses aren't standard sizes, you aren't likely to find them at a standard mattress store. You're going to have more luck finding your RV mattress at an RV outfitters or online. Places like Camping World stock the proper sizes of RV mattresses, and you can even find them in places like Amazon or possibly Overstock.com.
When you do buy a queen mattress for an RV, be sure to read reviews or talk to others who have purchased the same product. Ask them how they like it, see how they rate it, and get recommendations on good mattresses to purchase. While research is important, there's nothing like talking to someone who has experienced the mattress for themselves and can give you an honest review of it.
Replacing Your RV Mattress
You may find yourself one day needing an RV mattress replacement. Let's face it, RVs aren't necessarily known for their stellar mattresses. Here are some things to consider:
Do you really need to replace it?
The first thing to consider when thinking about an RV replacement mattress is whether you really need one. If your mattress isn't in terrible shape, but is just a little uncomfortable, you may be able to purchase a mattress topper, and sleep just as comfortably as you would with a new mattress.
RV Mattress Cover Versus RV Mattress Pad
You may want either a mattress cover or a mattress pad for your bed as well. While sometimes these two terms can be interchangeable, it's important to note that they actually are two different things. A mattress cover is usually a thinner type of padding that fits over the top of your mattress. It aims to protect your mattress and keep it in good condition for longer.
An RV mattress pad, on the other hand, is designed to add extra comfort to your mattress by providing another layer of softness. It resembles a thin mattress and can contain memory foam for a superior night's sleep.
The Benefits of an RV Mattress Cover
RV mattress covers are ideal for:
Reducing mattress stains
Preventing allergies
Protecting against bed bugs
Preventing against fire (if flame retardant)
Aiding against mattress wear and tear
Where Can You Purchase an RV Mattress Cover or Pad?
You can purchase RV mattress covers and pads in a wide range of sizes and price points. There are plenty of sites dedicated to selling these (just Google "RV mattress cover" or "RV mattress pad), plus you can find heaps of them on marketplaces such as eBay and Amazon.
Before you make your purchase, be sure to measure your bed. After all, no one wants to invest in an RV mattress cover or pad only to have it not fit their actual mattress!
RV Mattress Cover Replacement
After some time, you may notice that your RV mattress cover has wear and tear, stains, or is simply not comfortable anymore. If this happens, don't fret – especially if your mattress underneath is still perfectly fine. You can easily replace your RV mattress cover by purchasing another one to sit on top of your existing mattress. This is a lot cheaper than replacing your entire mattress, so the savings do add up in the long run. Additionally, it's a lot easier to bring a mattress cover into your RV or trailer, than it is to bring in a whole new mattress (especially if it's a queen or king-size!).
How to Care for Your RV Mattress Cover
When it's time to wash your RV mattress cover, we recommend using cold or warm water and putting your washing machine on a gentle or delicate setting. Make sure you use a bleach-free detergent too, as this chemical can damage the waterproof covering. To dry, you can then put the mattress cover into the tumble dryer on a low-heat setting.
Where can I buy RV bed sheets?
Whatever size RV bed sheets you need, you should be able to find them on Amazon. Some listings include multiple sizes, so be sure to keep an eye out for that!
If you can't find something you like on Amazon, you might try camping stores such as Camping World. Another option is to purchase standard sheets that are a bit too big and adjust the elastic, or use bed sheet fasteners to keep them in place.
How much are RV bed sheets?
As is the case with any other sheets, the cost for RV bed sheets will vary based on the quality of the sheets. The price might also vary by size. For instance, you'll likely pay more for camper king sheets than you would for camper queen sheets.
Generally speaking, you can expect to pay a bit more for the odd camper-sized sheets than a more traditional-sized sheet set you can buy from a box store. Most RV sheet sets we've seen cost between $20 and $50.
How do I put sheets on an RV bed?
Now that you have the right-sized sheets in hand, the final step before you can sleep on your super comfortable, well-made bed is to put the sheets on the bed. In many cases, this is easier said than done. If your RV bed is set in a corner or if you have to make up an RV bunk bed, you may be wondering how on earth you're going to get the sheets on the bed at all.
To be honest, there's no easy way to go about it, and you're probably going to end up doing some gymnastics no matter how you approach the thing.
You might want to consider adding tiles to the bed platform, making the mattress easy to slide, and therefore easier to make. Another option is to switch to a memory foam mattress, which is easy to fold and bend, making it possible to move the mattress wherever you need to in order to make the bed.
We recommend starting with the most difficult corner first, sliding and/or lifting the mattress a bit to get the sheet underneath, and then moving to the corner that will be the next hardest. Continue in this manner until you reach the easiest corner.
If you need to add sheet fasteners, do this after the sheet is on the bed so you can smooth and adjust the sheet as needed before pulling it tight. Add the fasteners to the most difficult corner first, just as you did with the sheet.
Other Tips
Want to avoid making the bed for a while? Consider adding multiple layers of sheets with a waterproof cover and a mattress pad between each. This will allow you to pull off one layer at a time when clean sheets are needed.
If you have RV bunk beds, you might have problems with the sheets popping out of place. If this is the case, consider making mattress cases that go on the mattresses like pillow cases. These can't move out of place, solving the messy sheet problem for good.
Another way to make life easier when it comes to your RV bed is to purchase zippered bedding. While yo
Sleep tight!
This post may contain affiliate links.