Uncategorized
September 11th, 2019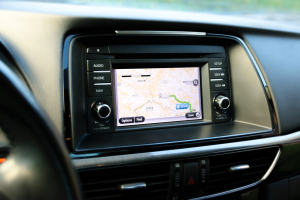 If you love to hit the open road in your RV, then one of the most important products you should invest in is an RV GPS. While a GPS will prevent you from getting lost in the middle of nowhere, an RV-specific brand can do so much more. You see, it can give you the exact location of certain RV-specific facilities and direct you with the size and weight of your vehicle in mind.
If you're looking to finally invest in an RV GPS, or simply want to upgrade your current model, then you're in luck. We're going to share everything you need to know about choosing the best RV GPS, including our Top 5 recommended products.
GPS for RV Use: What to Consider
Installation and mounting
Most RV GPS are mounted to the vehicle's windscreen, allowing the driver to easily glance at the screen without removing their eyes from the road too much. The way in which the GPS mounts to the windscreen can vary, with some models using various types of brackets or fixtures. Ensure that the GPS can be mounted easily, yet is secure during travel.
Screen size
Because you glance at the GPS whilst you're driving, you'll want a screen that's large enough to see clearly, yet small enough to take up little space on your windscreen. Therefore, screen size can play a large role in which model you end up buying. You'll also want to ensure that it has non-glare capabilities.
Ease of use
If you can, have a play around the with GPS functions to ensure they're easy to use and understand. If the manual doesn't seem to help clarify functions or buttons you don't understand, then it's best to consider another model.
Bluetooth
Many modern RV GPS also come with Bluetooth to allow for more convenient functions, such as pairing it up with your smartphone and using hands-free dialling.
Memory
If possible, choose a model which is capable of storing more than the initial pre-loaded maps that come with your purchase. Not only will this help you to travel as widely as you wish, but it also helps with faster loading times and the ability to store frequently-visited places.
Accessories included
Your RV GPS will require a few additional accessories, such as mounting brackets, cases, cables, etc. Does the product already come with these accessories or do you have to buy them separately? Just be sure to factor this into your total cost if they are not included.
Best GPS for RV Travel: Our Top 3 Recommendations
There are countless reviews on RV GPS, meaning that RVers simply don't know where to start sometimes! We've cut through all the noise to give you our top 3 recommendations for the best GPS for RV. These are the results of sifting through endless reviews!
Garmin RV 760LMT with Wireless Backup Camera
When you think of GPS, Garmin no doubt springs to mind. This company has been in the GPS business for a very long time and certainly know what goes into an excellent RV-specific GPS.
This particular model lets you select the specific width and height of the vehicle you're driving to make sure your journey is suitable. Other features include free lifetime map and traffic updates, a 7-inch screen, and "Real Directions", meaning that it uses "landmarks, buildings and traffic lights, rather than hard-to-read street names".
Magellan RoadMate RV9145-LM
Magellan RV GPS are extremely popular and for good reasons too! This specific model has a 7-inch-wide screen which can be securely mounted to your RV's windscreen with its heavy-duty and durable extension mount. Additionally, the device also provides a customizable route for each RV profile and preferred navigation.
TomTom VIA 1625M GPS Navigator
This popular RV GPS from TomTom is preloaded with up to 7 million points of interest, including campgrounds, RV parks, restaurants and banks (just to name a few). Additional features allow you to pick the route with the highest fuel-efficiency, plus it has 800×600 pixel resolution for easy viewing. One downside, however, is that it lacks Bluetooth capacity.
There you have it – our guide to choosing the best motorhome GPS, including reviews and more. RV GPS navigation is a worthwhile investment for your favorite hobby and like all good technology, should last for years and years to come. Happy RVing!
This post may contain affiliate links