RV Owners
April 7th, 2019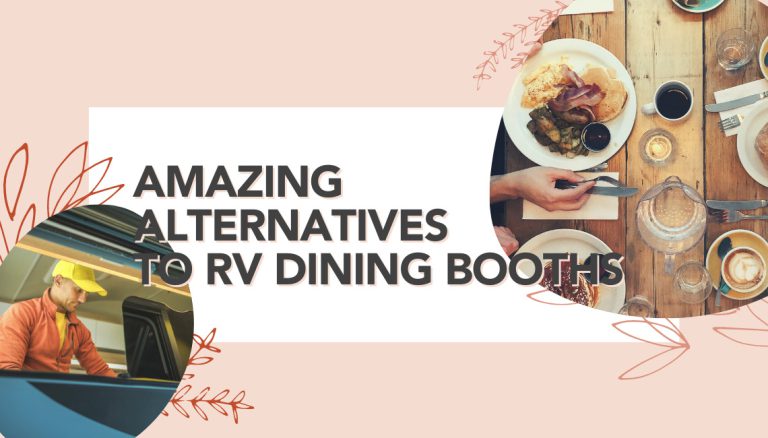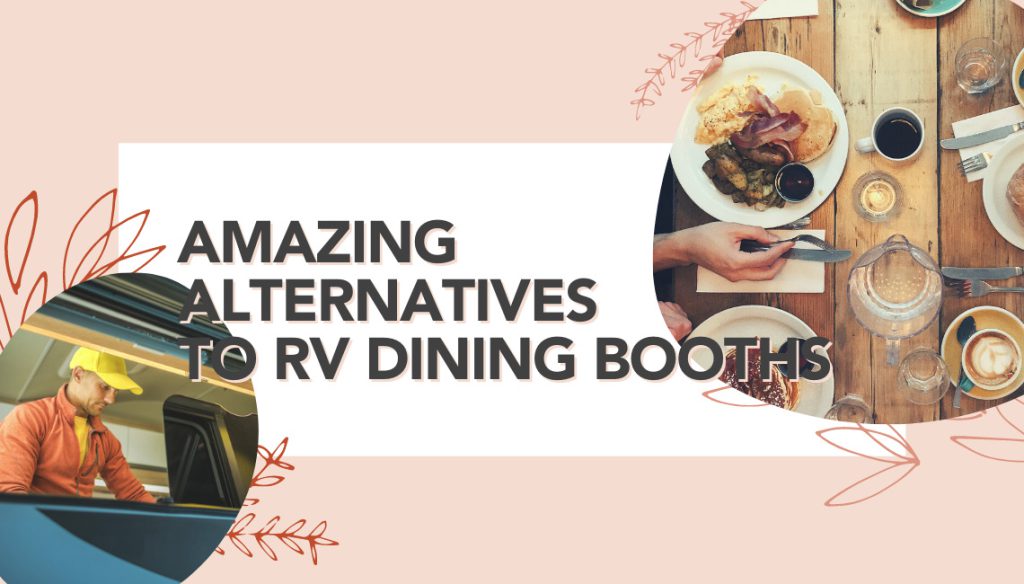 For many campers, the RV dining booth is a pretty major part of the camping experience. Not only is it where you take your meals, but it's also a place to sit down and relax, or even crank out some work if you're busy making money on the road.
But as every motorhome or travel trailer aficionado knows, space in an RV camper is at a premium — and that traditional, booth-style RV dinette set isn't exactly the most efficient use of space in the universe.
As usual, however, the camping community has come up with some super-clever workarounds that save space, increase storage, and make your dining area look cute as a button.
Before we drift away to the alternatives lets take a quick stop in some basic RV dinette info.
What is an RV Dinette?
If you're unfamiliar with what an RV dinette is, don't fret. It's simply the dining area of an RV which often resembles a booth. Your RV dinette booth contains a table in the center, with two seating areas either side (or sometimes, on three sides). Most RVs come with a dinette area already, and it is perhaps one of the most customized parts of recreational vehicles.
The Benefits of an RV Dinette
RV dinette sets are also perfect for:
Eating your meals comfortably
Providing an entertainment area when friends are visiting
A space to work if necessary, as it can also be used as a desk
Displaying your own personal touch (as dinettes are easy to customize with cushions, various fabric, and other décor)
Providing additional sleeping space, as some dinette areas convert into bedding when not in use
Where to Buy RV Dinette Furniture?
We recommend websites Amazon if you're after a bargain that can be shipped straight to you. Other online marketplaces such as eBay are also worth looking on.
A quick Google search of RV dinette furniture in your local area will also bring up a number of retailers specializing in this. You can either buy an already-designed RV dinette set or have them custom-make one to suit your own style and specifications.
While the idea of a brand new RV dinette might have you excited, the price tag might not. If your budget is especially tight, we recommend searching your local classifieds or eBay for used RV dinettes which are up for grabs. RV owners remove and sell theirs all the time, so it's a great way to bag-a-bargain.
RV Dinette Table
 The RV dinette table is one of the most important (and obvious elements), as it just wouldn't be a dinette without one. You can purchase an RV dinette table in a variety of shapes, sizes, and styles, including just about any wood grain you can think of. If wood isn't your thing though, other materials such as plastic, lightweight marble, stone, or laminate might take your fancy.
RV Dinette Chairs
Perhaps the second-most important element are RV dinette chairs, as you'll need somewhere comfortable to sit whilst using your table. These chairs are often made from material, but some RVers also opt for wooden RV dinette chairs with seating cushions for comfort. More basic styles contain standalone dining chairs, while some RV owners prefer theirs to resemble a couch – it just depends on your preferences, available space, and budget!
RV Dinette Cushions
Your RV dinette cushions make up the padded, cushiony part of your RV dinette chairs. Over time, they may wear and tear, but can easily be replaced or reupholstered to look as good as new. When it comes to styles of dinette cushions, the world is your oyster, with just some of the most popular types including leather, suede, linen, velvet, and more.
RV Dinette Bed
Remember how we mentioned earlier that some RV dinette sets can also become additional sleeping spaces when not being used for dining? You can buy specially-designed models that easily fold out into a bed, or some RV owners also convert their existing RV dinette into a bed with a bit of handiwork. These work by utilizing the tablespace in between the dinette chairs and turning the whole space into one large mattress. Clever indeed!
There you have some RV dinette basics, now lets get to some exciting alternatives!
RV Dinette Booth Alternatives
Although the dinette booth is a tried and true RV interior mainstay, there are plenty of other ways to set aside space for taking meals without sacrificing a huge percentage of your floorplan.
Table and Chairs
Let's face it: although booths can be comfortable, they're often a little bit cramped. You can't push back your chair and make more room after that delicious meal has you reaching for your belt buckle.
But if you replace your dinette with a camper table and standalone chairs, you have a lot more wiggle room — both literally and metaphorically. If you need extra space down the line, perhaps to host an event or set up a video game system, you can likely stash those tables and chairs in your under-cabin storage area. The same certainly can't be said of a booth-style RV dinette table!
Expanding Your Storage
Another great thing about choosing the table-and-chairs model over the traditional booth: you've got a great opportunity to add in some more storage!
You can create a sideboard table using two pre-built bookshelves and stools. Not only does this design increase their overall floor space, but it also offers additional shelving space which they use for craft supplies and books. After gluing the shelves together, painting them, and covering the top with wood grain contact paper, a separate long table with a matching finish can be added and set it over top of the shelves, creating a picture-perfect, space-efficient dining area.
More RV Table Alternatives and Suggestions
Here are a few more ways to rethink your RV's dining area!
High-Top Table or Bar Area
Are you the type who, whenever you go to a restaurant, specifically requests to be seated at a high top or in the bar area?
If so, you can reinvent your ideal seating scenario in the comfort of your rig by ditching your dinette booth in favor of a slightly taller solution.
Take out your dining booth and use cabinets and a separate tabletop in order to create a nice, tall dining area. Then purchase some standalone stools, and voila: an instant bartop!
One of the coolest things about this method is that you can use just about anything to create a table or bartop. It just has to be flat, sturdy, and about the right size — which means you may be able to use reclaimed wood or even an old barn door!
The Half-Booth
Maybe you do like your RV's dinette booth just fine, but you're traveling on your own or only with your significant other, and having a whole four-top just seems wasteful when it comes to space.
No problem: save yourself some square footage and elbow grease by only removing half of your RV's dinette booth. Then, you can still be seated at your comfy cozy booth… while adding in extra storage space or floor room on the other side of the table.
Another creative way to use a bookshelf, this time in place of their second dining bench, which could be used to hold extra kitchen items, food, or any other necessary equipment. Plus, you can find bookshelves like that at Walmart, Target, or even on Amazon for well under $100… and they're no big deal to build. (No, seriously!)
Extra Space
Maybe you're not really the type to eat in very often… or when you do, you invariably find yourself seated on the couch anyway.
If so, does it really make sense to devote a big chunk of your living area to a dinette set?
Swap out with the booth for a small (but sufficient) table and chair set, and add in an extra accent chair and some wall art to complete the look. While you're at it, update window fixings and add a throw pillow — major makeovers don't always necessitate major expenses!
Best of all, this new set-up can easily be stored if the owners decide they need the room to do something else with, whether that means hosting a party or having an impromptu dance-off in their rig. (What, you've never done that? You should try it. Trust us on this one.)
Make your RV kitchen shine
Your RV dinette set is just one small part of a larger (and very important) living area: your RV kitchen. 
That's why we've written a ton of content about hacking your RV kitchen by using the right accessories and tools to ensure you've got the gear you need in the storage space you have at hand. For lots of ideas about how to make even a tiny RV kitchen feel luxuriously large, check out the following RVshare blog posts:
Even More RV Furniture Hacks
As you can see, there are tons of ways to rethink the tried-and-true dinette set model. Whether you opt for a pre-built bar and chair set or invent your own novel solution, one of the coolest things about purchasing a motorhome or travel trailer is making your RV your own. After all, it's supposed to be a home away from home, right?
But it might not just be your RV dinette set that needs an update! Depending on how you use your rig, you may also want to rethink your pull-out sleeper sofa, bunkhouse beds, and more.
The sleeper sofa situation in particular is a great example. Although these set-ups are really convenient if you're trying to sleep as many people as possible in your rig, if you're traveling with a small party, they're just unnecessary — and could easily be replaced with some super-luxurious reclining chairs in which to sit back and enjoy your onboard entertainment system. Or if you are traveling with more than a couple of people, especially for the long term, you might want to remove the couch and invest in an actual bed for that area. (After all, sleeper couches are convenient, but no one ever accused them of being the most comfortable bedding option on the planet.)
No matter where you are on your RVing journey, we hope you feel empowered to make your rig your own — or are brainstorming some creative ideas for renovations, remodels, and upgrades for your future travel trailer or motorhome.
Of course, it's also just plain-old fun to look through remodeling options and see what other campers have come up with… which is why we've written about these kinds of makeovers a time or two here on the blog before! So if you're looking for even more inspiration (or just to drool over some great-looking rigs), here are a few more posts to check out.
Happy remodeling… and, of course, camping!
*This post contains affiliate links. RVshare may receive compensation if you make a purchase after clicking on a product link.