RV Dinette – Read This First Before Buying Anything
Kitchen
September 11th, 2019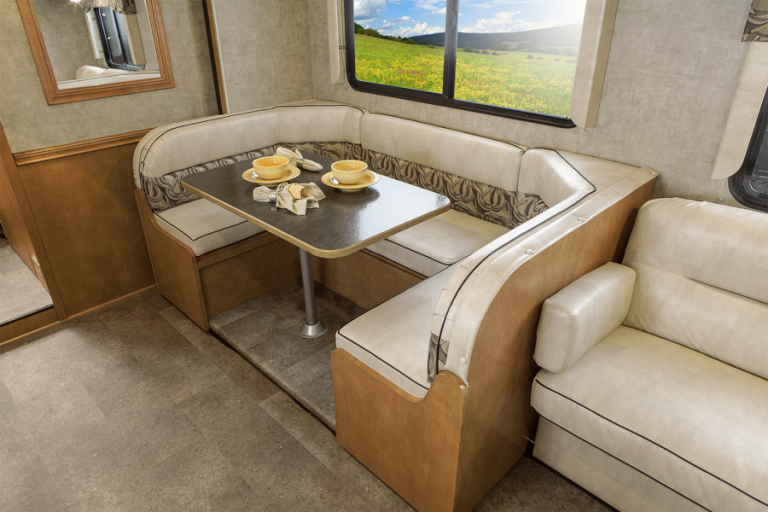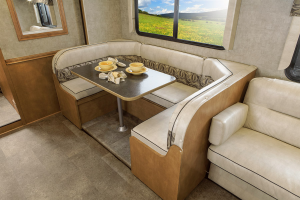 Whether you entertain guests whilst traveling in your RV or not, you'll still want a comfortable and stylish place to kick up your heels (especially after hours of driving).
An RV dinette is just one of the most popular seating options within your motorhome, so we're going to tell you everything you need to know about it!
What is an RV Dinette?
If you're unfamiliar with what an RV dinette is, don't fret. It's simply the dining area of an RV which often resembles a booth. Your RV dinette booth contains a table in the center, with two seating areas either side (or sometimes, on three sides). Most RVs come with a dinette area already, and it is perhaps one of the most customized parts of recreational vehicles.
The Benefits of an RV Dinette
We mentioned how an RV dinette was necessary for winding down after a long day of travel, but what other benefits does this area offer? RV dinette sets are also perfect for:
Eating your meals comfortably
Providing an entertainment area when friends are visiting
A space to work if necessary, as it can also be used as a desk
Displaying your own personal touch (as dinettes are easy to customize with cushions, various fabric, and other décor)
Providing additional sleeping space, as some dinette areas convert into bedding when not in use
Where to Buy RV Dinette Furniture?
If you like the sounds of an RV dinette and have decided your own motorhome is in need of one, then there are plenty of places you can buy RV dinette furniture from. We recommend websites Amazon if you're after a bargain that can be shipped straight to you. Other online marketplaces such as eBay are also worth looking on.
A quick Google search of RV dinette furniture in your local area will also bring up a number of retailers specializing in this. You can either buy an already-designed RV dinette set or have them custom-make one to suit your own style and specifications.
Have You Considered a Used RV Dinette?
While the idea of a brand new RV dinette might have you excited, the price tag might not. If your budget is especially tight, we recommend searching your local classifieds or eBay for used RV dinettes which are up for grabs. RV owners remove and sell theirs all the time, so it's a great way to bag-a-bargain.
RV Dinette Table
Now that we've discussed the importance of RV dinette sets, as well as where you can buy one, it's time to turn our attention to the many different elements that make up a dinette. The RV dinette table is one of the most important (and obvious elements), as it just wouldn't be a dinette without one. You can purchase an RV dinette table in a variety of shapes, sizes, and styles, including just about any wood grain you can think of. If wood isn't your thing though, other materials such as plastic, lightweight marble, stone, or laminate might take your fancy.
RV Dinette Chairs
Perhaps the second-most important element are RV dinette chairs, as you'll need somewhere comfortable to sit whilst using your table. These chairs are often made from material, but some RVers also opt for wooden RV dinette chairs with seating cushions for comfort. More basic styles contain standalone dining chairs, while some RV owners prefer theirs to resemble a couch – it just depends on your preferences, available space, and budget!
RV Dinette Cushions
Your RV dinette cushions make up the padded, cushiony part of your RV dinette chairs. Over time, they may wear and tear, but can easily be replaced or reupholstered to look as good as new. When it comes to styles of dinette cushions, the world is your oyster, with just some of the most popular types including leather, suede, linen, velvet, and more.
RV Dinette Bed
Remember how we mentioned earlier that some RV dinette sets can also become additional sleeping spaces when not being used for dining? You can buy specially-designed models that easily fold out into a bed, or some RV owners also convert their existing RV dinette into a bed with a bit of handiwork. These work by utilizing the tablespace in between the dinette chairs and turning the whole space into one large mattress. Clever indeed!
There you have it – our complete guide to an RV dinette. We hope this article has taught you everything you need to know about RV dinette sets, particularly before buying or upgrading your own!
This post may contain affiliate links.