Travel Inspiration
February 2nd, 2021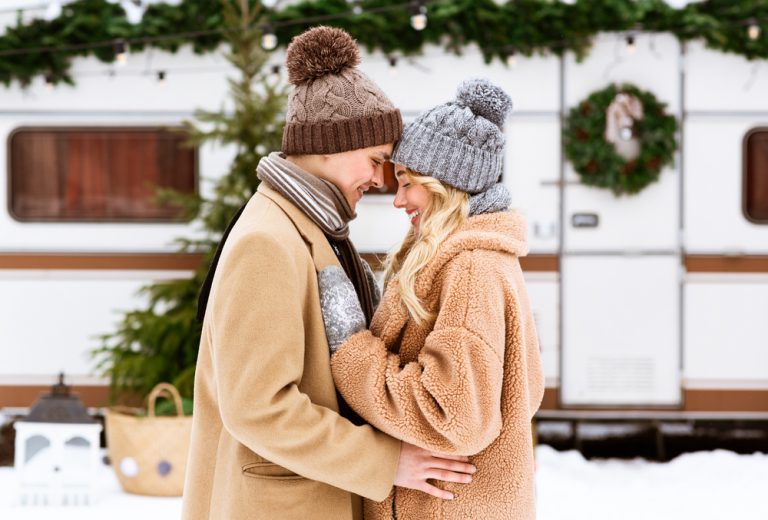 One of the best ways to show your significant other you care is by taking them on an RV trip. After all, what could be better than sleeping under the stars with the one you love? Whether you're looking for a way to celebrate Valentine's Day, a special anniversary, or just the fact that you're together, getting away from the hustle and bustle of life in an RV together is the perfect option.
Of course, you'll likely want to have a date night (or day) or two during your special getaway. Fortunately, there are many great ways to spend time with the person you love while RV camping. 
Below are a few of our favorite RV date ideas. Why not pick and choose a few of these?
Going Out
Want to take your honey out for a bit? If you're camping in the middle of nowhere, there may not be a lot of restaurants or other typical date night places around. That said, Mother Nature has plenty of romantic date options up her sleeve. These are all free (or incredibly inexpensive), help you connect with nature as a couple, and best of all, will ensure you make memories together. 
Take a Hike
Hiking is easily one of the most wonderful ways to spend time in nature. This is a great activity to do on your own, but is even better when experienced with someone you love. There's just something magical about holding hands while walking through a gorgeous wilderness area and sharing the sights, smells, and beauty of it all with your favorite person. 
Hop in a Boat
Kayaking (or canoeing) is another great outdoor activity. We especially like this option as a date because it requires the couple to work together, something that will make their bond that much stronger. As an added bonus, sitting in a canoe or kayak with your date will put you pretty close to one another, something that's always nice when on a date. 
Have a Picnic
A romantic picnic is an absolutely wonderful way to treat your loved one. Pack up a basket with a blanket, a lovely charcuterie board, and a bottle of wine, and get ready to have a wonderful time eating while enjoying each other's company in the beautiful countryside. To add to this experience, consider timing it just right so you're picnicking together as you enjoy the sunset. 
Do Some Stargazing
Staring into the night sky and marveling at the vastness of space together will bring any two people closer together. For this reason, we feel that stargazing is perfect date night material. This is especially true if you find yourself in the wilderness where the night sky is clear and the stars shine extra bright. 
Staying Home
Prefer to enjoy your date in the comfort of your own campsite? This is totally possible! There are plenty of romantic ways to spend time together while in your campsite, and none of them are over-the-top elaborate. Instead, they are simple, enjoyable activities that will allow you to make memories together while also becoming closer as a couple. 
Grill Up a Delicious Dinner
One of our favorite things to do while camping is fire up the grill. Usually, we will make burgers or hotdogs. However, for a campsite date night, we recommend getting a little fancier with some high quality steaks, grilled veggies, a bottle of wine, and some sort of delicious dessert to round things out. 
Build a Campfire
There's something very warm and cozy about sitting around a campfire that tends to bring people closer together. Whether you choose to build the campfire for your loved one or you work together as a team, you are both sure to love sitting near it, swapping stories, reminiscing, and laughing together. 
If you want to up your game, consider packing supplies to make s'mores that you can enjoy together. 
Play a Game
Everyone loves a good board game. Why not have a game night with your significant other? Pick a few good games (we really love Trekking the National Parks for RV trips), add some snacks, and you have a date night to remember. 
This is a fun way to get to know one another better, and since games can be played inside or outside the RV, it won't matter what the weather decides to do. 
Have a Movie Night
Finally, there is the option of snuggling up to watch a movie together. This is another date night that can happen indoors or outdoors with the use of a projector. It's a great option because it allows you to get cozy and relax together after a long day of adventuring.
For RV movie nights, we really like to watch RV-related movies such as The Long, Long Trailer and RV.
Romantic Destinations
Not sure where to go on your romantic RV adventure? Pretty much any beach or wilderness area is sure to be romantic. However, those looking for more specific ideas might appreciate the options listed below. 
Hershey, PA
For many, chocolate is the language of love, especially around the Valentine's Day holiday. Therefore, it only makes sense to take your love on an RV date to the city best known for its chocolate: Hershey, Pennsylvania. 
Napa Valley, CA
Prefer wine over chocolate? Napa Valley in California might be the place for you. Enjoy gorgeous weather and plentiful wine tastings with your significant other in this lovely part of the country. 
St. Augustine, FL
St. Augustine is another romantic destination. This city is home to the "Love Tree" which is said to bring good luck to couples who stand beneath it. You'll also find beautiful ocean views and plenty of wonderful dining in this pretty place. 
Bar Harbor, ME
Lastly, there is Bar Harbor, Maine. This adorable town is filled to the brim with New England charm, making it the ideal place to take a stroll hand-in-hand. Additionally, it is right outside of the gorgeous Acadia National Park. 
May contain affiliate links.