Read This: RV Step Covers, Slide Out Covers, and More…
RV Parts & Accessories
Last updated on August 19th, 2022. Originally published on May 4th, 2015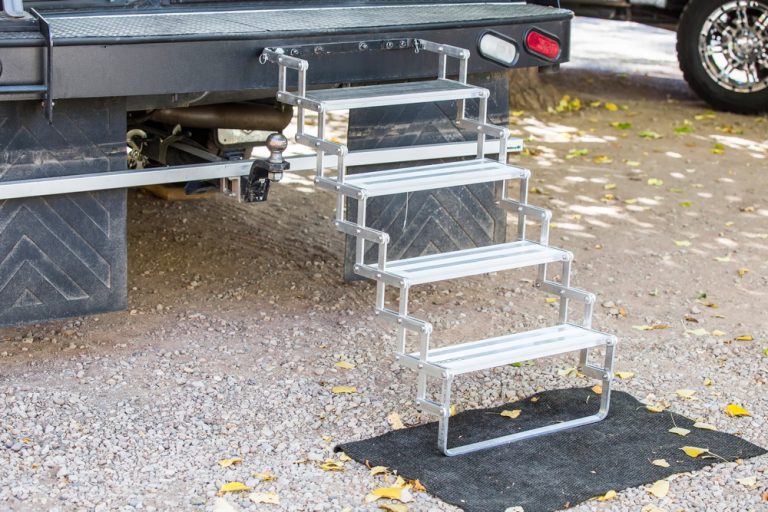 RVs are expensive. Therefore, you'll want to do everything you can to take good care of yours. One of the very best ways to protect your investment and ensure it lasts for years to come is to use covers.
RV Step Covers
Let's begin with RV step covers. More than protecting your steps, these handy little rug-like covers protect your RV floors. They do this by helping to knock excess dust, dirt, and debris from your shoes before you walk inside. They also feel nice under your feet and may even help you avoid slipping on rainy or snowy days.
RV Air Conditioner Covers
RV air conditioner covers are great for protecting your rooftop A/C unit when not in use. They keep out bugs and debris, and protect the plastic shroud from sun damage. Additionally, these covers are excellent for keeping out cold drafts when camping during the winter.
RV Furniture Covers
Purchasing the right shrouds to protect your RV furniture is crucial to extending the life of your rig. Specially made RV cushion covers can be ordered from shops such as this one, and RV mattress covers can be found at any camping supply store. These items will help keep upholstered surfaces clean and free of rips and stains.
RV Dash Covers
If your rig is a motorhome, RV dash covers are an excellent accessory for you to invest in. Not only do these nifty covers protect your dashboard from the sun's harsh rays, they also reduce the amount of light and heat reflected off of the dash, making time spent in your RV even more comfortable.
Check out our 5 Best RV Steps for Camper and Trailers blog for more!
This post contains affiliate links. RVshare may receive compensation if you make a purchase after clicking on a product link.