RV Decor & Unusual RVs
September 18th, 2015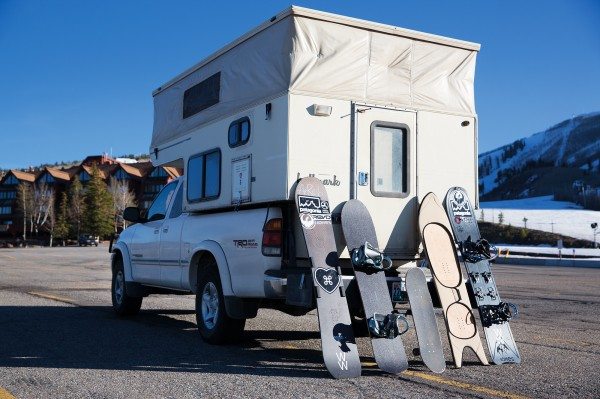 Snowboarding gets expensive, especially if you spend every free moment on the mountain. That's why Alex Yoder decided to stop paying rent and buy a $1,700 Hallmark Pop-Up Truck Camper. Now he lives like a hermit crab. Everywhere he goes, Alex takes his house with him.  At the end of a long day on the mountain, walking right into your home is an epic feeling.

Alex's pop-up truck camper came with a built-in furnace, but he replaced it with a catalytic heater, which uses little propane and keeps his home on wheels very warm. Even if the storms are raging outside, inside he stays comfortable and cozy. The camper isn't big and it's hard for more than one person to move around at a time, but you can sleep up to four in a pinch.
Alex has a tiny kitchen with a 10 gallon water tank and he added a board box on the back of the camper to hold his snow gear. Hallmark RV manufactures a full line of low profile campers perfect for living off the grid. These go anywhere campers have been manufactured since 1958, and numerous models are available, including short bed and long bed options. Hallmark Pop-Up Campers go beyond the campground and are truly built for adventure. Stop by their Fort Lupton, Colorado plant and take a peek!
Source: Transworld Snowboarding