Planning an RV Trip To Canada: How To Prepare with AsoboLife
Travel Inspiration
October 6th, 2022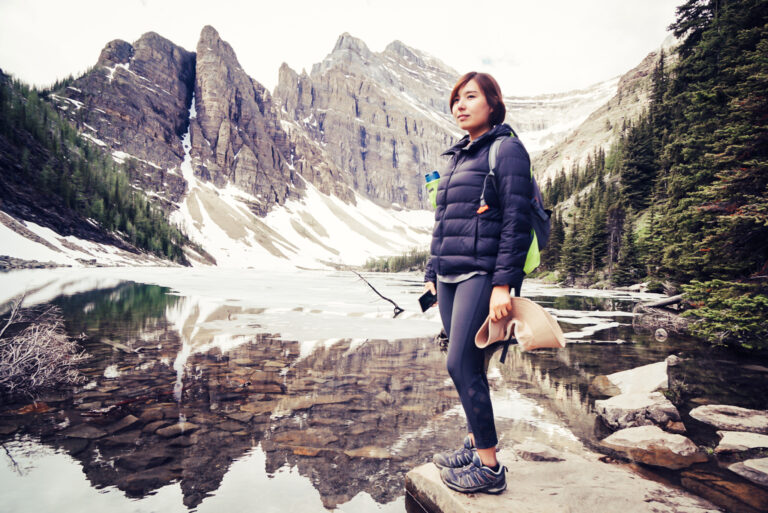 Bringing your RV to Canada isn't nearly as cumbersome as you might think. With the proper paperwork and planning, you can travel to that 'beautiful country up north' with your own tiny home on wheels.
We spent 3 months traveling Canada in our own camper and share some of our biggest tips with you below.
Official Documents & Paperwork
Preparation is key and you don't want to show up at the Canadian border missing anything. In order to get you and your RV physically across the border to Canada, you'll need the following documents.
Passports – Make sure you and everyone traveling with you has a valid passport or another acceptable international travel document, like a NEXUS card.
Driver's License – A valid driver's license is also required to legally operate the RV while in Canada.
Vehicle Registration – Before departing for Canada, make sure your RVs registration is valid and up to date.
Vehicle Insurance – Ensure that your RV's insurance covers travel to Canada.
Additional Rental Documents – If you are crossing the border with a rented RV, make sure to bring copies of the booking receipt, insurance certificate, and rental agreement.
Pet Paperwork – If you are bringing a pet, bring their vaccine history certificates. If it has been over a year since your pet's last vaccination, make sure to visit a vet to get them updated.
Towing something? Make sure to bring the appropriate insurance and registration for ALL vehicles. This includes dinghys, 5th wheels, and any cars or boats you might be towing along.
Border Preparation
But getting your travel documents in order is just the first step. You should also be 100% prepared when you finally meet the Canadian immigration officer. After all, it will be this person's final decision whether or not to let you into their country.
To ace this informal interview process, be sure to know the following:
Canada Travel Itinerary – Have a detailed memorized plan about where in Canada you will be visiting and the approximate dates you will be in each place. Even better if you have a printed itinerary. Immigration officers like to see that you are prepared and actually intend to be a tourist in their country.
Campground Reservations (if any) – If you have any campsite reservations, be sure to have them printed and present them to the immigration officer if requested.
What You CAN'T Bring – As an RV traveler, you have a higher chance of getting an agricultural inspection. Be sure to avoid bringing plants, fresh produce, dairy products, and non-pet animals across the border.
Alcohol Is Permitted – As long as you are bringing in less than 24 cans of beer, 1 bottle of liquor and/or 2 bottles of wine, you can bring your own alcohol into Canada, tax free.
Pet Food Is Permitted – As long as the pet food is unopened and inside its original manufacturer's packaging, it is OK to bring pet food into the country.
Money & Banking
You can bring less than $10,000 legally into Canada. But dealing with currency conversions is a hassle. That's why recommend the following:
Use Your Debit Card At ATMs
Your USA debit card will work at most major bank ATMs in Canada. However, you will want to notify your bank that you are traveling to Canada and intend to use your card there. This is to prevent your bank from misidentifying your ATM transactions as fraud and freezing your debit card.
Use Your Credit Card
Your USA credit card will also work in Canada. Just make sure to also notify your bank ahead of time for the same reason as with your debit card.
When we traveled to Canada, we almost always used our credit card whenever it was possible. Even if our card charges us a 2-3% international transaction fee, it still saves us money when compared to paying ATM fees or converting our US dollars at an unfavorable conversion rate. 
Download Useful Apps
Of course, traveling is made much easier these days when using the right smartphone apps. Below are the top 3 apps we used during our road trip through Canada.
iOverlander – This is one of our most favorite apps for locating both paid campgrounds and free boondocking locations. This is also a great app for locating propane shops, mechanics, water stations, and inner-city parking.
https://www.brmbmaps.com – If you like exploring the backcountry with your RV, BRMB maps has you covered with detailed maps including where you can fish, hunt, paddle, and go off-roading with your ATV.
Flying J – Though not nearly as ubiquitous as in the USA, Flying J still has numerous locations all across Canada that provide RV friendly services such as gas and propane refills, dump services, and overnight sleeping. Use the app to locate their service stations.
Phone & Internet
Just because you're traveling to a different country doesn't mean you have to go without Internet. In fact, getting on the Internet these days is easy if you know where to look. Below are our top three options to stay connected while RVing in Canada.
Cell phone plans – You can purchase an international data roaming plan from your US cell phone provider. If high-speeds aren't important to you, T-Mobile does offer free unlimited 128Kbps speeds when traveling internationally.
Starlink – For the most technologically advanced connection to the Internet, check out Starlink. If you can stomach the pricey startup costs, you can get extremely high-speed Internet access virtually anywhere in Canada.
Tim Hortons – If you just require intermittent Internet access, you can always head over to Tim Hortons (Canada's version of McDonalds). The coffee is cheap, donuts are delicious, WIFI is fast, and a Tim Hortons store is never too far away from you.
Canada National Park
No visit to Canada is complete without camping at several of their National Parks. Here are our top three tips when planning to visit Canada's national parks (especially during peak summer season).
Decide which to visit – With over 35+ National Parks in Canada, making a list of your top parks to visit is important. And decide how many days to spend in each park.
Reserve camp spots in advance – With a basic itinerary, you can go online to start booking your camp spots in each National Park. You will want to do this especially if you plan to visit Banff National Park in Alberta. If you miss out on a camp spot, you will be sent to an overflow parking lot for RVs, which isn't nearly as nice.
Buy a national park pass – If you plan to spend more than just a few days at any of Canada's National Parks, consider getting an annual family pass (~$145). This can also help you skip long lines to purchase the daily passes.
Additional Tips
Below are our top three additional tips when taking an RV trip to Canada.
Learn the metric system – Once you cross the border, gone are all the units of measurement that you've been familiar with. Learn basic conversions from miles to kilometers and gallons to liters.
Gas up before crossing the border – Gas and diesel are more expensive in Canada. Be sure to fill up in the US just before crossing over.
Walmart For Free parking – Just like in the US, you can also overnight at many Walmarts when in a pinch. But it's best to consult with the manager beforehand if you're unsure.
Conclusion
Thanks for reading! We hope this post inspired you to take your own RV, or a rented one from RVshare, up to Canada. We loved our 3 months traveling across the country. The people were friendly, the country was safe, and the natural landscapes were mind-bogglingly stunning. We're certain you will enjoy your trip, too.
How To Contact Us
For more campervan living & building tips, check out our blog: www.asobolife.com.
We also love getting mail! For any questions or comments, please send us an email at
Or for more on our current Pan-American road trip to Argentina visit us on Instagram: @asobolife.