RV Owners
January 25th, 2021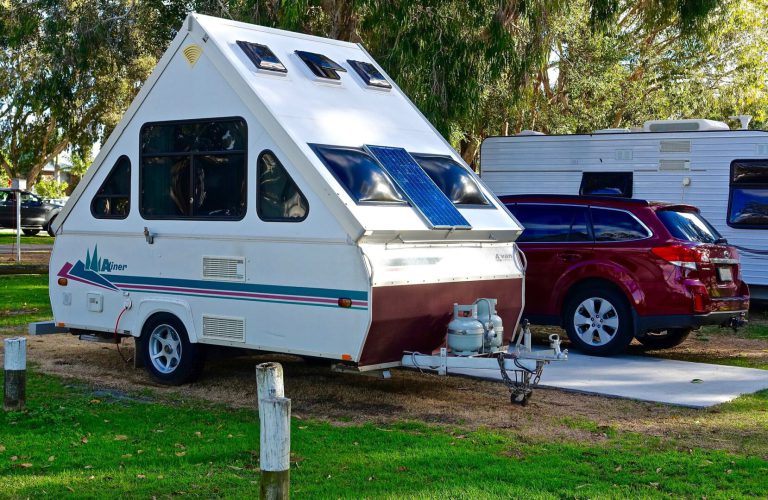 As a new RVer, you might find that one of the most overwhelming things you must do during a camping trip is picking the bets campsite. Some campgrounds make this easy by assigning sites based on the size of your RV (and other factors), but many campgrounds are first-come, first-served, leaving you to do the work of figuring out what works for you and your rig. 
If you arrive at your campground and find out you have to choose your own site, don't stress. Instead, consider the following criteria in order to ensure you choose an excellent site for your camping getaway. 
Consider Length
The first thing to consider is the length of your rig versus the length of the campsite you're considering. Obviously, your RV needs to fit into the site. It's also a good idea to ensure you'll have a place to park your tow vehicle if you have one.
Since it can be hard to tell how long a given site is merely by looking at it, you might want to ask the office if they have a map or site list that includes site lengths.
Don't Forget the Slides
In addition to the length of your trailer or motorhome, you'll also want to consider the width when picking the best campsite. Obviously, all RV sites will be wide enough for the standard 8½-foot-wide rig. That said, if your RV has slides—and especially if it has slides on either side—it might actually need much more than that 8.5-foot width.
Take a look around when pulling into your site. Is it wide enough? Are there trees or other obstructions in the way of the slide(s)? Can you move forward or back to avoid obstructions?
Look for Level
Unless you stay only in upscale RV resorts, very few campsites you come across are going to be perfectly level. That said, the closer to level you can get, the better off you're going to be.
Avoid sites with huge ruts where your tires will be, as well as sites that are clearly on an incline. When you park, use a bubble level to ensure you're nice and level. If you are a little bit off-kilter, use leveling blocks to even things out. 
Think about Amperage
If you have a smaller trailer or motorhome, chances are you have a 30-amp rig, meaning you can park in any RV campsite and plug in. If the site is 50-amp only, you can use an adapter to plug in without any consequences.
That said, those with larger rigs might need 50 amps. In these cases, you will either need to look for a site that offers a 50-amp plug or carry a 50-to-30-amp adapter and learn to closely monitor the amount of electricity you use in order to avoid tripping a breaker.
Check Your Hookups
Once you confirm that a site has the right electric hookup for you, you will want to check that outlet using a receptacle tester in order to ensure the wiring is correct and it's safe to plug into. Note that even if the tester does declare the outlet safe, it's still a good idea to use a surge protector when hooking up.
In addition to checking the electrical hookup, it's also a good idea to check the water spigot and sewer hookup when picking the best campsite. This will ensure everything is in working order before you go through the trouble of backing into a site and setting up.
Know Your Preferences
Once you cover all of the basics mentioned above, the final things to consider are your preferences. If you've never camped before, knowing your preferences can be difficult, and you'll just have to guess at what you might like. That said, those who camp often likely have a long list of little things they prefer when finding a site.
Some things to consider as you look for a site include:
Do you prefer to have the shade of trees, or would you rather avoid the risk of a branch falling?
Will you use the bathhouse? If so, do you prefer to be close or would you rather not have the bathhouse traffic near your site?
Would you like to be near the entrance/exit of the park, or do you prefer to stay away from the higher-traffic areas?
If available, do you want a waterfront site, or are you worried about flooding or kids falling in?
Do you need extra space in front of your site for a canopy, kids' toys, or other items?
These tips are great to have if you already know what RV park or campground you'd like to stay in And just need help picking the best campsite. That said, they are very little help if you still aren't sure what campground to go to. In this case, you'll want to reference this post in order to ensure you choose an awesome RV park before you worry about choosing the ideal site. 
Need an RV so you can stay in the perfect campsite at the perfect RV park or campground? Lucky for you, we have plenty of amazing rental motorhomes and travel trailers available in locations all across the country. Check out your options and get something booked today!
May contain affiliate links.