Travel Inspiration
Last updated on April 4th, 2023. Originally published on July 1st, 2015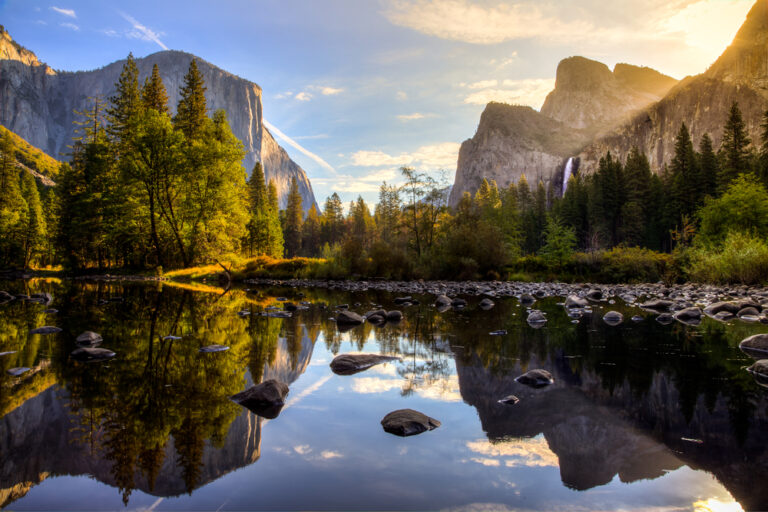 California is not only a massive state, but also one of the nation's most geographically diverse. Due to its impressive and varied terrain encompassing grand mountains, wild coastlines, and populous cities, it's difficult–if not impossible–to experience all that the state has to offer in one short vacation.
There is an RV vacation itinerary, however, that comes about as close to fitting in the whole picture of California as possible in a single week-long vacation.
The tour, fittingly named California Dreamin', is offered through El Monte RV Rentals. The itinerary travels in a circle around the center of the state through some of California's most popular attractions including both bustling urban cities and peaceful rural locales.
California Dreamin'
Guests who sign up for this grand tour will spend either ten or eleven nights in a rental RV traveling roughly 1200 miles to over a dozen of California's most popular destinations.
Disneyland
The trip begins at the El Monte RV Los Angeles location in Santa Fe Springs, where you'll get acquainted with your temporary home before departing for the nearby Anaheim RV Park. Shuttles for Disneyland leave the park grounds every twenty minutes, so it's exceptionally easy to visit the happiest place on earth before returning for some shut-eye.
Sequoia National Park
The next day vacationers leave Orange County and travel through the agricultural superpowers and urban centers of the Central Valley to the Sequoia RV Ranch. With 21 acres of property to explore and a spring-fed swimming hole, you could spend the entire day relaxing at the park. Or, you could head just a few miles down the road to the massive old-growth forests of Sequoia National Park. Here you will find General Sherman, a giant sequoia named as likely the world's largest living organism.
Yosemite National Park
Get ready for another thrill on day three as you travel from Sequoia National Park to its even more famous neighboring attraction, Yosemite National Park. After driving through the myriad charming mining towns of the Sierra Nevadas, you'll dock in one of the many national park campgrounds in Yosemite Village on the floor of the valley renowned worldwide for its natural beauty.
San Francisco
Day four takes you from the west entrance of Yosemite National Park all the way to the coastal city of San Francisco. Leave the RV at the Candlestick RV Park, conveniently located along the bay in the city's southeast corner. Hop aboard a round-trip shuttle bus for $12 and enjoy your day in the beautiful metropolitan city. Plan ahead, because there's always lots to do in San Francisco!
The Monterey Peninsula
Days five and six allow a break from all those long travel days. You'll stay at Moss Landing KOA on the rugged central coast, perfectly situated between the beautiful beach communities of Santa Cruz and Monterey. This is the perfect time to enjoy some fresh seafood, world-class beach combing, and maybe even get in a round of golf.
Big Sur
On Day seven, enjoy a leisurely drive south on one of America's most scenic roads, the Pacific Coast Highway. You will pass through Big Sur, the most famous section of the highway. Take your time and explore the area, admiring the bright blue Pacific to the west and the dramatic forested cliffs to the east, before settling in at Fernwood Resort just off the road.
San Simeon
Continuing south on the Pacific Coast Highway on day eight you may want to stop to for a short hike on the McWay Falls trail in the Julia Pfeiffer Burns State Park. Here you will discover an impressive waterfall that drops to the sandy beach below and flows out into the sapphire-blue waters. The destination for the day is the coastal town of San Simeon where you will discover another of California's most iconic sites — an intricate architectural marvel called the Hearst Castle.
Pismo Beach
Another day of stunning seaside scenery awaits you on day nine. You'll drive 60 miles south past Morro Bay State Park and into Pismo Beach, a relaxing community renowned for its coastal dunes and water sports, as well as the surrounding golf courses and magnificent monarch butterfly groves to the south.
Malibu
From there, it's a four-hour journey to Malibu and the renowned Malibu Beach RV Park, where every site has either an ocean or mountain view. Beyond exploring the beach by foot or by surfboard, you'll want to keep your eyes peeled for marine life, or maybe even a Hollywood star or two.
Back to Santa Fe Springs
Finally, you've come to the final day of your trip, when you only need to make a two-hour drive through morning traffic (no California visit is complete without it) back to Santa Fe Springs before 11 a.m.
Are You Ready for the Trip of a Lifetime?
It's difficult to even summarize such an eventful trip. This itinerary will most certainly keep vacationers busy, and it will also provide them with the trip of a lifetime around the beautiful Golden state that we call California.
To find out more about the prices and dates for this trip, visit El Monte RV Rental.