Travel Inspiration
Last updated on January 19th, 2023. Originally published on April 9th, 2019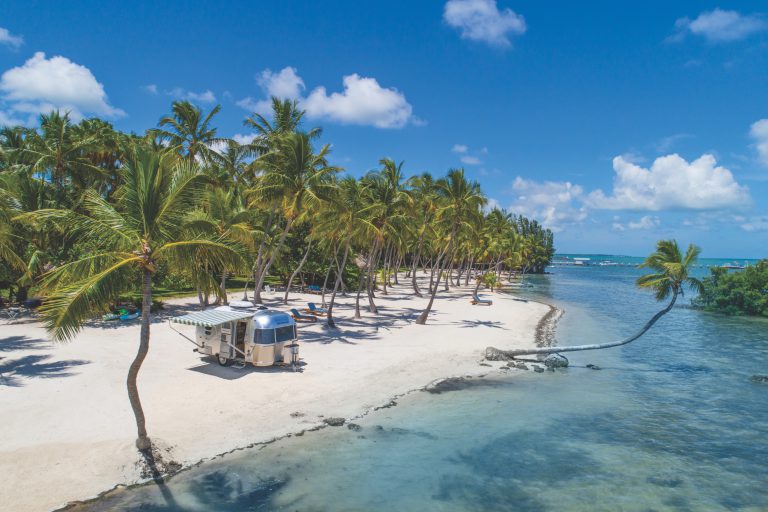 At RVshare, we're always looking for new ways to make your travels better than you'd ever expected — and one of our most recent developments is especially exciting in that regard.
We're pleased to announce that RVshare now offers one-way RV rentals! And if you're not quite sure how that works or why you'd want to take one, well, trust us: this option unlocks a whole new world of potential destinations.
Why One-Way RV Rentals?
So: why book a one-way motorhome rental? You have to get back where you started from at some point, right?
Well, actually, not always. One of the reasons people book one-way RV rentals is to turn a big, cross-country move into a vacation.
But even if you're not on the cusp of a major relocation, there are plenty of reasons taking a one-way road trip is an attractive option. For one thing… well, some of these epic routes are already a lot of driving, even before you turn around and retrace your steps, to say nothing of the expense involved in fueling that kind of journey.
Beyond literal fuel — which can already rack up a pretty ridiculous price tag — you've also got camping accommodations, food, and, of course, rental cost itself to think about. (And even when you're saving money by renting a one-way here at RVshare, we all know keeping a roof over your head and wheels under your feet ain't free by any means!) What's more, most of us have to actually work for a living — and to afford all these grand adventures. You might not be able to get the time off you need to take these routes forwards and backwards.
Besides… there's so much of the world out there waiting to be seen and explored that it seems kind of silly to revisit the same spots (although we all have our favorite go-to vacations). Wouldn't you rather spend your time, energy, and money on some other, new venture? Or just to enjoy the route to the fullest the first time around?
For all those reasons and many more, one-way RV rentals are growing in popularity, which is why we couldn't be more thrilled to offer them to the RVshare family. You'll be able to take the epic trip of your dreams without worrying about saving time and money to get home the same way you came. You can fly out of your destination (or to a destination, where you rent an RV and then drive home), and rest assured that our professional service will return the RV where it came from good as new. You'll still benefit from all of the unique perks offered to RVshare renters, and, of course, our lower average per-night pricing. Pretty great, right?
Where to Take Your One-Way RV Rental in the USA
So — enough about why you might look into one-way RV rentals for a cross-country trip. Let's dive into the fun part: the trips themselves!
Here are some of the most popular and spectacular one-way road trips in the nation, just waiting to be discovered.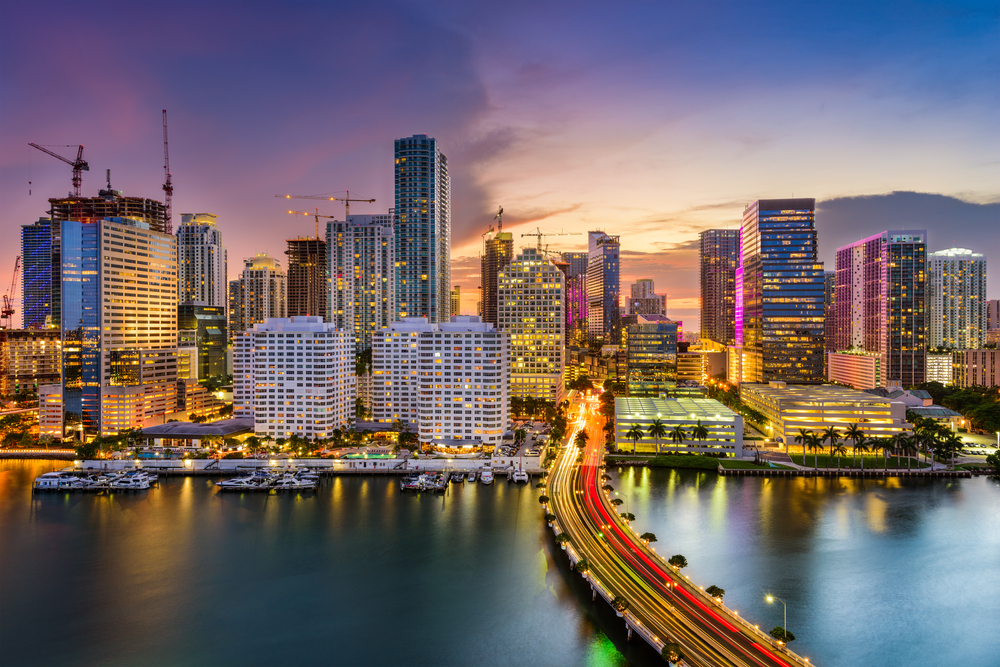 1. Miami to Boston
"West coast, best coast" may rhyme… but that's about all the validity it's got going for it. Anyone who's ever made a serious East Coast trek can tell you that's true!
And don't get us wrong — California's nice and all. (In fact, we're going to go into a whole lot of California-based one-way trip options further on down the post.) But the east coast has so much diversity and vibrancy, wending its way from Florida's sunny beaches all the way to the quaint towns that characterize New England.
If you start with an RV rental in Miami, you'll definitely want to take some time to explore Biscayne National Park, whose 172,000 acres are primarily composed of water. You can snorkel, SCUBA dive, and boat to your heart's content… not to mention soaking up the rays in abundance.
South Florida is also home to some of the most amazing cuisines in the world, especially if your tastes run Cuban. And trust us — if you're human, they do. There is literally nothing on this planet as good as an authentic Cuban sandwich. Just north of Miami in the town of Hollywood, stop at Le Tub for the best burger you've ever had and Jaxon's for dessert. (Your writer is a Hollywood native, so she knows what she's talking about!)
As you swing further north, there's so much more to discover: central Florida's space coast and a possible Disney detour; the Jacksonville area's "first coast" beaches and all the historical to-dos in St. Augustine. Savannah, Georgia is as full of exciting things to see and eat as it is southern charm, not to mention nearby Tybee Island. You'll have to take a short trek off I-95 to reach Charleston, but the pastel houses that line the bayside are more than worth it.
North Carolina is truly a state that offers something for everyone, whether you're looking for big-city excitement or the opportunity for a woodsy reprieve. Asheville's quite a ways off the main drag along the eastern corridor, but could be worth it if you're into mountain hikes or breweries. (And let's face it: who isn't?)
You don't have to make quite as big a side trip to see the illustrious outer banks, which prove that Florida isn't the only east-coast state with beautiful sandy beaches. The same goes for Virginia's Norfolk and Newport News areas, and don't forget about the wild ponies you'll find in Assateague and Chincoteague.
Once you're north of the Mason-Dixon line, the states start to change more quickly. But just because they're smaller and closer together doesn't mean they have any less to offer. Consider the unparalleled historical and cultural sights to see in Philadelphia and New York City, from the Liberty Bell to Times Square. New Jersey combines proximity to these states with backcountry options and produce that's just as amazing as advertised. When you finally land in Boston, you'll have even more to do and see, from following the Freedom Trail to chowing down on its famous seafood. You might also want to take the extra hour or two to make your way to Martha's Vineyard. After all, you've already come this far.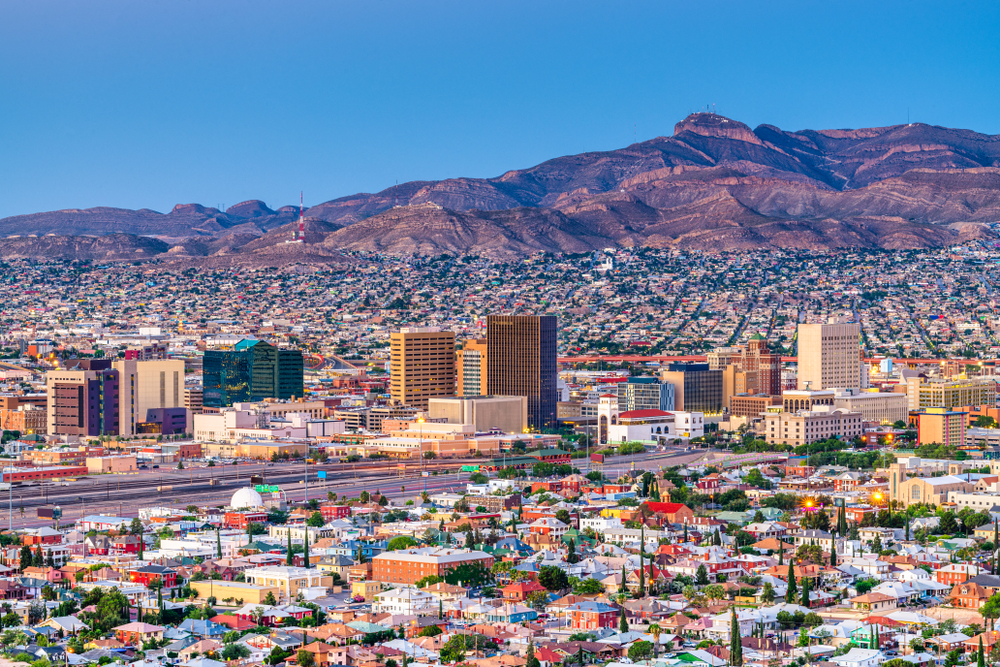 2. El Paso to Bozeman
Cutting a path from the border of Mexico almost — or even all the way — to the border of Canada is certainly an endeavor. And you couldn't find a prettier place to make the trek the mountain west.
Starting in the southwestern desert, you'll follow I-25 all the way north through Las Cruces to Albuquerque, stopping for a hot spring dip in Truth or Consequences on the way. Yes, that's the city's real name, so called after a radio show of the same moniker. The host offered a prize to whichever city first volunteer to rename itself in its honor.
After doing your due diligence with Breaking Bad tourism in ABQ, continue up through art-filled Santa Fe and Taos, eating the best Mexican food you've ever had along at every stop. (When they ask if you'd like red or green chili, the correct answer is "yes," which the locals know as ordering it Christmas-style.)
Where New Mexico meets Colorado, the real fun begins: you've got Great Sand Dunes, Mesa Verde, and Canyons of the Ancients just to name a few epic outdoor possibilities. The detour through Monument Valley requires a jog about four hours west, but it's well worth your effort.
Take a taste of Colorado's big-city life by stopping in Boulder and Denver, and schedule out some time to spend in Fort Collins, too; it's home to one of the coolest little indie theaters your author's ever been to. Plus, of course, there's all of Rocky Mountain National Park to contend with, as well as Estes Park, which is equal parts cute and creepy. (Fans of The Shining know why!)
It's wide-open spaces once you're in Wyoming, but you'll definitely want to take a quick trip to see Devils Tower. Cross the border into Montana and decide whether you want to end the trip in Bozeman or continue all the way up to Whitefish and Glacier National Park. Considering it's pretty enough to basically be a living desktop background, we highly recommend it.
3. Jacksonville to San Diego
There are many ways to make the trek from east to west (or the other way around) — but there's a very good argument to be made for the southernmost. Starting in either port city, you can follow I-10 all the way along the belly of the country, stopping in the some-overlooked but vibrant cities that do it, like San Antonio, Mobile, and Tucson. (Word to the wise: if you do stop in Tucson, make sure you plan a visit to Boca Taco, which remains the best taco your writer has ever, ever had. And she lives in New Mexico now. So, you know. It's pretty serious.)
Although there's plenty to see and do along the corridor itself, jaunts of just a few hours can land you in spots like Austin, Galveston, and New Mexico's famed Carlsbad Caverns or White Sands National Monument. Toward the western terminus, you'll pass immediately alongside Joshua Tree National Park, not to mention the array of other wilderness areas in the vicinity.
Looking for less roughing it and more getting rowdy? New Orleans also lies along I-1o, and the emerald-watered beaches of Florida's panhandle aren't much further. And as far as San Diego and Jacksonville are concerned — well, we don't even need to make an argument, right? You can see seals on one side and manatees on the other.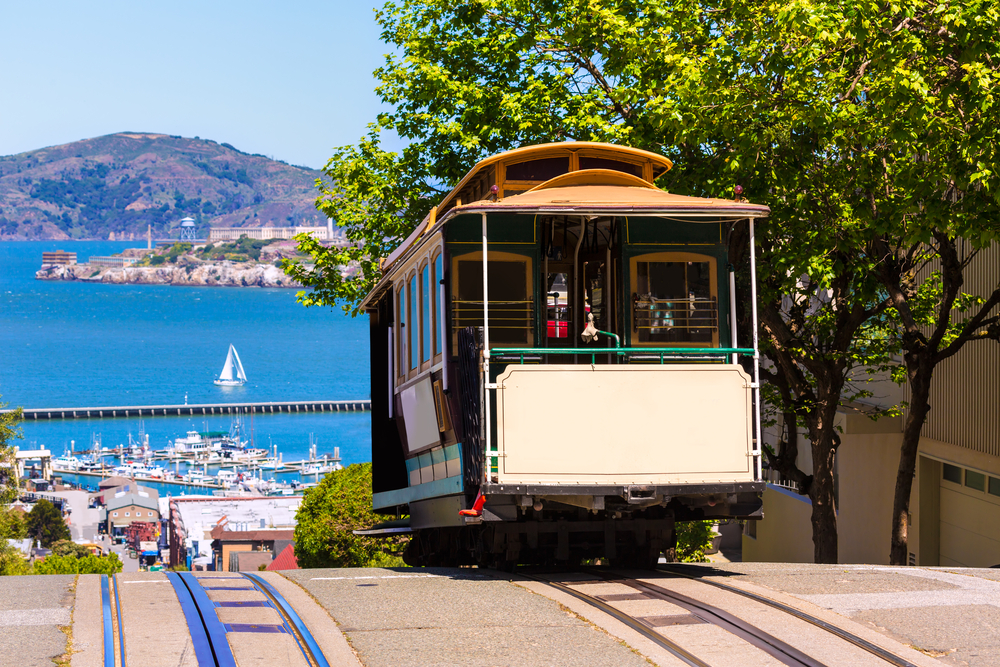 4. San Francisco to Portland
Does it get any prettier than California wine country?
Actually, maybe. Have you been to Oregon's most fertile valleys? When you rent an RV in upstate California and just keep heading northward, you'll have the opportunity to see and experience both, so we'll let you be the judge.
Along with tasting and traipsing in Napa and Willamette, this trip also offers a number of other intoxications: wandering through towering redwoods and meandering along the shores of Crater Lake, for starters. The Oregon coast is awash in wonder, from tidepools swirled with agates to stunning oceanic/geological formations like Thor's Well and Devil's Churn. We won't even go into the seafood — or all the other edibles (which, yes, we mean in all contexts) you can devour in Portland.
Camping opportunities in the Pacific northwest are famously numerous, and you can choose from a huge array of wilderness areas speckled along the route. In California, try Mendocino or Plumas National Forest, moving to the Umpqua and Mt. Hood wildernesses in Oregon.
One-Way RV Rentals: Los Angeles
The city of Angels is one of the most popular spots to start or end a one-way RV vacation, and for good reason. It's fairly central to a lot of amazing adventures, surrounded by wilderness areas of all types, and full of exciting to-dos in its own right.
Here are just a few of our favorite Los Angeles routes.
5. Los Angeles to San Francisco
Come on — you didn't think we'd have a post listing the most popular one-way RV rental routes without mentioning the Pacific Coast Highway, right? Although it's gorgeous and well worth following all the way from San Diego to Mendocino, this shorter section is doable even with only a few days to spare… though we recommend giving it more time than you think you need. (Once you see Big Sur, you'll thank us.)
It should go without saying that we're talking about taking California's Highway 1 along this route, not the more-efficient (but way-less-beautiful) I-5. That's a road for getting where you're going, whereas the PCH is all about the journey.
Starting in Santa Monica, you'll wind your way through Malibu, Santa Barbara, and other little beach towns rightly famed for their beauty, with ample camping opportunities along the way. We recommend planning for more extended stays in San Luis Obispo and Monterey, which bookend the heart of the central coast experience. (Think: redwoods on one side, crashing ocean against devastating cliffs on the other. There's a reason so many artists and singers wrote about it.)
Once you find yourself officially in the Bay Area, cap off your trip with a slice of homemade sourdough and a cup of San Francisco coffee. You've got plenty of airports to choose from for the flight home… but this is one route you actually might want to turn around and see backwards!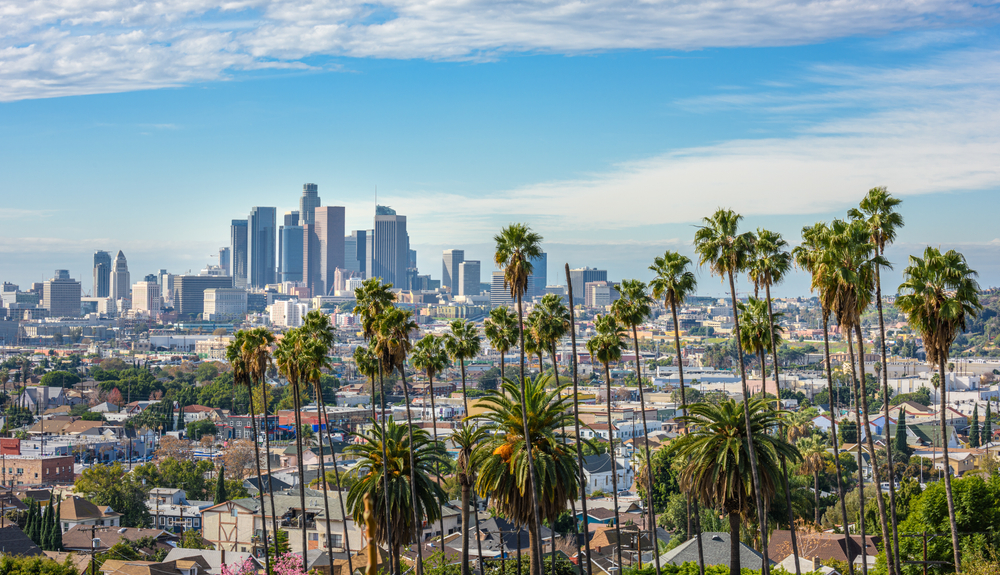 6. Los Angeles to New York
Talk about a cross-country road trip. This is about as much ground as you can cover while still staying in the continental U.S. It is, in other words, a serious undertaking… and an absolutely amazing reason to get an RV rental in California.
Now, as far as how, exactly, you go about this crazy journey is concerned, you've got some options. The most direct route follows I-80 through Las Vegas, Utah, Colorado, Nebraska, and Iowa, allowing for an easy detour to Chicago before you continue east all the way to the Big Apple. But you could also swing further south to take I-70 through Kansas City and Indianapolis, or even further south than that if you want to visit southwestern gems like Albuquerque and Amarillo. This southernmost route, I-40, also cruises by the Grand Canyon and through up-and-coming Oklahoma City, so it may be our favorite of the available options.
Once you get to NYC, the hard part may be over… but there's still enough to see and do in that city alone to fill a month's time. And although it's not well-known for its ample parking (and that goes for cars, let alone recreational vehicles), there is actually a relatively affordable private campground right across the river in Jersey City.
No matter which way you go, though, the trip is bound to be epic — and will put nearly 3,000 miles onto your travel odometer. That's one reason to be really glad one-way RV rentals exist, huh?
7. Los Angeles to Miami
Although they're both southern American port cities well known for their beaches and party lifestyle, Los Angeles and Miami couldn't be much more different if they tried — and both are well worth visiting. (To say nothing of all the amazing things to see and do along the way between them!)
You have two main options to pick between when it comes to routing the trip: I-40, which runs slightly further north through towns like Albuquerque, Amarillo, and Dallas, or I-10, which is actually slightly shorter, but offers visitors the chance to experience Phoenix, Tucson, El Paso, San Antonio, Houston, and New Orleans… just to name a few of the route's charms.
Both will wind you through some of the most surreal, serene desert vistas you've ever experienced before bottoming out in the sweet-smelling tropical landscape of Florida — which state itself accounts for a full ten hours of the trip. You're obviously going to end up at the beach once you get to the coast, but don't miss out on all the amazing, lesser-known things to see and do in the middle: Florida is awash with cold springs to snorkel, rivers to float, and oak-strewn canopy trails to meander down. You could also plan for a detour to Orlando if you've got the kids along for the ride, although choosing between Disney and Universal is sure to be a bit of a struggle. (Which is exactly why one-ways are so great — you may just have the time, energy, and funds left over to do both!)
8. Los Angeles to Chicago
Who doesn't want to get their kicks on Route 66 at some point during their camping career? But if you plan to follow this classic, meandering U.S. byway along all of its 2,000+ miles, you probably won't want to turn around and head back where you came from as soon as you're finished.
Whether you take the route suggested by the song of the same name, winding from Chicago to LA, or take the opposite tack and start in Santa Barbara, there's enough to see, do, taste, and experience along the way that you could spend a whole lifetime on the project. From snapping selfies at Cadillac Ranch in Amarillo, Texas to staying a night in the iconic Wigwam Motel in Holbrook, Arizona, make sure you give yourself ample time to enjoy all of what Route 66 has to offer. (And be sure to read our guide post going over those offerings in detail!)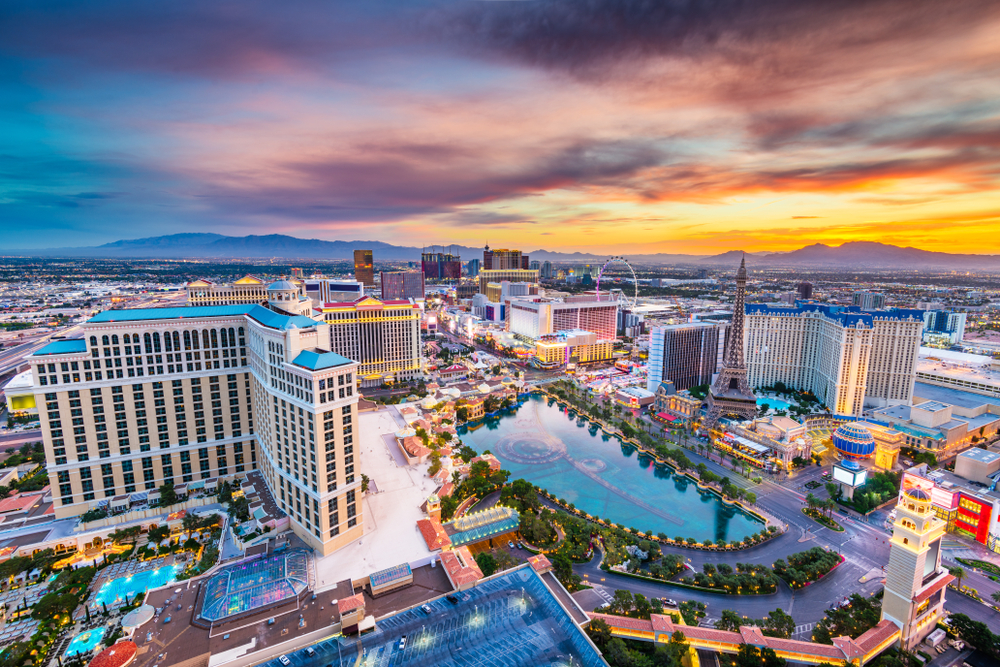 RV Rentals: Las Vegas
What happens in Vegas stays in Vegas — which is exactly why you don't want to head back once you've left. Fortunately, with a one-way RV rental, you don't have to! Here are some of the most popular one-way trips that either start or end up in Sin City.
9. Las Vegas to Washington DC
Isn't there something satisfying about the idea of starting a trip in one of the most unabashedly raunchy towns in the country, only to end it in the apparently-upright capital? 😉
All political joking aside, though, this route connects two of America's most desirable destination cities by way of a whole lot of adventure. Depending on which route you take, you could find yourself exploring Utah's vast array of national parks and monuments before hiking your heart out in the Rocky Mountains — only to replenish all those lost calories with some of the best barbecue of your life in Kansas City. Then a quick trip through Illinois, Indiana, Ohio, and a corner of Pennsylvania, and boom: you're in the District of Columbia.
Or you could take I-40 all the way, enjoying the further-south southwest's array of cuisine, culture, and outdoor opportunities. The Grand Canyon will already be on your list, of course, but you might also want to add in some northern New Mexico favorites, like Tent Rocks and Bandelier. On this route, the barbecue fix comes in Oklahoma — that is, if you're not still hurting from the famous Big Texan steak challenge in Amarillo. You can discover some of the charm of the Ozarks in Arkansas before taking in some world-class live music in Nashville, and likely adding stops in Memphis, Knoxville, Asheville, and Roanoke to your itinerary. Finally, you'll end your trip with historical and cultural overload in the capital — and a convenient hub airport to take you right back where you started from (or wherever else you call home.)
10. Las Vegas to Denver
There's a reason John Denver sang about the Colorado Rocky Mountain High — and it has nothing to do with the state's fairly recent move toward legalization. If you haven't treated yourself to an American alpine adventure, now is absolutely the time. And whether you visit in summer (hiking) or winter (skiing), there's no shortage of adventure to get into.
Of course, that's once you get to Colorado. Because although this route is a little shorter than some of the other epic itineraries we've listed here, there's so much to do along the way you could easily spend a month on the journey. This one-way trip takes you straight through the heart of Utah, home to not one or two but five national parks… and that's not even counting national monuments and other designated wilderness areas.
Plus, of course, you have the urban charms of Denver and Las Vegas themselves to add into your schedule, the perfect counterbalance for all that introspective outdoor time. And both cities are home to major hub airports that make it easy to get wherever you're going for the next leg of your venture.
Renting an RV one way can unlock a world of possibilities for new travel destinations and experiences that would be impossible to orchestrate otherwise — all while still giving you the unique combination of comfort and flexibility RVs are best known for. And when you rent through RVshare, the experience is even more convenient: along with paying a fraction of the big, commercial dealership prices, you'll also get to choose from a much wider array of potential vehicle types and deal with real, live, adventurous people, just like you!
RVshare also offers its renters top-of-the-line insurance coverage, which is built into your rental price, so you never have to worry about those what if moments. And you can purchase affordable roadside assistance which keeps you covered 24/7 for any minor surprises that come up. All communications and monetary transactions take place through our secure platform, so you can rest assured that your sensitive information is absolutely safe.
In other words, we make it really, really easy to start exploring. All you'll be responsible for is picking and packing up the rig, taking a second to learn its ins and outs, and then heading to your destination… even if you're not planning on coming back anytime soon. (And trust us — if you take one of these routes, you'll want to use every second of spare time you can get along the way.) Then, drop off the rig at the designated site and let us take care of the rest. What could be easier?
Happy travels, RVers!
This post may contain affiliate links.