Travel Inspiration
April 10th, 2021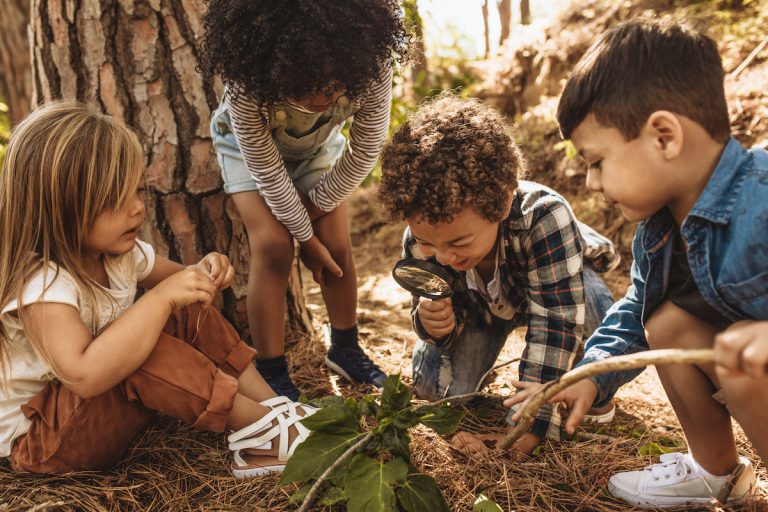 Celebrate National Park Week with us from April 17 to 25! Share your love of the national parks and follow along with themed days throughout the week.
Junior Ranger Day at the National Parks is April 24
The Junior Ranger Program is a fantastic way to get kids involved in exploring the national parks. Kids of all ages can earn their Junior Ranger Badge as they "explore, learn, and protect" their way through the parks. Today we'll be covering what the Junior Ranger Program is and how you can get your kids excited about nature and the outdoors. Then check out Junior Ranger Day on April 24 virtually or at a nearby national park!
What is the Junior Ranger Program?
The Junior Ranger Program is put on by the National Park Service in many national parks across the country. It's a great way to get kids involved in the outdoors and for them to join the NPS family as Junior Rangers. The program teaches kids about the parks with the motto "Explore. Learn. Protect." and encourages them to share what they learn with others.
This activity-based program combines entertainment with education to get kids excited about the environment. It's aimed at children age 5-13, but they encourage people of all ages to participate. Kids must complete a series of fun tasks such as doing games and activities, talking to park rangers, and answering questions. Once they've finished, they receive an official Junior Ranger patch and special certificate, making them a real Junior Ranger! There are all sorts of different patches kids can earn, making this the perfect activity to do at every national park your family visits.
Don't have a national park nearby? That's just fine, your kids can join in the fun with the Junior Ranger Program Online. The NPS website offers all sorts of interactive and printable activities that kids can complete online. There are also online tours of the national parks so you and your kids can experience them, even if you can't get there in person. We have an entire article on the Junior Ranger Program if you'd like to find out more.
Teaching Kids Healthy Outdoor Habits
Parents – kids learn from you, so it's important to teach them good camping and outdoor habits. You can do this easily just through leading by example! Teach your kids about the Leave No Trace principles and "leave it as you found it". Earth Day is coming up, and it's the perfect time include your kids in fun and helpful conservation activities.
You can also get kids involved with picking up your campsite as you're packing up to leave. Take them on nature hikes and exploring through the wilderness to get them excited about being outside. Not only is it great exercise for everyone, but it's also a chance to watch for birds and animals that you don't normally get to see at home.
Another way to teach good outdoor habits is to just get your kids out in nature. Hiking, biking, water activities, and helping them explore this beautiful world will teach them to appreciate it. Visiting a nearby (or far away) national park is another fantastic way to coax kids away from them screens. Not only will you be visiting some of the most beautiful places in the country, but you'll be joined by enthusiastic NPS employees and volunteers who make learning about our planet fun through programs such as the Junior Ranger Program or the Every Kid Outdoors program.
Getting Kids Excited About Nature
The national parks are great places to get kids excited about nature, and one of those ways is through their Every Kid Outdoors program. Every Kid Outdoors is a program through the NPS that provides activities and free passes to all national parks for fourth graders. The program was created to encourage fourth graders to visit the national parks and discover the wildlife, resources, and history for free for an entire academic year. We have a post that breaks down all you need to know about the Every Kid Outdoors program. You can also head over to the NPS website to find out how your fourth grader can get their free pass.
Even if you don't currently have fourth graders, the national parks are still a wonderful way to get the whole family outside. Not sure what parks are kid friendly? We have a list of family friendly national parks that are perfect for a fun, kid friendly and nature based vacation.
There's also so much history and science that you can experience while traveling across the U.S. And while kids might think that sounds like school, there are fun ways to get them excited to learn. We have a whole list of ideas on how to make RV trips educational, but here are a few of our favorites:
Watch a movie or read a book about a destination on your road trip. Then you can get outside and explore that place when you visit.
Or on the flip side, pick a destination that fits in with your kids' favorite book or movie. Assuming it's somewhere in the U.S. of course – if your kids want to visit Arendelle or Wakanda, you're on your own!
Visit a living history museum. These immersive and hands on museums are great for kids. The workers dress in historic garb and teach about the past with games and activities that make learning more interesting than standing in front of a typical museum exhibit.
Are your kids ready to become Junior Rangers? We have guides on all the U.S. national parks to inspire you. And if you need an RV to get to your favorite park, we've got you covered with rentals all across America.