RV Owners
August 31st, 2019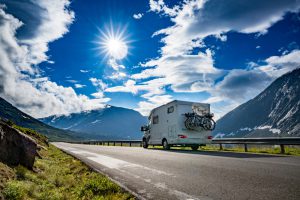 If you've been hanging around RVshare for very long at all, you already know that renting your rig to budget-savvy adventurers can be a great way to earn a few extra bucks — all the better to fund your own upcoming vacations.
But even if you're totally onboard with the RVshare business model, the question still remains: "How do I actually go about marketing my business?"
While many RV owners enjoy some success by simply putting together a (well-made) listing, if you're after serious earnings, it can be helpful to go above and beyond. That said, not all is what it seems when it comes to effective business marketing; sometimes, the best ideas aren't the ones you'd first consider.
In this post, we'll walk you through some foolproof ways to go about marketing your RV rental business, starting from the basics (like making sure your listing is sparkling) and going all the way to more out-of-the-box options. By the end of this post and process, you'll have a much better sense of how marketing can spark both first-time and repeat customers, and you'll be well on your way to enjoying the maximum earning potential of your travel trailer or motorhome.
Successful Business Tips for At-Home RV Renters
Here's our top business tip for those starting out in the at-home RV  rental business.
1. Start with a stellar listing.
Here's the thing: none of the ways to market your business we'll go into below will matter if your listing isn't looking it's very best. And while we don't want to brag, we're a pretty popular rental platform at this point, so you do have some competition!
Make your listing shine with comprehensive, custom-shot photographs, which allow viewers to see all angles of your rig, both inside and out. You'll want to make sure you've got great lighting and you've staged the interior with attractive props; a bowl of fruit or a guitar slung onto the couch can make a huge difference.
You'll also want to be sure you list all of your RV's features, even the ones that seem obvious. When it comes to road tripping, indoor plumbing is not a given — so if your rig is self-contained, go ahead and flaunt it!
Other attributes to mention include TVs and entertainment systems, generators, cooking facilities, and how many passengers your rig sleeps comfortably. For more details on making a shining RV rental listing, see this RVshare post.
Local Business Marketing
Here are a few more ways to drum up some extra business amongst the local travelers near you who might be considering renting an RV.
2. Turn on Instant Book.
Chances are you've done your fair share of travels, both with your RV and without it. Have you ever been deep in the throes of planning only to try to book something and learn that it wasn't a sure thing? It can be really frustrating to have to wait for a response from an Airbnb host or tour group — you want to get the main parts of your trip set in stone before you move forward with planning the smaller things. Well, the same can be said for most RV renters, who'd much rather feel confident about their booking… which is exactly why turning on the Instant Book feature can be such a major boon to your business.
Instant Book allows renters to book your rig without having to wait for a response from you, and it also helps our algorithm place your listing higher among competitors. That said, we understand that renting your RV is very personal and can even be a little scary — so don't worry! You still have total control over your booking. You'll get to set up how much lead time your Instant Book feature allows, so you'll still be able to contact the renters and make changes before they show up to drive your baby away. And as always, your rig will be covered under our A-rated insurance policies, so you really can rest easy.
Still not sure about Instant Book? Yeah, that happens a lot… which is why we wrote an entire post about the feature and the common concerns we hear about it from rental owners!
3. Consider going pet-friendly.
We get it: allowing dogs and cats in your rig can be a little bit nerve-wracking. After all, when they're not well trained, they can be destructive.
But traveling with pets is a huge part of the appeal of RVing to most people, and chances are they're not living with a perpetually-un-house-trained puppy. (But you're totally free to stipulate that you have to meet the animal for approval ahead of time, just in case!)
If you travel with pets of your own in your RV, it's especially worthwhile to think hard about allowing renters to bring theirs. After all, your rig is already used to having your furry friend along for the trip. So long as they're well-behaved, they shouldn't be seriously detrimental to your RV's interior.
4. Renting a towable rig? Deliver it and set it up!
One of the most intimidating things for newbie RVers is the idea of towing a trailer… to say nothing of the challenge renters face if they don't actually have access to a capable tow vehicle. However, you can put all those fears to rest very simply by offering to tow the rig to their destination and even set it up for them. That way, all they have to do is show up, unpack, and relax!
Although delivery service does add some extra responsibility on your end, it's perceived as a much higher level of luxury and may make the difference when a potential renter is considering your listing alongside someone else's. If you've been having trouble drumming up business for your towable RV, consider trying it out for a while and seeing how many eyes it catches.
5. Put a sign in your yard.
Hey, if you want to capture the locals, you've gotta advertise locally… and it doesn't get any more local than your own yard! If you've got your rig parked out in front of your house, stake a sign next to it. You could also consider making it more intriguing: instead of a plain old "FOR RENT" sign, get creative and make a sign that says something like "Want to drive me away? You can! Call this number/head to this link to find out how."
More Creative Ways to Market Your Business
Sometimes, the best way to market your business isn't the first one you might think of. Here are some out-of-the-box business marketing ideas that could go a long way toward helping you turn a profit.
6. Make T-shirts — and wear them!
You see regular, sticks-and-bricks businesses do it all the time… so why not try it out with your web-based biz? It's super simple to create custom T-shirts these days, and if you wear them out for everyday activities like grocery shopping, at least a few people are bound to see them and react. It could be something as simple as "Rent My RV" with a photo of your rig — cheesy, but effective. Or you could make it a little bit more of a mystery: "Want to try a new way to travel? Ask me how…"
Either way, you can get your shirts printed up in no time flat at websites like Custom Ink, which offer lines of products that don't have bulk amount minimums. Print up one for each member of your family — yes, even if your teenager is resistant. She'll change her tune when the extra money means she gets to enjoy an extra vacation!
7. Make your RV a moving billboard.
Hey, all the big-name RV rental franchises do it, so why not you? If you're willing, you could paint an advertisement on the side of your RV, or even create a QR code that links to your rental page and make it into a window decal. That way, other potential renters who see your rig on the road — whether during a rental or while you're driving it around yourself — can get the deets about your rental business on the fly.
By following these simple tips and tricks, we know you're going to see an astounding return on your investment… which means even more fun and adventure for you.  So happy travels, campers; you earned it!
This post may contain affiliate links.