Luxury RV: 7 Luxury RV Accessories to Make Your RV Shine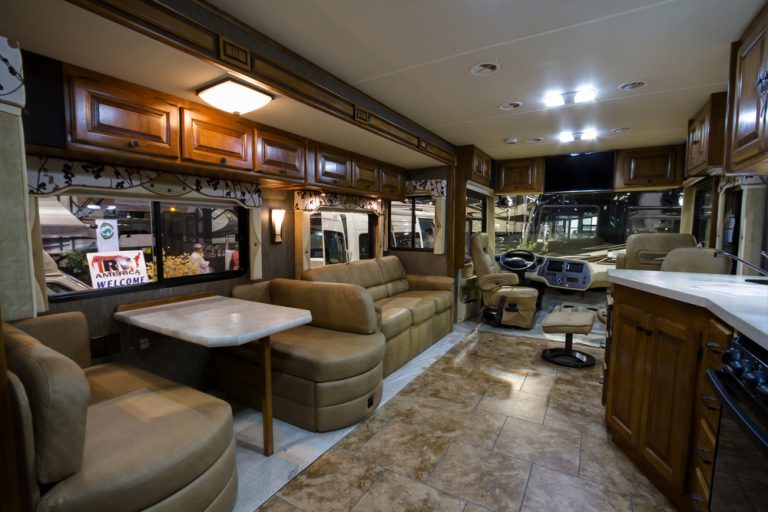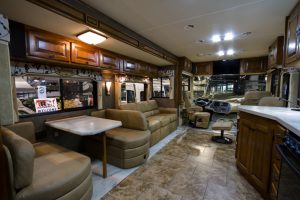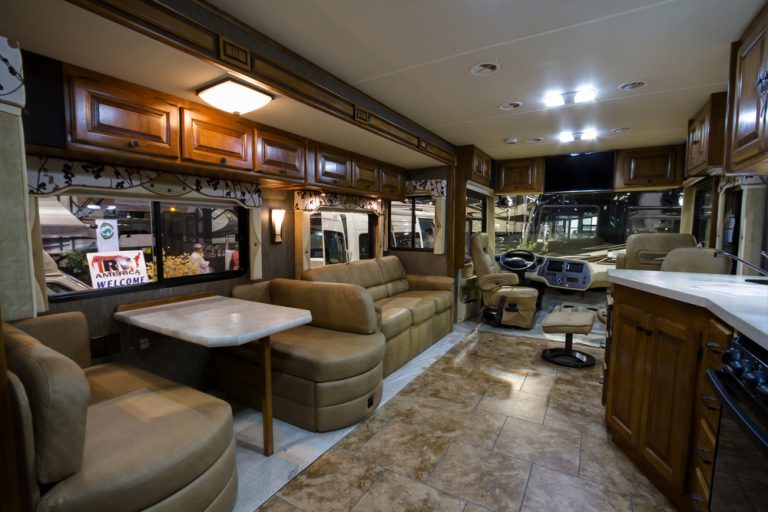 For most people, the word "camping" doesn't immediately call luxury to mind. After all, the whole idea is to get outside, and, well, that's where the dirt lives. And the bugs. And not the internet. Or plumbing.
But RVing turns all that on its head, of course. When you're traveling in your very own portable suite on wheels, you can have all the indulgent creature comforts you deserve, no matter where you're headed. (Just don't forget to grab that cozy blanket for a night cuddled up with your sweetie… and maybe a nice bottle of bubbly, too. Oh, and some shatterproof wine glasses!)
Of course, even in a well-appointed motorhome, it's always possible to make some improvements. And if you're looking to really trick out your ride — or at least fantasize about it — we have a few items on our wishlist to fuel your drool sesh. Who knows? Maybe you've saved enough on the road (thanks in part, no doubt, to your Passport America membership) that you've earned a splurge. Either way, we suggest you throw some Bruno Mars on in the background to get this post's full effect.
Whether you're traveling in a Class A diesel pusher or a teeny campervan, here are the luxury RV accessories that'll make your trip posh, polished, and downright dripping in finesse.
Luxury Camping Accessories
Some RV accessories go above and beyond when you're looking to ride in style. Here are a few worth coveting.
1. Motorized Awnings
From keeping your rig cool to creating a shady spot to kick back, there's no doubt that your RV's awning is important. But if you drive an older-model rig, you're likely sick of manually cranking it out and rolling it back up again every time you hit a new destination.
Motorized RV awnings make getting your patio set up as easy as pushing a button. And yes, you can install one on your existing RV as an aftermarket part — it's not even that expensive! For instance, the Rage ALEKO RVAWM10X8BRN13 Motorized Retractable RV Patio Awning is less than $800 on Amazon including shipping. Sure, you'll have to set it up… but once you do, you'll be done fussing with it for the foreseeable future.
2. WiFi Boosters
In today's all-digital-all-the-time age, staying online is more than a luxury — it's a necessity. But even if you stay in campgrounds that advertise free WiFi, you've likely noticed it's not as simple as just logging on.
Although the RV world is slowly catching up to the rest of the universe, many campgrounds still feature WiFi connections whose limited reach or bandwidth can leave you with a slllooooooowwwww connection. And that can be truly frustrating if you're trying to, say, stream your favorite shows.
That's why WiFi boosters, like the Winegard ConnecT, can be a total godsend. They're simple to install and can significantly boost your connection, or even provide a backup data connection if the WiFi should fail. You can find them for about $700 on Amazon — but if you're paying monthly rates for a digital hotspot, you probably already know that's a worthy investment!
3. Outdoor Entertainment Systems
Want to combine the great outdoors with the great indoors?
The best way is to install a rockin' outdoor entertainment system in your rig, so you can enjoy the game and the campfire at the same time. Hey, we never said this post was about compromises.
Whether you go all-out with an indoor/outdoor projector system or simply repurpose one of your basement cabinets into a flat screen TV armoire, bringing the big screen outside will help you make the most of your camping trip — especially next time there's a tailgating party!
Luxury Motorhomes
Here are some luxury accessories your motorhome might aspire to.
3. Smart Controls
How would you like to control everything in your rig, from your awnings to your slide outs, at the touch of a single button — or even your smartphone?
Technology's made this dream a reality… if you're willing to pay the price. Lippert's ONEControl system is available on a variety of 2018 model motorhomes, which means you've got to buy new if you want in. But once you see the list of all the control it puts in your hands, you may just be tempted!
4. Motorized Leveling
No one wants to hang out in a slanted rig, but leveling can be time- and energy-intensive… especially if you've got nothing better than plain old leveling blocks. Don't get us wrong, they get the job done, but it can take some experimenting.
It doesn't come cheap, but you can take the guesswork out of leveling by installing a motorized system that does it for you, all at the touch of a button. Of course, an aftermarket installation can cost a couple thousand dollars… but who can put a price on staying even?
Best Luxury Travel Accessories
Here are a few more luxury accessories for you to fawn over.
5. USB Wall Chargers
Looking for affordable gizmos that still feel like luxury accessories? Look no further than these specialized wall plates, which allow you to plug electric gadgets directly into the outlet. They're available for less than $10 a piece, but they still feel like a major upgrade. Don't you love when that happens?
7. Solar Power
Alright, alright… this is one luxury camping accessory you doubtless already know about. Heck, it's probably already on your list.
But although upgrading to solar is a hefty investment, it pays dividends down the line — especially when you throw in a set of lithium batteries. If you don't do it for the noise-free boondocking, do it for Mother Earth!
Glamping
With the right accessories, any camping trip can feel glammed-up and fabulous, no matter what kind of RV you drive.
Not quite done dreaming about your next upgrade? Check out the following posts here on the blog:
Go ahead — treat yourself. You've earned it!
This post may contain affiliate links.