How Tos & Tips
Last updated on January 9th, 2023. Originally published on June 9th, 2018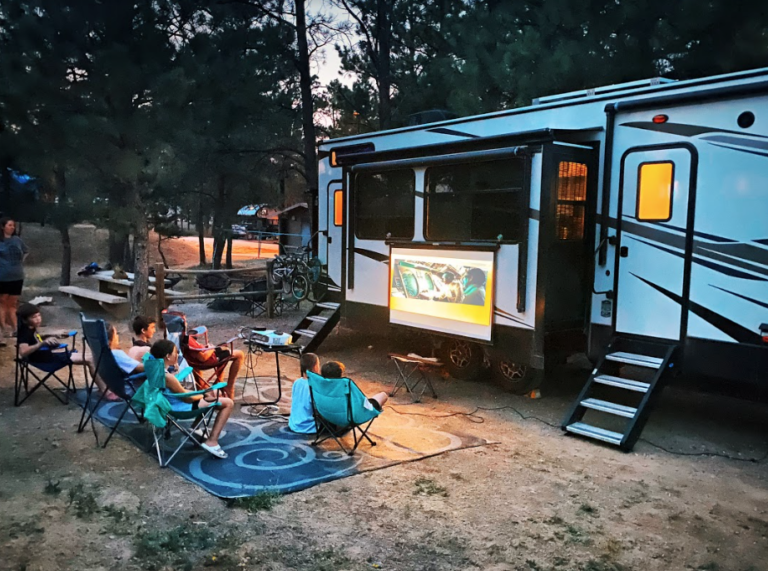 Glamping. Ever heard of it?
A portmanteau of glamor and camping, glamping is how those of us who enjoy the finer things in life "do" the great outdoors. No, it doesn't mean we're fussy — it just means that we want it all: amazing hiking trips, relaxing nights by the campfire, and fine wine out of decent stemware. Hey, no one said we were low maintenance.
If you're wondering how to upgrade your next journey into the wilderness, this post is for you. We've put together a few simple ways to bring luxury to your next camping trip, from stepping up your gear game to — you guessed it — renting an RV for the ultimate on-the-go comfort.
So. Ready to reconnect with mother nature and get indulgent at the same time? Here are our favorite tips for creating a luxury camping trip your family won't soon forget.
Camping Equipment
Adding a few well-considered pieces of luxury camping equipment to your packing list goes a long way toward making your trip feel extra fabulous. From luxury tents to cozy inflatable loungers, here's some trendy camping gear that'll have you kicking up your feet in style.
1. If you're going to sleep in a tent, don't work hard to pitch it.
I don't know about you, but in my book, sleeping under a canvas roof already counts as roughing it. Why should you have to do an hour's worth of work just to assemble it in the first place?
Fortunately, modern camping technology means there are plenty of easy-up tents available on the market, many of which go up in less than ten minutes. Better yet, you can find them available on Amazon for less than $100.
If you really want to glamp it up, you could also consider alternative shelter options, like renting a pre-pitched tent, cabin, yurt or… well, we'll get to that in a minute. 😉
2. Kick back anywhere — really — with an inflatable lounger.
Folding camp chairs are one thing.
But what about a convenient place to lay down, whether you're skiing in the snow or snorkeling in the ocean?
Inflatable loungers are all the rage at campgrounds these days, and for good reason. Waterproof, versatile, and knock-your-socks-off comfy, inflatable loungers are affordable, easy to store, and even easier to inflate: just open the valve and whisk it through the wind, just like shaking out a beach towel!
Best Glamping Gear
Not all cool camping gadgets have to be expensive. In fact, some cheap glamping accessories are the most critical in making your trip shine!
3. Turn your campfire into a gourmet kitchen.
Cooking over an open fire is one of humankind's oldest traditions, not to mention one of the most classic parts of camping fun. But sometimes, a brat on a stick just isn't going to cut it.
Not to worry — there's so much great campfire cooking gear out there, you can basically host an Iron Chef competition at your campsite. Campfire grill grates unlock all the deliciousness any grill has to offer (and there's a lot of it — check out our guide post for RV grill masters!), and you can also find campfire-ready coffee percolators, rotisseries spits, and more. Dinner's the perfect time to get creative; and after all, what's more luxurious than a stellar meal?
4. Forget about bugs.
Few things ruin an otherwise-idyllic camping scenario faster than a swarm of uninvited guests — especially the six-legged kind. But dousing yourself in chemicals doesn't necessarily sound like fun, either.
That's why we recommend these high-quality bug-away candles, which are 100% soy and not nearly as smelly as your standard citronella. Think of it as mood lighting with benefits!
RV Rental
There are lots of ways you can upgrade your tent-camping game, but let's face it. For the truly indulgent outdoorsman (or woman), there's only one way to go.
5. Yes, you guessed it… rent an RV!
Think about it. A motorhome or trailer rental means you get to combine all the freedom and flexibility of traditional camping with the comforts of home — including a lot more space to store your gear, a private restroom, and even (literally) the kitchen sink. (And fridge. And microwave.)
And when you rent a rig through RVshare, you'll find affordable vehicles of all shapes and sizes available no matter where in the country you're starting your journey. That's important, because not all campers are created equally! Maybe you're looking for a high-tech, 40-foot Class A RV, decked out with all the latest accessories, or maybe you'd be happier in a modest (but cozy) camper van. Although traditional RV rental dealerships usually only offer one type of vehicle, there's a lot of diversity on the peer-to-peer rental market — not to mention some incredible savings. That way, you'll have money left over for the important stuff… like that fine wine we were talking about.
Luxury RV Resorts
Ready to give RVing a try on your next camping trip? We have one more crucial piece of advice before you book your rental.
6. Don't skimp on your campground accommodations.
If you're a beginner to the RVing lifestyle, you may not realize that campgrounds come in just as many shapes and sizes as campers themselves. Public, private, boondocking, developed — there's something out there for everyone.
But if you're looking to lounge in the lap of luxury, an RV resort might be right up your alley. With full hook-ups and plenty of fun amenities like swimming pools, game rooms, and organized social events, these privately-owned, developed campgrounds can make for an amazing getaway… but also a big price tag.
That's why we recommend all campers invest in a Passport America membership, which is the only discount camping club that gets you a full 50% off your campsite accommodation fees at all participating campgrounds. And with almost 1900 of them across the country, we guarantee you'll find one near your next destination with the right amenities and features to make you a happy camper.
After all, that's the whole point, right?
This post may contain affiliate links.