RV Owners
Last updated on August 22nd, 2023. Originally published on March 25th, 2021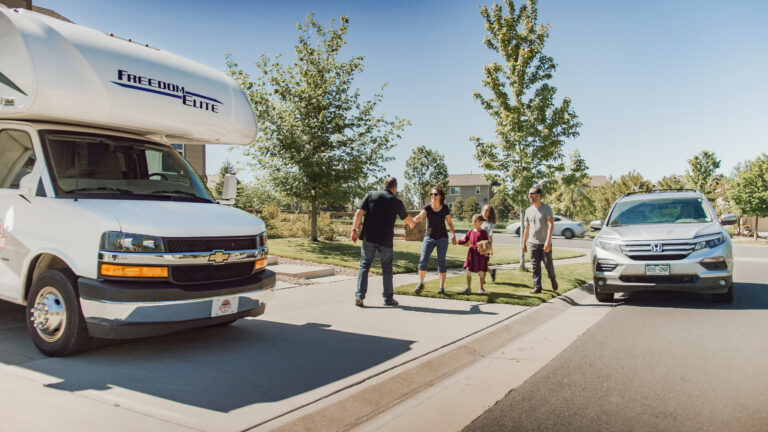 Is your RV sitting unused in your driveway for most of the year? Renting your RV when you're not taking a trip is a great way to fund your adventures or make some money on the side. If you've been wondering if renting out your RV is a good idea, the answer is yes! And it's super easy to get started renting your RV and earning extra money.
Why List Your RV for Rent?
When you first bought your RV, you were positive it was a great decision, but now, you might be second-guessing that. The trips you've taken in your RV are some of the best times you've ever had, and they created some amazing memories for you and your family. However, lately, when you think about your RV, something else has been coming to mind.
Every month, you're reminded of just how much that RV costs when you have to make a payment on it. Adding to that, there are repairs and maintenance required to keep it in good condition, as well as insurance. All this can start to build stress, and then you remember there's the additional struggle of finding somewhere to store it!
You might start to regret your purchase, and wonder if the pros really outweigh the cons of RV ownership. You love vacationing in your RV, but for the majority of the year, it's just sitting in storage.
You don't want to sell your RV, but you also don't want the cost of owning it to spoil the fun times you've had on your trips. This is where renting your RV can come into play. In fact, many people that have started renting out their RVs have not only offset their cost of ownership but have started bringing in extra income entirely!
How to Make Money Listing Your RV through RVshare
Making money by renting out your RV through RVshare is simple. Start by creating a listing on RVshare.com, set the dates your RV is available to be rented, decide on your rates and any fees, and upload some photos of your rig. You'll also want to add a detailed description of your RV so that interested renters can learn anything they might need to know about your camper.
Step-by-step prompts will help you set up your listing, and you'll have full control over everything – including your cancelation policy, how much to charge, and who you rent to. You're in charge of the rules of your unit such as if smoking is allowed or not, if renters are allowed to have pets in the RV, and the minimum age requirement of a potential renter. Once your RV is listed, you'll be able to review any inquiries about your listing and work with the renters to negotiate terms and prices.
After you've agreed to terms with a renter and set up a date that works for both of you, the renter will come to pick up the RV (unless you offer to deliver it). You'll give them a short tutorial, go over all the rules and terms one last time, and they'll be on their way! RVshare will securely handle your payment and release the funds to your bank account the day after the start of the rental. At the end of their trip, the renter will return your RV, and you'll be all set to either rent it out again or go on a trip of your own!
RVshare is free to join and we don't charge a fee to create a listing. Instead of a listing fee, you'll pay a small commission fee only when your rig is booked. The commission pays for things like access to the RVshare platform, secure payment processing and direct deposit, marketing your RV listing, and a dedicated support team for both owners and renters.
Why Choose RVshare?
There are many ways to list your RV for rent, so why choose us? RVshare has the largest peer-to-peer RV rental marketplace that reaches millions of RV renters every year. (More customers viewing your listing = more potential renters and more money in your pocket!)
RVshare provides one-on-one training and rental coaches who will teach you everything that you need to know to start renting your RV and make money. They'll even help you figure out what to charge for your listing and how to make it more desirable to renters. You'll also have access to all necessary documents such as reservation forms, rental contracts, accounting forms, and insurance information.
Renting out your RV home can be a bit nerve-racking, but with RVshare you have total control over how you price your RV, who you rent to, and both you and your renters are covered with liability, collision, and comprehensive insurance, as well as 24/7 roadside assistance. RVshare also securely handles all payments and deposits the funds directly to your bank account, so you'll have your money faster.
How Much Money Can I Make Listing My RV?
So what kind of income are we looking at? Well, how much money you make renting your RV will depend on a few factors such as the type of rig, how new it is, where you're located, and how often you rent it out. RVshare owners can easily make anywhere from $10,000 up to $40,000 a year in extra income by renting out their RVs when they're not being used. RVshare isn't just designed to rent out RVs, it's designed to create successful entrepreneurs. Some of our members have even turned renting RVs into a full-time business. 
For example, one owner, Denton, made close to $68,000 dollars in a single year renting out his RV through RVshare. Another owner, Dianna, started getting inquiries immediately on her newly listed camper and has already made about $10,000.
To give you a better idea, here's a breakdown of the average amount you could make based on the type of RV you're renting:
Class A Motorhome
Class As are a great option for renters who are looking for space, are planning a lengthy trip, or who have larger families. RVshare users who list their Class A Motorhomes for rent can make up to $60,000 per year.
Class B Camping Van
Van life is becoming an even bigger trend, and these small and easily maneuverable rigs are popular with people who want an easy driving experience. Listing your Class B camping van on RVshare could make you up to $30,000 in extra income per year.
Class C Motor Home
Class C motor homes are the perfect mix of giant Class As and tiny vans. They're a great choice for renters who don't have a tow vehicle, but aren't ready to drive a lengthy Class A motor home. Class C motor homes could bring in up to $38,000 per year when you rent them on RVshare.
Fifth Wheel
Fifth wheels give RVers more room with the extra space which hangs over the bed of the truck that pulls it. It's both a great use of space and works toward reducing the overall length of your tow vehicle and RV setup. Renting your fifth wheel on RVshare could bring you an extra $22,000 per year.
Travel Trailer
Travel trailers come in a variety of lengths and sizes, making them extremely flexible and appealing to renters. Rvshare users who list their travel trailers can make up to $20,000 per year in extra income.
Toy Hauler
Toy haulers are similar to travel trailers, but the wide back openings and built-in ramps make these perfect for loading and bringing your toys with you on a trip. And renting your toy hauler to others could bring in up to $22,000 a year on RVshare.
Pop-Up Camper
Low profile and easy to tow, pop-up campers are great for renters who aren't quite ready to commit to larger RVs. Rent yours when you're not using it and you could earn up to $22,000 in extra income.
How Does a Renter Find Your Listing?
It's just as easy for them to find your listing as it was for you to post it. All a potential renter has to do is enter the area they want to pick up the RV rental, their trip dates, and the type of RV they're interested in.
We'll provide them with all the listings that match their search. If they're interested in your listing, all they've got to do is request to book!
Wrap Up
It's time to stop stressing about your RV and focus on all the good it can bring you. You can enjoy your road trips more knowing that it's not being wasted when you're not using it.
Renting out your RV may not have even crossed your mind before, but rest assured that it can be a great way to gain some extra spending money. RVshare is the perfect platform to do that with. You've got nothing to lose, and so much to gain!
Ready to make some money by renting out your RV? Head over to our rental page to sign up today and see how much you could be earning.
For more information on renting, check out some of our other posts such as our Frequently Asked Questions From RV Owners About Listing with RVshare article and Tips for Boosting Rentals.