Travel Inspiration
Last updated on July 28th, 2023. Originally published on August 28th, 2017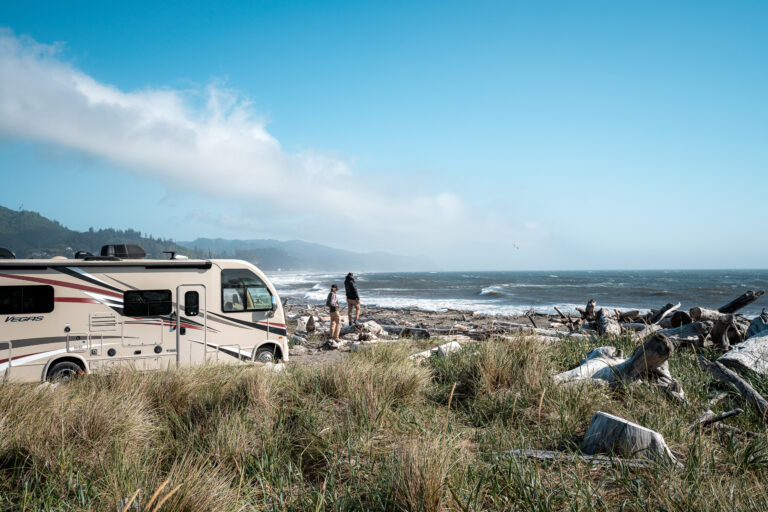 Unfortunately, summer is very nearly at an end. Most kids have gone back to school already, and the long days are starting to shorten again.
But there is one silver lining to that otherwise dark cloud.
No, we're not talking about freshly-fallen leaves, pumpkin spice lattes, or finally getting to take your favorite sweater out of mothballs. (Come to think of it, there's more than one silver lining after all!)
We're talking about Labor Day, summer's one last hurrah for a relaxing weekend spent grilling, fishing, camping — and most importantly, hanging out with your very favorite people.
What to Do on Labor Day
Here at RVshare, we think Labor Day weekend is the perfect time for RV camping. And although, yes, we might be a little biased, we have some good arguments — so hear us out!
You have a three day weekend. Mom and dad don't have to go to the office and the kids are off of school, so the whole family has the time for a quick getaway. (Plus, three days is the perfect amount of time to sneak away to a local state park!)
It's starting to get a little bit cooler. Summer road trips are great and all, but man, that sun can get excessive! Early September usually brings some welcome and refreshing drops in temperature and humidity.
You deserve it. It's called "Labor Day" for a reason: To celebrate the hard work of American people whose efforts help make this country a great place to live. Whether that means literal, physical labor, like construction, or spending long hours in the office, you work hard for a living… so go ahead and splurge with a weekend away!
Labor Day Weekend Camping
Going camping for Labor Day weekend is starting to sound like just the thing, right? From the comfort of your rig, you'll be able to do all of the classic Labor Day activities: firing up the grill, catching some fresh fish for dinner, and enjoying a beer or two in a condensation-catching koozie. Depending on where you go, you can even participate in local events honoring the holiday!
But if you are going camping over Labor Day, where's the best place to head to? And how do you get your hands on an RV if you don't already have one of your own?
Labor Day RV Rental
Labor Day weekend is one of the most popular times to go RVing. RVs and campgrounds book up quick, so if you haven't planned your trip yet, you should probably get started!
Whether you rent from a large, nationwide franchise or through the peer-to-peer RV rental market here at RVshare, you'll find some great options for your camping trip — whether you're looking for a large, luxurious Class A motorhome or a modest sleeper van.
Of course, cost can be an issue, especially if you're hoping to score some last-minute Labor Day camping deals! Waiting until closer to the holiday can be a gamble, prices may go down, but they may also skyrocket to a premium, so booking as early as possible is your best bet.
Labor Day RV Locations
Alright, now that we've talked about why you should totally go camping this Labor Day weekend — and how to get your hands on the perfect rental RV — let's get to the fun part: Where should you travel?
From state parks to fancy, all-inclusive RV resorts, there are tons of inviting places for your Labor Day weekend getaway. It all depends on what you want out of your trip.
Are you an adventurous, outdoor-loving type who'll want to spend your days hiking, fishing, swimming, and rock climbing? Or does your perfect Labor Day include lying in a hammock, clutching a cocktail, and not doing a whole lot more?
And then, you have to think about the campground itself. Do you want a resort-style vacation complete with a pool, a recreation hall, and organized social events? Or are you much happier getting off the grid and away from reality, boondocking in some remote, wild corner?
If you want to get outside but want a secluded – private place to camp we highly suggest using Hipcamp! This platform connects you to camping on private land, unlocking new and exciting locations. A great alternative for Labor Day, whether you are headed to a bucket list destination and are looking where to stay or just want a local getaway. And you can get an RV delivered straight to your Hipcamp site! Hit this link to find Hipcamp sites for Labor Day weekend.
There are so many amazing summer destinations for all types of campers, and early September features lovely weather throughout a large swath of the country.
But in case you're stumped, here are some of our favorite options for a Labor Day weekend RV trip.
1. Lake George, New York
In early September, the leaves are just changing in upstate New York, where this lakeside city waits under the looming Adirondacks. Enjoy Saturday in town, following a day of shopping with dinner at a restaurant — and then head out into the hills for a refreshing hike or three on Sunday and Monday.
2. Willamette Valley, Oregon
There's no better time to visit Oregon's wine country than September when the harvest is in full swing! Taste your way through the stunning landscape, which is famous for pinot noir.
RVs near Willamette Valley, Oregon
3. Florida's Springs
The coastal beaches are nice, but head inland and you'll find cool, refreshing springs that are newly devoid of their influx of summer campers. It'll still be hot and humid, but the 70-degree fresh water is sure to be refreshing!
4. Great Smoky Mountains National Park, North Carolina and Tennessee
Temperatures are dropping almost as quickly as green leaves, replaced by a calico carpet of red, orange, and yellow. Brooks babble, birds chirp, and mist falls mysteriously over the ancient mountaintops each morning.
Fall in the Smokies is simply divine. Why not go enjoy it?
5. Carson National Forest, New Mexico
Whether you stay in the woods or hang out in nearby Taos and Santa Fe, we're sure you'll agree that northern New Mexico is a hidden gem. And don't forget to look up — they call it "big sky country" for a reason!
RVs near Carson National Forest
Keep in mind, you likely only have three days for your Labor Day weekend getaway — so it's a good idea to pick somewhere relatively close to home!
The good news is, we sure do live in a big, beautiful country… so you're bound to have something lovely to see right in your backyard.
Happy Labor Day!