RV Owners
Last updated on December 12th, 2022. Originally published on December 7th, 2017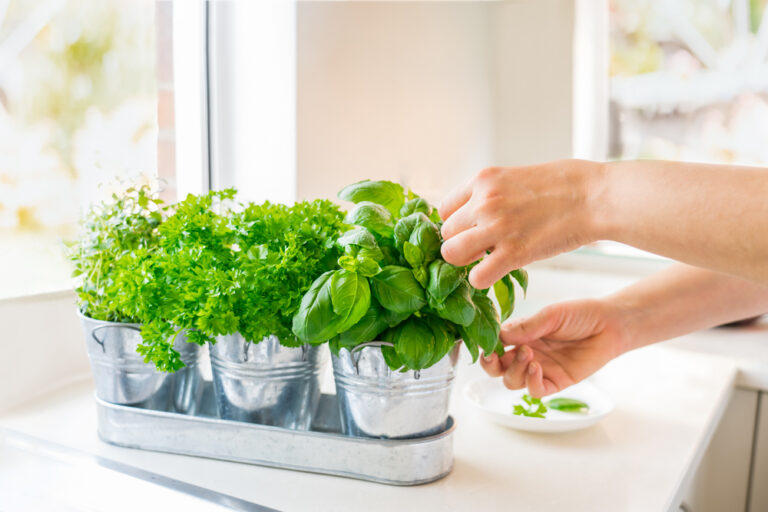 You open your favorite cookbook and start flipping through the pages, all but drooling at the delicious pictures of meals you can cook in your RV's oven or your Instant Pot. After twenty minutes of tummy grumbling, you've done it: you've finally found something new and yummy to make for dinner tonight!
But as your eyes rake the ingredients list, your heart falters. The recipe calls for several different types of fresh herbs, and you don't have them on hand. You know your dried spice collection is no match as far as flavor, but you don't want to make a run to the store — and even if you did, you know you'd likely have to buy lots more thyme or dill than you need, and most of it would assuredly go bad.
When it comes to culinary frustrations, fresh herbs top the list. They're delicious, of course, but they're expensive and they don't keep well. But what if we told you there's a way to get the taste and nutrition of fresh herbs without wasting your money?
Benefits of an Indoor Herb Garden
When you grow your own indoor herb garden, you get to have yummy herbs at your disposal without feeling like you're wasting the majority of the bunch. Just pick what you need as you need it, and let the rest keep growing!
Plus, you get the bonus of adding a living decoration to your RV's interior… and also a low-maintenance, but still-enjoyable, hobby to keep up with!
Even if you're a brown thumb, it's easy to build an indoor herb garden if you pick the right plants and learn how to take care of them. And just think of how many of your favorite RV meals will benefit from the addition of just-picked herbs.
So, ready for a delicious and fun addition to your camper? Here's what you need to know about growing an indoor herb garden in your RV.
Creating an Indoor Herb Garden
The most important thing for beginners to know when they're considering growing an indoor herb garden is that most herbs require as much light as possible. Although some herbs and vegetables can survive in low light conditions, the majority of the popular ones you'll want to add to your dishes, like parsley, sage, rosemary, thyme, and oregano, all benefit from getting as much sun as you can muster. So your first move is to find a particularly bright window in your rig.
Of course, your RV isn't stationary. (That's the whole point!) So keep your herb garden in mind when you change your rig's orientation. Try to keep your herb pots in an east-facing window, if possible, so they'll get a full-on blast of sunshine each morning.
Alright, now that you've got some space picked out, let's talk about actually building your garden.
You can start a basic herb garden with only a few basic necessities: small pots with draining dishes (ceramic will keep the soil nice and dry, which can keep your herbs from rotting), potting soil, and, of course, the seeds your herbs will grow from. You could also consider purchasing mature plants if you don't want to wait for several weeks before you can start using them in your recipes.
Some of the best herbs for an indoor herb garden include chives, lemon balm, and mint, which are all quite hardy. Cilantro is another popular indoor herb garden addition… so long as you're traveling with people who like it!
There are also lots of easy indoor herb garden kits available if you don't want to assemble all the ingredients you need from scratch, and some of them are quite decorative. For example, this cute cedar wood planter comes with many different seeds to choose from, with each pot having a chalk label so you can change up your herbs seasonally.
Another important consideration for RVers specifically is that some states have restrictions on bringing plants across borders, since soil can harbor pests and diseases. But you can bypass that problem if you utilize a hydroponic growing system for your herb garden — there are many available on the market today, and they're not as expensive as you might imagine.
For example, the AeroGarden Sprout LED with Gourmet Herb Seed Pod Kit comes with everything you need to grow up to three different plants soil-free, and it's less than $100. Hydroponics also makes caring for your herb garden much easier, since you don't have to worry about how often you should water it!
Caring for an Indoor Herb Garden
No matter which kind of setup you choose, it's important to learn how to properly care for your indoor herb garden if you want it to stay healthy and ready to use. Different plants have different water needs and light requirements, so you'll need to look into your individual herb choices to see what your care regimen should look like.
For example, if you try to grow basil, a particularly light-hungry plant, you may do best with artificial grow lights or putting the planter outdoors if possible. Some herbs may also do better with the addition of fertilizer. It's a good practice to choose herbs that have the same general care needs, so as to simplify your garden maintenance schedule and increase your chances of keeping your herbs nice and green and ready to be eaten!
Indoor Herb Garden Planter Ideas
Although a windowsill planter is a classic way to grow herbs, there are many more indoor herb garden ideas, from fancy hanging versions to the hydroponic systems we discussed earlier. A great place to seek out more ideas for your indoor herb garden is Pinterest, which is filled with hundreds of setups that are both productive and decorative.
Growing your own indoor herb garden is a great way to save money on expensive ingredients for your favorite recipes without sacrificing flavor and nutrition. Besides, who couldn't use a little extra greenery in their lives?
This post may contain affiliate links.