Travel Inspiration
December 21st, 2020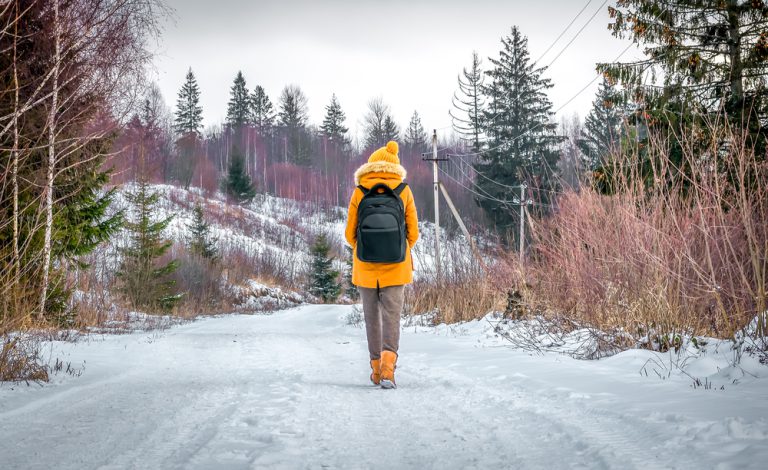 New Year's Day is a great opportunity for a fresh start. With the turn of a new year, you can look back on lessons learned from the year before and decide what you want of the year to come. And what better way to clear your head than to start off your year with a hike?
What is First Day Hikes?
Each year on January 1st, the American Hiking Society (AHS) organizes First Day Hikes for people of all ages and abilities across all 50 states. It's a way to promote state parks and encourage healthy, quality family time. Hikes are usually guided with large groups but for 2021, the AHS is encouraging participants to enjoy self-guided hikes or even hike virtually. Regardless of how you partake in First Day Hikes, we'll give you some ideas.
Cold Weather Hiking Tips
When taking to the trails in the winter, there are a few things to keep in mind. We have a whole guide on cold weather hiking tips, so be sure to review that in greater detail before you plan to take an extended hike. Here are some highlights if you're not going for long:
Clothing Tips for Cold Weather Hiking
Layer up: Start with a moisture wicking baselayer, add an insulating mid-layer, and top it all off with a shell layer to keep wind and moisture out. Add and remove layers throughout the day to stay comfortable, and make sure to remove and replace wet or sweaty layers.
Always wear hats and gloves: Heat escapes through the top of your head. Keep it in by wearing a good winter hat. Choose one that will cover your ears to protect them as well. For your gloves, choose warm fleece gloves that can be worn with a waterproof shell. It's always a good idea to have an extra set handy!
Choose socks and shoes wisely: Your usual cotton socks won't cut it when winter hiking. Instead, choose synthetic or wool socks that fit well, but not tight. Waterproof boots that similarly fit well without being tight are also incredibly important. You might also consider insulated boots, and you will definitely want to carry an extra pair of socks.
General Tips for Cold Weather Hiking
Carry water close to your body: Keeping your water bottle close to your body will help to prevent it from freezing.
Invest in an insulated bottle: If you want a hot meal or drink while you hike, an insulated bottle can be a great investment. Fill it with hot soup or tea to enjoy later.
Skip the bars: Many people like to turn to granola bars and energy bars for hiking. This is fine most of the year, but in winter, these bars freeze up as hard as rocks. For this reason, it's best to skip them until spring arrives.
How to Find First Day Hikes Near Me 2021
To find a First Day Hike near you, check out this map provided by America's State Parks. If there isn't one in your area, don't let that stop you from participating! Take the day to hike anyway! Head to a local or state park near you, take a stroll around the neighborhood as a family, or…
National Park Virtual Tours
If you live in a heavily populated area or simply aren't able to get out for a hike, consider a virtual experience! Parks like Yellowstone National Park have their own tours where you can explore different parts of the park and learn about the park's history. You can also explore different parts of the world through Google Earth and five incredible tours from Google Arts and Culture:
How to RV in the Winter
Why not make a weekend of your hiking adventures? Perhaps start the year with a family trip! Don't be fooled into thinking you can only RV during warm weather months. We love RVing in any season! Winter is a beautiful time to take to the road – admiring snow-covered trees, enjoying hot cocoa by the campfire, watching movie marathons under a mountain of blankets. For some of our best winter RV advice and inspiration, give these blogs a visit, and start searching for your perfect RV today!
This post may contain affiliate links.