How Tos & Tips
May 19th, 2020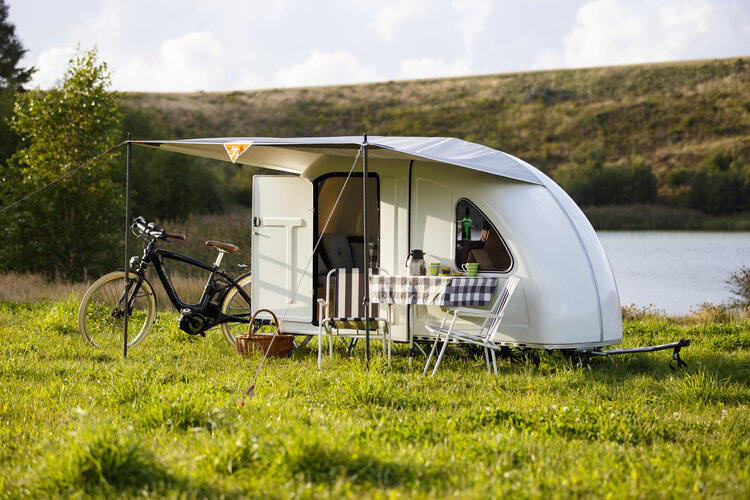 Warm weather brings along fun-filled days in the sun! If you're parked at a campground that has a pool or lake to cool off in, that is the cherry on top. But what if you created your own oasis right at your site? Today we'll share some inspiration and show you how you can make your RV summer ready!
Summer Essentials for RVing
Before we dig into creating your perfect summer situation, there are some essentials that every RVer can use as the weather warms up! Below are a few must-haves – head to this post for more ways to stock your RV for summertime.
Sunscreen — Nobody likes to be sunburned on vacation. Therefore, sunscreen may seem like a small thing, but it isn't something you want to forget.
Hat and Sunglasses — Dealing with the sun in your eyes is almost as bad as getting sunburned. Fortunately, a simple hat and sunglasses combo will take care of that issue.
Beach Supplies — Whether you're headed to the ocean, the lake, or just a campground with a pool, you won't want to forget the bathing suits, beach towels, sand and water play toys, and of course, those really cute beach bags to hold it all.
Refillable Water Bottle — Sure, you could buy a pack of disposable water bottles. However, a refillable bottle is much better for the environment.
Poolside Dream
If you don't want to share a pool with others on the campground, consider adding on to your site! With an inflatable pool, you can easily pack away or bring it out whenever you want to go for a dip or float for the afternoon.
What You'll Need
Open-Air Patio
Creating an open-air patio next to your RV isn't hard since, well, you likely don't have walls to get in the way! This little oasis is perfect if your campsite is private to begin with or if you really love hanging out with the neighbors!
What You'll Need
Secret Hideaway
If you're looking for a little more privacy while spending time outside, you'll love creating your own secret hideaway! Using your RV's awning and a couple other supplies, we know you will be cozy all season long.
What You'll Need
Cookout Kingdom
Let's say you're the kind of person who's always behind the grill – the cookout kingdom may just be your dream situation. Grill masters will love creating an outdoor space that is solely dedicated to doing what they love!
What You'll Need
Make it Your Own
If you're like us, you're probably looking for a combination of these setups, so make it your own! Just remember, whatever you're pulling out of your RV must go back in, so be mindful when you are buying new items after you've already set up camp.
This post may contain affiliate links.