RV Owners
Last updated on January 12th, 2023. Originally published on October 3rd, 2018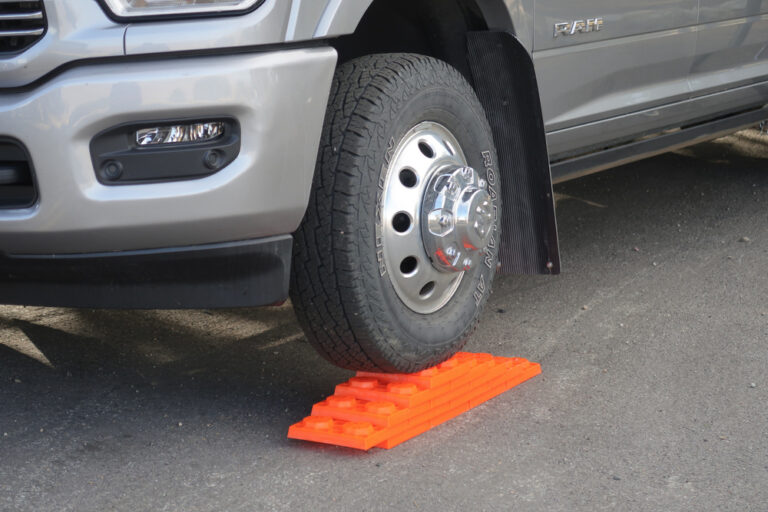 You've packed your bags, booked your campsites, and gassed up your RV. You're ready to hit the road when, all of a sudden, you realize your RV tire pressure isn't looking so hot. It's time to change your RV tires — but how?
With this guide, we'll show you how to change a flat tire and get back on the road in no time. So relax, take a deep breath, and read on to learn more.
Motorhome Tires
Camper tires or trailer tires aren't much different from the tires on a normal car or truck, although they may be much larger depending on the size of your motorhome or RV. Luckily, that means changing a tire on an RV follows generally the same process.
RV Tool Kit
Before changing your tire, you'll want to assemble all of the necessary tools and equipment so they're ready to go. First, you'll need two RV jacks or an RV leveler. This will raise the height of your motorhome or camper so you can access the trailer rims and tires. You'll also need a lug wrench or tire wrench, as well as a spare tire to replace the flat one.
Items you'll need:
RV jacks
RV leveler
Lug wrench (tire wrench)
New tire
RV Repair
Finally, it's time to do the repairs. Before starting, make sure to move your RV to a safe place where you're not in danger of being hit by other cars.
Using the RV jacks or RV leveler, raise the vehicle just high enough so the trailer tires and wheels can spin freely.
Next, take the tire wrench and remove the lug nuts.
Pull off the bad tire and fit the spare tire into place.
Using the wrench, replace and tighten the lug nuts.
That's it! Now that you've successfully changed a tire, it will only become easier each time in the future. You might even become that person at the campground who others call on for help when they've got a flat tire themselves.
Best RV Tires
When it comes to purchasing tires, we recommend buying the best quality you can afford, since you'll be relying on your RV heavily while traveling. Brands such as Michelin tires even offer tire changing assistance for up to three years after purchase, which can really save you when you've got a flat (imagine not having to do it yourself again!). Additionally, you may consider buying mud tires or all terrain tires if you plan to travel remotely to a place with lots of dirt roads or hard-to-access campsites.
If you're purchasing discount trailer tires, be sure to get the most bang for your buck by purchasing from a reputable dealer that offers a customer guarantee or warranty. If you're in an unfamiliar city, it may be wise to take a few minutes to read online reviews before selecting a tire shop.
We hope this guide to RV tires was helpful! For more insight on other common RV problems, check out another one of our posts here.
This post may contain affiliate links.