Travel Inspiration
March 9th, 2021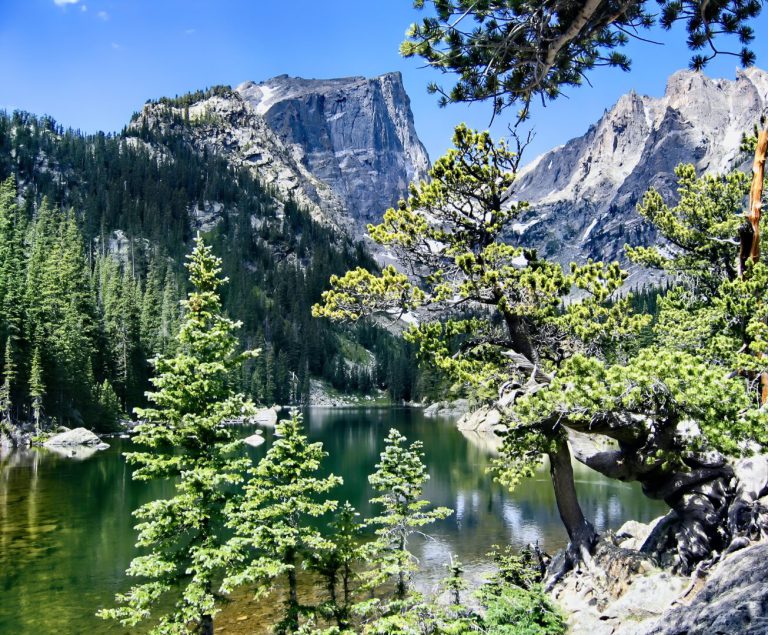 Denver is an absolutely fantastic place to visit. The vibrant culture of this city is energizing, and the attractions such as the Botanic Gardens and Denver Museum of Nature and Science are wonderful.
All that said, the thing that Denver is most well known for is its outdoor activities. People in this city love to hike, bike, ski, rock climb, and generally have fun in the great outdoors. Which is all too fitting, because the area surrounding the city is chock-full of incredible opportunities to do these things!
If you're looking to join the locals, we highly recommend starting with hiking in Denver. You won't have to wander far to find some fabulous trails, and we guarantee you'll have a brilliant time exploring the great outdoors in the gorgeous Colorado weather.
Below we've compiled a list of our ten favorite Denver hiking trails. Check out one or two, or challenge yourself to complete them all. 
Dream Lake Trail
Rocky Mountain National Park
Unsurprisingly, some of the best hikes in Denver are located inside the incredible Rocky Mountain National Park. Those looking to explore the park without taking any super strenuous hikes will appreciate Dream Lake Trail. This awesome hike is two miles of beautiful nature. It features a lake and plenty of pretty views.
It should be noted that if you plan to do this hike in winter, you should expect snow and accordingly pack the appropriate gear. Additionally, the national park does charge an entry fee, so be prepared to pay.
Emerald Lake Trail
Rocky Mountain National Park
Those looking for something a little more challenging within Rocky Mountain National Park will appreciate the moderately difficult Emerald Lake Trail. This is a 3.3-mile out-and-back hike that features a lake, a forested area, and even some lovely wildflowers at certain times of the year.
This trail does see a lot of snow in the winter. That said, because it's such a popular trail, the snow tends to be well packed, meaning snowshoes may not be necessary. Again, it's important to remember that the national park does charge an entry fee.
Green Mountain Trail
William F Hayden Green Mountain Park
A moderate loop trail that is just outside the city, this is some perfect Denver, Colorado hiking for those who don't want to drive far to get their nature fix. The scenery is absolutely beautiful, and the bird watching is fantastic. Some hikers even report hearing and seeing coyotes on their hiking ventures here.
Of course, the best part about the Green Mountain Trail is the view from the top of the mountain, which includes the city of Denver.
Trading Post Trail
Red Rocks Park
We love the Trading Post Trail in Red Rocks Park, and find it's an especially great option for kids who may not be able to handle some of the more difficult hiking trails in Denver. It's a great way to check out some of the rock formations in Red Rocks Park, and offers great views and some easy climbing opportunities. 
You should know going in that this trail offers very little shade. We recommend packing plenty of water and a hat to shade your eyes and face.
Palmer, Buckskin-Charlie, Niobrara, and Bretag Trail Loop
Garden of the Gods
Garden of the Gods is one of those well-known landmarks that everyone should see at least one in their lives. Why not make an outing of it and hike the popular Palmer, Buckskin-Charlie, Niobrara, and Bretag Trail Loop?
This easy, 4-mile loop trail is pretty heavily populated, but is still well worth visiting. It includes a few different connecting trails and circles the largest rock formations in the park, giving visitors a good view of each. It is partially paved and is easy enough for those of all levels and abilities.
Lake Isabelle via Pawnee Pass Trail
Brainard Lake Recreation Area
An absolutely gorgeous hike that features a lake, a waterfall, mountain views, and more, Lake Isabelle via Pawnee Pass Trail in Brainard Lake Recreation Area is a great choice. This is a moderate level hike that clocks in at 7.3 miles long. Wildlife is seen often along the trail, including moose, birds, and more.
Brainard Lake Recreation Area does charge an entry fee of $12 per vehicle during the summer season. During the winter, the road to this trailhead is closed, meaning you must park at the Gateway Trailhead, adding 2.5 miles to your hike.
Boulder Mesa Trail
Boulder Open Space
While the Boulder Mesa Trail is relatively flat and doable for kids, it's still challenging enough to hold the attention of most hikers. The landscape is beyond amazing, and you won't be able to stop gawking at the beauty of it all.
At over 13 miles, this is a very long trail. However, there's no reason you must hike the entire thing, especially since there are many trailheads along the way. If you're looking for a quieter hike, we recommend going to the southern end of the trail.
Bear Creek Trail
Lair o' the Bear Park
We love the name of this park. We also love the scenery found within the park, and one of our favorite ways to take in the scenery is on the pretty Bear Creek Trail.
This is a flat and easy 2-mile trail that winds through the woods and often alongside a lovely little creek. We recommend hiking all the way to "the castle" for a fun destination. Families love this trail, and it's one of our favorites to take with young children.
Castle Rock Trail
Castle Rock, CO
Located in the town of Castle Rock, CO, Castle Rock Trail is a fun and easy hike that gives visitors a nice view of the unusual Castle Rock formation itself. At only 1.3 miles, this is a rather short hike, making it an ideal option for those short on time. The views offered by the hike are lovely, and the bird watching and wildflowers are very nice if you visit during the right part of the year.
This hike doesn't offer any shade, making it a very hot trail in the middle of the day during the warmer months. Plan around the hotter parts of the day and pack a hat, sunscreen, and lots of water.
Barr Trail
Pike National Forest
One of the very best Denver, Colorado mountain hiking trails is Barr Trail to Pikes Peak. It should be noted that this is not a trail for the beginner or intermediate hiker, and only those in excellent physical shape with plenty of hiking experience should attempt this hike.
Barr Trail is 24 miles long and includes steep inclines and other strenuous challenges. The last mile is the most difficult and requires the hiker to walk across a large and challenging boulder field. However, the views at the end and the feeling of accomplishment that comes along with completing such a difficult hike are incredible.
It is possible to drive a car to the top of the mountain, meaning those who wish to hike up and ride back down may do that. Note that there is a $10-per-day parking fee at the trailhead.
As you can see, there are tons of fantastic Denver hiking trails. In fact, this list only represents a few of the countless hiking places in Denver and the surrounding areas.
Wondering where to stay in Denver for hiking? Check out our list of awesome RV parks in and near the city. Remember to book an RV for your trip, and get ready for the Colorado adventure of a lifetime!