Travel Inspiration
August 31st, 2020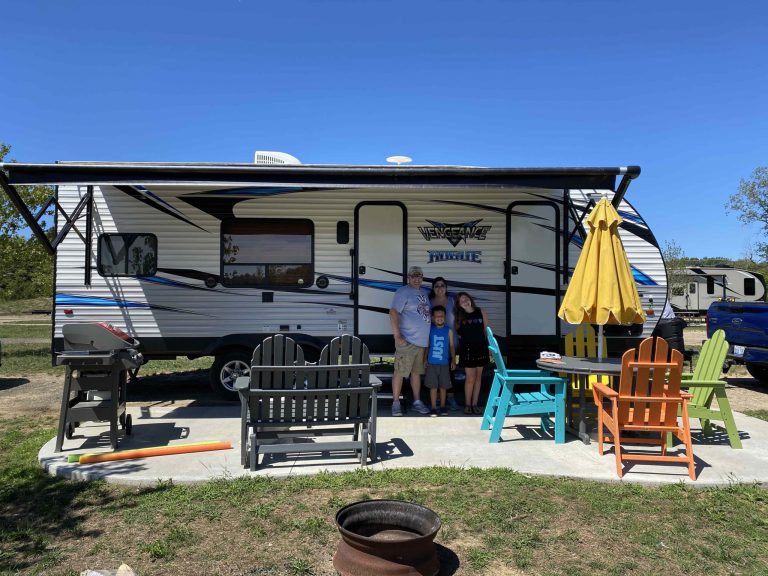 Summer might technically be nearing its end, but that doesn't mean vacation needs to stop! Especially with the current "normal" of extended virtual schooling and working from home, you can still enjoy time away as a family well into these early fall months and beyond.
Have you taken an RV family vacation? We're obviously total fans here at RVshare on any given year, but it's proven to be extra special in 2020. Maintaining social distancing and keeping self-contained are both really important, and having all your essentials with you in an RV is the perfect way to do just that!
Remember, you don't have to own an RV to get away. You can rent one from RVshare! Today, we're hearing a recent renter's experience from Steve. Some of their top highlights were the comfy beds, helpful owners, and of course, lots of quality family time!
What kind of RV did you rent and why?
We rented a 2018 toy hauler travel trailer since it was newer, had three large beds for the whole family, and had a very large awning.
What was the pick-up process like?
The pick-up process went very smoothly. We had the RV delivered to the KOA we were staying at which was near South Haven, Michigan. Megan & Andre, the owners of the RV, were very organized, provided a lot of great tips, and went through all of the features with each member of my family.
What was included in your rental?
Kitchen supplies and bath towels. (Psst – if you need help remembering what to pack, we have a free downloadable checklist here!)
Where did you stay?
We stayed at the Covert / South Haven KOA Holiday.
What was your favorite RV feature?
The large beds in the RV along with the big awning.
How was communication with the owner?
Megan & Andre were great to work with. They did a great job when we did the check-in and the check-out. They also answered any questions we had throughout the time we rented their unit.
What was the drop-off process like?
The owners came to pick it up. They handled everything with the clean-up. We all walked around the unit when we did the check-out.
What did you like most about the trip?
The time we spent as a family, being outdoors, and going to the beach in South Haven, MI
Thanks for sharing your experience, Steve! We're glad you had such a great time!
Have an RVshare renter experience you want to share? Submit your story here for a chance to be featured on the blog!
Plan your next trip: