Travel Inspiration
September 7th, 2020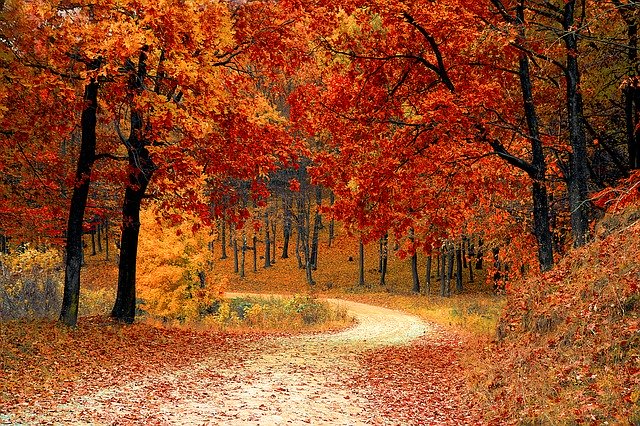 Without a doubt, this year has been an odd one. Personally speaking, our spring break and our summer months looked nothing like they have in previous years. Instead of long trips and exotic vacations, many people have been opting to stick close to home or to go on shorter trips than usual.
The RV business, however, is booming.
Why Fall 2020 is the Perfect Time to Try RVing
RVshare's own research shows that demand for RVs is up and still climbing, and many people are planning longer trips in these motorhomes, rather than weekend getaways.
There are likely a few reasons for this. Traveling in a self-contained RV, with the same companions for an entire trip, definitely limits your exposure more than airplane trips or road trips where you're stopping at hotels.
Also, with many students now remote- or home-schooling, and with a lot of adults working remotely, many people aren't limited by having to stay in one place anymore. They're taking the opportunity to travel in their non-working hours, and they're working from their RV, or even outside at a picnic table, from a campground with wifi.
Why try RVing now?
If you haven't yet taken the opportunity to try RVing, fall of 2020 may be the perfect time. Most businesses and governments have had time to establish their health rules and regulations, so there shouldn't be as much confusion about which places are open and what you're allowed to do. People are becoming accustomed to practicing social distancing, wearing masks, washing hands, and generally practicing good hygiene.
This fall is also a great time for an RV trip because, if you have been sticking close to home like a lot of people, you may be getting a little stir-crazy by now and you're ready for adventure!
Finally, for many places you may be looking to explore, fall is the perfect season to visit. The heat of the summer has subsided, but you usually won't encounter snow just yet. In cooler areas or mountain regions, you may see beautiful fall foliage. Also, if you're visiting places that thrive on summer or winter tourism, you may find deals on food or activities when you come in the off-season. One word of warning – some restaurants and shops shut down altogether during their downtime, so if you have your heart set on a particular activity, check ahead of time to make sure it will be available.
Which RV should you choose?
If you're going to rent an RV for your fall RV trip, RVshare makes the process easy! They have a variety of motorhomes and trailers in every size, all over the country. If you're new to RVing, they make the process of renting a motorhome easy. You can choose to rent an RV to drive to your destination, or you can often opt to have the owner set your RV up right at your campsite for you. RVshare also has 24/7 roadside assistance so if you have any questions at all about your rental, there's someone on-hand who can help you.
The size of RV you choose is going to depend on a few things. You'll want to consider the size of the group you're camping with, how long you'll be traveling, and where you're going.
Class A
Class A motorhomes are the large bus-style RVs you see on the road. They can sleep between 4-10 people, and start at 21 feet, going up to more than 40 feet in length. They're great for large groups or families, or if you're traveling for a long period of time and like to have some room to yourself! They're also a good option for people who want to be completely self-contained. Class A's come with kitchens, bathrooms with showers, and sometimes even a washer and dryer. You can seriously limit your exposure to others with a Class A if that's a priority for you.
Class B
Class B campervans are the smallest vehicle. They are about 8-20 feet and sleep 2-3 adults. They are a great option for solo campers, couples, or a very small family. Because they're smaller, they're much easier to drive and to maneuver narrow or windy roads, and they'll fit just about any campsite. On the downside, unless you're going solo, there's not much room for privacy and personal space.
Class C
Class C campers are a good mix of the above two categories. They're between 20-38 feet and sleep from 4-8 people. Class C RVs often include bathrooms and kitchens, but aren't as large and unwieldy (or as expensive) as Class A motorhomes.
Trailers
You can also choose to rent a trailer. If you do, make sure you have a vehicle that is capable of towing the trailer you choose – they range in size from small, lightweight teardrop trailers to massive fifth-wheel trailers that can offer as many amenities as a Class A motorhome. Remember, if you don't have a tow vehicle capable of towing a trailer, the owner may be willing to set it up right at the campsite for you.
Why families should try RVing
If you have a family, this fall could be the perfect time to try RVing with them. For one thing, you can keep the kids more contained in your own space. You'll have your own eating and sleeping spots, and can use your own bathroom, cutting down on a lot of public places where kids can spread and pick up germs. Kids also love the novelty of getting out of their own beds and trying something new. It almost doesn't matter where you take them in your RV – they'll probably be thrilled to shake up their routine! This is also a great time to make memories as a family and to get outside and explore national parks or other natural areas after a few months of being stuck close to home.
Try roadschooling
Families can also homeschool (or rather, roadschool) children while traveling in an RV, and the stops you make as you travel can supplement what they're learning in school. Plan a science lesson, and then visit the Space Center in Houston, or an observatory or planetarium. Learn about U.S. history and visit the places your children are reading about. Or study ecology and natural life and then hit up a state or national park to learn more about the plant and animal life there. If school is meant to prepare kids for the real world, it makes sense to do things out in the real world that tie in to their lessons.
Interested in learning more about roadschooling and getting practical tips from parents who have done it? Check out How to Homeschool While RVing – Roadschooling 101. We share everything you need to know, including how to decide if roadschooling is right for your family, and what research you need to do before you begin.
Try a local trip
If you're nervous about taking a long road trip with kids, you can always be a tourist closer to home. In fact, we've noticed that there are a lot of areas near our home that we haven't explored because we were busy planning trips to farther-off places. Shake up your routine and take your RV to a state park near your home, or to another local campground.
Why others should try RVing
Families aren't the only ones who can benefit from taking to the road this fall! Whether you're single, a couple, or want to embark on a road adventure with a good buddy, now's the time! If you're an adult who is working remotely, you may also find that this is the perfect time for traveling in a motorhome.
Working from home (or RV)
By now, most people who are working remotely have figured out the tools they need to function as a team. Whether you use Zoom, or another videoconference service, you can fire that up from the road as well. Just be conscious of your background, especially since you're operating in close quarters in an RV. Scope out a quiet space if you need one for calls, and check to make sure there aren't any bathrooms or mirrors behind you during your call that could accidentally broadcast anything you don't want to share with a group!
If possible, set up a workstation or have a spot you can return to each day when you need to work. Have a plug so you can charge your computer, and keep earbuds or headphones, a microphone if you need it, and any other tools you need for your job in one spot so you can find them easily. If you do have children, make sure you have a plan to keep them occupied while you're working. You may even find that without the distraction of coworkers dropping by to chat, having to get up to rummage for office supplies, and all the other small interruptions that happen in an office full of people, you could finish up your work much quicker.
For more tips on working from home, check out tips from the RVshare staff as they discovered for themselves what worked and what didn't.
Tips for everyone
If you'll be either roadschooling or working remotely while you're RVing, there are a few steps you'll want to take to set yourself up for success.
1.) Gather your supplies
Some school supplies like pencils, markers, and paper are easy to restock on the road. But others like physical textbooks, specialized equipment, or teaching materials may need to be sent to a physical address, or you may need to work a little harder to find a store that sells them. Make sure you know before you embark on a trip what you need and where you can get it.
Likewise, if you're working from your RV, make sure you have whatever supplies you need to accomplish your job. You likely need a computer – probably a laptop which can store away easily while you're traveling. Will you need headphones or earbuds? A router for your motorhome? Is there any specialized equipment for your occupation that you need to get ahead of time?
2.) Determine how you'll get online
Check with the campgrounds where you plan to stay to make sure that they have, in fact, reopened and that they have reliable wifi. It's very possible more people than ever will be using that wifi and working from their own RVs, so make sure they're set up to handle all of you.
One option that a lot of us who work from home use as a fallback – running to a local coffee shop to use their wifi – may not be available to you now. Make sure you have a backup option if the campground wifi goes down. You can check with local eateries to see if they are open and allow people to linger, especially if they have outdoor seating. Some libraries are opening in a limited capacity. You can also look into setting up a mobile hot spot. Check with your cell phone carrier to see if this is an extra fee and if you need to know anything else. If you choose this option, you'll also want a nearby place to charge your phone because using the service drains your battery quickly.
3.) Plan your daily schedule
It's easy to get wrapped up in work, and sometimes even in school (yes, really!). Make sure you have a set schedule for your work or school hours, and that you stop according to your schedule. There's not much fun in working from an RV if you never get out and explore your surroundings! If you know this is a challenge for you, you could even look into booking a timed event like a ranger talk or tour. Many museums and other attractions also require people to register ahead of time for a certain time. That way, you're forced to stop work in order to get to your event on time.
4.) Plan ahead
Many museums, parks, and other places to visit have moved to a reservation system to ensure that they don't have too many people inside their facility at the same time. If there is a place you really want to visit, check out their website before you go to make sure they're open and to see what their specific guidelines are for visiting.
This year has thrown a lot of us for a loop. We haven't gone on the trips we usually plan each year, and we've missed out on activities we look forward to. Some of us have had to cancel trips we've been planning for a long time. But this fall could also be an opportunity to try something new and make new memories in the midst of a crazy time.