How Tos & Tips
March 19th, 2020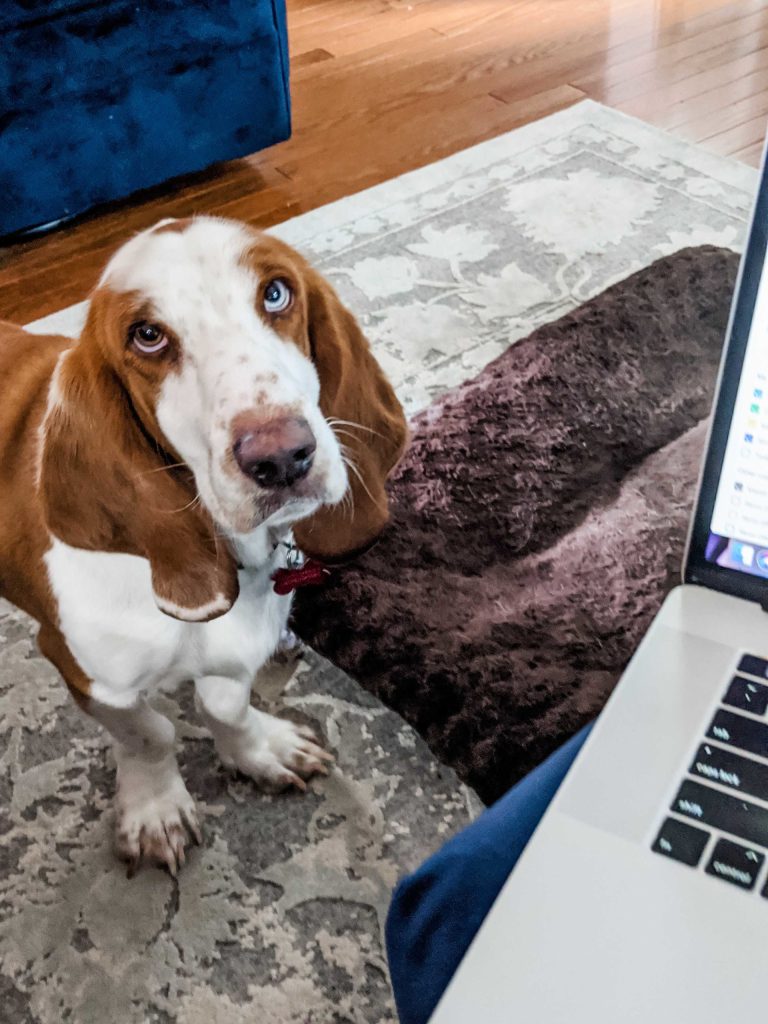 At RVshare, we are getting through this coronavirus crisis together – virtually. We have two offices – in Akron, Ohio and Austin, Texas – but working from home is part of our company culture. So easing into full-time remote work over the last week has been, well, easy! If you are new to this way of working, here are some of our best work from home tips that help us stay productive and connected. (With pictures from some of our teammates!)
Invite New Co-Workers to Join
Working from home adds the interesting element of new co-workers. By this, we mean your fur-family and kiddos! Let us tell you – they are thrilled to have you home with them during the day. They may even want to join you on your meetings and projects. At RVshare, we are happily embracing these new team members. Don't miss out on our instagram stories to see our current work views, which may include just a pup or two ?
If your kids are home with you, check out this post for activities to keep them busy!

Face-to-Face Meetings
Just because we are not able to physically meet doesn't mean we don't want to still see each other. Most of our meetings, you'll find cameras on to allow us to collaborate without skipping a beat. For quick calls it's not a necessity, but we recommend turning the camera on when you can! 
Tip for Mac users: open up "Photo Booth" if you want to see what your background looks like before you sign into a meeting.

Stay Connected to One Another
There are some things we miss about being in the office together, like breakroom small talk and chats with our desk mates. Thankfully, we utilize Slack to not only communicate on company matters but have fun, too! Members from our Company Culture Committee created a virtual scavenger hunt to participate in via Slack. Items to search for include the funniest mug you own, funniest GIF, and best road trip song (of course!). We also have separate "channels" to lift our spirits like #cutethings where you can find an abundance of cute pet and baby pics. (Can you tell we're a bunch of softies here?!)

Other Tips to Successfully Work From Home
Designate a workspace.
Be it your kitchen table, upstairs office, or your kids' playroom, try to set up a space for your work from home essentials – computer, mouse, and a big glass of water! Having a work area is important because you can walk away from it, leading to our next tip…
Take breaks.
It's very easy when working from home to lose track of time because you aren't moving up and about as much in between meetings or walking to your peer's desk for questions. Remember, even when you're in the office, you are not working every single second of the day, so don't feel you have to be glued to your seat at home! Set yourself reminders if you need to, and ideally, get outside or open the window for some fresh air. Getting up to stretch, make a cup of coffee, or let out your dog will actually allow you to be more productive when you come back to your workspace.
Get dressed but be comfortable.
We've seen tips online to dress like you would going into the office to signal to your brain you're ready for work. While this advice may be helpful to some, we strongly recommend being comfortable, too! Favorite outfits for us (in office or at home) generally include an RVshare sweatshirt, RVshare t-shirt… you get the hint! 😉
Have patience with yourself
…especially if you're new to the WFH life during this corona crisis. It can be an adjustment working from home, so be patient with yourself as you work out the kinks! If you find you're getting distracted, put your phone in a drawer, limit the number of times you check your email, and make lists to keep on track. 

Everyone has their own working style in and out of the office, so use this time to embrace yours! You can also use this time to get notes organized, sort through old emails, and take care of small tasks that you may have put off for one reason or another. Using our work from home advice, we hope that you are able to ride out this period safely while staying productive and connected with your workmates.