Fall in the Pacific Northwest with Wander Free and Queer
Travel Inspiration
October 3rd, 2022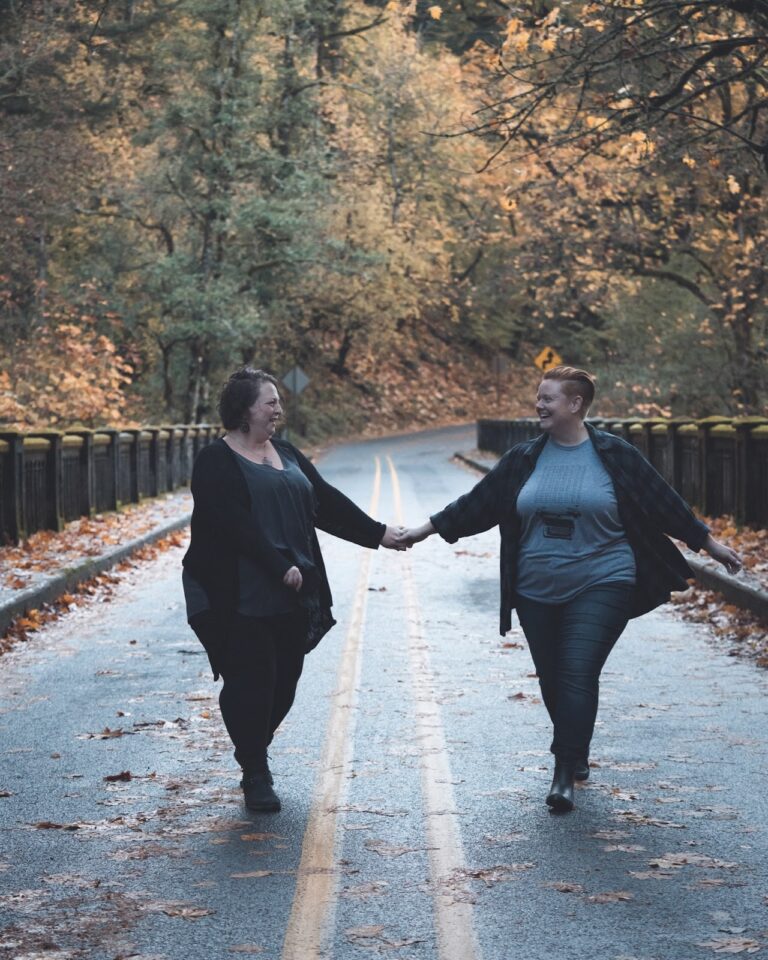 The cooler weather is coming, and we cannot contain our excitement! Head west and find out how autumn time in the PNW rivals that of New England.
Growing up in New England meant that fall was the most beautiful and busiest time of year. Allie and I both spent time hiking in the White Mountains of New Hampshire, taking scenic drives in The Berkshires of Massachusetts, and enjoying time outside on the rocky coast of Maine. Autumn also signified apple picking season, warm hot cocoa, and campfires with our friends and family. When we made the decision to find a home base in the PNW, we weren't sure that fall would hold the same special significance for us here…but it does! Fall in the PNW is dramatic, wild, and magical – just like everything else about the PNW!
PNW Autumn Travel Tips
We have spent the last three fall seasons here in Oregon and have traveled through the forests, along the coast, and to national and state parks. Peak season can be busy, but traveling during the shoulder season (the short season between peak and off-season) can afford you the freedom of having places nearly all to yourself. Here are a few autumn travel tips for the PNW:
Travel during the weekdays if possible.
One of the reasons we love having a home on wheels and flexible schedule–we can take off to a busy location on a weekday and avoid crowds.
Get up and get out early!
We are morning people, but when we are somewhere busy (such as a National Park), we always get up and get out into the park early! This means less people, but also more of a chance to see wildlife!
Do your research first.
Going to the coast? Get familiar with the local tides. Heading to a National Park? Make sure you don't need a reservation to enter. This type of research can avoid ruining entire days of your fall travel.
Best PNW Destinations in the Fall
This year, we are staying close to home (nearby Mount Hood National Forest), but we will certainly be doing lots of local exploring. Autumn is a great season to get out on trails, check out local restaurants and businesses, and enjoy scenic drives…any leaf peepers out there?
Some of our favorite places we have visited in the PNW over the last few autumn seasons have included Olympic National Park, Mount Rainier National Park, Eastern Oregon…and of course, the Oregon Coast.
Things to do at Olympic National Park
Olympic National Park truly has it all – ocean, lakes, mountains, hot springs, and rainforests. We often talk about spending a few years up on the peninsula to truly explore all it has to offer. Autumn is a stunning season in the Olympic peninsula because the cool weather, cloudy days, and king tides make for dramatic landscapes and wild adventures. If you go in the fall, make sure to check out these spots:
Lake Crescent
The trees will put on a show for you as the colors change from green to varying hues of yellow and orange. Their contrast against the glacial blue lake makes for stunning sightseeing. Consider walking along the Spruce Railroad Trail over to Devil's Punchbowl to capture the beauty of this serene lake.
Rialto Beach
Many visitors head to Ruby Beach or into Neah Bay, both of which offer incredible coastal views and rocky beaches, but Rialto will forever be our favorite beach. Rialto Beach is one of the most accessible beaches, with a short walk from the parking lot onto the beach. There are large trees strewn along the beach and, if you're patient and lucky, you can find agates that have washed ashore dotted along the tide line.
Sol Duc Hot Springs
This is one of our favorite fall stops when we visit Olympic National Park. Sol Duc Hot Springs has several small pool options with differing temperatures, alongside an unheated pool. Have you ever considered trying out some hydrotherapy? This is the place to do it! You can even bring your RV and camp minutes from the springs, but they also have adorable cabins that are pet-friendly! We stayed for a weekend with our two pups, who loved hiking the nearby trails and frolicking in the grassy areas around the resort.
Places to Visit Along the Oregon Coast
The Oregon Coast is always a great fall destination because of the migrating whales, dramatic tides, and endless accommodations! Bringing your RV? Grab a site at Turtle Cove or Bay Point Landing to be directly on the water. Need a fancy getaway? Consider one of the many upscale resorts in Cannon Beach. The options for staying along the coast are endless and will be more plentiful (and less expensive) during the shoulder or off-season.
A chilly walk along the beach is made better by a great local coffee, tea, or hot cocoa afterwards…and the coast is speckled with drive-thru espresso shops!
You may also want to check out some of these gorgeous sites nearby:
Mount Hood National Forest
Mt. Hood National Forest has hundreds of miles of trails and endless opportunities for outdoor recreation. You can have a delicious meal at the famous Timberline Lodge, drive along the famous fruit loop for fresh produce and baked goods, or take a detour on any of the forest roads off of Route 26 for some spectacular fall foliage.
The Columbia River Gorge
The Columbia River Gorge is a busy tourist destination with places like Multnomah Falls, Vista House, and Bridge of the Gods. In our opinion, the best time to visit is in the fall months. The area slows down, and there are fewer crowds, which means more parking and opportunities to take in the solitude that the gorge offers. Plan a day trip by selecting 2-3 waterfall stops (we recommend Latourell, Multnomah, and Horsetail to start) and pack a picnic because there are dozens of pull-offs with beautiful views of the river!
No matter what adventure you are hoping to have this fall, you can find it in the PNW! It is truly a wonderland that has everything nature can offer. Allie and I often say that living in Oregon is like living in a bigger, better, more beautiful version of New England…and autumn is no exception to this saying for us!